Abstract
Silicone-based products are widely used in the management of hypertrophic scarring and keloids. This review discusses the range of products available and the clinical evidence of their efficacy in preventing excessive scarring and improving established scars. Silicone gel sheeting has been used successfully for more than 20 years in scar management. A new formulation of silicone gel applied from a tube forms a thin flexible sheet over the newly epithelialized wound or more mature scar. Results from clinical trials and clinical experience suggest that silicone gel is equivalent in efficacy to traditional silicone gel sheeting but easier to use. The mechanism of action of silicone therapy has not been completely determined but is likely to involve occlusion and hydration of the stratum corneum with subsequent cytokine-mediated signaling from keratinocytes to dermal fibroblasts.
Access options
Buy single article
Instant access to the full article PDF.
US$ 39.95
Tax calculation will be finalised during checkout.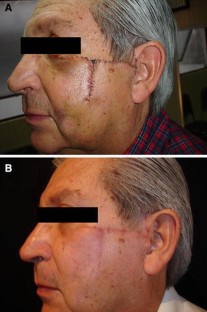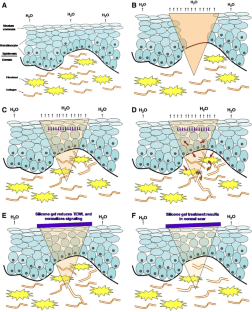 References
1.

Ahn ST, Monafo WW, Mustoe TA (1989) Topical silicone gel: A new treatment for hypertrophic scars. Surgery 106:781–787

2.

Ahn ST, Monafo WW, Mustoe TA (1991) Topical silicone gel for the prevention and treatment of hypertrophic scar. Arch Surg 126:499–504

3.

Bieley HC, Berman B (1996) Effects of a water-impermeable, non–silicone-based occlusive dressing on keloids. J Am Acad Dermatol 35:113–114

4.

Borgognoni L (2002) Biological effects of silicone gel sheeting. Wound Repair Regen 10:118–121

5.

Borgognoni L, Martini L, Chiarugi C, Gelli R, Reali UM (2000) Hypertrophic scars and keloids: Immunophenotypic features and silicone sheets to prevent recurrences. Ann Burns Fire Disasters 8:164–169

6.

Carney SA, Cason CG, Gowar JP, Stevenson JH, McNee J, Groves AR, Thomas SS, Hart NB, Auclair P (1994) Cica-Care gel sheeting in the management of hypertrophic scarring. Burns 20:163–167

7.

Chan KY, Lau CL, Adeeb SM, Somasundaram S, Nasir-Zahari M (2005) A randomized, placebo-controlled, double-blind, prospective clinical trial of silicone gel in prevention of hypertrophic scar development in median sternotomy wound. Plast Reconstr Surg 116:1013–1020

8.

Chang CC, Kuo YF, Chiu HC, Lee JL, Wong TW, Jee SH (1995) Hydration, not silicone, modulates the effects of keratinocytes on fibroblasts. J Surg Res 59:705–711

9.

Chernoff WG, Cramer H, Su-Huang S The efficacy of topical silicone gel elastomers in the treatment of hypertrophic scars, keloid scars, and postlaser exfoliation erythema. Aesth Plast Surg, doi:10.1007/s00266-006-0218-1

10.

Cruz-Korchin NI (1996) Effectiveness of silicone sheets in the prevention of hypertrophic breast scars. Ann Plast Surg 37:345–348

11.

de Oliveira GV, Nunes TA, Magna LA, Cintra ML, Kitten GT, Zarpellon S, Raposo Do Amaral CM (2001) Silicone versus nonsilicone gel dressings: A controlled trial. Dermatol Surg 27:721–726

12.

Fonseca Capdevila E, López Bran E, Fernández Vozmediano JM, de la Torre Fraga JC, Querol Nasarre I, Moreno Jiménez JC Prevention of postexcisional scar sequelae of benign cutaneous lesions. Piel, in press

13.

Garner WL (1998) Epidermal regulation of dermal fibroblast activity. Plast Reconstruct Surg 102:135–139

14.

Gilman TH (2003) Silicone sheet for treatment and prevention of hypertrophic scar: A new proposal for the mechanism of efficacy. Wound Repair Regen 11:235–236

15.

Gold MH, Foster TD, Adair MA, Burlison K, Lewis T (2001) Prevention of hypertrophic scars and keloids by the prophylactic use of topical silicone gel sheets following a surgical procedure in an office setting. Dermatol Surg 27:641–644

16.

Hanasono MM, Lum J, Carroll LA, Mikulec AA, Koch RJ (2004) The effect of silicone gel on basic fibroblast growth factor levels in fibroblast cell culture. Arch Facial Plast Surg 6:88–93

17.

Harrison CA, Gossiel F, Bullock AJ, Sun T, Blumsohn A, MacNeil S (2006) Investigation of keratinocyte regulation of collagen I synthesis by dermal fibroblasts in a simple in vitro model. Br J Dermatol 154:401–410

18.

Har-Shai Y, Lindenbaum E, Tendler M, Gamliel-Lazarovich A, Feitelberg L, Hirshowitz B (1999) Negatively charged static electricity stimulation as a possible mechanism for enhancing the involution of hypertrophic and keloid scars. Isr Med Assoc J 1:203–205

19.

Hirshowitz B, Lindenbaum E, Har-shai Y, Feitelberg L, Tendler M, Katz D (1998) Static electric field induction by a silicone cushion for the treatment of hypertrophic and keloid scars. Plast Reconstr Surg 101:1173–1183

20.

Kuhn MA, Moffit MR, Smith PD, Lyle WG, Ko F, Meltzer DD, Robson MC (2001) Silicone sheeting decreases fibroblast activity and downregulates TGFβ2 in hypertrophic scar model. J Surg Invest 2:467–474

21.

Lee SM, Ngim CK, Chan YY, Ho MJ (1996) A comparison of Sil-K and Epiderm in scar management. Burns 22:483–487

22.

Li-Tsang CW, Lau JC, Choi J, Chan CC, Jianan L (2006) A prospective randomized clinical trial to investigate the effect of silicone gel sheeting (Cica-Care) on posttraumatic hypertrophic scar among the Chinese population. Burns 32:678–683

23.

Maján JI (2006) Evaluation of a self-adherent soft silicone dressing for the treatment of hypertrophic postoperative scars. J Wound Care 15:193–196

24.

Mercer NS (1989) Silicone gel in the treatment of keloid scars. Br J Plast Surg 42:83–87

25.

Murison M, James W (2006) Preliminary evaluation of the efficacy of Dermatix silicone gel in the reduction of scar elevation and pigmentation. J Plast Reconstr Aesthet Surg 59:437–439

26.

Musgrave MA, Umraw N, Fish JS, Gomez M, Cartotto RC (2002) The effect of silicone gel sheets on perfusion of hypertrophic burn scars. J Burn Care Rehabil 23:208–214

27.

Nickoloff BJ, Naidu Y (1994) Perturbation of epidermal barrier function correlates with initiation of cytokine cascade in human skin. J Am Acad Dermatol 30:535–546

28.

Niessen FB, Spauwen PH, Robinson PH, Fidler V, Kon M (1998) The use of silicone occlusive sheeting (Sil-K) and silicone occlusive gel (Epiderm) in the prevention of hypertrophic scar formation. Plast Reconstr Surg 102:1962–1972

29.

O'Brien L, Pandit A (2006) Silicon gel sheeting for preventing and treating hypertrophic and keloid scars. Cochrane Database Syst Rev 1:CD003826

30.

Ohmori S (1998) Effectiveness of silastic sheet coverage in the treatment of scar keloid (hypertrophic scar). Aesth Plast Surg 12:95–99

31.

Perkins K, Davey RB, Wallis KA (1983) Silicone gel: A new treatment for burn scars and contractures. Burns Incl Therm Inj 9:201–204

32.

Phillips TJ, Gerstein AD, Lordan V (1996) A randomized controlled trial of hydrocolloid dressing in the treatment of hypertrophic scars and keloids. Dermatol Surg 22:775–778

33.

Quinn KJ, Evans JH, Courtney JM, Gaylor JDS (1985) Nonpressure treatment of hypertrophic scars. Burns 12:102–108

34.

Saulis AS, Chao JD, Telser A, Mogford JH, Mustoe TA (2002) Silicone occlusive treatment of hypertrophic scars in the rabbit hypertrophic scar model. Aesth Surg J 22:147–153

35.

Sawada Y, Sone K (1990) Treatment of scars and keloids with a cream containing silicone oil. Br J Plast Surg 43:683–688

36.

Sawada Y, Sone K (1992) Hydration and occlusion treatment for hypertrophic scars and keloids. Br J Plast Surg 45:599–603

37.

Sepehrmanesh M (2006) Observational study of 1,522 patients using Dermatix gel. Kompendium Dermatologie 1:30–32

38.

Signorini M, Clementonil MT (2007) Clinical evaluation of a new self-drying silicone gel in the treatment of scars: A preliminary report. Aesth Plast Surg 31:183–187

39.

So K, Umraw N, Scott J, Campbell K, Musgrave M, Cartotto R (2003) Effects of enhanced patient education on compliance with silicone gel sheeting and burn scar outcome: A randomized prospective study. J Burn Care Rehabil 24:411–417

40.

Sproat JE, Dalcin A, Weitauer N, Roberts RS (1992) Hypertrophic sternal scars: Silicone gel sheet versus Kenalog injection treatment. Plast Reconstr Surg 90:988–992

41.

Suetake T, Sasai S, Zhen YX, Ohi T, Tagami H (1996) Functional analyses of the stratum corneum in scars: Sequential studies after injury and comparison among keloids, hypertrophic scars, and atrophic scars. Arch Dermatol 132:1453–1458

42.

Suetake T, Sasai S, Zhen YX, Tagami H (2000) Effects of silicone gel sheet on the stratum corneum hydration. Br J Plast Surg 53:503–507

43.

Terunuma A, Aiba S, Tagami H (2001) Cytokine mRNA profiles in cultured human skin component cells exposed to various chemicals: A simulation model of epicutaneous stimuli induced by skin barrier perturbation in comparison with that due to exposure to haptens or irritant. J Dermatol Sci 26:85–93

44.

Wong TW, Chiu HC, Change CH, Lin LJ, Liu CC, Chen JS (1996) Silicone cream occlusive dressing: A novel noninvasive regimen in the treatment of keloid. Dermatology 192:329–333
About this article
Cite this article
Mustoe, T.A. Evolution of Silicone Therapy and Mechanism of Action in Scar Management. Aesth Plast Surg 32, 82 (2008). https://doi.org/10.1007/s00266-007-9030-9
Received:

Accepted:

Published:
Keywords
Hydration

Hypertrophic scar

Keloid

Occlusion

Silicone gel

Silicone gel sheeting