Abstract
Background
Improvements and variations in abdominoplasty techniques have complicated patient and procedure selection. The authors describe their guidelines for selecting the ideal procedure to be used with patients by stratifying them into treatment groups according to the presence and location of excess skin and subcutaneous tissue, lipodystrophy, and abdominal wall laxity.
Methods
A prospective study analyzed 151 female patients treated for abdominal contour deformities from January 2004 to July 2005. The patients were systematically classified into five treatment groups: mini-abdominoplasty (5%), standard abdominoplasty (42%), abdominoplasty with liposuction and minimal midline undermining (10%), standard abdominoplasty with removal of deep fat (13%), and circumferential abdominoplasty (30%).
Results
The patients had a mean age of 42 years and a mean body mass index (BMI) of 26 kg/m2. The prevalence of overweight (BMI, 25.0–29.9) was 37%, and that of obesity (BMI > 30.0) was 19%. Comparison of pre- and postoperative photographs included improved tension of the entire abdominal wall, enhancement of the waistline, and increased uniformity of the contour of the abdomen. There was a significant difference in mean BMI between preabdominoplasty (26 kg/m2) and postabdominoplasty (24 kg/m2) (p = 0.01). The prevalence of overweight and obesity decreased by 8% and 9%, respectively (p = 0.01), and a decrease in BMI occurred within each abdominoplasty subgroup (p = 0.01). The prevalence of complications was 11%. Seroma (4%) and delayed wound healing (4%) were the most common. One case of pulmonary embolus was encountered. Although there was a positive trend in complications with higher BMI, no statistically significant difference was found (p = 0.74). Half of the patients had additional procedures performed without a significant increase in complications (p = 0.5).
Conclusions
The described algorithm for abdominoplasty selection is safe, effective, and flexible, with long-term improvement in abdominal contour and BMI.
Access options
Buy single article
Instant access to the full article PDF.
USD 39.95
Price excludes VAT (USA)
Tax calculation will be finalised during checkout.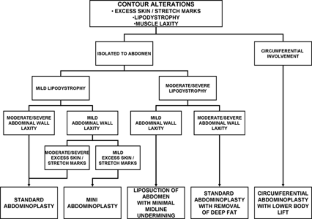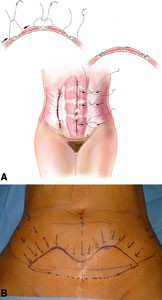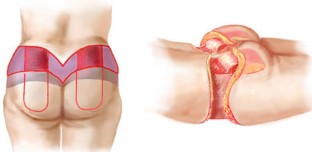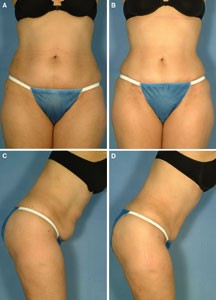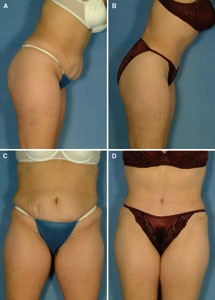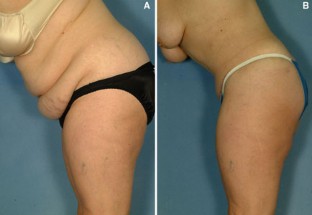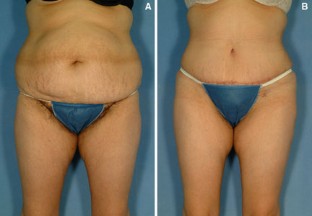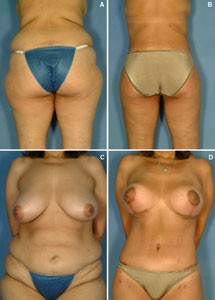 References
Adams JP, Murphy PG: Obesity in anaesthesia and intensive care. Br J Anaesth 85:91–108, 2000

Aly AS, Cram AE, Chao M, Pang J, McKeon M: Belt lipectomy for circumferential truncal excess: The University of Iowa experience. Plast Reconstr Surg 111:398–413, 2003

Aly AS, Cram AE, Heddens C: Truncal body contouring surgery in the massive weight loss patient. Clin Plast Surg 31:611–624, 2004 vii

Avelar JM: Abdominoplasty combined with lipoplasty without panniculus undermining: Abdominolipoplasty—a safe technique. Clin Plast Surg 33:79–90, 2006 vii

Avelar JM: Abdominoplasty without panniculus undermining and resection: Analysis and 3-year follow-up of 97 consecutive cases. Aesth Surg 22:16–25, 2002

Bitar G, Mullis W, Jacobs W, et al. Safety and efficacy of office-based surgery with monitored anesthesia care/sedation in 4,778 consecutive plastic surgery procedures. Plast Reconstr Surg 111:150–156, 2003 discussion 157–158

Bozola AR, Psillakis JM: Abdominoplasty: A new concept and classification for treatment. Plast Reconstr Surg 82:983–993, 1988

Byrd HS, Barton FE, Orenstein HH, et al. Safety and efficacy in an accredited outpatient plastic surgery facility: A review of 5,316 consecutive cases. Plast Reconstr Surg 112:636–641, 2003 discussion 642–646

Cardenas-Camarena L: Various surgical techniques for improving body contour. Aesthetic Plast Surg 29:446–455, 2005 discussion 456–459

Ersek RA, Salisbury M, Girling VR: Metabolic modulation by lipoplasty: A case report and invitation for investigators. Aesth Plast Surg 28:120–122, 2004

Giese SY, Bulan EJ, Commons GW, Spear SL, Yanovski JA: Improvements in cardiovascular risk profile with large-volume liposuction: A pilot study. Plast Reconstr Surg 108:510–519, 2001 discussion 520–521

Giugliano G, Nicoletti G, Grella E, et al. Effect of liposuction on insulin resistance and vascular inflammatory markers in obese women. Br J Plast Surg 57:190–194, 2004

Gonzalez-Ortiz M, Robles-Cervantes JA, Cardenas-Camarena L, Bustos-Saldana R, Martinez-Abundis E: The effects of surgically removing subcutaneous fat on the metabolic profile and insulin sensitivity in obese women after large-volume liposuction treatment. Horm Metab Res 34:446–449, 2002

Klein S, Fontana L, Young VL, et al. Absence of an effect of liposuction on insulin action and risk factors for coronary heart disease. N Engl J Med 350:2549–2557, 2004

Lahiri A, Duff CG, Brown TL, Griffiths RW: Anthropometric measurements and their value in predicting complications following reduction mammaplasty and abdominoplasty. Ann Plast Surg 56:248–250, 2006

Lockwood T: Lower body lift with superficial fascial system suspension. Plast Reconstr Surg 92:1112–1122, 1993 discussion 1123–1125

Mast BA: Safety and efficacy of outpatient full abdominoplasty. Ann Plast Surg 54:256–259, 2005

Matarasso A: Abdominolipoplasty: A system of classification and treatment for combined abdominoplasty and suction-assisted lipectomy. Aesth Plast Surg 15:111–121, 1991

Matarasso A: Liposuction as an adjunct to a full abdominoplasty revisited. Plast Reconstr Surg 106:1197–1202, 2000 discussion 1203–1205

Matarasso A: Minimal access variations in abdominoplasty. Ann Plast Surg 34:255–263, 1995

Modolin M, Cintra W Jr, Gobbi CI, Ferreira MC: Circumferential abdominoplasty for sequential treatment after morbid obesity. Obes Surg 13:95–100, 2003

Morales Gracia HJ: Circular lipectomy with lateral thigh-buttock lift. Aesth Plast Surg 27:50–57, 2003

Nahas FX: A pragmatic way to treat abdominal deformities based on skin and subcutaneous excess. Aesth Plast Surg 25:365–371, 2001

Nahas FX: An aesthetic classification of the abdomen based on the myoaponeurotic layer. Plast Reconstr Surg 108:1787–1795, 2001 discussion 1796–1797

Pascal JF, Le Louarn C: Remodeling body lift with high lateral tension. Aesth Plast Surg 26:223–230, 2002

Pitanguy I: Evaluation of body contouring surgery today: A 30-year perspective. Plast Reconstr Surg 105:1499–1514, 2000 discussion 1515–1516

Ramirez OM: Abdominoplasty and abdominal wall rehabilitation: A comprehensive approach. Plast Reconstr Surg 105:425–435, 2000

Sanger C, David LR: Impact of significant weight loss on outcome of body contouring surgery. Ann Plast Surg 56:9–13, 2006 discussion 13

Santos E, Muraira J: The waist and abdominoplasty. Aesth Plast Surg 22:225–227, 1998

Sozer SO, Agullo FJ: Triple plication in miniabdominoplasty. Aesth Plast Surg 30:263–268, 2006

Sozer SO, Agullo FJ, Wolf C: Autoprosthesis buttock augmentation during lower body lift. Aesth Plast Surg 29:133–137, 2005 discussion 138–140

Toledo LS: The overlap of lipoplasty and abdominoplasty: Indication, classification, and treatment. Clin Plast Surg 31:539–53, 2004, v

Vastine VL, Morgan RF, Williams GS, et al. Wound complications of abdominoplasty in obese patients. Ann Plast Surg 42:34–39, 1999

Walgenbach KJ, Shestak KC: "Marriage" abdominoplasty: Body contouring with limited scars combining mini-abdominoplasty and liposuction. Clin Plast Surg 31:571–581, 2004, vi

World Health Organization: Obesity: Preventing and managing the global epidemic. Report of a WHO consultation. World Health Organ Tech Rep 894:1–253, 2000 i–xii
Acknowledgments
The authors have no financial interest or commercial associations that might pose or create a conflict of interest with information presented in this article.
Additional information
Presented at the 18th Congress of the International Society of Aesthetic Plastic Surgery, Rio de Janeiro, Brazil, August 2006, and at the Texas Society of Plastic Surgeons 2005 Meeting, San Antonio, Texas, October 2005
About this article
Cite this article
Sozer, S.O., Agullo, F.J., Santillan, A.A. et al. Decision Making in Abdominoplasty. Aesth Plast Surg 31, 117–127 (2007). https://doi.org/10.1007/s00266-006-0148-y
Published:

Issue Date:

DOI: https://doi.org/10.1007/s00266-006-0148-y
Keywords