Abstract
The current study was undertaken to determine the mean values of surface measurements from right and left calves and ankles. These measurements were taken from 150 second-year medical students (75 women and 75 men, ages 18 to 23 years) from Cukurova University in Turkey using a flexible standard measuring tape. The mean values for calf circumference, length of the medial head of the gastrocnemius muscle, distance between the inferior border of the medial head of the gastrocnemius muscle and the medial malleolus of tibia, and ankle circumference were analyzed. The observations presented in the report have defined anatomic parameters that need to be taken into consideration when cosmetic surgical procedures are performed in the calf and ankle area for this population.
This is a preview of subscription content, log in to check access.
Access options
Buy single article
Instant access to the full article PDF.
US$ 39.95
Price includes VAT for USA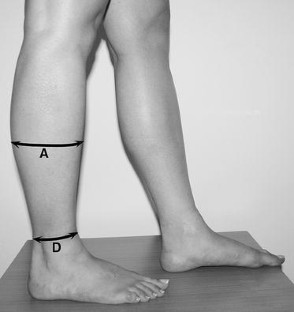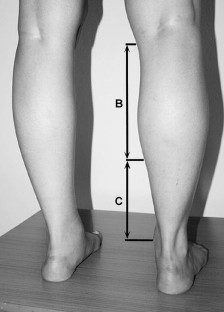 References
1.

Aiache AE: Calf implantation. Plast Reconstr Surg 83:488–492, 1989

2.

Axmann HD, Schneider W: Deepithelialized vertical rectus abdominis flap in calf augmentation. Aesth Plast Surg 21:55–57, 1997

3.

Carlsen LN: Calf augmentation: A preliminary report. Ann Plast Surg 2:508, 1979

4.

Chamosa M: Suction lipectomy of the ankle area. Plast Reconstr Surg 100:1047–1052, 1997

5.

de Pedroza LV: Fat transplantation to the buttocks and legs for aesthetic enhancement or correction of deformities: Long-term results of large volumes of fat transplant. Dermatol Surg 26:1145–1149, 2000

6.

Dini M, Innocenti A, Lorenzetti P: Aesthetic calf augmentation with silicone implants. Aesth Plast Surg 26:490–492, 2002

7.

Ersek RA, Salisbury AV: Circumferential liposuction of knees, calves, and ankles. Plast Reconstr Surg 98:880–883, 1996

8.

Felicio Y: Calfplasty. Aesth Plast Surg 24:141–147, 2000

9.

Field LM: Liposuction surgery: A review. J Dermatol Surg Oncol 10:530, 1984

10.

Glicenstein J: Correction of the amyotrophies of the limbs with silicone prosthesis inclusion. Rev Bras Cir 69:117, 1979

11.

Gutstein RA: Augmentation of the lower leg: A new combined calf-tibial implant. Plast Reconstr Surg 117:817–826, 2006

12.

Howard PS: Calf augmentation and correction of contour deformities. Clin Plast Surg 18:601–613, 1991

13.

Illouz YG: Body contouring by lipolysis: A 5-year experience with over 3,000 cases. Plast Reconst Surg 72:591–597, 1983

14.

Illouz YG: Surgical remodeling of the silhoutte by aspiration lipolysis or selective lipectomy. Aesth Plast Surg 9:7, 1985

15.

Kalixto MA, Vergara R: Submuscular calf implants. Aesth Plast Surg 27:135–138, 2003

16.

Kim IG, Hwang SH, Lew JM, Lee HY: Endoscope-assisted calf reduction in orientals. Plast Reconstr Sur 106:713–718, 2000

17.

Lemperle G, Exner K: The resection of gastrocnemius muscles in aesthetically disturbing calf hypertrophy. Plast Reconstr Surg 102:2230–2236, 1998

18.

Maffuli N, Ferran NA, Oliva F, Testa V: Recurrent subluxation of the peroneal tendons. Am J Sports Med 34:986–992, 2006

19.

Martin MC: Comprehensive liposuction of lower limbs: Basic concepts. Aesth Plast Surg 20:49–52, 1996

20.

Mladick RA: Lipoplasty of the calves and ankles. Plast Reconstr Surg 86:84–93, 1990

21.

Mladick RA: Advances in liposuction contouring of calves and ankles. Plast Reconstr Surg 104:823–831, 1999

22.

Montellano L: Calf augmentation. Ann Plast Surg 27:429, 1991

23.

Niechajev I: Calf augmentation and restoration. Plast Reconstr Surg 116:295–305, 2005

24.

Nunes GO, Garcia DPL: Calf augmentation with supraperiostic solid prosthesis associated with fasciotomies. Aesth Plast Surg 28:17–19, 2004

25.

Ricketts RM: The biologic significance of the divine proportion and fibonacci series. Am J Orthod 81:351–370, 1982

26.

Rigg BM: Calf augmentation. Aust N Z J Surg 70:362–365, 2000

27.

Serra JM, Mesa F, Paloma V, Ballesteros A: Use of a calf prosthesis and tissue expansion in aesthetic reconstruction of the leg. Plast Reconstr Surg 89:684–688, 1992

28.

Von Szalay L: Calf augmentation: A new calf prosthesis. Plast Reconstr Surg 75:83–86, 1985

29.

Von Szalay L: Twelve years' experience of calf augmentation. Aesth Plast Surg 19:473–476, 1995

30.

Weniger FG, Calvert JW, Newton ED: Liposuction of the legs and ankles: A review of the literature. Plast Reconstr Surg 113:1771–1785, 2004
About this article
Cite this article
Karakaş, P., Bozkir, M.G. Determination of Normal Calf and Ankle Values Among Medical Students. Aesth Plast Surg 31, 179–182 (2007). https://doi.org/10.1007/s00266-006-0132-6
Keywords