Abstract
After the "fifth-generation" breast implants with ultracohesive silicone gel technology are introduced, the Food and Drug Administration (FDA) will sooner or later retire the ban on the use of these devices in the United States. When this happens, the plastic surgery community must be prepared to face a massive demand for reoperations to change saline-filled breast implants because cohesive gel devices have the potential to provide a more natural breast shape, to minimize the risk of postoperative rippling, and to provide a greater degree of safety if the implant loses its integrity. Despite these advantages and extensive use throughout the rest of the world during the ban in the United States, silicone implants also have disadvantages. One drawback is that transaxillary breast augmentation with more "rigid" gel-filled implants may produce trauma to the armpit, may interfere with sentinel node mapping for breast cancer treatment, and may have future medicolegal implications.
Access options
Buy single article
Instant access to the full article PDF.
US$ 39.95
Tax calculation will be finalised during checkout.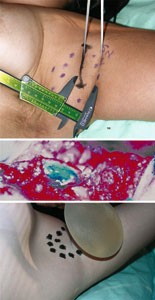 References
1.

Jakub J, Ebert M, Cantor A, Gardner M, Reintgen D, Dupont E, Cox CE, Shons AR: Breast cancer in patients with prior augmentation: Presentation, stage, and lymphatic mapping. Plast Reconstr Surg 114:1737, 2004

2.

Marchal F, Rauch P, Morel O, Mayer JC, Olivier P, Leroux A, Verhaeghe JL, Guillemin F: Results of preoperative lymphoscintigraphy for breast cancer are predictive of identification of axillary sentinel lymph nodes. World J Surg 30:55, 2006

3.

Munhoz AM, Aldrighi C, Buschpiegel C, Ono C, Montag E, Fells K, Arruda E, Sturtz G, Kovac P, Filassi JR, Gemperli R, Ferreira MC: The feasibility of sentinel lymph node detection in patients with previous transaxillary implant breast augmentation: preliminary results. Aesth Plast Surg 29:163, 2005

4.

Reintgen et al: Sentinel lymph node sampling accurately stages breast cancer. JAMA 276:1818–1822, 1996

5.

Tanis PJ, Nieweg OE, Valdes Olmos RA, Peterse JL, Rutgers EJ, Hoefnagel CA, Kroon BB: Impact of nonaxillary sentinel node biopsy on staging and treatment of breast cancer patients. Br J Cancer 87:705, 2002
Acknowledgments
Dr. Osvaldo Jury and Dr. Susana Benitez were participants in the research and anatomy, and we acknowledge their assistance.
About this article
Cite this article
Prado, A., Andrades, P. & Leniz, P. Implications of Transaxillary Breast Augmentation: Lifetime Probability of Breast Cancer Development and Sentinel Node Mapping Interference. Aesth Plast Surg 31, 317–319 (2007). https://doi.org/10.1007/s00266-006-0131-7
Keywords
Breast implants

Cohesive gel devices

Sentinel node mapping

Silicone implants

Transaxillary breast augmentation

Ultracohesive silicone gel technology