Abstract
The male chest has a female appearance in patients with gynecomastia and those who have experienced a huge weight loss. The disadvantages of reduction mammaplasty for men are the visible scars on the chest wall necessitated because of skin redundancy. The aims of the chest-lifting procedure are to reposition the breast, to create a male appearance by thinning the amount of glandular and fatty tissue, to avoid noticeable scars on the chest wall, and to hide the scar in the middle axillar line.
Access options
Buy single article
Instant access to the full article PDF.
USD 39.95
Price excludes VAT (USA)
Tax calculation will be finalised during checkout.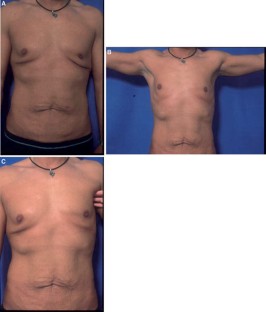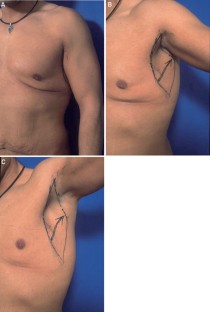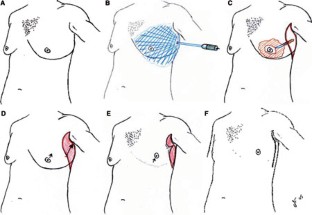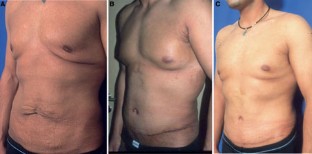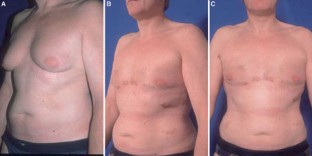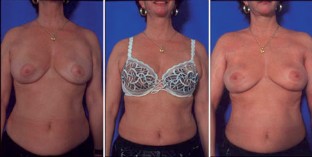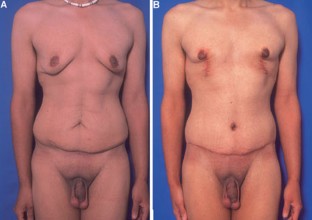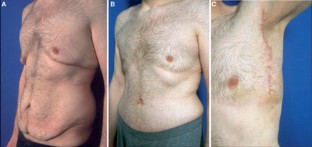 References
Aslan G, Tuncali D, Terzioglu A, Bingul F: Periareolar-transareolar-perithelial incision for the surgical treatment of gynecomastia. Ann Plast Surg 54:130–134, 2005

Balch CR: A transaxillary incision for gynecomastia. Plast Reconstr Surg 61:13–16, 1978

Fruhstorfer BH, Malata CM: A systematic approach to the surgical treatment of gynaecomastia. Br J Plast Surg 56:237–246, 2003

Gasperoni C, Salgarello M, Gasperoni P: Technical refinements in the surgical treatment of gynecomastia. Ann Plast Surg 44:455–458, 2000

Hurwitz DJ: Single-staged total body lift after massive weight loss. Ann Plast Surg 52:435–441, discussion 441, 2004

Hurwitz DJ, Golla D: Breast reshaping after massive weight loss. Semin Plast Surg 18:179–187, 2004

Hurwitz DJ, Rubin JP, Risin M, Sajjadian A, Sereika S: Correcting the saddlebag deformity in the massive weight loss patient. Plast Reconstr Surg 114:1313–1325, 2004

Klein JA: Tumescent technique for regional anesthesia. J Dermatol Surg Oncol 16:248–263, 1990

Lockwood T: Body contouring of the trunk/thigh aesthetic unit. Plast Surg Nurs 23:110–113, quiz 114, 2003

Pascal JF, Le Louarn C: Remodeling body lift with high lateral tension. Aesth Plast Surg 26:223–230, 2002

Persichetti P, Berloco M, Casadei RM, Marangi GF, Di Lella F, Nobili AM: Gynecomastia and the complete circumareolar approach in the surgical management of skin redundancy. Plast Reconstr Surg 107:948–954, 2001

Prado AC, Castillo PF: Minimal surgical access to treat gynecomastia with the use of a power-assisted arthroscopic–endoscopic cartilage shaver. Plast Reconstr Surg 115:939–942, 2005

Ramon Y, Fodor L, Peled IJ, Eldor L, Egozi D, Ullmann Y: Multimodality gynecomastia repair by cross-chest power-assisted superficial liposuction combined with endoscopic-assisted pull-through excision. Ann Plast Surg 55:591–594, 2005

Sagrillo D, Kunz S: Addressing skin redundancy after major weight loss. Plast Surg Nurs 24:130–133, 2004

Simon BE, Kahn S: Classification and surgical correction of gynecomastia. Plast Reconstr Surg 51:48–52 1973

Simon BE, Kinley AC: Gynecomastia/recommended criteria. American Society of Plastic and Reconstructive Surgeons Board of Directors. Position paper of the ASPS, October 1995

Smoot EC III: Eccentric skin resection and purse-string closure for skin reduction with mastectomy for gynecomastia. Ann Plast Surg 41:378–383, 1998

Tashkandi M, Al-Qattan MM, Hassanain JM, Hawary MB, Sultan M: The surgical management of high-grade gynecomastia. Ann Plast Surg 53:17–20, 2004, discussion 21

Voigt M, Walgenbach KJ, Andree C, Bannasch H, Looden Z, Stark GB: Minimal-invasive chirurgische Therapie der Gynäkomastie, Liposuktion und Exhäresetechnik, Minimally invasive surgical therapy of gynecomastia: liposuction and exeresis technique. Der Chirurg Zeitschrift für alle Gebiete der operativen Medizen 72:1190–1195, 2001

Webster JP: Mastecomy for gynecomastia through a semicircular intraareolar incision. Ann Chir 124:557, 1946

Wiesman IM, Lehman JA. Jr, Parker MG, Tantri M, Devi P, Wagner DS, Pedersen JC: Gynecomastia: An outcome analysis. Ann Plast Surg 53:97–101, 2004
About this article
Cite this article
Finckenstein, J.G., Wolf, H. Chest Lifting. Aesth Plast Surg 30, 286–293 (2006). https://doi.org/10.1007/s00266-005-0222-x
Published:

Issue Date:

DOI: https://doi.org/10.1007/s00266-005-0222-x
Keywords
Bariatric surgery

Body contouring

Body lifting

Chest lifting

Gynecomastia/surgery