Summary
This article describes, for the first time, the supraperiostic technique used for aesthetic purposes to remedy hemiatrophy, genu valgum, poliomyelitis sequela, and thin legs. For genu valgum and thin legs, a solid prosthesis was used, whereas for severe hemiatrophy a double light prosthesis was used as a tissue expansor, with excellent reports. The advantages of this technique are delinieated further in this article.
This is a preview of subscription content, log in to check access.
Access options
Buy single article
Instant access to the full article PDF.
US$ 39.95
Price includes VAT for USA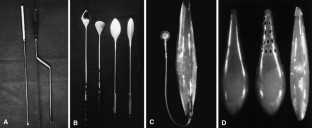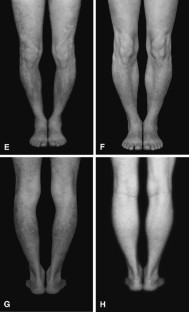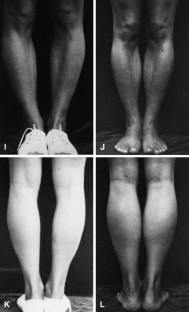 Refereneces
1.

AE Aiache (1991) ArticleTitleCalf contour correction with implants. Clin Plast Surg 18 857 Occurrence Handle1:STN:280:By2D3sngslE%3D Occurrence Handle1934897

2.

H Axmann W Scheider (1997) ArticleTitleDeepithelialized vertical rectus abdominis flap in calf augmentation. Aesth Plast Surg 21 55–57 Occurrence Handle10.1007/s002669900083 Occurrence Handle1:STN:280:ByiA2cfhtVc%3D

3.

R Bayardo (1998) ArticleTitleCalf aesthetic contour augmentation by vertical fasciotomies. Wordplast Rev 2 132

4.

LN Carlsen (1979) ArticleTitleCalf augmentation: a preliminary report. Ann Plast Surg 2 508 Occurrence Handle1:STN:280:Bi%2BC2szmslM%3D Occurrence Handle543619

5.

MSL Galvao (1985) ArticleTitleTransplant of an inferiorly based rectus abdominis myocutaneous flap to the calf. Plast Reconstr Surg 75 437 Occurrence Handle1:STN:280:BiqC2c%2FmtFQ%3D Occurrence Handle2983361

6.

J Glicenstein (1979) ArticleTitleCorrection of the amyotrophies of the limbs with silicone prosthesis inclucions. Rev Bras Cir 69 117

7.

International Symposium: Gluteoplasty: lower limb prosthesis 10 years evolution: recent Advances in Plastic Surgery, March (28–30), 1990, Sao Paulo. Brasil.

8.

UK Kesselring (1980) ArticleTitleCalf augmentation. Ann Plast Surg 4 90 Occurrence Handle1:STN:280:Bi%2BC1Mnms10%3D Occurrence Handle7377682

9.

G Lemperle K Kostka (1993) ArticleTitleCalf augmentation with new solid silicone implants. Aesth Plast Surg 17 233 Occurrence Handle1:STN:280:ByuD38nkslM%3D

10.

López García DP: Aumento del contorno de pierna con colocación de protesis sólida supraperióstica en tibia asociada con fasciotomía y uso de videoendoscopía. Simposio Anual Internacional De Cirugía Plástica Estética, 10–13 November 1999. Puerto Vallarta: Jalisco México. Fundación Educativa de la Sociedad de Residentes y ExResidentes "Dr. JoseGuerrero Santos" del Inst. de Cirugía Reconstructiva de Jalisco. 1999

11.

López García, DP, Otero Nunes, G: Aumento del contorno depierna con colocación de prótesis solida supraperiòstica. XXXI Congreso Nacional de la Asociación Mexicana de Cirugía Plástica, Estética y Reconstructive, 21–26 February 2000. Mazatlán: Sinaloa, México

12.

Otero Nunes G: Protesis de perna. Técnica Persoal. XXI Congresso Brasileiro de Cirurgia Plastica, 18–22 November 1984. Sociedade Basileira de Cirurgia Plastica: Rio de Janeiro, Brasil

13.

Otero Nunes G: Videoendoscopia gluteoplastia: Video Endoscopia, en prótesis perna. XXXV Congresso Brasilerio de Cirugie Plastica, 1–3 November 1998. Goiania: Goias, Brasil

14.

Otero Nunes G, López García DP: Implante de silicone no pantorrilha: II Curso Internacional Teórico Práctico de Cirurgia Plástica, 24–25 August 2001. Sociedade Brasileira de Cirurgia Plástica: Recife, Brasil

15.

JM Serra F Mesa V Paloma A Ballesteros (1992) ArticleTitleUse of calf prosthesis and tissue expansion in aesthetic reconstruction of the leg. Plast Reconstr Surg 89 684 Occurrence Handle1:STN:280:By2C1cjnsVA%3D Occurrence Handle1546081

16.

Congress Europeen de Cirugie Esthetique: video endoscopic gluteoplastic: video endoscopic calf prótesis. 9–11 September, 1995, Monte Carlo
About this article
Cite this article
Nunes, G.O., Garcia, D.P.L. Calf Augmentation with Supraperiostic Solid Prosthesis Associated with Fasciotomies. Aesth. Plast. Surg. 28, 17–19 (2004). https://doi.org/10.1007/s00266-004-3084-8
Keywords
Magnification of the leg

Supraperiostic

Hemiatrophy

Genu-valgus

poliomyelitis sequela

Solid prothesis