Abstract
Basal cell carcinoma is the most frequent cutaneous cancer of the nose and is characterized by its local spreading and exceptionally rare tendency to metastasize. Since a significant advantage has been seen in surgery compared to other treatments, surgical excision ensuring the highest chance of cure is frequently employed. Excision defects of the nose may be covered with either local flap or a full-thickness skin graft. In resurfacing such defects following excision of basal cell carcinomas, we favor the technique of composite-skin grafting which involves the harvesting of composite-skin graft including the epidermis, dermis and superficial layers of subcutaneous tissue to obtain the required thickness in the recipient site. This technique was used for defects remaining after the excision of basal cell carcinomas in a series of 15 patients. The areas involved were lateral nasal region (5 cases), nasal tip (4 cases), dorsum (3 cases), alar lobule (2 cases), and soft triangle (1 case). The mean follow-up was 14.2 months. The color, texture and thickness of the composite-skin graft harvested from the preauricular site and the neck compare favorably with the skin of the nose region. Satisfactory results, both clinically and in patient appreciation, have been obtained in both the reconstruction site and the appearance of the donor site in all patients.
Access options
Buy single article
Instant access to the full article PDF.
USD 39.95
Price excludes VAT (USA)
Tax calculation will be finalised during checkout.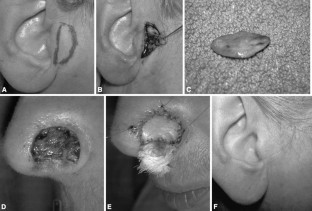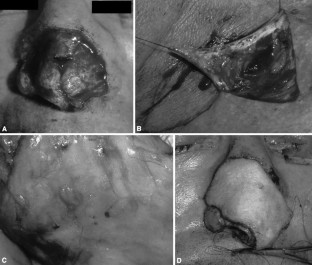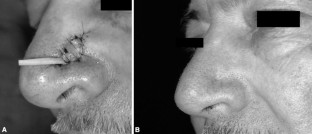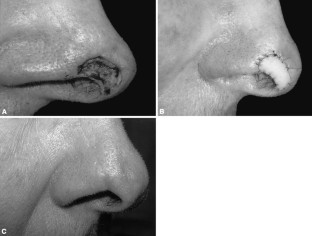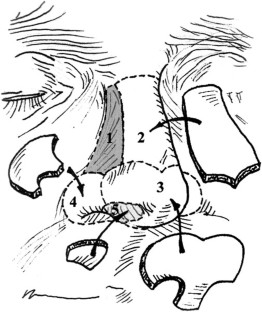 References
S Stal M Spira (1997) Basal and squamous cell carcinoma of the skin. SJ Grabb RW Beasley CHM Thorne (Eds) Plastic surgery. Lippincott-Raven Publishers New York 170–120

TB Fitzpatrick (1988) ArticleTitleThe validity and practicality of sun reactive types I through VI. Arch Dermatol 124 869 Occurrence Handle10.1001/archderm.124.6.869 Occurrence Handle1:STN:280:BieB3sbmvFw%3D Occurrence Handle3377516

DS Preston RS Stern (1992) ArticleTitleNomelanoma cancers of skin. N Engl J Med 327 1649 Occurrence Handle1:STN:280:ByyD28zgvFQ%3D Occurrence Handle1435901

A Matarasso (1990) Bilobed nasal skin flaps. B Strauch LO Vasconez EJ Hall-Findlay (Eds) Grabb's Encyclopedia of Flaps: Head and Neck, Vol 1. Little Brown Boston 135–137

BC Mendelson JK Masson (1990) Banner-shaped nasal skin flap. B Strauch LO Vasconez EJ Hall-Findlay (Eds) Grabb's Encyclopedia of Flaps: Head and Neck, Vol 1. Little Brown Boston 141–145

RA Rieger (1967) ArticleTitleA local flap for repair of the nasal tip. Plast Reconstr Surg 40 147

D Marchac B Toth (1985) ArticleTitleThe axial frontonasal flap revisited. Plast Reconstr Surg 76 686

A Doermann D Hauter EG Zook et al. (1989) ArticleTitleV-Y advancement flaps for closure of nasal defects. Plast Reconstr Surg. 84 916

N Ohsumi T Ishikawa Y Shibata (1998) ArticleTitleReconstruction of nasal tip defects by dorsonasal V-Y advancement island flap. Ann Plast Surg 40 18 Occurrence Handle1:STN:280:DyaK1c7isVegtQ%3D%3D Occurrence Handle9464690

NM Breach (1978) ArticleTitlePre-auricular full-thickness skin grafts. Br J Plast Surg 31 124 Occurrence Handle1:STN:280:CSeC2crisFA%3D Occurrence Handle346123

TR Corwin AW Klein MB Habal (1982) ArticleTitleThe aesthetics of the preauricular graft in facial reconstruction. Ann Plast Surg 9 312 Occurrence Handle1:STN:280:BiyD2szhsVM%3D Occurrence Handle6756264

T Johnson MF Zide (1997) ArticleTitleFreehand full-thickness grafting for facial defects: a review of methods. J Oral Maxillofac Surg 55 IssueID10 1050 Occurrence Handle1:STN:280:ByiH2s%2Fns1I%3D Occurrence Handle9331226

M Gonzalez-Ulloa (1956) ArticleTitleRestoration of the face covering by means of selected in regional aesthetic units. Br J Plast Surg 9 212 Occurrence Handle13374260

GC Burget (1985) ArticleTitleAesthetic restoration of the nose. Clin Plast Surg 12 463 Occurrence Handle1:STN:280:BiqB2MrpsVY%3D Occurrence Handle3893849

GC Burget FJ Menick (1985) ArticleTitleThe subunit principle in nasal reconstruction. Plast Reconstr Surg 76 239 Occurrence Handle1:STN:280:BiqB2s%2FovVc%3D Occurrence Handle4023097
About this article
Cite this article
Gurunluoglu, R., Shafighi, M., Gardetto , A. et al. Composite Skin Grafts for Basal Cell Carcinoma Defects of the Nose. Aesth. Plast. Surg. 27, 286–292 (2003). https://doi.org/10.1007/s00266-003-3011-4
Published:

Issue Date:

DOI: https://doi.org/10.1007/s00266-003-3011-4
Keywords