Abstract
Since 1993 the authors have been using a new approach to the treatment of the muscles intimately related with the nasal tip and the upper lip, today known as dynamic rhinoplasty. With the idea of improving the dorsum-tip-labial relationship, the dynamic rhinoplasty technique is based on performing an intraoral zetaplasty at the labial frenum, allowing the access to the local musculature, represented by the depressor septi nasi muscle and its three fascicles. Next, we perform a subperiosteal undermining of the medial bundles, releasing them from the lower nasal spine, followed by the treatment of the intermedial bundles (which substitute the former by the special kind of plication at the median line, according to the primary characteristics of the upper lip). Initially, we used the new method only for the treatment of negroid nose or for cases of exuberant droopy nasal tip. Today, with improvements in the surgical technique, it is possible to operate on almost any kind of nasolabial combination, including mouth-breather patients and even cases with long upper lip and upright nose tip. Thus, the authors have established a semiotic classification, discussing both surgical indication and technique, and also showing the importance of combining several surgical stages (septoplasty, dynamic rhinoplasty, rhinosculpture, and turbinectomy) involved in each group.
Access options
Buy single article
Instant access to the full article PDF.
US$ 39.95
Tax calculation will be finalised during checkout.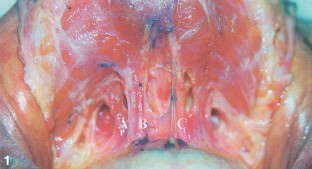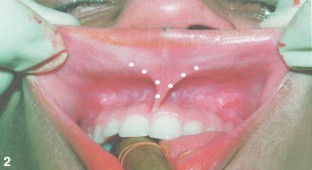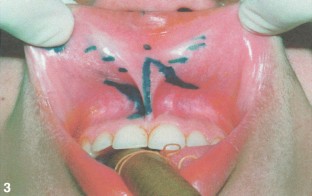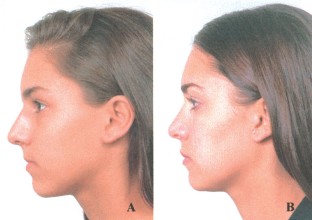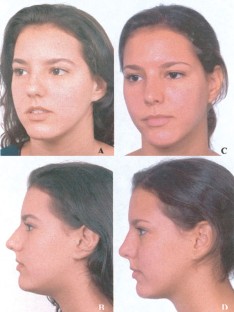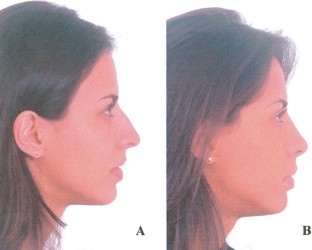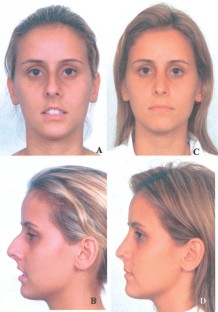 References
1

EB De Souza Pinto RP Rocha WQ Filho ES Neto KG Zacharias EA Amâncio AB Camargo (1998) ArticleTitleAnatomy of the median part of the septum depressor muscle in aesthetic surgery. Aesth Plast Surg 22 111 Occurrence Handle10.1007/s002669900175

2

Santana PSM, Abel JL, Martinez PSM, et al: Negroid nose treatment, without excision of the nasal ala. Ann Int Symp Recent Advances in Plastic Surgery. São Paulo, Brazil; 384–389; March 3–5, 1989

3

De Souza Pinto EB, Erazo IP, Queiroz FW: Rhinoplasty: treatment of the tip-columella and lip. Ann ISAPS-XIII Int Congress, New York, September 28–October 3, 1995

4

EB De Souza Pinto IP Erazo AC Muniz (1996) Rinoescultura: tratamento da dinâmica da ponta nasal, columela e lábio. AAB Tournieux MM Curi (Eds) Atualização em Cirurgia Plástica - SBCP, 1st ed, Robe Editorial São Paulo 51–57

5

EB De Souza Pinto PJ Erazo AC Muniz (1997) Rinoescultura. Técnica personale. F Ferrari I Pitanguy (Eds) Chirurgia Estética -Strategic preoperatorie. Technique chirurgiche. Vol. primo FACCIA Editora Utet Torino 67–77

6

JH Sheen (1987) Aesthetic rhinoplasty. C V Mosby St. Louis

7

EB De Souza Pinto (1990) Rhinosculpture. Ann Int Symp RAPS/90 – Recent advances in plastic surgery. São Paulo Brasil 586–596

8

EB De Souza Pinto FL Biirgel AC Muniz (1994) O uso do Computador na Rinoescultura. AAB Tournieux (Eds) Atualização em Cirurgia Plástica Estética - SBCP Robe Editorial São Paulo 201–205

9

JPT Correa EB De Souza Pinto IP Erazo (1996) Estudo anatômico experimental da região nasolabial em cadáveres e sua importância em rinoplastia. AAB Tournieux MM Curi (Eds) Atualização em Cirurgia Plástica - SBCP Robe Editorial São Paulo 687–691

10

HA Gonella (1982) Contribuição ao estudo anatômico dos músculos do nariz. Tese Faculdade de Medicina de Sorocaba - PUCSP, Sorocaba. São Paulo Brasil

11

JR Lewis (1988) ArticleTitleRhinoplasty and the nasolabial area. Clin Plast Surg 15 IssueID1 115–125 Occurrence Handle3345627

12

JG McCarthy D Wood-Smith (1992) Cirugía Plástica. La Cara – Tomo II. Editorial Medica Panamericana Buenos Aires

13

Ribeiro L, Accorsi A Jr: Parrot nose. Plastic Reconstructive and Aesthetic Surgery. Transactions of the 11th Congress of The International Confederation. Yokohama, Japan, 121–122, April 16–21, 1995

14

De Souza Pinto EB, Erazo P, Muniz AC: The nasal tip surgical treatment by performing the nasal septum depressor muscle mioplasty. Abstracts of the Fourteenth Congress International Society of Aesthetic Plastic Surgery, São Paulo, Brazil, 245, May 31–June 3, 1997

15

De Souza Pinto EB: Rhinosculpture. Plast Surg, UT Hinderer Editor, vol. II, 425, 1992

16

EB De Souza Pinto AC Muniz PJ Erazo PCSP Abdalla (1999) ArticleTitleDynamic rhinoplasty: Treatment of the tip muscles. Perspect Plastic Surgery 12 IssueID1 21–44 Occurrence Handle1:STN:280:By2D1c%2FlsF0%3D Occurrence Handle1727238
About this article
Cite this article
Bolivar de Souza Pinto, E. Relationship Between Tip Nasal Muscles and the Short Upper Lip . Aesth. Plast. Surg. 27, 381–387 (2003). https://doi.org/10.1007/s00266-003-2070-x
Keywords
Dynamic rhinoplasty

Nasal muscles surgery

Rhinosculpture

Nasolabial relation

Upper lip