Abstract
Drooping of the upper eyelid (upper eyelid ptosis) may be minimal (1–2 mm), moderate (3–4 mm), or severe (>4 mm), covering the pupil entirely. Ptosis can affect one or both eyes. Ptosis can be present at birth (congenital) or develop later in life (acquired). Ptosis may be due to a myogenic, neurogenic, aponeurotic, mechanical or traumatic cause. Usually, ptosis occurs isolated, but may be associated with various other conditions, like immunological, degenerative, or hereditary disorders, tumors, or infections. Besides drooping, patients with ptosis complain about tired appearance, blurred vision, and increased tearing. Patients with significant ptosis may need to tilt their head back into a chin-up position, lift their eyelid with a finger, or raise their eyebrows. Continuous activation of the forehead and scalp muscles may additionally cause tension headache and eyestrain. If congenital ptosis is not corrected, amblyopia, leading to permanently poor vision, may develop. Patients with ptosis should be investigated clinically by an ophthalmologist and neurologist, for blood tests, X-rays, and CT/MRI scans of the brain, orbita, and thorax. Treatment of ptosis depends on age, etiology, whether one or both eyelids are involved, the severity of ptosis, the levator function, and presence of additional ophthalmologic or neurologic abnormalities. Generally, treatment of ptosis comprises a watch-and-wait policy, prosthesis, medication, or surgery. For minimal ptosis, Müller's muscle conjunctival resection or the Fasanella Servat procedure are proposed. For moderate ptosis with a levator function of 5–10 mm, shortening of the levator palpebrae or levator muscle advancement are proposed. For severe ptosis with a levator function <5 mm, a brow/frontalis suspension is indicated. Risks of ptosis surgery infrequently include infection, bleeding, over- or undercorrection, and reduced vision. Immediately after surgery, there may be temporary difficulties in completely closing the eye. Although improvement of the lid height is usually achieved, the eyelids may not appear perfectly symmetrical. In rare cases, full eyelid movement does not return. In some cases, more than one operation is required.
Access options
Buy single article
Instant access to the full article PDF.
USD 39.95
Price includes VAT (USA)
Tax calculation will be finalised during checkout.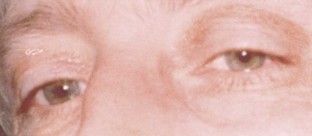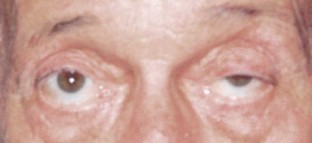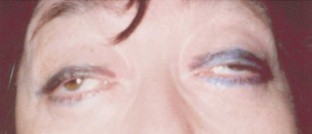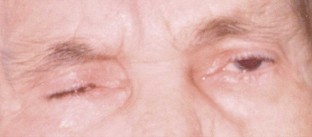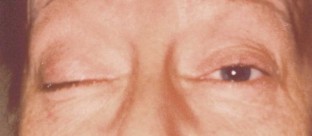 References
1

E Baggio JM Ruban (1998) ArticleTitlePostoperative ptosis: etiopathogenesis, clinical analysis, and therapeutic management. Apropos of a series of 43 cases. J Fr Ophtalmol 21 361–373 Occurrence Handle1:STN:280:DyaK1cvjtFGqtg%3D%3D Occurrence Handle9759430

2

C Beard (1989) ArticleTitleA new classification of blepharoptosis. Int Ophthalmol Clin 29 214 Occurrence Handle1:STN:280:By%2BD2sjnsVM%3D Occurrence Handle2592154

3

MW Becher L Morrison LE Davis WC Maki MK King JM Bicknell BL Reinert C Bartolo DG Bear (2001) ArticleTitleOculopharyngeal muscular dystrophy in Hispanic New Mexicans. JAMA 286 2437–2440 Occurrence Handle10.1001/jama.286.19.2437 Occurrence Handle1:STN:280:DC%2BD3MnoslKgtw%3D%3D Occurrence Handle11712939

4

AJ Bron RC Tripathi BJ Tripathi (1997) Wolff's anatomy of the eye and orbit. 2. The ocular appendages: Eyelids, conjunctiva and lacrimal apparatus. Chapman and Hall Medical London 30–72

5

JD Bullock RE Warwar DG Bienenfeld SL Marciniszyn RJ Markert (2001) ArticleTitlePsychosocial implications of blepharoptosis and dermatochalasis. Trans Am Ophthalmol Soc 99 65–71 Occurrence Handle1:STN:280:DC%2BD38%2FntFynsQ%3D%3D Occurrence Handle11797321

6

M Callahan C Beard (1990) Ptosis. Aesculapius Birmingham 1–78

7

Cohen AJ: Ptosis, adult. eMedicine, December 12, 2001

8

RP Davies (2002) ArticleTitleSurgical options for eyelid problems. Aust Fam Physician 31 239–245 Occurrence Handle11926155

9

F De Wilde M D'Haens H Smet JJ Martin MJ Tassignon (1995) ArticleTitleSurgical treatment of myogenic blepharoptosis. Bull Soc Belge Opthalmol 255 139–246 Occurrence Handle1:STN:280:BymD1M%2Fos10%3D

10

SC Dresner (2001) Ptosis management: A practical approach. WP Chen (Eds) Oculoplasty surgery: The essentials. Thieme Medical Publishers New York 1–10

11

EC Engle (2002) ArticleTitleApplications of molecular genetics to the understanding of congenital ocular motility disorders. Ann NY Acad Sci 956 55–63 Occurrence Handle1:CAS:528:DC%2BD38XktV2ntbg%3D Occurrence Handle11960793

12

A Evoli AP Batocchi C Minisci C Di Schino P Tonali (2001) ArticleTitleTherapeutic options in ocular myasthenia gravis. Neuromusc Disord 11 208–216 Occurrence Handle10.1016/S0960-8966(00)00173-5 Occurrence Handle1:STN:280:DC%2BD3MzmvFWrtA%3D%3D Occurrence Handle11257479

13

MP Flaherty P Grattan-Smith A Steinberg R Jamieson EC Engle (2001) ArticleTitleCongenital fibrosis of the extraocular muscles associated with cortical dysplasia and maldevelopment of the basal ganglia. Ophthalmology 108 1313–1322 Occurrence Handle10.1016/S0161-6420(01)00582-6 Occurrence Handle11425694

14

D Goodisson L Snape (2000) ArticleTitleThe jaw-winking syndrome. NZ Dent J 96 58–59 Occurrence Handle1:STN:280:DC%2BD3czovVOrsQ%3D%3D

15

S Hague R Collin (1994) ArticleTitleBlepharoplasty and ptosis. Curr Opin Ophthalmol 5 67–73 Occurrence Handle1:STN:280:ByqA1MbovVU%3D Occurrence Handle10150819

16

A Hartmann K Berendes P Berlit (1983) ArticleTitlePtosis in the differential diagnosis of neurologic diseases. Klin Monatsbl Augenheilkd 182 113–120 Occurrence Handle1:STN:280:BiyC1M%2FivFc%3D Occurrence Handle6405079

17

JW Iliff EM Pacheco (2001) Ptosis surgery. W Tasman EA Jaeger (Eds) Duane's clinical ophthalmology. Lippincott Williams and Wilkins Philadelphia 1–18

18

Y Johmura K Johkura Y Kuroiwa (2001) ArticleTitleBilateral ptosis, bilateral upgaze and adduction paresis, and monocular downgaze paresis from a mesencephalic infarction. No To Shinkei 53 363–367

19

EG Kemp K MacAndie (2001) ArticleTitleMersilene mesh as an alternative to autogenous fascia lata in brow suspension. Ophthal Plast Reconstr Surg 17 419–422

20

M Khairallah R Messaoud A Ladjimi K Hmidi K Chaouch (1999) ArticleTitleAssociation of spheno-orbital dysplasia with plexiform neuroma in von Recklinghausen's neurofibromatosis. J Fr Opthalmol 22 975–978 Occurrence Handle1:STN:280:DC%2BD3c%2FnslWktg%3D%3D

21

DA Kostick GB Bartley (2000) Upper eyelid malpositions: congenital ptosis. DM Albert FA Jakobiec DT Azar ES Gragoudas (Eds) Principles and practice of ophthalmology. WB Saunders Philadelphia 3460–3468

22

DB Lyon RK Dortzbach (2000) Upper eyelid malpositions: acquired ptosis. DM Albert FA Jakobiec DT Azar ES Gragoudas (Eds) Principles and practice of ophthalmology. WB Saunders Philadelphia 3469–3475

23

TJ Martin RP Yeatts (2000) ArticleTitleAbnormalities of eyelid position and function. Semin Neurol 20 31–42 Occurrence Handle10.1055/s-2000-6831 Occurrence Handle1:STN:280:DC%2BD3M%2FhtFKisA%3D%3D Occurrence Handle10874775

24

D Mojon (2001) ArticleTitleEye diseases in mitochondrial encephalomyopathies. Ther Umsch 58 49–55 Occurrence Handle1:STN:280:DC%2BD3M3isVOrtA%3D%3D Occurrence Handle11217487

25

FM Mutlu K Tuncer C Can (1999) ArticleTitleExtrusion and granuloma formation with mersilene mesh brow suspension. Ophthalmic Surg Lasers 30 47–51 Occurrence Handle1:STN:280:DyaK1M7itVelug%3D%3D Occurrence Handle9923493

26

Y Oya H Yoshida M Takeshima J Toyama H Shigeto M Ogawa M Kawai (2000) ArticleTitleBeneficial effect of eyelid make-up (natural rubber latex) to induce a new fold in the treatment of blepharoptosis in myotonic dystrophy. Rinsho Shinkeigaku 40 483–486 Occurrence Handle1:STN:280:DC%2BD3cvkvF2jtg%3D%3D Occurrence Handle11002733

27

FD Parsa DR Wolff NN Parsa E Elahia (2001) ArticleTitleUpper eyelid ptosis repair after cataract extraction and the importance of Hering's test. Plast Reconstr Surg 108 1527–1538

28

D Rodrigue YM Molgat (1997) ArticleTitleSurgical correction of blepharoptosis in oculopharyngeal muscular dystrophy. Neuromusc Disord 7 S82–S84 Occurrence Handle10.1016/S0960-8966(97)00088-6 Occurrence Handle9392022

29

ML Slavin (2000) ArticleTitleHorner's syndrome with equal-sized pupils in a case with underlying physiologic anisocoria. J Neuroophthalmol 20 1–2 Occurrence Handle1:STN:280:DC%2BD3c3jtFaltg%3D%3D Occurrence Handle10770495

30

KJ Tarbet BN Lemke (2000) Anatomy of the eyelids and lacrimal drainage system. DM Albert FA Jakobiec DT Azar ES Gragoudas (Eds) Principles and practice of ophthalmology. WB Saunders Philadelphia 3318–3332

31

M Waragai H Shinotoh M Kaneko T Hattori (1996) ArticleTitleDifficulty in eye opening following left hemispheric infarction—causative lesion and pathophysiology of abnormalities of the eye and eyelids movements. Rinsho Shinkeigaku 36 577–583 Occurrence Handle1:STN:280:BymH3cnnsF0%3D Occurrence Handle8810853

32

GM Whitehouse JR Grigg FJ Martin (1995) ArticleTitleCongenital ptosis: results of surgical management. Aust NZ J Ophthalmol 23 309–314 Occurrence Handle1:STN:280:DC%2BD383ktFyqsg%3D%3D

33

VA Wong PS Beckingsale CA Oley TJ Sullivan (2002) ArticleTitleManagement of myogenic ptosis. Ophthalmology 109 1023–1031 Occurrence Handle10.1016/S0161-6420(02)01009-6 Occurrence Handle11986113
About this article
Cite this article
Finsterer, J. Ptosis: Causes, Presentation, and Management . Aesth. Plast. Surg. 27, 193–204 (2003). https://doi.org/10.1007/s00266-003-0127-5
Keywords
Ophthalmology

Neuromuscular

Eyelid

Vision

Surgery