Abstract
Female myotis bats may select artificial structures, such as bat boxes and buildings, to form their maternity colonies, and may form preferential associations with other bats based on age or reproductive status. We studied two colonies of little brown myotis (Myotis lucifugus) and Yuma bats (M. yumanesis) in artificial structures near Vancouver, British Columbia, Canada, to assess changes in social organization based on reproductive period. During summer 2019, we used Passive Integrated Technology (PIT-tags and scanners) to track individuals' daily roost selection and social organization, then used social network analysis to compare temporal networks representing critical reproductive periods. Yuma myotis and little brown myotis formed strong, close associations with other bats during pregnancy and lactation but colony organization fragmented during post-lactation as adult and juveniles began roosting independently. Bats segregated by species during post-lactation, whereas they had previously roosted with heterospecifics during pregnancy and lactation. Little brown myotis left the maternity site in August, while Yuma myotis persisted until September and mixed with conspecifics from nearby maternity colonies in a previously unoccupied roost. Our results show that myotis maternity colony organization is not static and reflects myriad temporal, reproductive, and species-specific influences.
Significance statement
Bats often form associations with other bats, thus driving colony organization and roost use. We studied the social structure of two maternity colonies in the lower mainland of British Columbia, Canada. The colonies contained little brown myotis (Myotis lucifugus) and Yuma myotis (M. yumanensis), which roosted in buildings and bat boxes that enabled larger maternity colonies than may occur in wild habitats. We compared social networks of PIT-tagged adult female bats during critical reproductive periods to monitor how bat behavior changed. Bats formed strong associations with colony members during pregnancy and lactation with very little ingress or egress of individuals from the colony. During post-lactation, however, overall colony organization weakened as bats moved to other roosts and many new bats began roosting with the colony. Little brown myotis left maternity sites first while Yuma myotis mixed with other conspecifics from nearby maternity colonies. Thus, colony organization in little brown myotis and Yuma myotis is not static and bats observed during post-lactation are often not the same animals observed earlier in the summer. Additionally, post-lactation mixing between Yuma myotis from different colonies suggests that artificial roosts may provide valuable habitat after the young are volant. Our results show that social organization at maternity colonies is a dynamic reflection of reproductive and species-specific influences.
Access options
Buy single article
Instant access to the full article PDF.
USD 39.95
Price excludes VAT (USA)
Tax calculation will be finalised during checkout.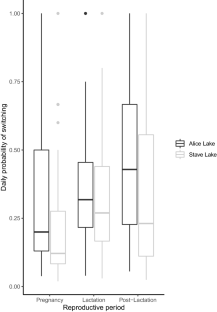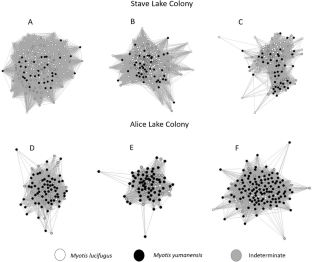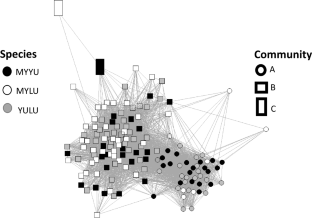 Data availability
Original dataset included in submission Supplementary Material C.
Code availability
All statistical analysis was conducted in R, using packages described in this article.
References
Aldridge HDJN, Brigham RM (1988) Load carrying and maneuverability in an insectivorous bat: a test of the 5% "rule" of radio-telemetry. J Mammal 69:379–382. https://doi.org/10.2307/1381393

Altringham JD (2011) Bats: from evolution to conservation. Oxford University Press, New York, NY

Bachanek J, Postawa T (2010) Morphological evidence for hybridization in the sister species Myotis myotis and Myotis oxygnathus (Chiroptera: Vespertilionidae) in the Carpathian Basin. Acta Chiropterol 12:439–448

Bejder L, Fletcher D, Bräger S (1998) A method for testing association patterns of social animals. Anim Behav 56:719–725. https://doi.org/10.1006/anbe.1998.0802

Cairns SJ, Schwager SJ (1987) A comparison of association indices. Anim Behav 35:1454–1469

Chung-MacCoubrey A (1999) Maternity roosts of bats at the Bosque del Apache National Wildlife Refuge: a preliminary report. In: Finch DM, Whitney JC, Kelly JF, Loftin SR (eds) Rio Grande ecosystems: linking land, water, and people: toward a sustainable future for the Middle Rio Grande Basin. US Department of Agriculture, Forest Service, Rocky Mountain Research Station 187–190

Croft DP, James R, Krause J (2008) Exploring animal social networks. Princeton University Press, Princeton, NJ

Croft DP, Madden JR, Franks DW, James R (2011) Hypothesis testing in animal social networks. Trends Ecol Evol 26:502–507

Csardi G, Nepusz T (2006) The igraph software package for complex network research. Int J Complex Syst 1695. https://igraph.org

Dzal YA, Brigham RM (2013) The tradeoff between torpor use and reproduction in little brown bats (Myotis lucifugus). J Comp Physiol B 183:279–288

Farine DR (2013) Animal social network inference and permutations for ecologists in R using asnipe. Methods Ecol Evol 4:1187–1194

Fenton MB, Bell GP (1979) Echolocation and feeding behaviour in four species of Myotis (Chiroptera). Can J Zool 57:1271–1277

Franks DW, Ruxton GD, James R (2010) Sampling animal association networks with the gambit of the group. Behav Ecol Sociobiol 64:493–503

Ginsberg JR, Young TP (1992) Measuring association between individuals or groups in behavioural studies. Anim Behav 44:377–379

Herd RM, Fenton MB (1983) An electrophoretic, morphological, and ecological investigation of a putative hybrid zone between Myotis lucifugus and Myotis yumanensis (Chiroptera: Vespertilionidae). Can J Zool 61:2029–2050

Johnson JS, Kropczynski JN, Lacki MJ (2013) Social network analysis and the study of sociality in bats. Acta Chiropterol 15:1–17. https://doi.org/10.3161/150811013X667821

Kellner M (2020) British Columbia community bat program annual bat count (2012–2019). Community Bat Projects of BC, https://www.bcbats.ca/attachments/BC_Annual_Bat_Count_Report_2019_20.pdf

Kerth G (2008) Causes and consequences of sociality in bats. Bioscience 58:737–746. https://doi.org/10.1641/B580810

Kerth G, Perony N, Schweitzer F (2011) Bats are able to maintain long-term social relationships despite the high fission–fusion dynamics of their groups. Proc R Soc Lond B 278:2761–2767. https://doi.org/10.1098/rspb.2010.2718

Krause J, Ruxton GD, Ruxton G, Ruxton IG (2002) Living in groups. Oxford University Press, Oxford

Lausen C, Nagorsen DW, Brigham RM, Hobbs J (2021) Bats of British Columbia, 2nd edn. Royal British Columbia Museum, Victoria, BC

Lewis SE (1995) Roost fidelity of bats: a review. J Mammal 76:481–496

Manly BF (2006) Randomization, bootstrap and Monte Carlo methods in biology. CRC Press, Boca Raton, FL

McComb K, Moss C, Durant SM, Bakerand L, Sayialel S (2001) Matriarchs as repositories of social knowledge in African elephants. Sci 292:491–494

Mering ED, Chambers CL (2014) Thinking outside the box: A review of artificial roosts for bats. Wildlife Soc Bull 38:741–751. https://doi.org/10.1002/wsb.461

Nad'o L, Chromá R, Kaňuch P (2017) Structural, temporal and genetic properties of social groups in the short-lived migratory bat Nyctalus leisleri. Behaviour 154:785–80. https://doi.org/10.1163/1568539X-00003444

Nagorsen DW, Brigham RM (1993) Bats of British Columbia. UBC press, Vancouver, BC

Neilson AL, Fenton MB (1994) Responses of little brown myotis to exclusion and to bat houses. Wildlife Soc Bull 22:8–14

Newman ME (2002) Assortative mixing in networks. Phys Rev Lett 89:208701

Newman ME (2006) Modularity and community structure in networks. P Natl Acad Sci USA 103:8577–8582

Newman ME, Girvan M (2004) Finding and evaluating community structure in networks. Phys Rev E 69:026113

Olson CR, Barclay RM (2013) Concurrent changes in group size and roost use by reproductive female little brown bats (Myotis lucifugus). Can J Zool 91:149–155

Parkinson A (1979) Morphologic variation and hybridization in Myotis yumanensis sociabilis and Myotis lucifugus carissima. J Mammal 60:489–504

Patriquin KJ, Ratcliffe JM (2016) Should I stay or should I go? Fission–fusion dynamics in bats. In: Ortega J (ed) Sociality in bats. Springer International Publishing, Cham, Ogden, UT, pp 65–103

Patriquin KJ, Leonard ML, Broders HG, Garroway CJ (2010) Do social networks of female northern long-eared bats vary with reproductive period and age? Behav Ecol Sociobiol 64:899–913. https://doi.org/10.1007/s00265-010-0905-4

Racey P (1973) Environmental factors affecting the length of gestation in heterothermic bats. J Reprod Fertil 19:175–189

Racey PA (1974) Aging and assessment of reproductive status of Pipistrelle bats, Pipistrellus pipistrellus. J Zool 173:264–271

Razik I, Brown BK, Carter GG (2022) Forced proximity promotes the formation of enduring cooperative relationships in vampire bats. Biol Lett 18:20220056

Reckardt K, Kerth G (2007) Roost selection and roost switching of female Bechstein's bats (Myotis bechsteinii) as a strategy of parasite avoidance. Oecologia 154:581–588. https://doi.org/10.1007/s00442-007-0843-7

Rensel LJ (2021) Roost selection and social organization of myotis in maternity colonies. Dissertation, University of British Columbia

Rosvall M, Bergstrom CT (2007) An information-theoretic framework for resolving community structure in complex networks. P Natl Acad Sci USA 104:7327–7331

Salinas-Ramos VB, Ancillotto L, Bosso L, Sánchez-Cordero V, Russo D (2020) Interspecific competition in bats: state of knowledge and research challenges. Mamm Rev 50:68–81. https://doi.org/10.1111/mam.12180

Sedgeley JA (2001) Quality of cavity microclimate as a factor influencing selection of maternity roosts by a tree-dwelling bat, Chalinolobus tuberculatus, in New Zealand. J Appl Ecol 38:425–438

Shizuka D, Farine DR (2016) Measuring the robustness of network community structure using assortativity. Anim Behav 112:237–246

Silk JB, Alberts SC, Altmann J (2003) Social bonds of female baboons enhance infant survival. Science 302:1231–1234

Silk MJ, Jackson AL, Croft DP, Colhoun K (2015) The consequences of unidentifiable individuals for the analysis of an animal social network. Anim Behav 104:1–11

van der Post DJ, Verbrugge R, Hemelrijk CK (2015) The evolution of different forms of sociality: behavioral mechanisms and eco-evolutionary feedback. PLoS One 10:e0117027

Webber QMR, Brigham RM, Park AD, Gillam EH, O'Shea TJ, Willis CKR (2016) Social network characteristics and predicted pathogen transmission in summer colonies of female big brown bats (Eptesicus fuscus). Behav Ecol Sociobiol 70:701–712. https://doi.org/10.1007/s00265-016-2093-3

Weller TJ, Scott SA, Rodhouse TJ, Ormsbee PC, Zink JM (2007) Field identification of the cryptic vespertilionid bats, Myotis lucifugus and M. yumanensis. Acta Chiropterol 9:133–147. https://doi.org/10.3161/150811007781694354

Whitehead H (2008) Analyzing animal societies: Quantitative methods for vertebrate social analysis. University of Chicago Press, Chicago, IL

Whitehead H, Bejder L, Andrea Ottensmeyer C (2005) Testing association patterns: Issues arising and extensions. Anim Behav 69:e1. https://doi.org/10.1016/j.anbehav.2004.11.004

Zeus VM, Reusch C, Kerth G (2018) Long-term roosting data reveal a unimodular social network in large fission-fusion society of the colony-living Natterer's bat (Myotis nattereri). Behav Ecol Sociobiol 72:99. https://doi.org/10.1007/s00265-018-2516-4
Acknowledgements
We thank biologists Aimee Mitchell and Chris Currie, technicians Nick Hindley and Suhani Srihari, and all our volunteers for their efforts in the field. We thank the staff at BC Hydro and Alice Lake Park for their help with site access and bat captures. We also thank the editors and reviewers—including Dr. Brock Fenton—for their time, effort, and helpful suggestions that greatly improved this manuscript.
Funding
Funding for this research was provided by MITACS, BC Fish and Wildlife Compensation Program, Fight WNS, US National Fish and Wildlife Foundation, Habitat Conservation Trust Foundation, Forest Enhancement Society of British Columbia, Wildlife Conservation Society Canada, and University of British Columbia Okanagan.
Ethics declarations
Ethics approval
All bat capture, handling, and radiotracking followed ASM guidelines for the use of wild animals in research. We conformed to the standards of the Canadian Council on Animal Care, permitted by the government of British Columbia in accordance with the Wildlife Act under Dr. Cori Lausen (Permit # MRCB15-163558), Species At Risk Act (Permit # SARA-PYR-2018–00444), and the British Columbia Government in accordance with the Wildlife Act (Permit # MRCB15-163558). Land access permission was granted by Alice Lake Park (BC Parks File # 98700–20).
Conflict of interest
The authors declare no competing interests.
Additional information
Communicated by G. S Wilkinson
Publisher's note
Springer Nature remains neutral with regard to jurisdictional claims in published maps and institutional affiliations.
Supplementary Information
Below is the link to the electronic supplementary material.
Rights and permissions
Springer Nature or its licensor (e.g. a society or other partner) holds exclusive rights to this article under a publishing agreement with the author(s) or other rightsholder(s); author self-archiving of the accepted manuscript version of this article is solely governed by the terms of such publishing agreement and applicable law.
About this article
Cite this article
Rensel, L. ., Hodges, K.E. & Lausen, C.L. Maternity colony social structure of myotis in British Columbia, Canada. Behav Ecol Sociobiol 76, 159 (2022). https://doi.org/10.1007/s00265-022-03265-8
Received:

Revised:

Accepted:

Published:

DOI: https://doi.org/10.1007/s00265-022-03265-8
Keywords