Abstract
Anthropogenic noise may disrupt signals used to mediate aggressive interactions, leading to more physical aggression between opponents. One solution to this problem is to switch signaling effort to a less noisy modality (e.g., the visual modality). In the present study, we investigate aggressive behaviors and signaling in urban and rural male European robins (Erithacus rubecula) in response to simulated intrusions with or without experimental noise. First, we predicted that urban birds, living in noisier habitats, would be generally more aggressive than rural birds. We also predicted that during simulated intrusions with experimental noise, robins would increase their physical aggression and show a multi-modal shift, i.e., respond with more visual threat displays and sing fewer songs. Finally, we expected the multi-modal shift in response to noise to be stronger in urban birds compared to rural birds. The results showed that urban birds were more aggressive than rural robins, but an increase in aggression with experimental noise was seen only in the rural birds. Urban but not rural birds decreased their song rate in response to noise. Contrary to the multi-modal shift hypothesis, however, there was no evidence of a concurrent increase in visual signals. These results point to a complex role of immediate plasticity and longer-term processes in affecting communication during aggressive interactions under anthropogenic noise.
Significance statement
Human activity has an enormous effect on wildlife, including on their social behavior. Animals living in urban areas often tend to be more aggressive than those living in rural areas, which may be due to urban acoustic noise making communication between individuals more difficult. In a study with a common songbird, the European robin, we investigated the role of urban acoustic noise in aggression and territorial communication. Urban robins were more aggressive than rural robins, and additional noise in the territory increased aggression in rural but not urban robins. While urban robins decreased their singing effort with additional noise, they did not increase visual signals concurrently. These results suggest that noise can indeed make animals behave more aggressively although the effect may depend on how noisy it is already. These results further our understanding of how human-made noise changes animal communication and social behavior.
Access options
Buy single article
Instant access to the full article PDF.
USD 39.95
Price excludes VAT (USA)
Tax calculation will be finalised during checkout.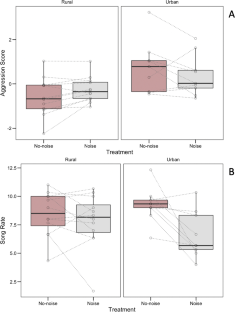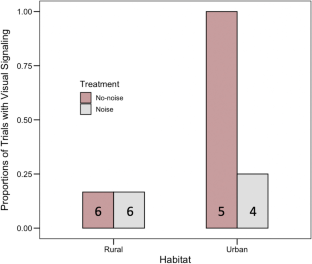 Data availability
The raw data and the R-code to reproduce the analyses reported in the manuscript are available in the supplementary materials.
References
Akçay Ç, Beck ML, Sewall KB (2020a) Are signals of aggressive intent less honest in urban habitats? Behav Ecol 31:213–221. https://doi.org/10.1093/beheco/arz179

Akçay Ç, Beecher MD (2019) Multi-modal communication: song sparrows increase signal redundancy in noise. Biol Lett 15:20190513. https://doi.org/10.1098/rsbl.2019.0513

Akçay Ç, Porsuk YK, Avşar A, Çabuk D, Bilgin CC (2020b) Song overlapping, noise, and territorial aggression in great tits. Behav Ecol 31:807–814. https://doi.org/10.1093/beheco/araa030

Akçay Ç, Tom ME, Campbell SE, Beecher MD (2013) Song type matching is an honest early threat signal in a hierarchical animal communication system. Proc R Soc B 280:20122517. https://doi.org/10.1098/rspb.2012.2517

Bro-Jørgensen J (2010) Dynamics of multiple signalling systems: animal communication in a world in flux. Trends Ecol Evol 25:292–300. https://doi.org/10.1016/j.tree.2009.11.003

Brumm H (2004) The impact of environmental noise on song amplitude in a territorial bird. J Anim Ecol 73:434–440. https://doi.org/10.1111/j.0021-8790.2004.00814.x

Brumm H, Slabbekoorn H (2005) Acoustic communication in noise. Adv Stud Behav 35:151–209

Chantrey DF, Workman L (1984) Song and plumage effects on aggressive display by the European robin Erithacus rubecula. Ibis 126:366–371. https://doi.org/10.1111/j.1474-919X.1984.tb00257.x

Davies S, Sewall KB (2016) Agonistic urban birds: elevated territorial aggression of urban song sparrows is individually consistent within a breeding period. Biol Lett 12:20160315. https://doi.org/10.1098/rsbl.2016.0315

Davis A, Major RE, Taylor CE (2013) Housing shortages in urban regions: aggressive interactions at tree hollows in forest remnants. PLoS One 8:e59332. https://doi.org/10.1371/journal.pone.0059332

Duquette CA, Loss SR, Hovick TJ (2021) A meta-analysis of the influence of anthropogenic noise on terrestrial wildlife communication strategies. J Appl Ecol 58:1112–1121. https://doi.org/10.1111/1365-2664.13880

Evans J, Boudreau K, Hyman J (2010) Behavioural syndromes in urban and rural populations of song sparrows. Ethology 116:588–595. https://doi.org/10.1111/j.1439-0310.2010.01771.x

Foltz SL, Ross AE, Laing BT, Rock RP, Battle KE, Moore IT (2015) Get off my lawn: increased aggression in urban song sparrows is related to resource availability. Behav Ecol 26:1548–1557. https://doi.org/10.1093/beheco/arv111

Francis CD, Ortega CP, Cruz A (2009) Noise pollution changes avian communities and species interactions. Curr Biol 19:1415–1419. https://doi.org/10.1016/j.cub.2009.06.052

Gentry KE, Derryberry EP, Danner RM, Danner JE, Luther DA (2017) Immediate signaling flexibility in response to experimental noise in urban, but not rural, white-crowned sparrows. Ecosphere 8:e01916. https://doi.org/10.1002/ecs2.1916

Gil D, Brumm H (2013) Acoustic communication in the urban environment. Avian Urban Ecology. Oxford University Press, Oxford, pp 69–83

Gill SA, Grabarczyk EE, Baker KM, Naghshineh K, Vonhof MJ (2017) Decomposing an urban soundscape to reveal patterns and drivers of variation in anthropogenic noise. Sci Total Environ 599:1191–1201. https://doi.org/10.1016/j.scitotenv.2017.04.229

Grabarczyk EE, Gill SA (2019) Anthropogenic noise affects male house wren response to but not detection of territorial intruders. PLoS One 14:e0220576. https://doi.org/10.1371/journal.pone.0220576

Halfwerk W, Slabbekoorn H (2015) Pollution going multimodal: the complex impact of the human-altered sensory environment on animal perception and performance. Biol Lett 11:20141051. https://doi.org/10.1098/rsbl.2014.1051

Hardman SI, Dalesman S (2018) Repeatability and degree of territorial aggression differs among urban and rural great tits (Parus major). Sci Rep 8:5042. https://doi.org/10.1038/s41598-018-23463-7

Kleist NJ, Guralnick RP, Cruz A, Francis CD (2016) Anthropogenic noise weakens territorial response to intruder's songs. Ecosphere 7:e01259. https://doi.org/10.1002/ecs2.1259

Lack D (1939) The behaviour of the robin. — part I. The life-history, with special reference to aggressive behaviour, sexual behaviour, and territory. Part II. A partial analysis of aggressive and recognitional behaviour. J Zool A109:169–219. https://doi.org/10.1111/j.1096-3642.1939.tb03362.x

Lack D (1943) The life of the robin, 1st edn. Witherby, London

LaZerte SE, Slabbekoorn H, Otter KA (2016) Learning to cope: vocal adjustment to urban noise is correlated with prior experience in black-capped chickadees. Proc R Soc B 283:20161058. https://doi.org/10.1098/rspb.2016.1058

Lee VE, Thornton A (2021) Animal cognition in an urbanised world. Front Ecol Evol 9:633947. https://doi.org/10.3389/fevo.2021.633947

Logue DM, Abiola IO, Rains D, Bailey NW, Zuk M, Cade WH (2010) Does signalling mitigate the cost of agonistic interactions? A test in a cricket that has lost its song. Proc R Soc Lond B 277:2571–2575. https://doi.org/10.1098/rspb.2010.0421

Maynard Smith J, Price GR (1973) The logic of animal conflict. Nature 246:15–18. https://doi.org/10.1038/246015a0

McClelland SC, Durães Ribeiro R, Mielke HW, Finkelstein ME, Gonzales CR, Jones JA, Komdeur J, Derryberry E, Saltzberg EB, Karubian J (2019) Sub-lethal exposure to lead is associated with heightened aggression in an urban songbird. Sci Total Environ 654:593–603. https://doi.org/10.1016/j.scitotenv.2018.11.145

McLaughlin KE, Kunc HP (2013) Experimentally increased noise levels change spatial and singing behaviour. Biol Lett 9:20120771. https://doi.org/10.1098/rsbl.2012.0771

Partan SR (2017) Multimodal shifts in noise: switching channels to communicate through rapid environmental change. Anim Behav 124:325–337. https://doi.org/10.1016/j.anbehav.2016.08.003

Partan SR, Fulmer AG, Gounard MAM, Redmond JE (2010) Multimodal alarm behavior in urban and rural gray squirrels studied by means of observation and a mechanical robot. Curr Zool 56:313–326. https://doi.org/10.1093/czoolo/56.3.313

Partan SR, Marler P (1999) Communication goes multimodal. Science 283:1272–1273. https://doi.org/10.1126/science.283.5406.1272

Passos MFO, Beirão MV, Midamegbe A, Duarte RHL, Young RJ, de Azevedoa CS (2020) Impacts of noise pollution on the agonistic interactions of the saffron finch (Sicalis flaveola Linnaeus, 1766). Behav Process 180:104222. https://doi.org/10.1016/j.beproc.2020.104222

Phillips JN, Derryberry EP (2018) Urban sparrows respond to a sexually selected trait with increased aggression in noise. Sci Rep 8:7505. https://doi.org/10.1038/s41598-018-25834-6

Pinheiro J, Bates D, R Core Team (2022) nlme: Linear and nonlinear mixed effects models. R package version 3.1–157, https://CRAN.R-project.org/package=nlme

R Core Team (2021) R: a language and environment for statistical computing. R Foundation for Statistical Computing, Vienna, Austria, http://www.R-project.org/

Revelle W (2021) psych: procedures for psychological, psychometric, and personality research (2.1.9), https://CRAN.R-project.org/package=psych

Reed VA, Toth CA, Wardle RN, Gomes DGE, Barber JR, Francis CD (2021) Natural noise affects conspecific signal detection and territorial defense behaviors in songbirds. Behav Ecol 32:993–1003

Ríos-Chelén AA, Lee GC, Patricelli GL (2015) Anthropogenic noise is associated with changes in acoustic but not visual signals in red-winged blackbirds. Behav Ecol Sociobiol 69:1139–1151. https://doi.org/10.1007/s00265-015-1928-7

Roca IT, Desrochers L, Giacomazzo M, Bertolo A, Bolduc P, Deschesnes R, Martin CA, Rainville V, Rheault G, Proulx R (2016) Shifting song frequencies in response to anthropogenic noise: a meta-analysis on birds and anurans. Behav Ecol 27:1269–1274. https://doi.org/10.1093/beheco/arw060

Scales J, Hyman J, Hughes M (2011) Behavioral syndromes break down in urban song sparrow populations. Ethology 117:887–895. https://doi.org/10.1111/j.1439-0310.2011.01943.x

Searcy WA, Anderson RC, Nowicki S (2006) Bird song as a signal of aggressive intent. Behav Ecol Sociobiol 60:234–241. https://doi.org/10.1007/s00265-006-0161-9

Stoffel MA, Nakagawa S, Schielzeth H (2017) rptR: repeatability estimation and variance decomposition by generalized linear mixed-effects models. Methods Ecol Evol 8:1639–1644. https://doi.org/10.1111/2041-210X.12797

Sueur J, Aubin T, Simonis C (2008) Seewave, a free modular tool for sound analysis and synthesis. Bioacoustics 18:213–226. https://doi.org/10.1080/09524622.2008.9753600

Templeton CN, Zollinger SA, Brumm H (2016) Traffic noise drowns out great tit alarm calls. Curr Biol 26:R1173–R1174. https://doi.org/10.1016/j.cub.2016.09.058

Wolfenden AD, Slabbekoorn H, Kluk K, Kort SR (2019) Aircraft sound exposure leads to song frequency decline and elevated aggression in wild chiffchaffs. J Anim Ecol 88:1720–1731. https://doi.org/10.1111/1365-2656.13059

Zwart MC, Dunn JC, McGowan PJK, Whittingham MJ (2016) Wind farm noise suppresses territorial defense behavior in a songbird. Behav Ecol 27:101–108. https://doi.org/10.1093/beheco/arv128
Acknowledgements
We wish to thank the reviewers for greatly improving the quality of this manuscript with their thorough commentary.
Funding
This study was funded by the British Ornithological Union Small Ornithological Research Grant to ÇÖ.
Ethics declarations
Ethics approval
This study did not require an ethics committee approval. All procedures used in this study follow the ASAB/ABS guidelines for the treatment of animals in behavioral research and teaching. Subjects were not captured or handled before, during, or after any of the trials. Time spent within a territory did not exceed 15 min per trial, and 30 min per day.
Conflict of interest
The authors declare no competing interests.
Additional information
Communicated by H. Brumm
Publisher's note
Springer Nature remains neutral with regard to jurisdictional claims in published maps and institutional affiliations.
Supplementary Information
Below is the link to the electronic supplementary material.
About this article
Cite this article
Önsal, Ç., Yelimlieş, A. & Akçay, Ç. Aggression and multi-modal signaling in noise in a common urban songbird. Behav Ecol Sociobiol 76, 102 (2022). https://doi.org/10.1007/s00265-022-03207-4
Received:

Revised:

Accepted:

Published:

DOI: https://doi.org/10.1007/s00265-022-03207-4
Keywords
Multi-modal signaling

Territoriality

Anthropogenic noise

Multi-modal shift

European robin