Abstract
Transitions between life history stages are fitness-limiting events that depend on environmental and individual characteristics. For altricial birds, fledging from the nest is a critical shift in development with direct impacts on survival, yet it remains one of the most understudied components of avian ontogeny. Even less is known about how brood parasitism affects the fledging process in host nestlings. The prothonotary warbler (Protonotaria citrea) is a host of the obligate brood parasitic brown-headed cowbird (Molothrus ater). We tested whether the presence of parasitic nestlings negatively alters host fledging by experimentally parasitizing nests with a cowbird (heterospecific parasite) or a warbler (conspecific parasite) egg, comparing them to non-manipulated control nests, and monitoring them using radio-frequency identification (RFID) systems. As expected, in heterospecifically parasitized nests, warblers were smaller, fledged at older ages, and had greater overall fledging latency compared to conspecifically parasitized nests. There was no such impact of conspecific parasitism relative to controls. Warbler nestling size predicted the age and order of fledging, with larger nestlings fledging earlier. Nestlings fledging at earlier ages fledged later during daytime hours. Cowbirds and last-fledged, smaller warbler chicks spent the most time in the nest entrance before fledging. Finally, although male warbler nestlings were larger than females, there were no sex effects or effects of extra-pair status on fledging. Our study shows that while conspecific parasitism has no detectable effect on host nestmates, heterospecific parasitism impacts host size and fledging phenology, which may influence post-fledging survival of parasitized broods.
Significance statement
In many species, juveniles undergo dramatic transitions in lifestyle as they age and become independent. For most birds, fledging from the nest is an important developmental shift, potentially impacted by their previous growth and early social experiences. One aspect that may affect fledging is brood parasitism, whereby birds lay their eggs into the nests of other birds who care for the unrelated young. Here, we determined experimentally if brood parasitism affects fledging of the prothonotary warbler, a species that always accepts eggs of the larger, obligate brood parasitic brown-headed cowbird. Our results show that while same-species parasitism has no statistical effect on the fledging of host warblers, cowbird parasitism causes delayed fledging in hosts, revealing a previously unappreciated, additional cost of brood parasitism upon host nestlings.
Access options
Buy single article
Instant access to the full article PDF.
USD 39.95
Price excludes VAT (USA)
Tax calculation will be finalised during checkout.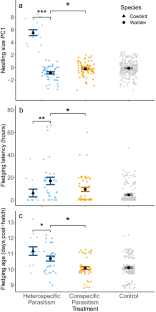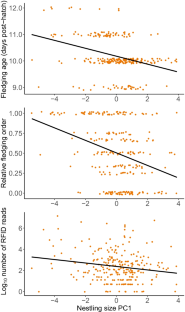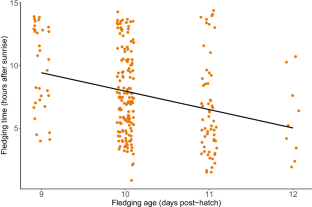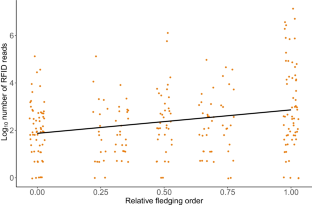 Data availability
The dataset generated and/or analyzed during the current study is publicly available in the FigShare depository at: https://doi.org/10.6084/m9.figshare.14331554.v1.
References
Amburgey S, Funk WC, Murphy M, Muths E (2012) Effects of hydroperiod duration on survival, developmental rate, and size at metamorphosis in boreal chorus frog tadpoles (Pseudacris maculata). Herpetologica 68:456–467. https://doi.org/10.1655/HERPETOLOGICA-D-11-00093

Anderson MG, Moskát C, Bán M, Grim T, Cassey P, Hauber ME (2009) Egg eviction imposes a recoverable cost of virulence in chicks of a brood parasite. PLoS ONE 4:e7725. https://doi.org/10.1371/journal.pone.0007725

Antonson ND, Hauber ME, Mommer BC, Hoover JP, Schelsky WM (2020) Physiological responses of host parents to rearing an avian brood parasite: an experimental study. Horm Behav 125:104812. https://doi.org/10.1016/j.yhbeh.2020.104812

Berven KA (1990) Factors affecting population fluctuations in larval and adult stages of the wood frog (Rana Sylvatica). Ecology 71:1599–1608. https://doi.org/10.2307/1938295

Bridge ES, Wilhelm J, Pandit MM et al (2019) An Arduino-based RFID platform for animal research. Front Ecol Evol 7:257. https://doi.org/10.3389/fevo.2019.00257

Chiavacci SJ, Ward MP, Benson TJ (2015) Why fledge early in the day? Examining the role of predation risk in explaining fledging behavior. Behav Ecol 26:593–600. https://doi.org/10.1093/beheco/aru236

Dawson RJG, Lisle Gibbs H, Hobson KA, Yezerinac SM (1997) Isolation of microsatellite DNA markers from a passerine bird, Dendroica petechia (the yellow warbler), and their use in population studies. Heredity 79:506–514. https://doi.org/10.1038/hdy.1997.190

de Kogel CH (1997) Long-term effects of brood size manipulation on morphological development and sex-specific mortality of offspring. J Anim Ecol 66:167–178. https://doi.org/10.2307/6019

Doherty PJ, Dufour V, Galzin R, Hixon MA, Meekan MG, Planes S (2004) High mortality during settlement is a population bottleneck for a tropical surgeonfish. Ecology 85:2422–2428. https://doi.org/10.1890/04-0366

Griffiths R, Double MC, Orr K, Dawson RJG (1998) A DNA test to sex most birds. Mol Ecol 7:1071–1075. https://doi.org/10.1046/j.1365-294x.1998.00389.x

Grim T, Rutila J, Cassey P, Hauber ME (2009) Experimentally constrained virulence is costly for common cuckoo chicks. Ethology 115:14–22. https://doi.org/10.1111/j.1439-0310.2008.01574.x

Hauber ME (2003) Hatching asynchrony, nestling competition, and the cost of interspecific brood parasitism. Behav Ecol 14:227–235. https://doi.org/10.1093/beheco/14.2.227

Hoover JP (2003) Multiple effects of brood parasitism reduce the reproductive success of prothonotary warblers, Protonotaria citrea. Anim Behav 65:923–934. https://doi.org/10.1006/anbe.2003.2155

Hoover JP (2006) Water depth influences nest predation for a wetland-dependent bird in fragmented bottomland forests. Biol Conserv 127:37–45. https://doi.org/10.1016/j.biocon.2005.07.017

Hoover JP, Yasukawa K, Hauber ME (2006) Spatially and temporally structured avian brood parasitism affects the fitness benefits of hosts' rejection strategies. Anim Behav 72:881–890. https://doi.org/10.1016/j.anbehav.2006.02.011

Hoover JP, Davros NM, Schelsky WM, Brawn JD (2020) Local conspecific density does not influence reproductive output in a secondary cavity-nesting songbird. The Auk 137(2). https://doi.org/10.1093/auk/ukaa002

Johnson LS, Rauch RL, Dellone SN (2004) The process and causes of fledging in a cavity-nesting passerine bird, the house wren (Troglodytes aedon). Ethology 110:693–705. https://doi.org/10.1111/j.1439-0310.2004.01001.x

Johnson LS, Hebert RM, Napolillo FM, Allen A (2013) The process of fledging in the mountain bluebird. J Field Ornithol 84:367–376

Jones TM, Ward MP (2020) Pre- to post-fledging carryover effects and the adaptive significance of variation in wing development for juvenile songbirds. J Anim Ecol 89:2235–2245. https://doi.org/10.1111/1365-2656.13285

Jones TM, Ward MP (2021) Parasitic cowbird development up to fledging and subsequent post-fledging survival reflect life history variation found across host species. Behav Ecol Sociobiol 75:133. https://doi.org/10.1007/s00265-021-03074-5

Jones TM, Ward MP, Benson TJ, Brawn JD (2017) Variation in nestling body condition and wing development predict cause-specific mortality in fledgling dickcissels. J Avian Biol 48:439–447. https://doi.org/10.1111/jav.01143

Jones TM, Brawn JD, Ausprey IJ et al (2020) Parental benefits and offspring costs reflect parent–offspring conflict over the age of fledging among songbirds. P Natl Acad Sci USA 117:30539–30546. https://doi.org/10.1073/pnas.2008955117

Josse J, Husson F (2016) missMDA: a package for handling missing values in multivariate data analysis. J Stat Softw 70:1–31

Kahn NW, St John J, Quinn TW (1998) Chromosome-specific intron size differences in the avian CHD gene provide an efficient method for sex identification in birds. Auk 115:1074–1078. https://doi.org/10.2307/4089527

Kalinowski ST, Taper ML, Marshall TC (2007) Revising how the computer program cervus accommodates genotyping error increases success in paternity assignment. Mol Ecol 16:1099–1106. https://doi.org/10.1111/j.1365-294X.2007.03089.x

Kilner RM, Madden JR, Hauber ME (2004) Brood parasitic cowbird nestlings use host young to procure resources. Science 305:877–879. https://doi.org/10.1126/science.1098487

Kysučan M, Samaš P, Grim T (2020) Post-fledging interactions between the common cuckoo Cuculus canorus and its cavity-nesting common redstart Phoenicurus phoenicurus host. Ibis 162:90–103. https://doi.org/10.1111/ibi.12719

Lack D (1947) The significance of clutch-size I and II. Ibis 89:302–352. https://doi.org/10.1111/j.1474-919X.1947.tb04155.x

Lack D (1948) The significance of clutch-size III. Ibis 90:25–45. https://doi.org/10.1111/j.1474-919X.1948.tb01399.x

Lê S, Josse J, Husson F (2008) FactoMineR: a package for multivariate analysis. J Stat Softw 25:1–18. https://doi.org/10.18637/jss.v025.i01

Lemel J (1989) Body-mass dependent fledging order in the great tit. Auk 106:490–492

Mainwaring MC (2016) The transition from dependence to independence in birds. Behav Ecol Sociobiol 70:1419–1431. https://doi.org/10.1007/s00265-016-2186-z

Mark MM, Rubenstein DR (2013) Physiological costs and carry-over effects of avian interspecific brood parasitism influence reproductive tradeoffs. Horm Behav 63:717–722. https://doi.org/10.1016/j.yhbeh.2013.03.008

Martin TE, Tobalske B, Riordan MM, Case SB, Dial KP (2018) Age and performance at fledging are a cause and consequence of juvenile mortality between life stages. Sci Adv 4:eaar1988. https://doi.org/10.1126/sciadv.aar1988

McClelland SC, Reynolds M, Cordall M et al (2021) Embryo movement is more frequent in avian brood parasites than birds with parental reproductive strategies. Proc R Soc B 288:20211137. https://doi.org/10.1098/rspb.2021.1137

McKim-Louder MI, Hoover JP, Benson TJ, Schelsky WM (2013) Juvenile survival in a neotropical migratory songbird is lower than expected. PLoS ONE 8:e56059. https://doi.org/10.1371/journal.pone.0056059

McMaster DG, Sealy SG (1998) Short incubation periods of brown-headed cowbirds: How do cowbird eggs hatch before yellow warbler eggs? Condor 100:102–111. https://doi.org/10.2307/1369901

Michaud T, Leonard M (2000) The role of development, parental behavior, and nestmate competition in fledging of nestling tree swallows. Auk 117:996–1002. https://doi.org/10.1093/auk/117.4.996

Moskát C, Hauber ME, Louder MIM (2017) The evolution of nest sharing and nestmate killing strategies in brood parasites. In: Soler M (ed) Avian Brood Parasitism. Springer Nature, New York, pp 475–492

Naef-Daenzer B, Grüebler MU (2016) Post-fledging survival of altricial birds: ecological determinants and adaptation. J Field Ornithol 87:227–250. https://doi.org/10.1111/jofo.12157

Naef-Daenzer B, Widmer F, Nuber M (2001) Differential post-fledging survival of great and coal tits in relation to their condition and fledging date. J Anim Ecol 70:730–738. https://doi.org/10.1046/j.0021-8790.2001.00533.x

Neave HW, Costa JHC, Benetton JB, Weary DM, von Keyserlingk MAG (2019) Individual characteristics in early life relate to variability in weaning age, feeding behavior, and weight gain of dairy calves automatically weaned based on solid feed intake. J Dairy Sci 102:10250–10265. https://doi.org/10.3168/jds.2019-16438

Nilsson J-Å, Svensson M (1993) Fledging in altricial birds: parental manipulation or sibling competition? Anim Behav 46:379–386. https://doi.org/10.1006/anbe.1993.1200

Perrins CM, Moss D (1975) Reproductive rates in the great tit. J Anim Ecol 44:695–706. https://doi.org/10.2307/3712

Petit LJ (1999) Prothonotary warbler (Protonotaria citrea), version 2.0. In: Poole AF, Gill FB (eds) The Birds of North America. Cornell Lab of Ornithology, Ithaca, NY, USA. https://doi.org/10.2173/bna.408

Pinheiro J, Bates D, R Core Team (2022) nlme: linear and nonlinear mixed effects models, R package version 3.1–157, https://CRAN.R-project.org/package=nlme

R Core Team (2017) R: a language and environment for statistical computing. Version 4.1.1. R Foundation for Statistical Computing, Vienna, Austria, http://www.R-project.org

Radersma R, Tinbergen JM, Komdeur J (2011) Do brood sex ratio, nestling development and sex affect fledging timing and order? An experimental study on great tits. Anim Behav 81:69–75. https://doi.org/10.1016/j.anbehav.2010.09.007

Radersma R, Komdeur J, Tinbergen JM (2015) Early morning fledging improves recruitment in great tits Parus major. Ibis 157:351–355. https://doi.org/10.1111/ibi.12230

Rudolf VHW, Rödel M-O (2007) Phenotypic plasticity and optimal timing of metamorphosis under uncertain time constraints. Evol Ecol 21:121–142. https://doi.org/10.1007/s10682-006-0017-9

Şahin Arslan N, Martin TE (2021) Post-fledging spatial dispersion and movement behaviour differs between cavity-nesting and open-cup nesting passerines. Ibis 164:486–493. https://doi.org/10.1111/ibi.13027

Santema P, Schlicht L, Beck KB, Sheldon BC, Kempenaers B (2021) Why do nestling birds fledge early in the day? Anim Behav 174:79–86. https://doi.org/10.1016/j.anbehav.2021.01.026

Scharf HM, Hauber ME, Mommer BC, Hoover JP, Schelsky WM (2021) The effect of avian brood parasitism on physiological responses of host nestlings. Oecologia 195:861–872. https://doi.org/10.1007/s00442-021-04888-w

Schelsky WM (2010) Does what your neighbors do matter? An experimental examination of sex differences in the use of public and private information in dispersal decisions of a migratory songbird. Dissertation, University of Florida

Smith LL, Steen DA, Conner LM, Rutledge JC (2013) Effects of predator exclusion on nest and hatchling survival in the gopher tortoise. J Wildlife Manage 77:352–358. https://doi.org/10.1002/jwmg.449

Soler M (ed) (2017) Avian brood parasitism: behaviour, ecology, evolution and coevolution. Springer International Publishing, New York

Stenzler LM, Fraser R, Lovette IJ (2004) Isolation and characterization of 12 microsatellite loci from golden-winged warblers (Vermivora chrysoptera) with broad cross-taxon utility in emberizine songbirds. Mol Ecol Notes 4:602–604. https://doi.org/10.1111/j.1471-8286.2004.00750.x

Trivers R (1974) Parent-Offspring Conflict. Am Zool 14:249–264. https://doi.org/10.1093/icb/14.1.249

Tucker AM, Bulluck LP (2018) No evidence for a negative effect of conspecific brood parasitism on annual survival of female prothonotary warblers. Ibis 160:447–452. https://doi.org/10.1111/ibi.12538

Tucker AM, Dyer RJ, Huber SK, Bulluck LP (2016) Opportunistic conspecific brood parasitism in a box-nesting population of prothonotary warblers (Protonotaria citrea). Auk 133:298–307. https://doi.org/10.1642/AUK-15-161.1

Twombly S (1996) Timing of metamorphosis in a freshwater crustacean: comparison with anuran models. Ecology 77:1855–1866. https://doi.org/10.2307/2265789

Wickham H (2009) ggplot2: elegant graphics for data analysis. Springer-Verlag, New York

Winker K, Glenn TC, Graves GR (1999) Dinucleotide microsatellite loci in a migratory wood warbler (Parulidae: Limnothlypis swainsonii) and amplification among other songbirds. Mol Ecol 8:1553–1556. https://doi.org/10.1046/j.1365-294X.1999.07113.x

Winnicki SK, Strausberger BM, Antonson ND, Burhans DE, Lock J, Kilpatrick AM, Hauber ME (2021) Developmental asynchrony and host species identity predict variability in nestling growth of an obligate brood parasite: a test of the "growth-tuning" hypothesis. Can J Zool (published online, https://doi.org/10.1139/cjz-2020-0147)
Acknowledgements
We would like to thank Nicholas Antonson, Angela Alburei, Eric Branch, and Mac Chamberlain for their additional assistance in the field and with equipment. For discussions, we thank Michael Ward, Todd Jones, and Jeff Hoover. We thank Eli Bridge for construction and help with our RFID readers. We also thank anonymous reviewers for their constructive comments on this paper.
Funding
Funding was provided by the University of Illinois at Urbana-Champaign School of Integrative Biology's Francis M. and Harlie M. Clark Research Support Grant, a Graduate College Dissertation Travel Grant, an Illinois Natural History Survey Smith Award, and an Illinois Distinguished Fellowship (to HMS), the Center for Advanced Study at the University of Illinois at Urbana-Champaign and the Wissenschaftskolleg zu Berlin (Institute for Advanced Study), Germany (to MEH), and the University of Illinois at Urbana-Champaign School of Integrative Biology's Alumni Award and College of Liberal Arts and Sciences Life + Career scholarship (to KHS).
Ethics declarations
Competing interests
The authors declare no competing interests.
Additional information
Communicated by M. Soler.
Publisher's note
Springer Nature remains neutral with regard to jurisdictional claims in published maps and institutional affiliations.
Supplementary Information
Below is the link to the electronic supplementary material.
About this article
Cite this article
Scharf, H.M., Hauber, M.E., Stenstrom, K.H. et al. Should I stay or should I go: the effect of avian brood parasitism on host fledging dynamics. Behav Ecol Sociobiol 76, 64 (2022). https://doi.org/10.1007/s00265-022-03168-8
Received:

Revised:

Accepted:

Published:

DOI: https://doi.org/10.1007/s00265-022-03168-8
Keywords
Coevolution

Development

Fledging time

Life history

RFID

Survival