Abstract
Global change processes such as urbanization are likely to affect sleep behavior, by altering abiotic (e.g., thermal and illumination) and biotic conditions (e.g., predation pressure) that influence sleep. However, little is known of how sleep behavior responds to urbanization and whether this response is flexible or conserved across populations. We quantified sleep site characteristics of the peninsular rock agama Psammophilus dorsalis in Bangalore city and surrounding rural areas. We find that P. dorsalis in urban areas display remarkable behavioral flexibility in response to the novel stressor of artificial light at night, being nine times more likely to use covered sleep sites that limit illumination, compared to lizards in rural areas. However, sleep sites in both populations were highly conserved in terms of substrate type (i.e., rocky with high surface rugosity) and their thermal properties. Our findings support behavioral amelioration of potentially adverse effects of night light in urban areas, even within the restricted availability of preferred substrates as sleep sites. Our study is one of the first to comprehensively compare sleep behavior in rural and urban areas and demonstrate substantial behavioral flexibility. The role of sleep behavior in the coping strategies of animals to urbanization needs further research attention.
Significance statement
Sleep is essential to animal life, yet it imposes certain costs such as making sleeping individuals vulnerable to predators. "Where" an animal sleeps (or its sleep site) is therefore important to ensure safety from predators but also to provide conducive environmental conditions. Cities can transform the availability of ideal sleep sites and can alter their thermal properties, in addition to being intensely illuminated by night light that hampers sleep. In this study, we compared sleep site characteristics of rural and urban populations of the peninsular rock agama Psammophilus dorsalis. We find that urban lizards sleep in sheltered sleep sites that shield them from night light but are highly dependent on rough, rocky substrates in both the city and rural areas. The remarkable flexibility in sleep behavior displayed by urban lizards is likely to help them cope in a city.
Access options
Buy single article
Instant access to the full article PDF.
USD 39.95
Price excludes VAT (USA)
Tax calculation will be finalised during checkout.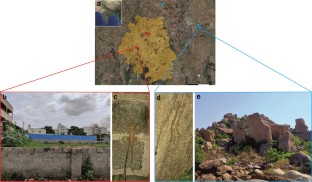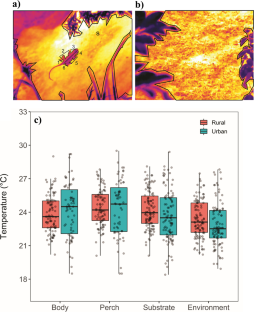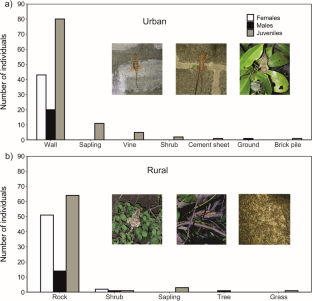 Data availability
The dataset generated and/or analyzed for the study has been made available as Online Resource 2.
References
Amadi N, Belema R, Chukwu HO, Dendi D, Chidinma A, Meek R, Luiselli L (2020) Life in the suburbs: artificial heat source selection for nocturnal thermoregulation in a diurnally active tropical lizard. Web Ecol 20:161–172

Amdekar MS, Kakkar A, Thaker M (2018) Measures of health provide insights into the coping strategies of urban lizards. Front Ecol Evol 6:128

Anderson JR (1984) Ethology and ecology of sleep in monkeys and apes. Adv Stud Behav 14:165–229

Anderson JR (1998) Sleep, sleeping sites, and sleep-related activities: awakening to their significance. Am J Primatol 46:63–75

Arnfield AJ (2003) Two decades of urban climate research: a review of turbulence, exchanges of energy and water, and the urban heat island. Int J Climatol 23:1–26

Aulsebrook AE, Connelly F, Johnsson RD, Jones TM, Mulder RA, Hall ML, Vyssotski AL, Lesku JA (2020) White and amber light at night disrupt sleep physiology in birds. Curr Biol 30:1–7

Aulsebrook AE, Johnsson RD, Lesku JA (2021) Light, sleep and performance in diurnal birds. Clocks Sleep 3:115–131

Aulsebrook AE, Jones TM, Mulder RA, Lesku JA (2018) Impacts of artificial light at night on sleep: a review and prospectus. J Exp Zool A Ecol Integr Physiol 329:409–418

Aulsebrook AE, Jones TM, Rattenborg NC, Roth TC II, Lesku JA (2016) Sleep ecophysiology: integrating neuroscience and ecology. Trends Ecol Evol 31:590–599

Balakrishna S, Amdekar MS, Thaker M (2021) Morphological divergence, tail loss, and predation risk in urban lizards. Urban Ecosyst 24:1391–1398

Batabyal A, Balakrishna S, Thaker M (2017) A multivariate approach to understanding shifts in escape strategies of urban lizards. Behav Ecol Sociobiol 71:83

Batabyal A, Thaker M (2017) Signalling with physiological colours: high contrast for courtship but speed for competition. Anim Behav 129:229–236

Batabyal A, Thaker M (2019a) Lizards from suburban areas learn faster to stay safe. Biol Lett 15:20190009

Batabyal A, Thaker M (2019b) Social coping styles of lizards are reactive and not proactive in urban areas. Gen Comp Endocrinol 270:67–74

Bennie J, Davies TW, Cruse D, Gaston KJ (2016) Ecological effects of artificial light at night on wild plants. J Ecol 104:611–620

Borniger JC, Weil ZM, Zhang N, Nelson RJ (2013) Dim light at night does not disrupt timing or quality of sleep in mice. Chronobiol Int 30:1016–1023

Bors M, Mohanty NP, Shankar PG (2020) Anti-predatory sleep strategies are conserved in the agamid lizard Monilesaurus rouxii. Behav Ecol Sociobiol 74:121

Bradsworth N, White JG, Rendall AR, Carter N, Cooke R (2021) Where to sleep in the city? How urbanisation impacts roosting habitat availability for an apex predator. Global Ecol Conserv 26:e01494

Brüning A, Hölker F, Franke S, Preuer T, Kloas W (2015) Spotlight on fish: light pollution affects circadian rhythms of European perch but does not cause stress. Sci Total Environ 511:516–522

Clark DL, Gillingham JC (1990) Sleep-site fidelity in two Puerto Riean lizards. Anim Behav 39:1138–1148

Collins MK, Magle SB, Gallo T (2021) Global trends in urban wildlife ecology and conservation. Biol Conserv 261:109236

Deodhar S, Isvaran K (2017) Breeding phenology of Psammophilus dorsalis: patterns in time, space and morphology. Curr Sci 10:2120–2126

Deodhar S, Isvaran K (2018) Why do males use multiple signals? Insights from measuring wild male behavior over lifespans. Front Ecol Evol 6:75

Dominoni DM, Carmona‐Wagner EO, Hofmann M, Kranstauber B, Partecke J (2014) Individual-based measurements of light intensity provide new insights into the effects of artificial light at night on daily rhythms of urban-dwelling songbirds. J Anim Ecol 83:681–692

Downs CT, Awuah A, Jordaan M, Magagula L, Mkhize T, Paine C, Raymond-Bourret E, Hart LA (2015) Too hot to sleep? Sleep behaviour and surface body temperature of Wahlberg's Epauletted Fruit Bat. PLoS ONE 10:e0119419

Eban-Rothschild A, Giardino WJ, de Lecea L (2017) To sleep or not to sleep: neuronal and ecological insights. Curr Opin Neurobiol 44:132–138

Fischer JD, Cleeton SH, Lyons TP, Miller JR (2012) Urbanization and the predation paradox: the role of trophic dynamics in structuring vertebrate communities. Bioscience 62:809–818

French SS, Webb AC, Hudson SB, Virgin EE (2018) Town and country reptiles: a review of reptilian responses to urbanization. Integr Comp Biol 58:948–966

Goller M, Goller F, French SS (2014) A heterogeneous thermal environment enables remarkable behavioral thermoregulation in Uta stansburiana. Ecol Evol 4:3319–3329

Huey RB, Peterson CR, Arnold SJ, Porter WP (1989) Hot rocks and not-so-hot rocks: retreat-site selection by Garter Snakes and its thermal consequences. Ecology 70:931–944

Imeri L, Opp MR (2009) How (and why) the immune system makes us sleep. Nat Rev Neurosci 10:199–210

Kolbe JJ, Moniz HA, Lapiedra O, Thawley CJ (2021) Bright lights, big city: an experimental assessment of short-term behavioral and performance effects of artificial light at night on Anolis lizards. Urban Ecosyst (published online, https://doi.org/10.1007/s11252-021-01098-3)

Lardner B, Yackel Adams AA, Knox AJ, Savidge JA, Reed RN (2019) Do observer fatigue and taxon bias compromise visual encounter surveys for small vertebrates? Wildlife Res 46:127–135

Lima SL, Rattenborg NC, Lesku JA, Amlaner CJ (2005) Sleeping under the risk of predation. Anim Behav 70:723–736

Loyd KAT, Hernandez SM, Carroll JP, Abernathy KJ, Marshall GJ (2013) Quantifying free-roaming domestic cat predation using animal-borne video cameras. Biol Conserv 160:183–189

Massot B, Arthaud S, Barrillot B, Roux J, Ungurean G, Luppi P-H, Rattenborg NC, Libourel P-A (2019) ONEIROS, a new miniature standalone device for recording sleep electrophysiology, physiology, temperatures and behavior in the lab and field. J Neurosci Methods 316:103–116

Meddis R (1975) On the function of sleep. Anim Behav 23:676–691

Mohanty NP, Harikrishnan S, Vasudevan K (2016) Watch out where you sleep: nocturnal sleeping behaviour of Bay Island lizards. PeerJ 4:e1856

Mohanty NP, Wagener C, Herrel A, Thaker M (2021) The ecology of sleep in non-avian reptiles. Biol Rev (published online, https://doi.org/10.1111/brv.12808)

Nordt A, Klenke R (2013) Sleepless in town-drivers of the temporal shift in dawn song in urban European blackbirds. PLoS ONE 8:e71476

Ouyang JQ, de Jong M, van Grunsven RHA, Matson KD, Haussmann MF, Meerlo P, Visser ME, Spoelstra K (2017) Restless roosts: light pollution affects behavior, sleep, and physiology in a free-living songbird. Glob Change Biol 23:4987–4994

Peng S, Piao S, Ciais P, Friedlingstein P, Ottle C, Bréon FM, Nan H, Zhou L, Myneni RB (2012) Surface urban heat island across 419 global big cities. Environ Sci Technol 46:696–703

Pereira JJ, Lopes EP, Carretero MÁ, Vasconcelos R (2019) Insular geckos provide experimental evidence on refuge selection priorities by ectotherms. Behav Process 164:260–267

Piéron H (1912) Le problème physiologique du sommeil. Masson, Paris

R Core Team (2021) R: a language and environment for statistical computing. R Foundation for Statistical Computing, Vienna, Austria, http://www.R-project.org

Raap T, Pinxten R, Eens M (2015) Light pollution disrupts sleep in free-living animals. Sci Rep 5:13557

Raap T, Pinxten R, Eens M (2018a) Cavities shield birds from effects of artificial light at night on sleep. J Exp Zool A Ecol Integr Physiol 329:449–456

Raap T, Thys B, Grunst AS, Grunst ML, Pinxten R, Eens M (2018b) Personality and artificial light at night in a semi-urban songbird population: no evidence for personality-dependent sampling bias, avoidance or disruptive effects on sleep behaviour. Environ Pollut 243:1317–1324

Radder RS, Saidapur SK, Shanbhag BA (2005) Population density, microhabitat use and activity pattern of the Indian rock lizard, Psammophilus dorsalis (Agamidae). Curr Sci 89:560–566

Radder RS, Saidapur SK, Shine R, Shanbhag BA (2006) The language of lizards: interpreting the function of visual displays of the Indian rock lizard, Psammophilus dorsalis (Agamidae). J Ethol 24:275–283

Schmidt MH (2014) The energy allocation function of sleep: a unifying theory of sleep, torpor, and continuous wakefulness. Neurosci Biobehav Rev 47:122–153

Secondi J, Mondy N, Gippet JMW, Touzot M, Gardette V, Guillard L, Lengagne T (2021) Artificial light at night alters activity, body mass, and corticosterone level in a tropical anuran. Behav Ecol 32:932–940

Siddiqui A, Kushwaha G, Raoof A, Verma PA, Kant Y (2021) Bangalore: urban heating or urban cooling? Egypt J Remote Sensing Space Sci 24:265–272

Stenvers DJ, van Dorp R, Foppen E, Mendoza J, Opperhuizen AL, Fliers E, Bisschop PH, Meijer JH, Kalsbeek A, Deboer T (2016) Dim light at night disturbs the daily sleep-wake cycle in the rat. Sci Rep 6:35662

Sun J, Raap T, Pinxten R, Eens M (2017) Artificial light at night affects sleep behaviour differently in two closely related songbird species. Environ Pollut 231:882–889

Tisdale RK, Lesku JA, Beckers GJL, Vyssotski AL, Rattenborg NC (2018) The low-down on sleeping down low: pigeons shift to lighter forms of sleep when sleeping near the ground. J Exp Biol 221:jeb182634

Ulgezen ZN, Käpylä T, Meerlo P, Spoelstra K, Visser ME, Dominoni DM (2019) The preference and costs of sleeping under light at night in forest and urban great tits. Proc R Soc B 286:20190872

van Hasselt SJ, Hut RA, Allocca G, Vyssotski AL, Piersma T, Rattenborg NC, Meerlo P (2021) Cloud cover amplifies the sleep-suppressing effect of artificial light at night in geese. Environ Pollut 273:116444

Vasconcelos R, Santos X, Carretero MA (2012) High temperatures constrain microhabitat selection and activity patterns of the insular Cape Verde wall gecko. J Arid Environ 81:18–25

Warren PS, Katti M, Ermann M, Brazel A (2006) Urban bioacoustics: it's not just noise. Anim Behav 71:491–502
Acknowledgements
The thermal image camera was acquired with a DST-FIST grant to the Center for Ecological Sciences. We would like to thank Adhith Swaminathan, Alissa Barnes, Anwesha Naskar, Avik Banerjee, Caleb Daniel, Chetan Rao, Dhanya Bharath, Gauri Gharpure, Pritha Dey, Shawn Dsouza, Subhasmita Patro, Tanmay Wagh, and Udita Bansal for help with fieldwork. We thank two anonymous reviewers for their valuable inputs to the manuscript.
Funding
This research was funded by the Indian Institute of Science's Raman Post-doctoral Fellowship (to NPM), and the DBT-IISc partnership program.
Ethics declarations
Ethics approval
Ethics approval for the study was granted by the Institutional Animal Ethics Committee, Indian Institute of Science (# CAF/Ethics/739/2020). All applicable international, national, and institutional guidelines for the use of animals were followed.
Conflict of interest
The authors declare no competing interests.
Additional information
Communicated by C. R Gabor.
Publisher's note
Springer Nature remains neutral with regard to jurisdictional claims in published maps and institutional affiliations.
This article is a contribution to the Topical Collection Using behavioral ecology to explore adaptive responses to anthropogenic change – Guest Editors: Jan Lindström,Constantino Macias Garcia, Caitlin Gabor
Supplementary Information
Below is the link to the electronic supplementary material.
About this article
Cite this article
Mohanty, N.P., Joshi, M. & Thaker, M. Urban lizards use sleep sites that mirror the structural, thermal, and light properties of natural sites. Behav Ecol Sociobiol 75, 166 (2021). https://doi.org/10.1007/s00265-021-03101-5
Received:

Revised:

Accepted:

Published:

DOI: https://doi.org/10.1007/s00265-021-03101-5
Keywords
Sleep ecology

Urbanization

Artificial light at night

ALAN

Light pollution

Thermography