Abstract
Coordinated behaviors, such as hunting in lions and coordinated vigilance as antipredator behavior, are examples of benefits of group-living. Instead of asynchronous vigilance, some social species synchronize their vigilance bouts or take turns acting as sentinels. To increase our knowledge on the evolution of vigilance behavior, we studied whether vigilance is coordinated in Barbary ground squirrels, Atlantoxerus getulus. We show that vigilance was synchronized instead of taking turns. Multiple non-mutually exclusive hypotheses could explain synchronization: Barbary ground squirrels may perch because (1) neighbors are perched (copying effect), (2) perch synchrony may be an emergent property of the ecology as all squirrels may be satiated at the same time (collective behavior), or (3) the benefits are large in terms of evading ambush predators and scanning effectiveness (watch each other's back). Particularly, in habitats where the field of view is obstructed by man-made structures and multiple individuals may be necessary to watch for terrestrial predators, synchronized vigilance may have greater fitness benefits than sentinel behavior. We conclude that it is essential to test assumptions of coordination and, thus, to analyze coordination to describe sentinel systems.
Significance statement
Vigilance behavior can be vital to an animal's survival. Taking turns acting as sentinels or synchronizing vigilance bouts reduces the cost of the trade-off between feeding and predation risk. A sentinel system assumes that sentinels are vigilant from raised positions, warn group members of danger, and alternate vigilance bouts. However, the assumption of alternating vigilance bouts remains poorly tested. We tested this assumption in invasive Barbary ground squirrels. We found that instead of alternating, individuals synchronized their vigilance bouts. Perch synchrony may be (1) a response to perching group members (copying effect), (2) an emergent property of the species' ecology, and (3) an adaptation to anthropogenically altered habitats (watch each other's back).
Access options
Buy single article
Instant access to the full article PDF.
USD 39.95
Price includes VAT (USA)
Tax calculation will be finalised during checkout.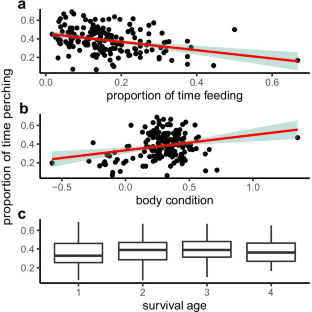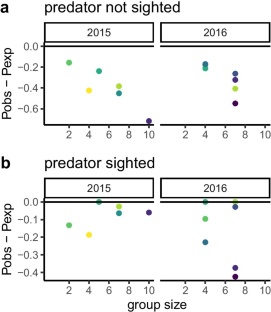 References
Altmann J (1974) Observational study of behavior: sampling methods. Behaviour 49:227–267

Arbon JJ, Kern JM, Morris-Drake A, Radford AN (2020) Context-dependent contributions to sentinel behaviour: audience, satiation and danger effects. Anim Behav 165:143–152. https://doi.org/10.1016/j.anbehav.2020.04.021

Beauchamp G (2015) Synchronization and coordination of animal vigilance. Animal vigilance: monitoring predators and competitors. Elsevier Science, Boston, pp 155–172

Beauchamp G, Alexander P, Jovani R (2012) Consistent waves of collective vigilance in groups using public information about predation risk. Behav Ecol 23:368–374. https://doi.org/10.1093/beheco/arr194

Bednekoff PA (1997) Mutualism among safe, selfish sentinels: a dynamic game. Am Nat 150:373–392

Bednekoff PA (2015) Sentinel behavior: a review and prospectus. Adv Stud Behav 47:115–145

Bednekoff PA, Lima SL (1998) Randomness, chaos and confusion in the study of antipredator vigilance. Trends Ecol Evol 13:284–287

Blanchard P, Fritz H (2007) Induced or routine vigilance while foraging. Oikos 116:1603–1608. https://doi.org/10.1111/j.2007.0030-1299.15799.x

Bolker B, Skaug H, Magnusson A, Nielsen A (2012) Getting started with the glmmADMB package. R Package. version 2.0–8 12. http://glmmadmb.r-forge.r-project.org; http://admb-project.org. Accessed 21 Sept 2020

Clutton-Brock TH (1999) Selfish sentinels in cooperative mammals. Science 284:1640–1644. https://doi.org/10.1126/science.284.5420.1640

del Arco Aguilar M-J, González-González R, Garzón-Machado V, Pizarro-Hernández B (2010) Actual and potential natural vegetation on the Canary Islands and its conservation status. Biodivers Conserv 19:3089–3140. https://doi.org/10.1007/s10531-010-9881-2

Deneubourg JL, Goss S (1989) Collective patterns and decision-making. Ethol Ecol Evol 1:295–311. https://doi.org/10.1080/08927014.1989.9525500

Ebensperger LA, Hurtado MJ, Ramos-Jiliberto R (2006) Vigilance and collective detection of predators in degus (Octodon degus). Ethol 112:879–887. https://doi.org/10.1111/j.1439-0310.2006.01242.x

Edwards S, Waterman JM (2011) Vigilance and grouping in the southern African ground squirrel (Xerus inauris). Afr J Ecol 49:286–291. https://doi.org/10.1111/j.1365-2028.2011.01262.x

Embar K, Kotler BP, Mukherjee S (2011) Risk management in optimal foragers: the effect of sightlines and predator type on patch use, time allocation, and vigilance in gerbils. Oikos 120:1657–1666. https://doi.org/10.1111/j.1600-0706.2011.19278.x

Favreau F-R, Pays O, Fritz H, Goulard M, Best EC, Goldizen AW (2015) Predators, food and social context shape the types of vigilance exhibited by kangaroos. Anim Behav 99:109–121. https://doi.org/10.1016/j.anbehav.2014.11.001

Ferguson JWH (1987) Vigilance behaviour in white-browed sparrow-weavers Plocepassermahali. Ethol 76:223–235. https://doi.org/10.1111/j.1439-0310.1987.tb00685.x

Fournier DA, Skaug HJ, Ancheta J, Ianelli J, Magnusson A, Maunder MN, Nielsen A, Sibert J (2012) AD Model Builder: using automatic differentiation for statistical inference of highly parameterized complex nonlinear models. Optim Methods Softw 27:233–249. https://doi.org/10.1080/10556788.2011.597854

Fox J, Weisberg S (2011) An R companion to applied regression, 2nd edn. Sage, Thousand Oaks, CA

Gangoso L, Donázar JA, Scholz S, Palacios CJ, Hiraldo F (2006) Contradiction in conservation of island ecosystems: plants, introduced herbivores and avian scavengers in the Canary Islands. Biodivers Conserv 15:2231–2248. https://doi.org/10.1007/s10531-004-7181-4

Hing JS, Schmaltz G, Quinn JS (2019) Testing for sentinel coordination in smooth-billed Anis (Crotophaga ani). J Ornithol 160:165–172. https://doi.org/10.1007/s10336-018-1584-6

Kong D, Møller AP, Zhang Y (2021) Disturbance and predation risk influence vigilance synchrony of black-necked cranes Grus nigricollis, but not as strongly as expected. Ecol Evol 11:2289–2298. https://doi.org/10.1002/ece3.7196

Krause J, Ruxton GD (2002) Living in groups. Oxford University Press, Oxford

Labocha MK, Schutz H, Hayes JP (2014) Which body condition index is best? Oikos 123:111–119. https://doi.org/10.1111/j.1600-0706.2013.00755.x

López-Darias M (2007) Ecology of invasions: the case of the Barbary ground squirrel (Atlantoxerus getulus) in Fuerteventura Island (Canary Islands). PhD thesis, University of La Laguna. San Cristóbal de La Laguna, Spain

López-Darias M, Lobo JM (2008) Factors affecting invasive species abundance: the Barbary Ground Squirrel on Fuerteventura Island, Spain. Zool Stud 47:268–281

López-Darias M, Nogales M (2008) Effects of the invasive Barbary ground squirrel (Atlantoxerus getulus) on seed dispersal systems of insular xeric environments. J Arid Environ 72:926–939. https://doi.org/10.1016/j.jaridenv.2007.12.006

Machado A (1979) The introduction of the Getulian squirrel (Atlantoxerus getulus L., 1758) in Fuerteventura, Canary Islands. Egypt J Wildl Nat Resour 2:182–202

Machado A, Domínguez F (1982) Estudio sobre la presencia de la Ardilla Moruna (Atlantoxerus getulus L.) en la isla de Fuerteventura; su introducción, su biología y su impacto en el medio. Santa Cruz de Tenerife, Spain

Manser MB (1999) Response of foraging group members to sentinel calls in suricates, Suricata suricatta. Proc R Soc Lond B 266:1013–1019. https://doi.org/10.1098/rspb.1999.0737

McDonald M, Johnson S (2014) "There's an app for that": a new program for the collection of behavioural field data. Anim Behav 95:81–87. https://doi.org/10.1016/j.anbehav.2014.06.009

McDougall PL, Ruckstuhl KE (2018) Vigilance behaviour is more contagious when chewing stops: examining the characteristics of contagious vigilance in bighorn sheep. Behav Ecol Sociobiol 72:143. https://doi.org/10.1007/s00265-018-2536-0

McGowan K, Woolfenden G (1989) A sentinel system in the Florida scrub jay. Anim Behav 37:1000–1006

Medina FM, López-Darias M, Nogales M, García R (2008) Food habits of feral cats (Felis silvestris catus L.) in insular semiarid environments (Fuerteventura, Canary Islands). Wildlife Res 35:162–169. https://doi.org/10.1071/WR07108

Newbold T, Collins S, Behnke J et al (2008) Sentinel behaviour and the watchman's call in the Chukar at St Katherine Protectorate, Sinai. Egypt Egypt J Biol 10:42–53

Öst M, Tierala T (2011) Synchronized vigilance while feeding in common eider brood-rearing coalitions. Behav Ecol 22:378–384. https://doi.org/10.1093/beheco/arq223

Pays O, Dubot AL, Jarman PJ, Loisel P, Goldizen AW (2009) Vigilance and its complex synchrony in the red-necked pademelon, Thylogale thetis. Behav Ecol 20:22–29. https://doi.org/10.1093/beheco/arn110

Pays O, Jarman PJ, Loisel P, Gerard JF (2007a) Coordination, independence or synchronization of individual vigilance in the eastern grey kangaroo? Anim Behav 73:595–604. https://doi.org/10.1016/j.anbehav.2006.06.007

Pays O, Renaud PC, Loisel P, Petit M, Gerard J-F, Jarman PJ (2007b) Prey synchronize their vigilant behaviour with other group members. Proc R Soc Lond B 274:1287–1291. https://doi.org/10.1098/rspb.2006.0204

Pays O, Sirot E, Fritz H (2012) Collective vigilance in the greater kudu: towards a better understanding of synchronization patterns. Ethology 118:1–9. https://doi.org/10.1111/j.1439-0310.2011.01974.x

Périquet S, Todd-Jones L, Valeix M et al (2012) Influence of immediate predation risk by lions on the vigilance of prey of different body size. Behav Ecol 23:970–976. https://doi.org/10.1093/beheco/ars060

Piquet JC, López-Darias M, van der Marel A, Nogales M, Waterman J (2018) Unraveling behavioral and pace-of-life syndromes in a reduced parasite and predation pressure context: personality and survival of the Barbary ground squirrel. Behav Ecol Sociobiol 72:147. https://doi.org/10.1007/s00265-018-2549-8

Podgórski T, de Jong S, Bubnicki JW, Kuijper DPJ, Chruski M, Jędrzejewska B (2016) Drivers of synchronized vigilance in wild boar groups. Behav Ecol 27:1097–1103. https://doi.org/10.1093/beheco/arw016

R Core Team (2017) R: A language and environment for statistical computing. R Foundation for Statistical Computing, Vienna, Austria, http://www.R-project.org

Rasa OAE (1977) The ethology and sociology of the dwarf mongoose (Helogale undulata rufula). Z Tierpsychol 43:337–406. https://doi.org/10.1111/j.1439-0310.1977.tb00487.x

Rasa OAE (1987) Vigilance behaviour in dwarf mongooses: selfish or altruistic? S-A Tydskr Wet 83:587–590

Ridley AR, Nelson-Flower MJ, Thompson AM (2013) Is sentinel behaviour safe? An experimental investigation. Anim Behav 85:137–142. https://doi.org/10.1016/j.anbehav.2012.10.017

Schulte-Hostedde AI, Millar JS, Hickling GJ (2001) Evaluating body condition in small mammals. Can J Zool 79:1021–1029. https://doi.org/10.1139/z01-073

Shackleton K, Alves DA, Ratnieks FLW (2018) Organization enhances collective vigilance in the hovering guards of Tetragonisca angustula bees. Behav Ecol 29:1105–1112. https://doi.org/10.1093/beheco/ary086

Stankowich T (2003) Marginal predation methodologies and the importance of predator preferences. Anim Behav 66:589–599. https://doi.org/10.1006/anbe.2003.2232

Unck CE, Waterman JM, Verburgt L, Bateman PW (2009) Quantity versus quality: how does level of predation threat affect Cape ground squirrel vigilance? Anim Behav 78:625–632. https://doi.org/10.1016/j.anbehav.2009.05.028

van der Marel A (2019) Life history traits, social organisation and the drivers of sociality in an invasive ground squirrel. PhD thesis, University of Manitoba. Winnipeg, Canada

van der Marel A, López-Darias M, Waterman JM (2019) Group-enhanced predator detection and quality of vigilance in a social ground squirrel. Anim Behav 151:34–52. https://doi.org/10.1016/j.anbehav.2019.02.017

van der Marel A, Waterman JM, López-Darias M (2020) Social organization in a North African ground squirrel. J Mammal 101:670–683. https://doi.org/10.1093/jmammal/gyaa031

van der Marel A, Waterman JM, López-Darias M (2021a) Exploring the role of life history traits and introduction effort in understanding invasion success in mammals: a case study of Barbary ground squirrels. Oecologia 95:327–339. https://doi.org/10.1007/s00442-021-04853-7

van der Marel A, Waterman JM, López-Darias M (2021b) Annemarievdmarel/coordinated-vigilance: code and data for coordinated vigilance manuscript in Barbary ground squirrels. In: Zenodo. https://doi.org/10.5281/zenodo.4694935

Wang X, Yang L, ZHao Y, Yu C, Li Z (2020) The group size effect and synchronization of vigilance in Tibetan wild ass. Curr Zool 67:11–16. https://doi.org/10.1093/cz/zoaa024

Waterman JM (1998) Mating tactics of male Cape ground squirrels, Xerus inauris: consequences of year-round breeding. Anim Behav 56:459–466. https://doi.org/10.1006/anbe.1998.0780

Wickham H (2016) ggplot2: Elegant graphics for data analysis. Springer-Verlag, New York

Wright J, Berg E, de Kort SR, Kazin V, Maklakov AA (2001a) Safe selfish sentinels in a cooperative bird. J Anim Ecol 70:1070–1079

Wright J, Maklakov AA, Khazin V (2001b) State-dependent sentinels: an experimental study in the Arabian babbler. Proc R Soc Lond B 268:821–826. https://doi.org/10.1098/rspb.2000.1574

Ylönen H, Brown JS (2007) Fear and the foraging, breeding and sociality of rodents. In: Wolff JO, Sherman PW (eds) Rodent societies: an ecological and evolutionary perspective. The University of Chicago Press, Chicago, IL, pp 328–341

Zeileis A (2002) Diagnostic checking in regression relationships. R News 2:7–10
Acknowledgements
We acknowledge the landowners of our study sites, the IPNA-CSIC by providing a research vehicle, and the Cabildo of Fuerteventura for the use of the facilities and the help of its staff at the Estación Biológica de La Oliva. We thank the editors and 2 anonymous reviewers for their constructive feedback.
Funding
This work was supported by a University of Manitoba Faculty of Science graduate studentship, a Faculty of Graduate Studies Graduate Enhancement of the Tri-Council Stipend (GETS), the Cabildo Insular de Tenerife under the identification mark "Tenerife 2030" (P. INNOVA 2016–2021), the Natural Sciences and Engineering Research Council of Canada (grant number 04362 to JMW), the Canadian Foundation for Innovation, and the University of Manitoba University Research Grant Program.
Ethics declarations
Ethics approval
All applicable international, national, and institutional guidelines for the care and use of animals were followed. All procedures performed were in accordance with the ethical standards of the institution or practice at which the studies were conducted (University of Manitoba Animal Care and Use Committee, protocol no. F14-032, and the government of Fuerteventura, Cabildo Insular de Fuerteventura no. 14885).
Conflict of interest
The authors declare no competing interests.
Additional information
Publisher's note
Springer Nature remains neutral with regard to jurisdictional claims in published maps and institutional affiliations.
Communicated by C. Soulsbury
About this article
Cite this article
van der Marel, A., Waterman, J.M. & López-Darias, M. Barbary ground squirrels do not have a sentinel system but instead synchronize vigilance. Behav Ecol Sociobiol 75, 153 (2021). https://doi.org/10.1007/s00265-021-03094-1
Received:

Revised:

Accepted:

Published:
Keywords
Anti-predator behavior

Collective behavior

Coordinated vigilance

Invasive species

Mammals