Abstract
In cooperatively breeding species, the level of investment by both breeders and helpers may be influenced by the sex of offspring in broods that they attend, due to different fitness payoffs associated with investing in male versus female offspring. This might be expected if the sexes differ markedly in either the cost of their rearing, due to factors such as sexual size dimorphism, or the level of help that they may provide in later life that might benefit helpers in the future. Here we investigate how nestling sex influences the provisioning efforts provided by helpers and the subsequent growth and development of offspring in the cooperatively breeding noisy miner (Manorina melanocephala). In this species, helpers are predominantly philopatric males, as females disperse to other colonies to find breeding positions. We therefore predicted that helpers might invest more in helpful male-biased broods rather than those with dispersive female offspring, particularly if larger males required more resources than female offspring to successfully fledge. Male miners grew faster, fledging at the same age as their female siblings but with a heavier body mass. Male offspring therefore possibly require more resources than female offspring to raise. However, despite possible differences in the fitness returns of investing in different sexes, we were unable to detect any significant influence of brood sex ratio on the provisioning rate of pair or their helper contingent. Noisy miner helpers provision the brood irrespective of offspring sex. This could be due to an inability to recognise nestling sex, or potential future costs that might be imposed by philopatric males that subsequently compete for resources and/or mating opportunities with the helpers that reared them. From a male helper perspective, these potential costs may ultimately nullify benefits that male offspring provide in future.
Significance statement
Male and female offspring might have different fitness benefits for helpers in the cooperatively breeding species. Given this, helpers in this breeding system might have sex-dependant preferences and direct their help towards the apparently more beneficial sex (i.e. the sex that is expected to stay at the same population and provide help in return). In this study, we showed that in the cooperatively breeding noisy miner (Manorina melanocephala), although male offspring are expected to provide higher level of care with over 90% of helpers being male, this apparent difference in the fitness return did not result in higher provisioning rate in the male-biased broods compared to female-biased broods. We argue that (a) this could be due insufficient cues for recognition of nestling sex or (b) despite the higher level of help that male offspring are expected to provide into the future, the overall inclusive fitness benefits do not vary among the sexes.
Access options
Buy single article
Instant access to the full article PDF.
US$ 39.95
Tax calculation will be finalised during checkout.
Subscribe to journal
Immediate online access to all issues from 2019. Subscription will auto renew annually.
US$ 79
Tax calculation will be finalised during checkout.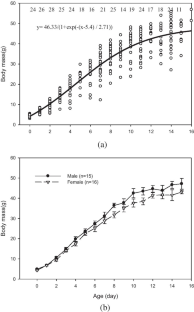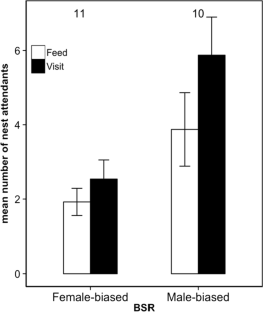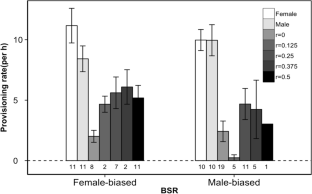 References
Abbott CL, Poldmaa T, Lougheed S, Clarke M, Boag PT (2002) Hierarchical analysis of genetic population structure in the noisy miner using DNA microsatellite markers. Condor 104:652–656

Arnold KE (2000) Group mobbing behaviour and nest defence in a cooperatively breeding Australian bird. Ethology 106:385–393

Arnold KE, Owens IPF, Goldizen AW (2005) Division of labour within cooperatively breeding groups. Behaviour 142:1577–1590

Barati A, Etezadifar F, McDonald PG (2016) Fragmentation in eucalypt woodlands promotes nest-tree occupancy by a despotic species, the noisy miner (Manorina melanocephala). Austral Ecol 41:897–905

Barati A, Andrew RL, Gorrell JC, McDonald PG (2018a) Extra-pair paternity is not driven by inbreeding avoidance and does not affect provisioning rates in a cooperatively breeding bird, the noisy miner (Manorina melanocephala). Behav Ecol 29:244–252

Barati A, Andrew RL, McDonald PG (2018b) Genetic relatedness and sex predict helper provisioning effort in the cooperatively breeding noisy miner. Behav Ecol 29:1380–1389

Bartoń K (2015) MuMIn: multi-model inference. R package version 1.13.4. http://CRAN.R-project.org/package=MuMIn. Accessed 5 Jan 2018

Bates D, Maechler M, Bolker B, Walker S (2014) lme4: linear mixed-effects models using Eigen and S4. R package version 1.1–7. http://CRAN.R-project.org/package=lme4. Accessed 5 Jan 2018

Brown JL (1987) Helping and communal breeding in birds. Princeton University Press, Princeton, NJ

Burnham KP, Anderson DR (2004) Multimodel inference: understanding AIC and BIC in model selection. Sociol Methods Res 33:261–304

Clark AB (1978) Sex ratio and local resource competition in a prosimian primate. Science 201:163–165

Clutton-Brock TH (1991) The evolution of parental care. Princeton University Press, Princeton, NJ

Craig JL, Jamieson IG (1988) Incestuous matings in a communally breeding bird. Am Nat 131:58–70

Dow D, Whitmore M (1990) Noisy miners: variations on the theme of communality. In: Stacey PB, Koenig WD (eds) Cooperative breeding in birds: long-term studies of ecology and behavior. Cambridge University Press, Cambridge, pp 559–592

Doutrelant C, Covas R, Caizergues A, du Plessis M (2004) Unexpected sex ratio adjustment in a colonial cooperative bird: pairs with helpers produce more of the helping sex whereas pairs without helpers do not. Behav Ecol Sociobiol 56:149–154

Emlen ST (1997) When mothers prefer daughters over sons. Trends Ecol Evol 12:291–292

Emlen ST, Emlen JM, Levin SA (1986) Sex-ratio selection in species with helpers-at-the-nest. Am Nat 127:1–8

Ewen JG, Crozier RH, Cassey P, Ward-Smith T, Painter JN, Robertson RJ, Jones DA, Clarke MF (2003) Facultative control of offspring sex in the cooperatively breeding bell miner (Manorina melanophrys). Behav Ecol 14:157–164

Goodnight KF, Queller DC (1999) Computer software for performing likelihood tests of pedigree relationship using genetic markers. Mol Ecol 8:1231–1234

Griffin AS, Sheldon BC, West SA (2005) Cooperative breeders adjust offspring sex ratios to produce helpful helpers. Am Nat 166:628–632

Griffiths R, Double M, Orr K, Dawson R (1998) A DNA test to sex most birds. Mol Ecol 7:1071–1075

Grueber CE, Nakagawa S, Laws RJ, Jamieson IG (2011) Multimodel inference in ecology and evolution: challenges and solutions. J Evol Biol 24:699–711

Hardy ICW (2002) Sex ratios: concepts and methods. Cambridge University Press, Cambridge

Hasselquist D, Kempenaers B (2002) Parental care and adaptive brood sex ratio manipulation in birds. Phil Trans R Soc B 357:363–372

Hatchwell BJ (2009) The evolution of cooperative breeding in birds: kinship, dispersal and life history. Phil Trans R Soc B 364:3217–3227

Hatchwell BJ, Russell AF, MacColl ADC, Ross DJ, Fowlie MK, McGwan A (2004) Helpers increase long-term but not short-term productivity in cooperatively breeding long-tailed tits. Behav Ecol 15:1–10

Heinsohn R, Legge S, Barry S (1997) Extreme bias in sex allocation in Eclectus parrots. Proc R Soc Lond B 264:1325–1329

Hewison AJM, Gaillard J-M (1999) Successful sons or advantaged daughters? The Trivers-Willard model and sex-biased maternal investment in ungulates. Trends Ecol Evol 14:229–234

Higgins PJ, Peter JM, Steele WK (2001) Handbook of Australian, New Zealand and Antarctic birds. Tyrant-Flycatchers to Chats, vol. 5. Oxford University Press, Melbourne

Julliard R (2000) Sex-specific dispersal in spatially varying environments leads to habitat-dependent evolutionarily stable offspring sex ratios. Behav Ecol 11:421–428

Kalinowski ST, Taper ML, Marshall TC (2007) Revising how the computer program CERVUS accommodates genotyping error increases success in paternity assignment. Mol Ecol 16:1099–1106

Koenig WD, Mumme RL, Pitelka FL (1983) Female roles in cooperatively breeding acorn woodpeckers. In: Waser SK (ed) Social behaviour of female vertebrates. Academic Press, New York, pp 235–261

Kokko H, Johnstone RA, Clutton-Brock TH (2001) The evolution of cooperative breeding through group augmentation. Proc R Soc Lond B 268:187–196

Komdeur J (1994) The effect of kinship on helping in the cooperative breeding seychelles warbler (Acrocephalus sechellensis). Proc R Soc Lond B 256:47–52

Konovalov DA, Manning C, Henshaw MT (2004) KINGROUP: a program for pedigree relationship reconstruction and kin group assignments using genetic markers. Mol Ecol Notes 4:779–782

Kopps AM, McDonald PG, Rollins LA (2013) Isolation and characterisation of polymorphic microsatellite loci for noisy miners (Manorina melanocephala), with successful cross-amplification in bell miners (M. melanophrys). Conserv Genet Resour 5:39–41

Lessells CM (2002) Parentally biased favouritism: why should parents specialize in caring for different offspring? Phil Trans R Soc B 357:381–403

Magrath MJL, van Lieshout E, Pen I, Visser GH, Komdeur J (2007) Estimating expenditure on male and female offspring in a sexually size-dimorphic bird: a comparison of different methods. J Anim Ecol 76:1169–1180

Marshall TC, Slate J, Kruuk LEB, Pemberton JM (1998) Statistical confidence for likelihood-based paternity inference in natural populations. Mol Ecol 7:639–655

McDonald PG (2012) Cooperative bird differentiates between the calls of different individuals, even when vocalizations were from completely unfamiliar individuals. Biol Lett 8:365–368

McDonald PG, Kazem AJN, Clarke MF, Wright J (2008) Helping as a signal: does removal of potential audiences alter helper behavior in the bell miner? Behav Ecol 19:1047–1055

McDonald PG, Ewen JG, Wright J (2010) Brood sex ratio does not affect helper effort in a cooperative bird, despite extreme sex-biased dispersal. Anim Behav 79:243–250

McRae SB, Weatherhaed PJ, Montgomerie R (1993) American robin nestlings compete by jockeying for position. Behav Ecol Sociobiol 33:101–106

Nam K-B, Meade J, Hatchwell BJ (2011) Do parents and helpers adjust their provisioning effort in relation to nestling sex in a cooperatively breeding bird? Anim Behav 82:303–309

Painter J, Crozier RH, Crozier YC, Clarke MF (1997) Characterization of microsatellite loci for a cooperatively breeding honeyeater. Mol Ecol 6:1103–1105

R Core Team (2018) R: a language and environment for statistical computing. R Foundation for Statistical Computing, Vienna, Austria. http://www.R-project.org/. Accessed 5 Jan 2018

Ridley AR, Huyvaert KP (2007) Sex-biased preferential care in the cooperatively breeding Arabian babbler. J Evol Biol 20:1271–1276

Silk JB, Brown GR (2008) Local resource competition and local resource enhancement shape primate birth sex ratios. Proc R Soc Lond B 275:1761–1765

Slagsvold T (1997) Brood division in birds in relation to offspring size: sibling rivalry and parental control. Anim Behav 54:1357–1368

Trivers RL (1972) Parental investment and sexual selection. In: Campbell B (ed) Sexual selection and the descent of man. Heinemann, London, pp 136–179

Wade MJ, Shuster SM, Demuth JP (2003) Sexual selection favors female-biased sex ratios: the balance between opposing forces of sex-ratio selection and sexual selection. Am Nat 162:403–414

Wang J (2002) An estimator for pairwise relatedness using molecular markers. Genetics 160:1203–1215

West SA, Murray MG, Machado CA, Griffin AS, Herre EA (2001) Testing Hamilton's rule with competition between relatives. Nature 409:510–513

West SA, Shuker DM, Sheldon BC (2005) Sex-ratio adjustment when relatives interact: a test of constraints on adaptation. Evolution 59:1211–1228

Wright J (2007) Cooperation theory meets cooperative breeding: exposing some ugly truths about social prestige, reciprocity and group augmentation. Behav Process 76:142–148

Wright J, McDonald PG, te Marvelde L, Kazem AJN, Bishop C (2010) Helping effort increases with relatedness in bell miners, but 'unrelated' helpers of both sexes still provide substantial care. Proc R Soc Lond B 277:437–445

Zahavi A (1975) Mate selection—a selection for a handicap. J Theor Biol 53:205–214
Acknowledgements
We thank the Northern Tablelands Local Land Services and University of New England for allowing fieldwork to be undertaken on their land. We are grateful to Farzaneh Etezadifar for assistance during the fieldwork and Hugh Ford for suggestions on the initial draft of the manuscript. We thank anonymous reviewers who provided constructive suggestions which improved the earlier draft of this manuscript. We are also grateful to Dr. Steve Debus and Dr. Heidi Kolkert who helped during the mist-netting and banding activities and Dr. Jamie Gorrell for his valuable assistance with molecular analysis.
Funding
The School of Environmental and Rural Sciences, UNE, provided financial support for this project. The project was also partly supported by the Ecological Society of Australia through Holsworth Wildlife Endowment Grant.
Ethics declarations
Ethics approval
This study was carried out in accordance with the approved (Protocol AEC13-142) guidelines and regulations of University of New England, Animal Ethics Committee.
Informed consent
The participants in this study have consented to the contents, submission of the manuscript for publication and availability of the data.
Conflict of interest
The authors declare no competing interests.
Additional information
Publisher's note
Springer Nature remains neutral with regard to jurisdictional claims in published maps and institutional affiliations.
Communicated by S. Pruett-Jones
About this article
Cite this article
Barati, A., Andrew, R.L. & McDonald, P.G. Nestling sex does not influence provisioning effort of parents or helpers in a cooperative bird with a male-biased helper contingent. Behav Ecol Sociobiol 75, 94 (2021). https://doi.org/10.1007/s00265-021-03038-9
Received:

Revised:

Accepted:

Published:
Keywords
Sexual size dimorphism

Dispersal

Cooperatively breeding

Noisy miner

Manorina melanocephala