Abstract
Previous research has shown that competition, familiarity, diet, and relatedness can all influence aggregation patterns in garter snakes. We controlled for these factors and examined social aggregation patterns in juvenile Eastern garter snakes (Thamnophis sirtalis sirtalis). We assayed snakes individually for consistent individual differences in boldness and sociability. We then placed snakes in groups of 10 in an enclosure with four shelters and observed their social interactions over a period of 8 days. We demonstrate that the snakes actively seek social interaction, prefer to remain with larger aggregates, and associate nonrandomly with specific individuals or groups. We show that their social interaction patterns are influenced by individual boldness, sociability, and age. The snakes' social networks were perturbed twice a day by "shuffling" their locations. Despite these disturbances, the snakes eventually re-formed their preferred social environment. Aggregation and exploration patterns also varied across time, with most activity occurring later in the day. These results highlight the complexity of snake sociality and may have important implications for conservation efforts.
Significance statement
Snakes are often considered nonsocial animals, but this is inaccurate. We used social network analyses to compare juvenile Eastern garter snakes' group behaviors to their individual personalities. Our research demonstrates that these snakes actively seek out social interaction and prefer to join and remain with larger groups and that their social interaction patterns are influenced by consistent individual differences in boldness and sociability. Our work contributes to a sparse but growing body of literature on sociability in reptiles. This work is important for changing perceptions among the scientific community and the public as a whole. As a consequence, it may aid efforts in developing appropriate conservation techniques that consider sociability patterns in relocated reptiles.
Access options
Buy single article
Instant access to the full article PDF.
US$ 39.95
Tax calculation will be finalised during checkout.
Subscribe to journal
Immediate online access to all issues from 2019. Subscription will auto renew annually.
US$ 79
Tax calculation will be finalised during checkout.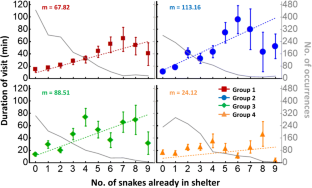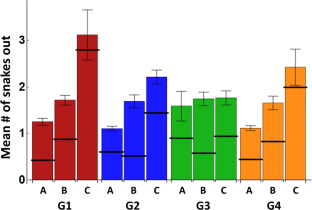 References
Alexander G (2018) Reproductive biology and maternal care of neonates in southern African python (Python natalensis). J Zool 305:141–148. https://doi.org/10.1111/jzo.12554

Allee E (1934) Recent studies in mass physiology. Biol Rev 9:1–48. https://doi.org/10.1111/j.1469-185X.1934.tb00872.x

Bevan PA, Gosetto I, Jenkins ER, Barnes I, Ioannou CC (2018) Regulation between personality traits: individual social tendencies modulate whether boldness and leadership are correlated. Proc R Soc B 285:20180829. https://doi.org/10.1098/rspb.2018.0829

Bonnet X, Shine R, Lourdais O (2002) Taxonomic chauvinism. Trends Ecol Evol 17:1–3. https://doi.org/10.1016/S0169-5347(01)02381-3

Burghardt G (1977) Of iguanas and dinosaurs: social behavior and communication in neonate reptiles. Am Zool 17:177–190

Burghardt G (1983) Aggregation and species discrimination in newborn snakes. Z Tierpsychol 61:89–101. https://doi.org/10.1111/j.1439-0310.1983.tb01330.x

Burghardt G (1990) Chemically mediated predation in vertebrates: diversity, ontogeny, and information. In: Macdonald DW, Muller-Schwarze D, Natynczuk SE (eds) Chemical signals in vertebrates 5. Oxford University Press, Oxford, pp 475–499

Carpenter C (1953) A study of hibernacula and hibernating associations of snakes and amphibians in Michigan. Ecology 34:74–80. https://doi.org/10.2307/1930310

Chiszar D, Carter T, Knight L, Simonsen L, Taylor S (1976) Investigatory behavior in the plains garter snake (Thamnophis radix) and several additional species. Anim Learn Behav 4:273–278. https://doi.org/10.3758/BF03214049

Clark R, Brown W, Stechert R, Greene H (2012) Cryptic sociality in rattlesnakes (Crotalus horridus) detected by kinship analysis. Biol Lett 8:523–525. https://doi.org/10.1098/rsbl.2011.1217

Cote J, Clobert J (2007) Social personalities influence natal dispersal in a lizard. Proc R Soc Lond B 274:383–390. https://doi.org/10.1098/rspb.2006.3734

Cote J, Fogarty S, Weinersmith K, Brodin T, Sih A (2010) Personality traits and dispersal tendency in the invasive mosquitofish (Gambusia affinis). Proc R Soc Lond B 277:1571–1579. https://doi.org/10.1098/rspb.2009.2128

Dinets V (2017) Coordinated hunting by Cuban boas. Anim Behav Cogn 4:24–29. https://doi.org/10.12966/abc.02.02.2017

Dodd C, Seigel R (1991) Relocation, repatriation, and translocation of amphibians and reptiles: are they conservation strategies that work? Herpetologica 47:336–350. https://doi.org/10.1016/0006-3207(92)91063-X

Doody JS, Burghardt G, Dinets V (2013) Breaking the social-non-social dichotomy: a role for reptiles in vertebrate social behavior research? Ethology 119:95–103

Dundee H, Miller M (1968) Aggregative behavior in habitat conditioning by the prairie ringneck snake, Diadophis punctatus arnyi. Tulane Stud 15:41–58

Edsinger E, Dölen G (2018) A conserved role for serotonergic neurotransmission in mediating social behavior in octopus. Curr Biol 28:3136–3142. https://doi.org/10.1016/j.cub.2018.07.061

Farine D (2013) Animal social network inference and permutations for ecologists in R using asnipe. Methods Ecol Evol 4:1187–1194. https://doi.org/10.1111/2041-210X.12121

Graves B, Duvall D (1987) An experimental study of aggregation and thermoregulation in prairie rattlesnakes (Crotalus viridis viridis). Herpetologica 43:259–264

Graves B, Duvall D (1995) Aggregation of squamate reptiles associated with gestation, oviposition, and parturition. Herpetol Monogr 9:102–119. https://doi.org/10.2307/1466999

Graves B, Halpern M (1988) Neonate plains garter snakes (Thamnophis radix) are attracted to conspecific skin extracts. J Comp Psychol 102:251–253. https://doi.org/10.1037/0735-7036.102.3.251

Greene HW, May PG, Hardy DL, Sciturro JM, Farrell TM (2002) Parental behavior by vipers. In: Schuett GW, Höggren M, Douglas ME, Greene HW (eds) Biology of the vipers. Eagle Mountain Publishing LC, Eagle Mountain, pp 179–206

Gregory PT (2004) Analysis of patterns of aggregation under cover objects in an assemblage of six species of snakes. Herpetologica 60:178–186. https://doi.org/10.1655/02-101

Guayasamin OL, Couzin ID, Miller NY (2017) Behavioural plasticity across social contexts is regulated by the directionality of inter-individual differences. Behav Process 141:196–204. https://doi.org/10.1016/j.beproc.2016.10.004

Hatchwell B (2010) Cryptic kin selection: kin structure in vertebrate populations and opportunities for kin directed cooperation. Ethology 116:203–216. https://doi.org/10.1111/j.1439-0310.2009.01732.x

Heller S, Halpern M (1981) Laboratory observations on conspecific and congeneric scent trailing in garter snakes (Thamnophis). Behav Neural Biol 33:372–377. https://doi.org/10.1016/S0163-1047(81)92136-1

Heller S, Halpern M (1982) Laboratory observations of aggregative behavior of garter snakes, Thamnophis sirtalis. J Comp Physiol Psychol 96:967–983

Hoss S, Deutschman D, Booth W, Clark R (2015) Post-birth separation affects the affiliative behaviour of kin in a pitviper with maternal attendance. Biol J Linn Soc 116:637–648. https://doi.org/10.1111/bij.12604

Jolles JW, Boogert NJ, Sridhar VH, Couzin ID, Manica A (2017) Consistent individual differences drive collective behavior and group functioning of schooling fish. Curr Biol 27:2862–2868. https://doi.org/10.1016/j.cub.2017.08.004

Krause J, Ruxton G (2002) Living in groups. Oxford University Press, New York

Larsen KW, Gregory PT, Antoniak R (1993) Reproductive ecology of the common garter snake Thamnophis sirtalis at the northern limit of its range. Am Midl Nat 129:336–345. https://doi.org/10.2307/2426514

Loughran C, Beck D, Weaver R (2015) Use of communal shedding sites by the northern Pacific rattlesnake (Crotalus oreganus oreganus) in Central Washington state. Northwest Nat 96:156–160

Luiselli L (1996) Individual success in mating balls of the grass snake, Natrix natrix: size is important. J Zool 239:731–740. https://doi.org/10.1111/j.1469-7998.1996.tb05474.x

Lyman-Henley L, Burghardt G (1994) Opposites attract: effects of social and dietary experience on snake aggregation behaviour. Anim Behav 47:980–982. https://doi.org/10.1006/anbe.1994.1131

Mason RT, Crews D (1985) Female mimicry in garter snakes. Nature 316:59–60. https://doi.org/10.1038/316059a0

Mayer M, Shine R, Brown GP (2016) Bigger babies are bolder: effects of body size on personality of hatchling snakes. Behaviour 153:313–323. https://doi.org/10.1163/1568539X-00003343

Nash DJ, Griffiths RA (2018) Ranging behaviour in adders (Vipera berus) translocated from a development site. Herpetol J 28:155–159

Nelson K, Gregory P (2000) Activity patterns of garter snakes, Thamnophis sirtalis, in relation to weather conditions at a fish hatchery on Vancouver Island, British Columbia. J Herpetol 34:32–40

Nobel G, Clausen H (1936) The aggregation behavior of Storeria dekayi and other snakes, with especial reference to the sense organs involved. Ecol Monogr 6:269–316. https://doi.org/10.2307/1943244

O'Donnell R, Shine R, Mason R (2004) Seasonal anorexia in the male red-sided garter snake, Thamnophis sirtalis parietalis. Behav Ecol Sociobiol 56:413–419. https://doi.org/10.1007/s00265-004-0801-x

Pawar S (2003) Taxonomic chauvinism and the methodologically challenged. BioScience 53:861–864. https://doi.org/10.1641/0006-3568(2003)053[0861:TCATMC]2.0.CO;2

R Core Team (2017) R: a language and environment for statistical computing. R Foundation for Statistical Computing, Vienna http://www.R-project.org

Reichenbach N (1983) An aggregation of female garter snakes under corrugated metal sheets. J Herpetol 17:412–413. https://doi.org/10.2307/1563599

Rossman D, Ford N, Seigel R (1996) The garter snakes: evolution and ecology (Animal natural history series, vol. 2). University of Oklahoma Press, Norman

Schuett GW, Clark RW, Repp RA, Amarello M, Smith CF, Greene HW (2017) Social behavior of rattlesnakes: a shifting paradigm. In: Schuett GW, Feldner MJ, Smith CF, Reiserer RS (eds) Rattlesnakes of Arizona, vol 2. Eco Publishers, Rodeo, pp 61–244

Shine R, LeMaster M, Moore I, Olsson M, Mason R (2001) Bumpus in the snake den: effects of sex, size, and body condition on mortality of red-sided garter snakes. Evolution 55:598–604. https://doi.org/10.1111/j.0014-3820.2001.tb00792.x

Shine R, Langkilde T, Mason RT (2003) Confusion within 'mating balls' of garter snakes: does misdirected courtship impose selection on male tactics? Anim Behav 66:1011–1017. https://doi.org/10.1006/anbe.2003.2301

Shine R, Shine T, Shine JM, Shine BG (2005) Synchrony in capture dates suggests cryptic social organization in sea snakes (Emydocephalus annulatus, Hydrophiidae). Aust Ecol 30:805–811. https://doi.org/10.1111/j.1442-9993.2005.01524.x

Shine R, Langkilde R, Mason RT (2012) Facultative pheromonal mimicry in snakes: "she-males" attract courtship only when it is useful. Behav Ecol Sociobiol 66:691–695. https://doi.org/10.1007/s00265-012-1317-4

Sih A, Cote J, Evans M, Fogarty S, Pruitt J (2012) Ecological implications of behavioral syndromes. Ecol Lett 15:278–289. https://doi.org/10.1111/j.1461-0248.2011.01731.x

Sprent P, Smeeton N (2001) Applied nonparametric statistical methods, 3rd edn. Chapman & Hall/CRC, Boca Raton

Stoffel M, Nakagawa S, Schielzeth H (2017) rptR: repeatability estimation and variance decomposition by generalized linear mixed-effects models. Methods Ecol Evol 11:1639–1644. https://doi.org/10.1111/2041-210X.12797

Tchernichovski O, Benjamini Y, Golani I (1998) The dynamics of long-term exploration in the rat. Part I. A phase-plane analysis of the relationship between location and velocity. Biol Cybern 78:423–432

Towns DR, Miller KA, Nelson NJ, Chapple DG (2016) Can translocations to islands reduce extinction risk for reptiles? Case studies from New Zealand. Biol Conserv 204:120–127. https://doi.org/10.1016/j.biocon.2016.04.024

Tukey JW (1977) Exploratory data analysis. Addison-Wesley, Reading

van Oers K, Drent PJ, de Goede P, van Noordwijk AJ (2004) Realized heritability and repeatability of risk-taking behaviour in relation to avian personalities. Proc R Soc Lond B 271:65–73

Wilkinson A, Kuenstner K, Mueller J, Huber L (2010) Social learning in a non-social reptile (Geochelone carbonaria). Biol Lett 6:614–616. https://doi.org/10.1098/rsbl.2010.0092

Wilson DS, Coleman K, Clark AB, Biederman L (1993) Shy-bold continuum in pumpkinseed sunfish (Lepomis gibbosus): an ecological study of a psychological trait. J Comp Psychol 107:250–260

Wisenden BD, Sailer CD, Radenic SJ, Sutrisno R (2011) Maternal inheritance and exploratory-boldness behavioural syndrome in zebrafish. Behaviour 148:1443–1456

Yeager C, Burghardt G (1991) Effect of food competition on aggregation: evidence for social recognition in the plains garter snake (Thamnophis radix). J Comp Psychol 105:380–386. https://doi.org/10.1037/0735-7036.105.4.380
Acknowledgments
The authors wish to thank Dr. Ken Maly for developing and performing the lipid extraction methodology used in the paper, Kelley Putzu for the assistance with animal care, and members of the Collective Cognition Lab for the assistance with running the experiment and coding the data. We also thank two anonymous reviewers for their helpful comments on an earlier version of the manuscript.
Funding
This research was funded by the National Science and Engineering Research Council of Canada (NSERC) grant RGPIN-2016-06138 (to NM).
Ethics declarations
Conflict of interest
The authors declare that they have no conflict of interest.
Ethical approval
All experimental procedures conformed with the Canada Council on Animal Care guidelines and were approved by the Wilfrid Laurier University Animal Care Committee (AUP R17004). The adult snakes (mothers of the experimental subjects) were collected from the Waterloo, Ontario, area under a Scientific Collector's Permit from the Ontario Ministry of Natural Resources.
Data availability statement
The datasets generated and analyzed during the current study are available in the Open Science Framework repository, https://osf.io/jx9ve/.
Additional information
Publisher's note
Springer Nature remains neutral with regard to jurisdictional claims in published maps and institutional affiliations.
Communicated by T. Madsen
Electronic supplementary material
About this article
Cite this article
Skinner, M., Miller, N. Aggregation and social interaction in garter snakes (Thamnophis sirtalis sirtalis). Behav Ecol Sociobiol 74, 51 (2020). https://doi.org/10.1007/s00265-020-2827-0
Received:

Revised:

Accepted:

Published:
Keywords
Sociability

Boldness

Animal personality

Group behavior

Aggregation