Abstract
Synchronous hatching is widespread among oviparous taxa. However, the adaptive significance of this phenomenon is unclear, as are the cues mediating hatching synchrony. We took a comparative approach and experimentally tested for synchronous hatching in two freshwater turtles with different life histories (Apalone spinifera and Graptemys geographica). We also aimed to disentangle the cues and mechanisms facilitating any synchronisation and explored its potential costs. For each species, we incubated eggs of different ages and from different mothers in two conditions—in direct contact with other eggs, or physically isolated but able to receive acoustic or chemical cues. We found evidence of hatching synchrony in A. spinifera, but not in G. geographica. Apalone spinifera eggs of different ages that developed in-contact hatched together, implicating mechanical cues. Younger eggs that were incubated in isolation also synchronised with in-contact eggs, which also implicates acoustic or chemosensory cues. Hatchling yolk sac size and mass were similar among treatments. Overall, A. spinifera exhibits hatching synchrony and there was no evidence of developmental costs. The lack of hatching synchrony in G. geographica may reflect their different life-history strategy, as this species can overwinter in the nest after hatching. Clutch effects explained a large and significant proportion of variance in both hatching date and incubation duration in both turtle species. Future research on hatching synchrony should control for these potentially confounding clutch effects. Variation in hatching or emergence synchrony among freshwater turtles raises questions about the selective forces that favour evolution of this behaviour.
Significance statement
Many freshwater turtles hatch from their eggs together—but how do they coordinate? We identified that if eggs of Spiny Softshell turtles develop in contact with each other, the eggs hatch together. But, Northern Map turtles do not synchronise hatching, possibly because of an important difference in their ecology—Northern Map turtles overwinter within their nest. Variable occurrence of hatching synchrony across turtle species may reflect different egg structures and/or overwintering behaviour. Research testing for the presence of hatching synchrony typically incubates less and more advanced siblings together. But we found that clutch effects explained a large and significant proportion of variance in both hatching date and incubation duration, which highlights the need to consider and control for these effects moving forward. Our study provides a promising experimental framework to study hatching synchrony that controls for clutch effects.
Access options
Buy single article
Instant access to the full article PDF.
US$ 39.95
Tax calculation will be finalised during checkout.
Subscribe to journal
Immediate online access to all issues from 2019. Subscription will auto renew annually.
US$ 79
Tax calculation will be finalised during checkout.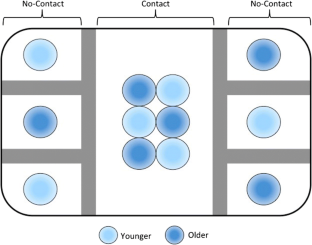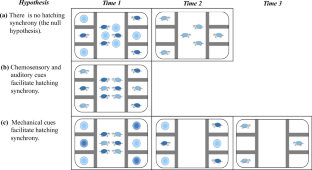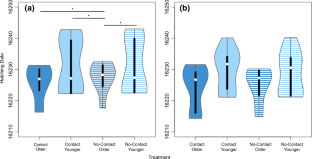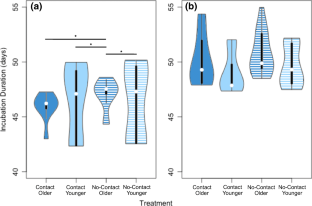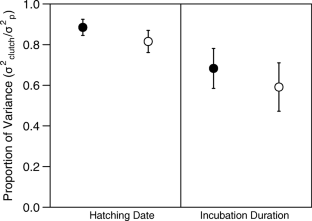 References
Arnold SJ, Bennett AF (1984) Behavioural variation in natural populations. III: antipredator displays in the garter snake Thamnophis radix. Anim Behav 32:1108–1118. https://doi.org/10.1016/S0003-3472(84)80227-4

Arnold SJ, Wassersug RJ (1978) Differential predation on metamorphic anurans by garter snakes (Thamnophis): social behavior as a possible defence. Ecology 59:1014–1022. https://doi.org/10.2307/1938553

Aubret F, Blanvillain G, Bignon F, Kok PJ (2016) Heartbeat, embryo communication and hatching synchrony in snake eggs. Sci Rep 6:23519. https://doi.org/10.1038/srep23519

Baker PJ, Costanzo JP, Iverson JB, Lee RE Jr (2003) Adaptations to terrestrial overwintering of hatchling northern map turtles, Graptemys geographica. J Comp Physiol B 173:643–651. https://doi.org/10.1007/s00360-003-0373-5

Baker PJ, Costanzo JP, Iverson JB, Lee RE Jr (2013) Seasonality and interspecific and intraspecific asynchrony in emergence from the nest by hatchling freshwater turtles. Can J Zool 91:415–461. https://doi.org/10.1139/cjz-2012-0335

Banger N, Blouin-Demers G, Bulté G, Lougheed SC (2013) More sires may enhance offspring fitness in northern map turtles (Graptemys geographica). Can J Zool 91:581–588. https://doi.org/10.1139/cjz-2012-0320

Baxter-Gilbert J, Riley JL, Whiting MJ (2018) Runners and fighters: clutch effects and body size drive innate antipredator behaviour in hatchling lizards. Behav Ecol Sociobiol 71:97

Burger J (1976) Behaviour of hatchling diamondback terrapins (Malaclemys terrapin) in the field. Copeia 1976:742–748. https://doi.org/10.2307/1443457

Burghardt GM, Greene HW, Rand AS (1977) Social behavior in hatchling green iguanas: life at a reptile rookery. Science 195:689–691. https://doi.org/10.1126/science.195.4279.689

Canty A, Ripley B (2017) Boot: bootstrap R (S-plus) functions. R package version 1: 3–20, https://cran.r-project.org/web/packages/boot/boot.pdf

Carr A, Hirth H (1961) Social facilitation in green turtle siblings. Anim Behav 9:68–70. https://doi.org/10.1016/0003-3472(61)90051-3

Chapple DG (2003) Ecology, life-history, and behavior in the Australian scincid genus Egernia, with comments on the evolution of complex sociality in lizards. Herpetol Monogr 17:145–180. https://doi.org/10.1655/0733-1347(2003)017[0145:ELABIT]2.0.CO;2

Christens E (1990) Nest emergence lag in loggerhead sea turtles. J Herpetol 24:400–402. https://doi.org/10.2307/1565057

Christiansen JL, Gallaway BJ (1984) Raccoon removal, nesting success, and hatchling emergence in Iowa turtles with a special reference to Kinosternon falvescens (Kinosternidae). Southwest Nat 29:343–348. https://doi.org/10.2307/3671365

Colbert PL, Spencer RJ, Janzen FJ (2010) Mechanism and cost of synchronous hatching. Funct Ecol 24:112–121. https://doi.org/10.1111/j.1365-2435.2009.01602.x

Costanzo JP, Lee RE Jr, Ultsch GR (2008) Physiological ecology of overwintering in hatchling turtles. J Exp Zool A 309:297–379. https://doi.org/10.1002/jez.460

Davis KM, Burghardt GM (2011) Turtles (Pseudemys nelsoni) learn about visual cues indicating food from experienced turtles. J Comp Psychol 125:404–410. https://doi.org/10.1037/a0024784

Davison AC, Hinkley DV (1997) Bootstrap methods and their applications. Cambridge University Press, Cambridge

Davy CM, Coombes SM, Whitear AK, MacKenzie AS (2010) Visible implant elastomer: a simple, non-harmful method for marking hatchling turtles. Herpetol Rev 41:442–445

Doody JS (2011) Environmentally cued hatching in reptiles. Integr Comp Biol 51:49–61. https://doi.org/10.1093/icb/icr043

Doody JS, Stewart B, Camacho C, Christian K (2012) Good vibrations? Sibling embryos expedite hatching in a turtle. Anim Behav 83:645–651. https://doi.org/10.1016/j.anbehav.2011.12.006

Doody JS, Burghardt GM, Dinets V (2013) Breaking the social–non-social dichotomy: a role for reptiles in vertebrate social behavior research? Ethology 119:95–103. https://doi.org/10.1111/eth.12047

Endo J, Takanashi T, Mukai H, Numata H (2019) Egg-cracking vibration as a cue for stink bug siblings to synchronize hatching. Curr Biol 29:143–148. https://doi.org/10.1016/j.cub.2018.11.024

Ernst CH, Lovich JE (2009) Turtles of the united stated and Canada, 2nd edn. John Hopkins University Press, Baltimore

Ferrara CR, Vogt RC, Harfush MR, Sousa-Lima RS, Albavera E, Tavera A (2014a) First evidence of leatherback turtle (Dermochelys coriacea) embryos and hatchlings emitting sounds. Chelonian Conserv Biol 13:110–114. https://doi.org/10.2744/CCB-1045.1

Ferrara CR, Vogt R, Sousa-Lima R, Tardio B, Bernardes V (2014b) Sound communication and social behaviour in an Amazonian river turtle (Podocnemis expansa). Herpetologica 70:149–156. https://doi.org/10.1655/HERPETOLOGICA-D-13-00050R2

García-Berthou E (2001) On the misuse of residuals in ecology: testing regression residuals vs. the analysis of covariance. J Anim Ecol 70:708–711. https://doi.org/10.1046/j.1365-2656.2001.00524.x

Gardner MG, Pearson SK, Johnston GR, Schwarz MP (2016) Group living in squamate reptiles: a review of evidence for stable aggregations. Biol Rev 91:925–936. https://doi.org/10.1111/brv.12201

Gibbons JW (2013) A long-term perspective of delayed emergence (aka overwintering) in hatchling turtles: some they do and some they don't, and some you just can't tell. J Herpetol 47:203–214. https://doi.org/10.1670/12-122

Gibbons JW, Lovich JE (1990) Sexual dimorphism in turtles with emphasis on the slider turtle (Trachemys scripta). Herpetol Monogr 4:1–29. https://doi.org/10.2307/1466966

Godfrey MH, Barreto R, Mrosovsky N (1997) Metabolically-generated heat of developing eggs and its potential effect on sex ratio of sea turtle hatchlings. J Herpetol 31:616–619. https://doi.org/10.2307/1565626

Greenbaum R, Carr JL (2001) Sexual differentiation in the spiny softshell turtle (Apalone spinifera) a species with genetic sex determination. J Exp Zool 290:190–200. https://doi.org/10.1002/jez.1049

Hill PS (2019) Biotremology: the sound of one egg cracking. Curr Biol 29:R16–R17. https://doi.org/10.1016/j.cub.2018.11.035

Ims RA (1990) On the adaptive value of reproductive synchrony as a predator-swamping strategy. Am Nat 136:485–498. https://doi.org/10.1086/285109

Kojima W (2015) Mechanism of synchronous metamorphosis: larvae of a rhinoceros beetle alter the timing of pupation depending on maturity of their neighbours. Behav Ecol Sociobiol 69:415–424. https://doi.org/10.1007/s00265-014-1854-0

Krenz JG, Naylor GJP, Shaffer HB, Janzen FJ (2005) Molecular phylogenetics and evolution of turtles. Mol Phylogenet Evol 37:178–191. https://doi.org/10.1016/j.ympev.2005.04.027

Lenth RV (2016) Least-squares means: the R package lsmeans. J Stat Softw 69:1–33. https://doi.org/10.18637/jss.v069.i01

Lovich JE, Ernst CH, Ernst EM, Riley JL (2014) A 21-year study of seasonal and interspecific variation of hatchling emergence in a Nearctic freshwater turtle community: to overwinter or not to overwinter? Herpetol Monogr 28:93–109. https://doi.org/10.1655/HERPMONOGRAPHS-D-14-00001

Lynch M, Walsh B (1998) Genetics and analysis of quantitative traits. Sinauer, Sunderland

McGlashan J, Spencer R-J, Old J (2011) Embryonic communication in the nest: metabolic responses of reptilian embryos to developmental rates of siblings. Proc R Soc Lond B 279:1709–1715. https://doi.org/10.1098/rspb.2011.2074

McGlashan J, Loudon F, Thompson M, Spencer R (2015) Hatching behavior of eastern long-necked turtles (Chelodina longicollis): the influence of asynchronous environments on embryonic heart rate and phenotype. Comp Biochem Physiol 188:58–64. https://doi.org/10.1016/j.cbpa.2015.06.018

McGlashan JK, Thompson MB, Janzen FJ, Spencer R-J (2018) Environmentally induced phenotypic plasticity explains hatching synchrony in the freshwater turtle Chrysemys picta. J Exp Zool A 329:362–372. https://doi.org/10.1002/jez.2217

McKenna L (2016) Vocalizations of sea turtle hatchlings and embryos. MSc Thesis, Purdue University

Mitchell T, Warner D, Janzen F (2013) Phenotypic and fitness consequences of maternal nest-site choice across multiple older life stages. Ecology 94:336–345. https://doi.org/10.1890/12-0343.1

Nagle R, Lutz C, Pyle A (2004) Overwintering in the nest by hatchling map turtles (Graptemys geographica). Can J Zool 82:1211–1218. https://doi.org/10.1139/z04-096

Newman RA (1988) Genetic variation for larval anuran (Scaphiopus couchii) development time in an uncertain environment. Evolution 42:763–773. https://doi.org/10.2307/2408867

Noble DW, McFarlane SE, Keogh JS, Whiting MJ (2014) Maternal and additive genetic effects contribute to variation in offspring traits in a lizard. Behav Ecol 25:633–640. https://doi.org/10.1093/beheco/aru032

Noble DW, Stenhouse V, Schwanz LE (2018) Developmental temperatures and phenotypic plasticity in reptiles: a systematic review and meta-analysis. Biol Rev 93:72–97. https://doi.org/10.1111/brv.12333

Olsson M, Gullberg A, Shine R, Madson T, Tegelström H (1996) Paternal genotype influences incubation period, offspring size, and offspring shape in an oviparous reptile. Evolution 50:1328–1333. https://doi.org/10.1111/j.1558-5646.1996.tb02372.x

Orcutt A (1974) Sounds produced by hatching Japanese quail (Coturnix coturnix japonica) as potential aids to synchronous hatching. Behaviour 50:173–184. https://doi.org/10.1163/156853974X00093

Pearson PR, Warner DA (2018) Early hatching enhances survival despite beneficial phenotypic effects of late-season developmental environments. Proc R Soc B 285:20180256. https://doi.org/10.1098/rspb.2018.0256

Pianka E, Vitt L (2003) Lizards: windows to the evolution of diversity. Oxford University of California Press, Berkeley

Pinheiro J, Bates D, DebRoy S, Sarkar D (2014) Nlme: linear and nonlinear mixed effects models. R package version 3.1–117, https://CRAN.R-project.org/package=nlme

Plummer MV (2007) Nest emergence of smooth Softshell (Apalone mutica) hatchlings. Herpetol Conserv Biol 2:61–64. https://doi.org/10.1007/s00442-002-1109-z

R Core Team (2016) R: a language and environment for statistical computing. R Foundation for Statistical Computing, Vienna, Austria http://www.R-project.org

Radzio T, Cox J, Spotila R, O'Connor M (2016) Aggression, combat, and apparent burrow competition in hatchling and juvenile gopher tortoises (Gopherus polyphemus). Chelonian Conserv Biol 15:231–237. https://doi.org/10.2744/CCB-1181.1

Rife A, Strauss E, Auger P (2007) Social and basking behaviors in juvenile, captive-raised northern diamondback terrapins (Malaclemys terrapin terrapin). BSc Honours Thesis, Boston College

Riley JL, Tattersall G, Litzgus JD (2014) Potential sources of intra-population variation in the overwintering strategy of painted turtle (Chrysemys picta) hatchlings. J Exp Biol 217:4174–4183. https://doi.org/10.1242/jeb.111120

Rollinson N, Massey MD, Meron M, Leivesley J (2019) A low cost, efficient, and precise technique to quantify key life cycle events in nests of oviparous reptiles. J Herpetol 53:302–309. https://doi.org/10.1670/18-168

Rouleau CJ, Massey MD, Rollinson N (2019) Temperature does not affect hatch timing in snapping turtles (Chelydra serpentina). J Herpetol 53:165–169. https://doi.org/10.1670/18-048

Santos RG, Pinheiro HT, Martins AS, Riul P, Bruno SC, Janzen FJ, Ioannou CC (2016) The anti-predator role of within-nest emergence synchrony in sea turtle hatchlings. Proc R Soc B 283:20160697. https://doi.org/10.1098/rspb.2016.0697

Schwagmeyer P, Mock D, Lamey T, Lamey C, Beecher M (1991) Effects of sibling contact on hatch timing in an asynchronously hatching bird. Anim Behav 41:887–894. https://doi.org/10.1016/S0003-3472(05)80355-0

Shaffer HB, Meylan P, McKnight ML (1997) Tests of turtle phylogeny: molecular, morphological, and paleontological approaches. Syst Biol 46:235–268. https://doi.org/10.1093/sysbio/46.2.235

Spencer R, Janzen FJ (2011) Hatching behaviour in turtles. Integr Comp Biol 51:100–110. https://doi.org/10.1093/icb/icr045

Spencer R, Thompson MB, Banks PB (2001) Hatch or wait? A dilemma in reptilian incubation. Oikos 93:401–406. https://doi.org/10.1034/j.1600-0706.2001.930305.x

Steyermark AC, Spotila JR (2001) Effects of maternal identity and incubation temperature on snapping turtle (Chelydra serpentina) growth. Funct Ecol 15:624–632. https://doi.org/10.1086/316743

Tornabene BJ, Bramblett RG, Zale AV, Leathe SA (2018) Factors affecting nesting ecology of Apalone spinifera in a northwestern Great Plains river of the United States. Chelonian Conserv Biol 17:63–77. https://doi.org/10.2744/CCB-1298.1

Tucker JK, Paukstis GL, Janzen FJ (2008) Does predator swamping promote synchronous emergence of turtle hatchlings among nests? Behav Ecol 19:35–40. https://doi.org/10.1093/beheco/arm097

Ultsch GR (2006) The ecology of overwintering among turtles: where turtles overwinter and its consequences. Biol Rev 81:339–367. https://doi.org/10.1017/S1464793106007032

Vergne AL, Mathevon N (2008) Crocodile egg sounds signal hatching time. Curr Biol 18:R513–R514. https://doi.org/10.1016/j.cub.2008.04.011

Vijaya J (1983) Auditory cues as possible stimuli for hatching eggs of the flap-shell turtle Lissemys punctata granosa. Hamadryad 8:23

Ward A, Webster M (2016) Sociality: the behaviour of group-living animals. Springer, Berlin

Warkentin KM (2011) Environmentally cued hatching across taxa: embryos respond to risk and opportunity. Integr Comp Biol 51:14–25. https://doi.org/10.1093/icb/icr017

Warkentin KM, Caldwell MS (2009) Assessing risk: embryos, information, and escape hatching. In: Dukas R, Ratcliffe JM (eds) Cognitive ecology II. University of Chicago Press, Chicago, pp 177–200

Warner DA, Shine R (2007) Fitness of juvenile lizards depends on seasonal timing of hatching, not offspring body size. Oecologia 154:65–73. https://doi.org/10.1007/s00442-007-0809-9

Webb GJ, Choquenot D, Whitehead PJ (1986) Nests, eggs, and embryonic development of Carettochelys insculpta (Chelonia: Carettochelidae) from northern Australia. J Zool 1:521–550. https://doi.org/10.1111/j.1096-3642.1986.tb00646.x

Webb JK, Brown GP, Shine R (2001) Body size, locomotor speed and antipredator behaviour in a tropical snake (Tropidonophic mairii, Cloubridae): the influence of incubation environments and genetic factors. Funct Ecol 15:561–568. https://doi.org/10.1046/j.0269-8463.2001.00570.x

Wilimovsky NJ (1990) Misuses of the term 'Julian day'. Trans Am Fish Soc 119:162. https://doi.org/10.1577/1548-8659-119.1.162

Wilkinson A, Kuenstner K, Mueller J, Huber L (2010) Social learning in a non-social reptile (Geochelone carbonaria). Biol Lett 6:614–616. https://doi.org/10.1098/rsbl.2010.0092

Zbinden J, Margaritoulis D, Arlettaz R (2006) Metabolic heating in Mediterranean loggerhead sea turtle clutches. J Exp Mar Biol Ecol 334:151–157. https://doi.org/10.1016/j.jembe.2006.01.021

Zuur AF, Ieno EN, Elphick CS (2010) A protocol for data exploration to avoid common statistical problems. Methods Ecol Evol 1:3–14. https://doi.org/10.1111/j.2041-210X.2009.00001.x
Acknowledgements
We thank Anne and Ric MacArthur and the staff of Rondeau Provincial Park for logistical support during the project. Stephanie Chan, Rebecca Novack, Yehong Shi and Juliana Skuza assisted with care of the eggs during incubation. This study was supported in part by the Government of Ontario and Wildlife Preservation Canada. The initial manuscript was much improved by comments from Dr Sean Doody and an anonymous reviewer.
Funding
Collection of eggs for ex situ incubation was conducted for the recovery of the target population, and was funded by the Government of Ontario (Species at Risk Stewardship Fund grant SAR-00094) and by Wildlife Preservation Canada.
Ethics declarations
Ethical approval
All applicable international, national and/or institutional guidelines for the use of animals were followed. This research was authorised under ESA Registry (M-102-4775033319), a Fish and Wildlife Scientific Collector's Authorization, a Protected Areas Research Authorization, and an approved Animal Care Protocol (16-291) from the Government of Ontario.
Conflict of interest
The authors declare they have no conflict of interest.
Data availability
The datasets generated during and analysed in the current study are available in from Open Source Framework (OSF) at https://osf.io/mganf/.
Additional information
Publisher's note
Springer Nature remains neutral with regard to jurisdictional claims in published maps and institutional affiliations.
Communicated by T. Madsen
About this article
Cite this article
Riley, J.L., Hudson, S., Frenette-Ling, C. et al. All together now! Hatching synchrony in freshwater turtles. Behav Ecol Sociobiol 74, 58 (2020). https://doi.org/10.1007/s00265-020-2800-y
Received:

Revised:

Accepted:

Published:
Keywords
Apalone spinifera

Clutch effects

Developmental plasticity

Embryonic communication

Graptemys geographica

Parental effects