Abstract
The lunar cycle is known to affect the behaviour of strictly nocturnal species, but for diurnal species that are periodically active during the night, this has been less investigated. Nocturnal bird song is relatively common in diurnal species, yet research on this behaviour accounts for little of the research on avian vocalisations. This is surprising given that diurnal species are adapted for bright environments and therefore may be particularly sensitive to change in the lunar cycles. We used automated bioacoustic recorders and automatic song detection software to measure nocturnal song rate in a diurnal bird where both sexes sing, the willie wagtail (Rhipidura leucophrys). We deployed recorders at eight locations across four naturally dark sites resulting in 457 h of nocturnal audio. We confirmed anecdotal evidence suggesting that willie wagtails are prolific nocturnal singers during the breeding season and demonstrate that while both male and females sing during the day, nocturnal song is largely sung by males. Moreover, we show that nocturnal song increased with lunar illumination, contrasting with previous research on other diurnal species that sing at night. Our data allow us to hypothesise possible functions for nocturnal song in this species, such as territory defence or mate attraction.
Significance statement
Despite being taxonomically widespread, nocturnal birdsong is largely overlooked in the literature. Anecdotal evidence suggests nocturnal song is positively influenced by the intensity of moonlight but evidence corroborating this is minimal and conflicting. More problematic is that all previous studies are biased towards male song from Northern Hemisphere species. We addressed these gaps by measuring nocturnal song, over the entire lunar cycle, in the willie wagtail, an Australian species. We demonstrate that nocturnal songs are from chorusing males during the breeding season exclusively and that nocturnal song rate increases with lunar illumination. Our work provides a foundation for hypothesizing the function of nocturnal song and contributes to understanding these patterns on a global level.
This is a preview of subscription content, log in to check access.
Access options
Buy single article
Instant access to the full article PDF.
US$ 39.95
Tax calculation will be finalised during checkout.
Subscribe to journal
Immediate online access to all issues from 2019. Subscription will auto renew annually.
US$ 99
Tax calculation will be finalised during checkout.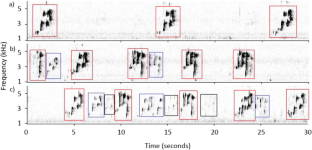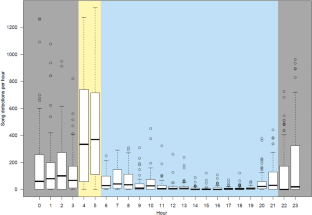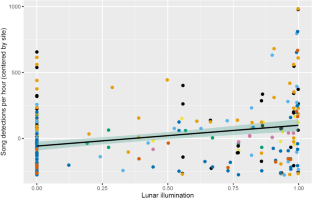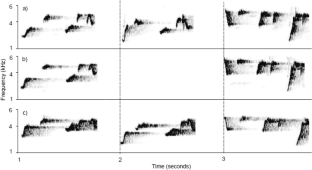 References
Amrhein V, Korner P, Naguib M (2002) Nocturnal and diurnal singing activity in the nightingale: correlations with mating status and breeding cycle. Anim Behav 64:939–944. https://doi.org/10.1006/anbe.2002.1974

Arnold TW (2010) Uninformative parameters and model selection using Akaike's information criterion. J Wildlife Manage 74:1175–1178. https://doi.org/10.2193/2009-367

Barton K (2018) MuMIn: multi-model inference. R package, version 1.40.4, http://r-forge.r-project.org/projects/mumin/

Bates D, Machler M, Bolker BM, Walker SC (2015) Fitting linear mixed-effects models using lme4. J Stat Softw 67:1–48. https://doi.org/10.18637/jss.v067.i01. Accessed 26 Sep 2019

Bender DJ, Bayne EM, Brigham RM (1996) Lunar condition influences coyote (Canis latrans) howling. Am Midl Nat 136:413–417. https://doi.org/10.2307/2426745

Bradshaw WE, Holzapfel CM (2007) Evolution of animal photoperiodism. Annu Rev Ecol Evol S 38:1–25. https://doi.org/10.1146/annurev.ecolsys.37.091305.110115

Brigham RM, Barclay RMR (1992) Lunar influence on foraging and nesting activity of common whippoorwills (Phalaenoptilus nuttallii). Auk 109:315–320. https://doi.org/10.2307/4088200

Brigham RM, Gutsell RCA, Wiacek RS, Geiser F (1999) Foraging behaviour in relation to the lunar cycle by Australian Owlet-nightjars, Aegotheles cristatus. Emu 99:253–261. https://doi.org/10.1071/mu99031

Bruni A, Mennill DJ, Foote JR (2014) Dawn chorus start time variation in a temperate bird community: relationships with seasonality, weather, and ambient light. J Ornithol 155:877–890. https://doi.org/10.1007/s10336-014-1071-7

Burke T, Bruford M, Hanotte O, Brookfield J (1998) Multilocus and single-locus DNA fingerprinting. In: Hölzel AR (ed) Molecular Genetic Analysis of Populations: A Practical Approach. IRL Press, Oxford, pp 287–336

Burnham KP, Anderson DR (2004) Multimodel inference - understanding AIC and BIC in model selection. Sociol Method Res 33:261–304. https://doi.org/10.1177/0049124104268644

Burton J (1979) Continuous nocturnal singing by Cetti's Warbler. Brit Birds 72:184–185

Catchpole CK (1973) Functions of advertising song in sedge warbler (Acrocephalus schoenobaenus) and reed warbler (Acrocephalus scirpaceus). Behaviour 46:300–320. https://doi.org/10.1163/156853973x00067

Catchpole CK, Mann N, Slater PJB (2008) Bird song: biological themes and variations, 2nd edn. Cambridge University Press, New York

Celis-Murillo A, Benson TJ, Sosa-Lopez JR, Ward MP (2016a) Nocturnal songs in a diurnal passerine: attracting mates or repelling intruders? Anim Behav 118:105–114. https://doi.org/10.1016/j.anbehav.2016.04.023

Celis-Murillo A, Stodola KW, Pappadopoli B, Burton JM, Ward MP (2016b) Seasonal and daily patterns of nocturnal singing in the Field Sparrow (Spizella pusilla). J Ornithol 157:853–860. https://doi.org/10.1007/s10336-015-1318-y

Celis-Murillo A, Schelsky W, Benson TJ, Louder MIM, Ward MP (2017) Patterns, correlates, and paternity consequences of extraterritorial foray behavior in the field sparrow (Spizella pusilla): an automated telemetry approach. Behav Ecol Sociobiol 71:45. https://doi.org/10.1007/s00265-017-2273-9

Chan K (2001) Partial migration in Australian landbirds: a review. Emu 101:281–292. https://doi.org/10.1071/mu00034

Collins S (2004) Vocal fighting and flirting: the functions of birdsong. In: Marler P, Slabbekoorn H (eds) Nature's music: the science of birdsong. Elsevier Academic, London, pp 39–79

Da Silva A, Samplonius JM, Schlicht E, Valcu M, Kempenaers B (2014) Artificial night lighting rather than traffic noise affects the daily timing of dawn and dusk singing in common European songbirds. Behav Ecol 25:1037–1047. https://doi.org/10.1093/beheco/aru103

Da Silva A, Valcu M, Kempenaers B (2015) Light pollution alters the phenology of dawn and dusk singing in common European songbirds. Phil Trans R Soc B 370:20140126. https://doi.org/10.1098/rstb.2014.0126

Dadwal N, Bhatt D (2017) Influence of astronomical (lunar)/meteorological factors on the onset of dawn song chorus in the Pied Bush Chat (Saxicola caprata). Curr Biol 113:329–334. https://doi.org/10.18520/cs/v113/i02/329-334

Dadwal N, Bhatt D, Singh A (2017) Singing patterns of male pied bush chats (Saxicola caprata) across years and nesting cycles. Wilson J Ornithol 129:713–726

Daly M, Behrends PR, Wilson MI, Jacobs LF (1992) Behavioural modulation of predation risk: moonlight avoidance and crepuscular compensation in a nocturnal desert rodent, Dipodomys merriami. Anim Behav 44:1–9. https://doi.org/10.1016/s0003-3472(05)80748-1

Dixon A, Ross D, Omalley SLC, Burke T (1994) Paternal investment inversely related to degree of extra-pair paternity in the reed bunting. Nature 371:698–700. https://doi.org/10.1038/371698a0

Dixon DR, Dixon LRJ, Bishop JD, Pettifor RA (2006) Lunar-related reproductive behaviour in the badger (Meles meles). Acta Ethol 9:59–63. https://doi.org/10.1007/s10211-006-0016-4

Double M, Cockburn A (2000) Pre-dawn infidelity: females control extra-pair mating in superb fairy-wrens. Proc R Soc Lond B 267:465–470. https://doi.org/10.1098/rspb.2000.1023

Dyrcz A (1994) Breeding biology and behavior of the willie wagtail Rhipidura leucophrys in the Madang Region, Papua New Guinea. Emu 94:17–26 https://doi.org/10.1071/MU9940017

Evers DC, Paruk JD, Mc Intyre JW, Barr JF (2010) Common Loon (Gavia immer). In: Poole AF (ed) The Birds of North America, 2nd edn. Cornell Lab of Ornithology, Ithaca

Farina A, Ceraulo M (2017) The acoustic chorus and its ecological significance. Wiley, New York

Foote JR, Nanni LK, Schroeder R (2017) Seasonal patterns of nocturnal singing by ovenbirds and white-throated sparrows. Behaviour 154:1275–1295. https://doi.org/10.1163/1568539X-00003468

Foote JR, Marini KLD, Al-Ani H (2018) Understanding the function of nocturnal song in ovenbirds: males do not countersing at night. J Avian Biol 49:jav-012511. https://doi.org/10.1111/jav.01729

Foster RG, Roenneberg T (2008) Human responses to the geophysical daily, annual and lunar cycles. Curr Biol 18:R784–R794. https://doi.org/10.1016/j.cub.2008.07.003

Ganey JL (1990) Calling behavior of spotted owls in northern Arizona. Condor 92:485–490. https://doi.org/10.2307/1368245

Gaston KJ, Visser ME, Holker F (2015) The biological impacts of artificial light at night: the research challenge. Phil Trans R Soc B 370:20140133. https://doi.org/10.1098/rstb.2014.0133

Gil D, Gahr M (2002) The honesty of bird song: multiple constraints for multiple traits. Trends Ecol Evol 17:133–141. https://doi.org/10.1016/s0169-5347(02)02410-2

Goodey W, Lill A (1993) Parental care by the willie wagtail in southern Victoria. Emu 93:180–187

Greenfield MD, Tourtellot MK, Snedden WA (1997) Precedence effects and the evolution of chorusing. Proc R Soc Lond B 264:1355–1361. https://doi.org/10.1098/rspb.1997.0188

Grueber C, Nakagawa S, Laws R, Jamieson I (2011) Multimodel inference in ecology and evolution: challenges and solutions. J Evol Biol 24:699–711

Gursky S (2003) Lunar philia in a nocturnal primate. Int J Primatol 24:351–367. https://doi.org/10.1023/a:1023053301059

Harmer SL, Panda S, Kay SA (2001) Molecular bases of circadian rhythms. Annu Rev Cell Dev Bi 17:215–253. https://doi.org/10.1146/annurev.cellbio.17.1.215

Hasselquist D, Bensch S, von Schantz T (1996) Correlation between male song repertoire, extra-pair paternity and offspring survival in the great reed warbler. Nature 381:229–232. https://doi.org/10.1038/381229a0

Higgins P, Peter J, Cowling S (2006) Handbook of Australian, New Zealand and Antarctic Birds. Volume 7: Boatbill to Starlings. Oxford University Press, Melbourne

Houston AI, McNamara JM (1987) Singing to attract a mate: a stochastic dynamic game. J Theor Biol 129:57–68. https://doi.org/10.1016/s0022-5193(87)80203-5

Hut RA, Kronfeld-Schor N, van der Vinne V, De la Iglesia H (2012) In search of a temporal niche: Environmental factors. Prog Brain Res 199:281–304. https://doi.org/10.1016/b978-0-444-59427-3.00017-4

Jetz W, Steffen J, Linsenmair KE (2003) Effects of light and prey availability on nocturnal, lunar and seasonal activity of tropical nightjars. Oikos 103:627–639. https://doi.org/10.1034/j.1600-0706.2003.12856.x

Jin L, Munro K, Tan S, Hoffman J, Amos W (2006) Polymorphic microsatellite DNA markers for the grey fantail, Rhipidura albiscapa. Mol Ecol Notes 6:75–76. https://doi.org/10.1111/j.1471-8286.2005.01143.x

Kahn NW, St John J, Quinn TW (1998) Chromosome-specific intron size differences in the avian CHD gene provide an efficient method for sex identification in birds. Auk 115:1074–1078. https://doi.org/10.2307/4089527

Katz J, Hafner SD, Donovan T (2016a) Assessment of error rates in acoustic monitoring with the R package monitoR. Bioacoustics 25:177–196. https://doi.org/10.1080/09524622.2015.1133320

Katz J, Hafner SD, Donovan T (2016b) Tools for automated acoustic monitoring within the R package monitoR. Bioacoustics 25:197–210. https://doi.org/10.1080/09524622.2016.1138415

Kelsey MG (1989) A comparison of the song and territorial behavior of a long-distance migrant, the Marsh Warbler Acrocephalus palustris, in Summer and Winter. Ibis 131:403–414. https://doi.org/10.1111/j.1474-919X.1989.tb02788.x

Kempenaers B, Borgstrom P, Loes P, Schlicht E, Valcu M (2010) Artificial night lighting affects dawn song, extra-pair siring success, and lay date in songbirds. Curr Biol 20:1735–1739. https://doi.org/10.1016/j.cub.2010.08.028

Kleindorfer S, Hoi H, Evans C, Mahr K, Robertson J, Hauber ME, Colombelli-Negrel D (2014) The cost of teaching embryos in superb fairy-wrens. Behav Ecol 25:1131–1135. https://doi.org/10.1093/beheco/aru097

Krebs JR (1977) The significance of song repertoires: The Beau Geste hypothesis. Anim Behav 25:475–478. https://doi.org/10.1016/0003-3472(77)90022-7

Krisciunas K, Schaefer BE (1991) A model of the brightness of moonlight. Publ Astron Soc Pac 103:1033–1039. https://doi.org/10.1086/132921

Kronfeld-Schor N, Dominoni D, de la Iglesia H, Levy O, Herzog ED, Dayan T, Helfrich-Forster C (2013) Chronobiology by moonlight. Proc R Soc B 280:20123088. https://doi.org/10.1098/rspb.2012.3088

Kyba CCM, Tong KP, Bennie J, Birriel I, Birriel JJ, Cool A, Danielsen A, Davies TW, Outer PN, Edwards W, Ehlert R, Falchi F, Fischer J, Giacomelli A, Giubbilini F, Haaima M, Hesse C, Heygster G, Hölker F, Inger R, Jensen LJ, Kuechly HU, Kuehn J, Langill P, Lolkema DE, Nagy M, Nievas M, Ochi N, Popow E, Posch T, Puschnig J, Ruhtz T, Schmidt W, Schwarz R, Schwope A, Spoelstra H, Tekatch A, Trueblood M, Walker CE, Weber M, Welch DL, Zamorano J, Gaston KJ (2015) Worldwide variations in artificial skyglow. Sci Rep 5:8409. https://doi.org/10.1038/srep08409

Kyba CCM, Mohar A, Posch T (2017) How bright is moonlight? Astron Geophys 58:31–32. https://doi.org/10.1093/astrogeo/atx025

La VT (2012) Diurnal and nocturnal birds vocalize at night: a review. Condor 114:245–257. https://doi.org/10.1525/cond.2012.100193

Lafayette L, Sauter G, Vu G, Meade B (2016) Spartan Performance and Flexibility: An HPC-Cloud Chimera. OpenStack Summit, Barcelona

Lane G (1933) The Western Meadowlark singing at night. Condor 35:237. https://doi.org/10.1093/condor/35.6.237a

Lundberg A (1980) Vocalizations and courtship feeding of the ural owl, Strix uralensis. Ornis Scand 11:65–70. https://doi.org/10.2307/3676267

Magoolagan L, Mawby PJ, Whitehead FA, Sharp SP (2019) The structure and context of male and female song in White-throated Dippers. J Ornithol 160:195–205. https://doi.org/10.1007/s10336-018-1599-z

Martin DJ (1973) Selected aspects of burrowing owl ecology and behavior. Condor 75:446–456. https://doi.org/10.2307/1366565

Matysiokova B, Remes V (2013) Faithful females receive more help: the extent of male parental care during incubation in relation to extra-pair paternity in songbirds. J Evol Biol 26:155–162. https://doi.org/10.1111/jeb.12039

McNamara JM, Mace RH, Houston AI (1987) Optimal daily routines of singing and foraging in a bird singing to attract a mate. Behav Ecol Sociobiol 20:399–405. https://doi.org/10.1007/bf00302982

Merrow M, Spoelstra K, Roenneberg T (2005) The circadian cycle: daily rhythms from behaviour to genes - First in the Cycles Review Series. EMBO Rep 6:930–935. https://doi.org/10.1038/sj.embor.7400541

Miller MW (2006) Apparent effects of light pollution on singing behavior of American robins. Condor 108:130–139. https://doi.org/10.1650/0010-5422(2006)108[0130:aeolpo]2.0.co;2

Milsom TP, Rochard JBA, Poole SJ (1990) Activity patterns of lapwings Vanellus vanellus in relation to the lunar cycle. Ornis Scand 21:147–156. https://doi.org/10.2307/3676811

Møller AP (1991) Why mated songbirds sing so much: mate guarding and male announcement of mate fertility status. Am Nat 138:994–1014. https://doi.org/10.1086/285264

Møller AP, Diaz M, Grim T et al (2015) Effects of urbanization on bird phenology: a continental study of paired urban and rural populations. Clim Res 66:185–199. https://doi.org/10.3354/cr01344

Mougeot F, Bretagnolle V (2000) Predation risk and moonlight avoidance in nocturnal seabirds. J Avian Biol 31:376–386. https://doi.org/10.1034/j.1600-048X.2000.310314.x

Naguib M, Altenkamp R, Griessmann B (2001) Nightingales in space: song and extra-territorial forays of radio tagged song birds. J Ornithol 142:306–312. https://doi.org/10.1007/bf01651369

Nowicki S, Searcy WA, Hughes M (1998) The territory defense function of song in song sparrows: A test with the speaker occupation design. Behaviour 135:615–628. https://doi.org/10.1163/156853998792897888

Odom KJ, Hall ML, Riebel K, Omland KE, Langmore NE (2014) Female song is widespread and ancestral in songbirds. Nat Commun 5:3379. https://doi.org/10.1038/ncomms4379

Odom KJ, Omland KE, McCaffrey DR, Monroe MK, Christhilf JL, Roberts NS, Logue DM (2016) Typical males and unconventional females: songs and singing behaviors of a tropical, duetting Oriole in the breeding and non-breeding season. Front Ecol Evol 4:14. https://doi.org/10.3389/fevo.2016.00014

Otter K, McGregor PK, Terry AMR, Burford FRL, Peake TM, Dabelsteen T (1999) Do female great tits (Parus major) assess males by eavesdropping? A field study using interactive song playback. Proc R Soc Lond B 266:1305–1309. https://doi.org/10.1098/rspb.1999.0779

Penteriani V, Delgado MD, Campioni L, Lourenco R (2010) Moonlight makes owls more chatty. PLoS ONE 5:e8696. https://doi.org/10.1371/journal.pone.0008696

Perez-Granados C, Lopez-Iborra GM (2020) Dupont's Lark males start to sing earlier but reduce song rate on full moon dawns. J Ornithol 161:421–428. https://doi.org/10.1007/s10336-019-01731-1

Price JJ, Yunes-Jimenez L, Osorio-Beristain M, Omland KE, Murphy TG (2008) Sex-role reversal in song? Females sing more frequently than males in the Streak-backed Oriole. Condor 110:387–392. https://doi.org/10.1525/cond.2008.8430

R Core Team (2018) R: A language and environment for statistical computing. R Foundation for Statistical Computing, Vienna. https://www.R-project.org/. Accessed 26 Sep 2019

Richards SA (2005) Testing ecological theory using the information-theoretic approach: Examples and cautionary results. Ecology 86:2805–2814. https://doi.org/10.1890/05-0074

Robinson CM, Creanza N (2019) Species-level repertoire size predicts a correlation between individual song elaboration and reproductive success. Ecol Evol 9:8362–8377. https://doi.org/10.1002/ece3.5418

Roth T, Sprau P, Schmidt R, Naguib M, Amrhein V (2009) Sex-specific timing of mate searching and territory prospecting in the nightingale: nocturnal life of females. Proc R Soc Lond B 276:2045–2050. https://doi.org/10.1098/rspb.2008.1726

Schmidt KA, Belinsky KL (2013) Voices in the dark: predation risk by owls influences dusk singing in a diurnal passerine. Behav Ecol Sociobiol 67:1837–1843. https://doi.org/10.1007/s00265-013-1593-7

Searcy WA, Andersson M (1986) Sexual selection and the evolution of song. Annu Rev Ecol Evol S 17:507–533. https://doi.org/10.1146/annurev.es.17.110186.002451

Sibly RM, Nott HMR, Fletcher DJ (1990) Splitting behavior into bouts. Anim Behav 39:63–69. https://doi.org/10.1016/s0003-3472(05)80726-2

Skutelsky O (1996) Predation risk and state-dependent foraging in scorpions: Effects of moonlight on foraging in the scorpion Buthus occitanus. Anim Behav 52:49–57. https://doi.org/10.1006/anbe.1996.0151

Smit B, Boyles JG, Brigham RM, McKechnie AE (2011) Torpor in dark times: patterns of heterothermy are associated with the lunar cycle in a nocturnal bird. J Biol Rhythm 26:241–248. https://doi.org/10.1177/0748730411402632

Spoelstra K, Visser ME (2014) The impact of artificial light on avian ecology. Oxford University Press, London

Staicer C, Spector D, Horn A (1996) The dawn chorus and other diel patterns in acoustic signaling. In: Kroodsma DE, Miller EH (eds) Ecology and evolution of acoustic communication in birds. Comstock Publishing Associates, Ithaca, pp 426–453

Symonds MRE, Moussalli A (2011) A brief guide to model selection, multimodel inference and model averaging in behavioural ecology using Akaike's information criterion. Behav Ecol Sociobiol 65:13–21. https://doi.org/10.1007/s00265-010-1037-6

Tabachnick BG, Fidell LS (2018) Using multivariate statistics, 7th edn. Pearson, Boston

Thomas RJ, Drewitt EJA, Kelly DJ, Marples NM, Semple S (2003) Nocturnal playbacks reveal hidden differences in singing behaviour between populations of Robin, Erithacus rubecula. Bird Study 50:84–87. https://doi.org/10.1080/00063650309461295

Thompson NS, LeDoux K, Moody K (1994) A system for describing bird song units. Bioacoustics 5:267–279

Tuttle EM (2003) Alternative reproductive strategies in the white-throated sparrow: behavioral and genetic evidence. Behav Ecol 14:425–432. https://doi.org/10.1093/beheco/14.3.425

Tyler GA, Green RE (1996) The incidence of nocturnal song by male Corncrakes Crex crex is reduced during pairing. Bird Study 43:214–219. https://doi.org/10.1080/00063659609461013

Vanorsdol KG (1984) Foraging behavior and hunting success of lions in Queen Elizabeth Nation Park, Uganda. Afr J Ecol 22:79–99. https://doi.org/10.1111/j.1365-2028.1984.tb00682.x

Vasquez RA (1994) Assessment of predation risk via illumination level: facultative central place foraging in the cricetid rodent Phyllotis darwini. Behav Ecol Sociobiol 34:375–381. https://doi.org/10.1007/bf01209784

Ward MP, Alessi M, Benson TJ, Chiavacci SJ (2014) The active nightlife of diurnal birds: extraterritorial forays and nocturnal activity patterns. Anim Behav 88:175–184. https://doi.org/10.1016/j.anbehav.2013.11.024

Woods CP, Brigham RM (2008) Common poorwill activity and calling behavior in relation to moonlight and predation. Wilson J Ornithol 120:505–512. https://doi.org/10.1676/06-067.1

York JE, Young AJ, Radford AN (2014) Singing in the moonlight: dawn song performance of a diurnal bird varies with lunar phase. Biol Lett 10:20130970. https://doi.org/10.1098/rsbl.2013.0970

Zuk M, Kolluru GR (1998) Exploitation of sexual signals by predators and parasitoids. Q Rev Biol 73:415–438. https://doi.org/10.1086/420412
Acknowledgements
We acknowledge the Barengi Gadjin, Bunurong and Wadawurrung peoples, the traditional custodians of the lands on which this work was conducted and pay our respects to Elders past and present. We thank Parks Victoria and property holders K. Hateley, D. Ellifson and H. Scott for allowing us to record on their property. Mist netting and censusing help were provided by the Mulder lab and field assistants. Thank you to L. Lafayette for help in accessing and using the high-performance computer facility and Spartan at Melbourne University. Thanks to M. Lockett, T. Keaney, and the Statistical Consulting Centre at Melbourne University for statistical help. We thank H. Brumm, V. Amrhein and one anonymous reviewer for comments which improved our manuscript.
Availability of data and material
Data available from Melbourne.figshare, DOI: https://doi.org/10.26188/12743930
Code availability
The R code used for statistical analyses for this study is available from the corresponding author on request.
Funding
The research was supported by funding from the ESA Holsworth Endowment and the Australasian Society for the Study of Animal Behaviour (ASSAB).
Ethics declarations
Conflicts of interest/Competing interest
The authors declare that they have no conflict of interest.
Ethics approval
This research adhered to the Animal Behaviour Society Guidelines for the use of animals and methods were approved by the University of Melbourne Animal Ethics Committee 1613983.4. Scientific permit number 10008095 approved by Department of Environment, Land, Water and Planning. Banding approved by the Australian Bird and Bat Banding Scheme, authority numbers 2073, 3031 and 3210.
Consent to participate
Not applicable.
Consent for publication
Not applicable.
Additional information
Publisher's note
Springer Nature remains neutral with regard to jurisdictional claims in published maps and institutional affiliations.
Communicated by H. Brumm
Electronic supplementary material
About this article
Cite this article
Dickerson, A.L., Hall, M.L. & Jones, T.M. The effect of variation in moonlight on nocturnal song of a diurnal bird species. Behav Ecol Sociobiol 74, 109 (2020). https://doi.org/10.1007/s00265-020-02888-z
Received:

Revised:

Accepted:

Published:
Keywords
Nocturnal song

Lunar cycle

Bird song

Willie wagtail

Lunar illumination

Behaviour