Abstract
Batesian mimicry refers to a harmless species protecting itself from predators by mimicking a harmful species. A case of acoustic Batesian mimicry has been proposed in the naturalist literature: it is suspected that birds called like a snake when disturbed in their cavities to deter mammalian predators or repel competitors. To evaluate this hypothesis, we first test the assumption that the hissing sound produced by adult females of a wild cavity-nesting species – the blue tit (Cyanistes caeruleus) – is acoustically similar to the hisses of three wild sympatric snake species. Then, we tested one prediction of this hypothesis which is that the receiver of the signal should react similarly to the snake and bird hisses. To do so, we used, hiss-naïve individuals, without any past experience with predators: the house mouse (Mus musculus domesticus), representing a model of a possible nest competitor. We quantified mouse responses to blue tit and snake hisses and two non-hiss sounds (other blue tit vocalizations and human voices). Our results show that snake hisses and blue tit hisses are structurally more similar to each other than to other blue tit vocalizations and that both hisses provoke comparable levels of anxiety behavior in mice. Taken together, these results are compatible with the hypothesis that blue tits have evolved to mimic the sound of snakes, i.e., the Batesian mimicry hypothesis. We also note however that our results also agree with another hypothesis, suggesting that mechanisms underlying the production and perception of hisses are conserved across vertebrates. Further research is needed to disentangle these two hypotheses.
Significance statement
Mimicry is a fascinating illustration of the principles of evolution in communication. In the case of Batesian mimicry, species evolve to resemble other species as a mean of deterring harmful receivers. While visual mimicry has been thoroughly investigated across a wide range of species, vocal mimicry remains less studied. In the present study, we compared the acoustic similarity of the hissing sound produced by female blue tits, a cavity-nesting species, to the hisses of three snake species. Then, we exposed mice, a model of a possible cavity competitor, to bird and snake hisses. We showed that snake and blue tit hisses are acoustically similar and provoke comparable anxiety behaviors in mice. These results are compatible with the hypothesis that blue tits utilize an innate fear response to hisses in mammals, a result that may explain why blue tit hisses have been linked to increased survival by other authors. Furthermore, the results also suggest a conserved function of, and response to, hiss vocalizations across vertebrates.
Access options
Buy single article
Instant access to the full article PDF.
USD 39.95
Price excludes VAT (USA)
Tax calculation will be finalised during checkout.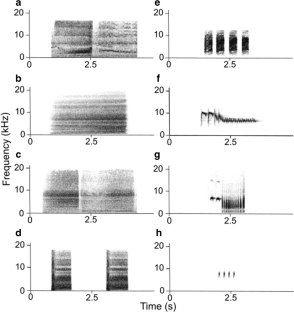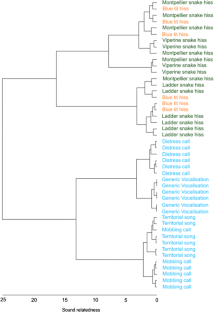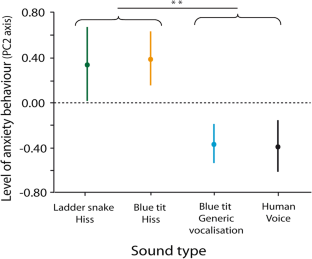 References
Amaral FRD, Macedo G, Maldonado-Coelho M, de Piacentini VQ, Keuroghlian A, Biondo C (2017) Bluffing in the forest: neotropical neomorphus ground-cuckoos and peccaries in a possible case of acoustic mimicry. J Avian Biol 48:1471–1474. https://doi.org/10.1111/jav.01266

Bates HW (1862) Contributions to an insect fauna of the Amazon valley. Lepidoptera: Heliconidæ. Trans Linn Soc Lond 23:495–566

Berton F, Vogel E, Belzung C (1998) Modulation of mice anxiety in response to cat odor as a consequence of predators diet. Physiol Behav 65:247–254. https://doi.org/10.1016/S0031-9384(98)00126-7

Brooke M de L, Davies NB (1988) Egg mimicry by cuckoos Cuculus canorus in relation to discrimination by hosts. Nature 335:630–632. https://doi.org/10.1038/335630a0

Capizzi D, Luiselli L, Capula M, Rugiero L (1995) Feeding habits of a Mediterranean community of snakes in relation to prey availability. Rev Ecol 50:353–363

Célérier A, Piérard C, Rachbauer D, Sarrieau A, Béracochéa D (2004) Contextual and serial discriminations: a new learning paradigm to assess simultaneously the effects of acute stress on retrieval of flexible or stable information in mice. Learn Mem 11:196–204 http://www.learnmem.org/cgi/doi/10.1101/lm.65604

Chauveau F, Piérard C, Coutan M, Drouet I, Liscia P, Béracochéa D (2008) Prefrontal cortex or basolateral amygdala lesions blocked the stress-induced inversion of serial memory retrieval pattern in mice. Neurobiol Learn Mem 90:395–403. https://doi.org/10.1016/j.nlm.2008.04.014

Chu M (2001) Heterospecific responses to scream calls and vocal mimicry by phainopeplas (Phainopepla nitens) in distress. Behaviour 138:775–787. https://doi.org/10.1163/156853901752233406

Cramp S, Perrins CM (1993) The birds of the Western Palearctic. Oxford University Press, Oxford

Dafni A, Ivri Y (1981) The flower biology of Cephalanthera longifolia (Orchidaceae)—pollen imitation and facultative floral mimicry. Plant Syst Evol 137:229–240

Dalziell AH, Welbergen JA (2016) Mimicry for all modalities. Ecol Lett 19:609–619. https://doi.org/10.1111/ele.12602

Dalziell AH, Welbergen JA, Igic B, Magrath RD (2015) Avian vocal mimicry: a unified conceptual framework. Biol Rev 90:643–668. https://doi.org/10.1098/rspb.1998.0346

Darst CR, Cummings ME (2006) Predator learning favours mimicry of a less-toxic model in poison frogs. Nature 440:208–211. https://doi.org/10.1038/nature0429

Doutrelant C, Leitao A, Giorgi M, Lambrechts MM (1999) Geographical variation in blue tit song, the result of an adjustment to vegetation type? Behaviour 136:481–493. https://doi.org/10.1163/156853999501432

Dutour M, Léna JP, Lengagne T (2017) Mobbing calls: a signal transcending species boundaries. Anim Behav 131:3–11. https://doi.org/10.1016/j.anbehav.2017.07.004

Filippi P, Congdon JV, Hoang J et al (2017) Humans recognize emotional arousal in vocalizations across all classes of terrestrial vertebrates: evidence for acoustic universals. Proc R Soc B 284:20170990. https://doi.org/10.1098/rspb.2017.0990

Gomez D, Théry M, Gauthier AL, Lengagne T (2011) Costly help of audiovisual bimodality for female mate choice in a nocturnal anuran (Hyla arborea). Behav Ecol 22:889–898. https://doi.org/10.1093/beheco/arr039

Goodale E, Ratnayake CP, Kotagama SW (2014) Vocal mimicry of alarm-associated sounds by a drongo elicits flee and mobbing responses from other species that participate in mixed-species bird flocks. Ethology 120:266–274. https://doi.org/10.1111/eth.12202

Gorissen L, Eens M (2005) Complex female vocal behaviour of great and blue tits inside the nesting cavity. Behaviour 142:489–506. https://doi.org/10.1163/1568539054012056

Hinde RA (1952) The behaviour of the great tit (Parus major) and some other related species. Behaviour Suppl 2:1–201

Hurlbert SH (1984) Pseudoreplication and the design of ecological field experiments. Ecol Monogr 54:187–211. https://doi.org/10.2307/1942661

Igic B, McLachlan J, Lehtinen I, Magrath RD (2015) Crying wolf to a predator: deceptive vocal mimicry by a bird protecting young. Proc R Soc B 282:20150798. https://doi.org/10.1098/rspb.2015.0798

Joron M, Mallet JL (1998) Diversity in mimicry: paradox or paradigm? Trends Ecol Evol 13:461–466. https://doi.org/10.1016/S0169-5347(98)01483-9

Jourdain FCR (1929) Protective mimicry of the chickadee. Auk 46:123–123

Kelley LA, Coe RL, Madden JR, Healy SD (2008) Vocal mimicry in songbirds. Anim Behav 76:521–528. https://doi.org/10.1016/j.anbehav.2008.04.012

Kindermann T, Siemers BM, Fendt M (2009) Innate or learned acoustic recognition of avian predators in rodents? J Exp Biol 212:506–513. https://doi.org/10.1242/jeb.024174

Koosa K, Tilgar V (2016) Is hissing behaviour of incubating great tits related to reproductive investment in the wild? Acta Ethol 19:173–180. https://doi.org/10.1007/s10211-016-0239-y

Krams I, Vrublevska J, Koosa K, Krama T, Mierauskas P, Rantala MJ, Tilgar V (2014) Hissing calls improve survival in incubating female great tits (Parus major). Acta Ethol 17:83–88. https://doi.org/10.1007/s10211-013-0163-3

Kroodsma DE (1989) Suggested experimental designs for song playbacks. Anim Behav 37:600–609. https://doi.org/10.1016/0003-3472(89)90039-0

Kroodsma DE (1990) Using appropriate experimental designs for intended hypotheses in 'song' playbacks, with examples for testing effects of song repertoire sizes. Anim Behav 40:1138–1150. https://doi.org/10.1016/S0003-3472(05)80180-0

Lingle S, Riede T (2014) Deer mothers are sensitive to infant distress vocalizations of diverse mammalian species. Am Nat 184:510–522. https://doi.org/10.1086/677677

Magrath RD, Haff TM, Horn AG, Leonard ML (2010) Calling in the face of danger: predation risk and acoustic communication by parent birds and their offspring. Adv Stud Behav 41:187–253. https://doi.org/10.1016/S0065-3454(10)41006-2

Mariette MM, Buchanan KL (2016) Prenatal acoustic communication programs offspring for high posthatching temperatures in a songbird. Science 353:812–814. https://doi.org/10.1126/science.aaf7049

Martin TE (1993) Nest predation and nest sites. Bioscience 43:523–532

Maynard Smith J, Harper D (2003) Animal signals. Oxford University Press, Oxford

Morton ES (1977) On the occurrence and significance of motivation-structural rules in some bird and mammal sounds. Am Nat 111:855–869. https://doi.org/10.1086/283219

Nelson MC, Fraser J (1980) Sound production in the cockroach, Gromphadorhina portentosa: evidence for communication by hissing. Behav Ecol Sociobiol 6:305–314. https://doi.org/10.1007/BF00292773

Norman MD, Finn J, Tregenza T (2001) Dynamic mimicry in an indo–Malayan octopus. Proc R Soc Lond B 268:1755–1758. https://doi.org/10.1098/rspb.2001.1708

Nosek K, Dennis K, Andrus BM, Ahmadiyeh N, Baum AE, Solberg Woods LC, Redell EE (2008) Context and strain-dependant behavioral response to stress. Behav Brain Funct 4:23

Odum EP (1942) Annual cycle of the black-capped chickadee. Auk 59:499–531

Owings DH, Rowe MP, Rundus AS (2002) The rattling sound of rattlesnakes (Crotalus viridis) as a communicative resource for ground squirrels (Spermophilus beecheyi) and burrowing owls (Athene cunicularia). J Comp Psychol 116:197. https://doi.org/10.1037//0735-7036.116.2.197

Pickens AL (1928) Auditory protective mimicry of the chickadee. Auk 45:302–304

Pierard C, Dorey R, Henkous N, Mons N, Béracochéa D (2017) Different implications of the dorsal and ventral hippocampus on contextual memory retrieval after stress. Hippocampus 27:999–1015. https://doi.org/10.1002/hipo.22748

Pleguezuelos JM, Fernández-Cardenete JR, Honrubia S, Feriche M, Villafranca C (2007) Correlates between morphology, diet and foraging mode in the ladder Snake Rhinechis scalaris (Schinz, 1822). Contrib Zool 76:179–186

Rowe MP, Coss RG, Owings DH (1986) Rattlesnake rattles and burrowing owl hisses: a case of acoustic Batesian mimicry. Ethology 72:53–71. https://doi.org/10.1111/j.1439-0310.1986.tb00605.x

Sibley CG (1955) Behavioral mimicry in the titmice (Paridae) and certain other birds. Wilson Bull 67:128–132

Stanger-Hall KF, Lloyd JE (2015) Flash signal evolution in Photinus fireflies: character displacement and signal exploitation in a visual communication system. Evolution 69:666–682. https://doi.org/10.1111/evo.12606

Stoddard MC, Stevens M (2010) Pattern mimicry of host eggs by the common cuckoo, as seen through a bird's eye. Proc R Soc Lond B 277:1387–1393. https://doi.org/10.1098/rspb.2009.2018

Young BA, Nejman N, Meltzer K, Marvin J (1999) The mechanics of sound production in the puff adder Bitis arietans (Serpentes: Viperidae) and the information content of the snake hiss. J Exp Biol 202:2281–2289

Zub K, Czeszczewik D, Ruczyński I, Kapusta A, Walankiewicz W (2017) Silence is not golden: the hissing calls of tits affect the behaviour of a nest predator. Behav Ecol Sociobiol 71:79. https://doi.org/10.1007/s00265-017-2313-5
Acknowledgments
The recordings of snake hisses were obtained thanks to Anthony Olivier, Marc Thibault, Aurélien Guay from Regard du vivant, and Cornélius De Haan. We thank Aurélie Célérier for helping in behavioral experiment. We thank Leen Gorissen for the recordings of non-hissing vocalizations by females and Jessica Pearce and Sarah Walsh for English language editing. We thank the editor and reviewers for constructive comments on an earlier version of this manuscript.
Funding
This work was supported by a French ANR (ANR-09-JCJC-0050-01) and by funds from OSU-OREME.
Ethics declarations
Conflict of interest
The authors declare that they have no conflict of interest.
Ethical approval
All study protocols involving mice were approved authorization certificate for animal experimentation (A34–402) from the Direction Départementale de la Protection des Populations de l'Hérault to Aurélie Célérier, University of Montpellier – CECEMA. Regarding bleu tit acoustic productions, even if noninvasive (no necessity to handle individuals), the data were collected under permits given by the Hérault local government office and the Regional Direction of Environment (DREAL) committee to our research program (permit 2006-01-2014), to our research institute (permit B34–172-204 11), and to ourselves (permit 3467). Regarding the snake acoustic productions, even if noninvasive, the sounds were collected with specialists on two field sites where research programs including Capture Mark Recapture on snakes are conducted, under the permit given by the Hérault local government office and the DREAL committee (number: 2015-12-17-01415) for the Mejean reserve and with the reserve ranger for the Tour du Valat Nature Reserve.
Additional information
Communicated by J. Podos
Publisher's note
Springer Nature remains neutral with regard to jurisdictional claims in published maps and institutional affiliations.
Claire Doutrelant and Arnaud Grégoire are Joint last authors.
The original version of this article was revised: This article was published with an incorrect article title introduced by production.
About this article
Cite this article
Dutour, M., Lévy, L., Lengagne, T. et al. Hissing like a snake: bird hisses are similar to snake hisses and prompt similar anxiety behavior in a mammalian model. Behav Ecol Sociobiol 74, 1 (2020). https://doi.org/10.1007/s00265-019-2778-5
Received:

Revised:

Accepted:

Published:

DOI: https://doi.org/10.1007/s00265-019-2778-5
Keywords
Antipredator strategy

Blue tit

Hissing call

Mimicry

Nest defense