Abstract
Habitat management can generate variation in a cascade of organismal traits linked to the environment, particularly in small, endemic species such as the Florida scrub lizard (Sceloporus woodi). For example, reduction of arboreal perches through clear-cutting in managed Florida scrub may alter lizard behavior, and predation risk, which in turn, may alter lizard abundance. We ask whether risk aversion behavior is habitat-specific, and potentially reflects predation intensity. Four predator avoidance traits were quantified in S. woodi from longleaf pine and Florida scrub habitats. We also asked if habitat type was linked to phenotypic traits (e.g., body size, hind limb length) that might alter risk aversion behaviors. Lizards in longleaf pine had greater detection distance and flight distance and were farther from refuges, indicating higher risk aversion compared to populations in Florida scrub. Given this, males may be more sensitive to predation than females, especially during the breeding season. Males were encountered more often than females in both habitats, and detected from a greater distance in longleaf, but not Florida scrub. Population density may affect lizard behavior, yet we found no difference in population density between the habitats for stands sampled, nor any relationship of population density to risk aversion behaviors. These results demonstrate that management activities, which alter vegetation and substrate characteristics, also alter aspects of lizard behavior that subsequently may influence predation pressure among sub-populations.
Significance statement
Human activity has fundamentally changed most habitats on Earth such that management is now required for conservation of native species and preservation of resources. We hypothesized that differential management between longleaf pine and Florida scrub habitats might alter risk aversion behavior. Our results show that lizards use different refuges between habitat types, and that lizards are more weary in the more open habitat (longleaf pine). Frequent prescribed fire in longleaf pine maintains a suitable thermal microclimate and access to key refuges (mature trees), whereas clear-cutting of Florida scrub yields more shrubs, no vertical perches, and higher temperatures. Thus, habitat management fundamentally alters predator avoidance behavior, which in turn is linked to predation intensity and the probability of population persistence. This study highlights the challenge of designing management plans that are beneficial to all constituent species.
Access options
Buy single article
Instant access to the full article PDF.
US$ 39.95
Tax calculation will be finalised during checkout.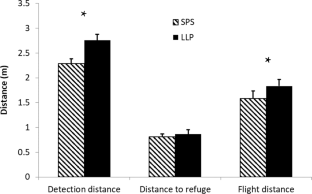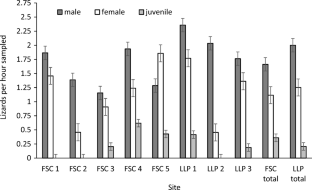 References
Batabyal A, Balakrishna S, Thaker M (2017) A multivariate approach to understanding shifts in escape strategies of urban lizards. Behav Ecol Sociobiol 71:83. https://doi.org/10.1007/s00265-017-2307-3

Bauwens D, Garland T, Castilla AM, Van Damme R (1995) Evolution of sprint speed in lacertid lizards: morphological, physiological and behavioral covariation. Evolution 49:848–863. https://doi.org/10.2307/2410408

Blamires SJ (1999) Factors influencing the escape response of an arboreal agamid lizard of tropical Australia (Lophognathus temporalis) in an urban environment. Can J Zool 77:1998–2003. https://doi.org/10.1139/z99-166

Blumstein DT (2006) Developing an evolutionary ecology of fear: how life history and natural history traits affect disturbance tolerance in birds. Anim Behav 71:389–399. https://doi.org/10.1016/j.anbehav.2005.05.010

Branch LC, Clark AM, Moler PE, Bowen BW (2003) Fragmented landscapes, habitat specificity, and conservation genetics of three lizards in Florida scrub. Conserv Genet 4:199–212. https://doi.org/10.1023/A:1023398908793

Brock KM, Bednekoff PA, Pafilis P, Foufopoulos J (2014) Evolution of antipredator behavior in an island lizard species, Podarcis erhardii (Reptilia: Lacertidae): the sum of all fears? Evolution 69:216–231. https://doi.org/10.1111/evo.12555

Campbell HW, Christman SP (1982) The herpetological components of the Florida sand hill and pine scrub associations. In: Scott NJ (ed) Herpetological communities. U.S. Fish and Wildlife Service, Wildlands Research Report 13, Washington, DC, pp 163–171

Candolin U, Voigt HR (2001) Correlation between male size and territory quality: consequence of male competition or predation susceptibility? Oikos 95:225–230. https://doi.org/10.1034/j.1600-0706.2001.950204.x

Capizzi D, Luiselli L, Vignoli L (2007) Flight initiation distance in relation to substratum type, sex, reproductive status and tail condition in two lacertids with contrasting habits. Amphibia-Reptilia 28:403–407. https://doi.org/10.1163/156853807781374827

Carter AJ, Goldizen AW, Tromp SA (2010) Agamas exhibit behavioral syndromes: bolder males bask and feed more but may suffer higher predation. Behav Ecol 21:655–661. https://doi.org/10.1093/beheco/arq/036

Clark AM, Bowen BW, Branch LC (1999) Effects of natural habitat fragmentation on an endemic scrub lizard (Sceloporus woodi): a historical perspective based on a mitochondrial DNA gene genealogy. Mol Ecol 8:1093–1104. https://doi.org/10.1046/j.1365-294x.1999.00653.x

Cooper WE (1999) Tradeoffs between courtship, fighting, and antipredatory behavior by a lizard, Eumeces laticeps. Behav Ecol Sociobiol 47:54–59. https://doi.org/10.1007/s002650050649

Cooper WE (2006) Dynamic risk assessment: prey rapidly adjust flight initiation distance to changes in predator approach speed. Ethology 112:858–864. https://doi.org/10.1111/j.1439-0310.2006.01240.x

Cooper WE Jr. (2009) Flight initiation distance decreases during social activity in lizards (Sceloporus virgatus). Behav Ecol Sociobiol 63: 1765-1771. https://doi.org/10.1007/s00265-009-0799-1

Cooper WE, Avalos A (2010) Predation risk, escape and refuge use by mountain spiny lizards (Sceloporus jarrovii). Amphibia-Reptilia 31:363–373. https://doi.org/10.1163/156853810791769419

Cooper WE, Wilson DS (2007) Beyond optimal escape theory: microhabitats as well as predation risk affect escape and refuge use by the phrynosomatid lizard Sceloporus virgatus. Behaviour 144:1235–1254. https://doi.org/10.1163/156853907781890940

Goodman BA, Miles DB, Schwarzkopf L (2008) Life on the rocks: habitat use drives morphological and performance evolution in lizards. Ecology 89:3462–3471. https://doi.org/10.1890/07-2093.1

Greenberg CH, Neary DG, Harris LD (1994) Effect of high-intensity wildfire and silvicultural treatments on reptile communities in sand-pine scrub. Conserv Biol 8:1047–1057. https://doi.org/10.1046/j.1523-1739.1994.08041047

Greenberg CH, Thomas MC (1995) Effects of forest management practices on terrestrial coleopteran assemblages in sand pine scrub. Fla Entomol 78:271–285. https://doi.org/10.2307/3495900

Guay PJ, Lorenz RD, Robinson RW, Symonds MRE, Weston MA (2013) Distances from water, sex and approach direction influence flight distances among habituated black swans. Ethology 119:552–558. https://doi.org/10.1111/eth.12094

Heath S, Schrey AW, Ashton KG, Mushinsky HR, McCoy ED (2012) Contrasting genetic differentiation of a poorly dispersing lizard in connected and fragmented scrub habitats. J Herpetol 46:602–607. https://doi.org/10.1670/10-291

Hokit DG, Ascunce M, Ernst J, Branch LC, Clark AM (2010) Ecological metrics predict connectivity better than geographic distance. Conserv Genet 11:149–159. https://doi.org/10.1007/s10592-009-0014-y

Hokit DG, Branch LC (2003) Habitat patch size affects demographics of the Florida scrub lizard (Sceloporus woodi). J Herpetol 37:257–265. https://doi.org/10.1670/0022-1511(2003)037[0257:HPSADO]2.0.CO;2

Hokit DG, Stith BM, Branch LC (1999) Effects of landscape structure in Florida scrub: a population perspective. Ecol Appl 9:124–134. https://doi.org/10.2307/2641173

Huey RB (1991) Physiological consequences of habitat selection. Am Nat 137:91–115. https://doi.org/10.1086/285141

Iraeta P, Salvador A, Monasterio C, Diaz JA (2010) Effects of gravidity on the locomotor performance and escape behavior of two lizard populations: the importance of habitat structure. Behaviour 147:133–150. https://doi.org/10.1163/000579509X12512773678411

Jackson JF (1973) Distribution and population phenetics of the Florida scrub lizard (Sceloporus woodi). Copeia 1973:746–761. https://doi.org/10.2307/1443075

Jackson JF, Telford SR (1974) Reproductive ecology of the Florida scrub lizard, Sceloporus woodi. Copeia 1974:689–694. https://doi.org/10.2307/1442682

Kaunert MD, McBrayer LD (2015) Population density of the Florida scrub lizard (Sceloporus woodi) in managed Florida scrub and longleaf pine sandhill habitats. Herpetol Conserv Biol 10:883–893

Martín J, López P (1999) When to come out from a refuge: risk-sensitive and state-dependent decisions in an alpine lizard. Behav Ecol 10:487–492. https://doi.org/10.1093/beheco/10.5.487

McCoy ED, Hartmann PP, Mushinsky HR (2004) Population biology of the rare Florida scrub lizard in fragmented habitat. Herpetologica 60:54–61. https://doi.org/10.1655/01-66

Møller AP, Garamszegi LZ (2012) Between individual variation in risk-taking behavior and its life history consequences. Behav Ecol 23:843–853. https://doi.org/10.1093/beheco/ars040

Neel LK, McBrayer LD (2018) Habitat management alters thermal opportunity. Funct Ecol 32:2029–2039

Orton, RW (2017) The role of habitat management in shaping predation, animal color, and gene flow in a metapopulation of Florida scrub lizards (Sceloporus woodi). MSc thesis, Georgia Southern University, https://digitalcommons.georgiasouthern.edu/etd/1638

Orton RW, McElroy EJ, McBrayer LD (2018) Predation and cryptic coloration in a managed landscape. Evol Ecol 32:141–157. https://doi.org/10.1007/s10682-018-9931-x

Outcalt KW, Greenberg CH (1998) A stand-replacement prescribed burn in sand pine scrub. In: Pruden TL, Brennan LA (eds) Fire in ecosystem management: shifting the paradigm from suppression to prescription. Proceedings of the 20th Tall Timbers Fire Ecology Conference. Tall Timbers Research Station, Tallahassee. pp 141–145

Plasman M, Duchateu MJHM, Macedonia JM (2007) Anti-predation behavior of Dickerson's collared lizard, Crotaphytus dickersonae. Anim Biol 57:231–246. https://doi.org/10.1163/157075607780377956

SAS Institute Inc (2017) SAS/STAT user's guide, version 13.1. SAS Institute Inc, Cary

Schrey AW, Ashton KG, Heath S, McCoy ED, Mushinsky HR (2011) Fire alters patterns of genetic diversity among 3 lizard species in Florida scrub habitat. J Hered 102:399–408. https://doi.org/10.1093/jhered/esr049

Smith AL, Bull CM, Driscoll DA (2012) Post-fire succession affects abundance and survival but not detectability in a knob-tailed gecko. Biol Conserv 145:139–147. https://doi.org/10.1016/j.biocon.2011.10.023

Smith GR, Ballinger RE (2001) The ecological consequences of habitat and microhabitat use in lizards: A review. Contemp Herpetol 2001:1-13. https://doi.org/10.1002/3527600213.ch1

Stankowich T (2008) Ungulate flight responses to human disturbance: a review and meta-analysis. Biol Conserv 141:2159–2173. https://doi.org/10.1016/j.biocon.2008.06.026

Stankowich T, Coss RG (2006) Effects of risk assessment, predator behavior, and habitat on escape behavior in Columbian black-tailed deer. Behav Ecol 18:358–367. https://doi.org/10.1093/beheco/arl086

Stiller RB, McBrayer LD (2013) The ontogeny of escape behavior, locomotor performance, and the hind limb in Sceloporus woodi. Zoology 116:175–181. https://doi.org/10.1016/j.zool.2013.02.001

Tiebout HM, Anderson RA (1997) A comparison of corridors and intrinsic connectivity to promote dispersal in transient successional landscapes. Conserv Biol 11:620–627. https://doi.org/10.1046/j.1523-1739.1997.95270.x

Tiebout HM, Anderson RA (2001) Mesocosm experiments on habitat choice by an endemic lizard: implications for timber management. J Herpetol 35:173–185. https://doi.org/10.2307/1566106

Tucker DB, McBrayer LD (2012) Overcoming obstacles: the effect of obstacles on locomotor performance and behaviour. Biol J Linn Soc 107:813–823. https://doi.org/10.1111/j.1095-8312.2012.01993.x

Tucker DB, McBrayer LD, Harrison JS (2014) Population structure of Florida scrub lizards (Sceloporus woodi) in an anthropogenically fragmented forest. Herpetologica 70:266–278. https://doi.org/10.1655/herpetological-D-13-00041

Weekley CW, Menges ES, Greenlee-Berry D, Rickey MA, Clarke GL, Smith SQ (2011) Burning more effective than mowing in restoring Florida scrub. Ecol Restor 29:357–373. https://doi.org/10.3368/er.29.4.357

Williams SC, McBrayer LD (2011) Attack-based indices, not movement patterns, reveal instraspecific variation in foraging behavior. Behav Ecol 22:993–1002. https://doi.org/10.1093/beheco/arr082

Williams SC, McBrayer LD (2015) Behavioral and ecological differences of the Florida scrub lizard (Sceloporus woodi) in scrub and sandhill habitat. Fla Sci 78:95–110
Acknowledgments
We would like to thank Roger Anderson, Juliann Sergi McBrayer, Matthew Kaunert, and Kaitlyn Hanley for assistance in the field capturing lizards. We thank the associate editor and anonymous reviewers for comments that significantly improved the manuscript. Dr. David Rostal, Dr. Michelle Cawthorn, and Dr. C. Ray Chandler also provided valuable feedback on this manuscript.
Funding
Funding for this research was provided by a Graduate Student Professional Development grant from the College of Graduate Studies, and the Department of Biology at Georgia Southern University.
Ethics declarations
Conflict of interest
The authors declare that they have no conflict of interest.
Ethical approval
All procedures involving animals in this study were in accordance with the ethical standards of Georgia Southern University. All applicable international, national, and institutional guidelines for the care and use of animals were followed under protocol via Institutional Animal Care and Use Committee (IACUC) permit no. I12006. Field research in Ocala National Forest was conducted with permission from the USDA Forest Service (USFS) permit no. SEM540 and Florida Fish and Wildlife Commission (FWCC) permit no. LSSC-10-00057.
Additional information
Communicated by T. Madsen
About this article
Cite this article
McBrayer, L.D., Parker, S.E. Variation in habitat management alters risk aversion behavior in lizards. Behav Ecol Sociobiol 72, 149 (2018). https://doi.org/10.1007/s00265-018-2567-6
Received:

Revised:

Accepted:

Published:
Keywords
Behavior

Management

Encounter rate

Microhabitat

Reptiles