Abstract
Social insects react to stress at both the individual and colonial level by modifying their physiology, behavior, offspring morphology, and colonial productivity. Experimental protocols involve treatments that potentially increase the stress load and may lead to misleading conclusions if not appropriately evaluated. We examined the long-term consequences of an experimental treatment (in vivo cuticular hydrocarbon sampling) and of the exposure to a fungal pathogen (Metarhizium anisopliae) on queen mortality and colonial development in Crematogaster scutellaris ants. Cuticular hydrocarbon sampling has been carried out through a widely used non-destructive procedure analogous to the solid-phase microextraction (SPME) technique. The exposure to pathogen clearly increased mortality but cuticular hydrocarbon sampling interacted with infection in determining survival. In fact, the manipulation increased the mortality of non-exposed queens but decreased the mortality of queens exposed to the pathogen. Queens subjected to cuticular hydrocarbon sampling also accelerated the emergence of the first worker thus shortening the critical claustral phase. On the other hand, the two treatments did not significantly affect the final number of successful colonies and the number and the morphology of the workers produced in the first season. Our results indicate that each manipulation may be followed by hidden effects becoming evident months after the application of the stress, and those immediate effects may disappear in the long term. We thus suggest that in pluriannual species, it is important to evaluate the effects of the stress covering at least an entire colonial season. Moreover, considering that manipulation can interact with pathogen exposure in determining queen mortality, immunological experiments on social insects should carefully take into account the potentially confounding effect of any experimentally induced stresses.
Significance statement
Organisms adjust their physiology, morphology, and behavior in response to stress and this requires energetic costs. Nevertheless, the effects of experimental stressors on social insects remain largely unknown. We evaluated short- and long-term effects on colony development of a manipulative stress during the first year of colony foundation and compared it with the effects produced by an entomopathogenic fungus. The treatments represented two widely used experimental procedures: the exposure to an entomopathogenic fungus and the collection in vivo of cuticular hydrocarbons using a glass capillary. We showed that the two stresses may be followed by hidden effects only evident months after the application. Other immediate effects may disappear in the long term. Together with unraveling the biological meaning of the observed responses to stress, our results have strong methodological implications in designing experimental protocols involving social insects.
Access options
Buy single article
Instant access to the full article PDF.
US$ 39.95
Tax calculation will be finalised during checkout.
Subscribe to journal
Immediate online access to all issues from 2019. Subscription will auto renew annually.
US$ 79
Tax calculation will be finalised during checkout.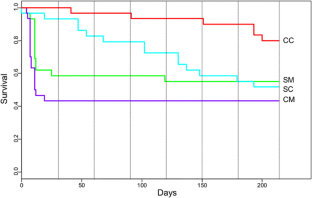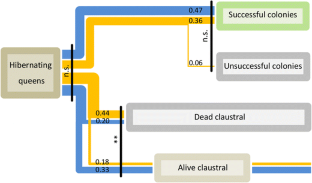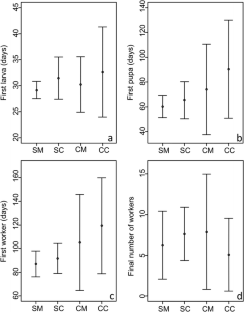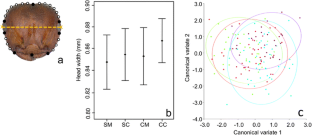 References
Abril S, Oliveras J, Gómez C (2010) Effect of temperature on the development and survival of the Argentine ant, Linepithema humile. J Insect Sci 10:1–13

Badyaev AV (2005) Stress-induced variation in evolution: from behavioural plasticity to genetic assimilation. Proc R Soc B 272:877–886

Bateson M, Desire S, Gartside SE, Wright GA (2011) Agitated honeybees exhibit pessimistic cognitive biases. Curr Biol 21:1070–1073

Bookstein FL (1997) Morphometric tools for landmark data: geometry and biology. Cambridge University Press, Cambridge

Bos N, Lefevre T, Jensen AB, D'ettorre P (2012) Sick ants become unsociable. J Evol Biol 25:342–351

Brown MJ, Bonhoeffer S (2003) On the evolution of claustral colony founding in ants. Evol Ecol Res 5:305–313

Camargo RS, Forti LC, Fujihara RT, Roces F (2011) Digging effort in leaf-cutting ant queens (Atta sexdens rubropilosa) and its effects on survival and colony growth during the claustral phase. Insect Soc 58:17–22

Cameron AC, Trivedi PK (1990) Regression-based tests for overdispersion in the Poisson model. J Econome 46:347–364

Cremer S, Heinze J (2003) Stress grows wings: environmental induction of winged dispersal males in Cardiocondyla ants. Curr Biol 13:219–223

Eeva T, Sorvari J, Koivunen V (2004) Effects of heavy metal pollution on red wood ant (Formica s. str.) populations. Environ Pollut 132:533–539

Ferreira-Caliman MJ, Andrade-Silva ACR, Guidetti-Campos MC, Turatti ICC, do Nascimento FS, Lopes NP (2014) A non-lethal SPME method for insect cuticular analysis by GC-MS. Anal Methods 6:8823–8828

Fjerdingstad EJ (2005) Control of body size of Lasius niger ant sexuals—worker interests, genes and environment. Mol Ecol 14:3123–3132

Frizzi F, Ciofi C, Dapporto L, Natali C, Chelazzi G, Turillazzi S, Santini G (2015) The rules of aggression: how genetic, chemical and spatial factors affect intercolony fights in a dominant species, the mediterranean acrobat ant Crematogaster scutellaris. PLoS ONE 10(10):e0137919

Gálvez D, Chapuisat M (2014) Immune priming and pathogen resistance in ant queens. Ecol Evol 4:1761–1767

Grześ IM, Okrutniak M, Sternalski J, Banasiak M, Piszczek P (2016) Body size in males of the ant Lasius niger (Hymenoptera: Formicidae) along a metal pollution gradient. Environ Entomol 46:1574–1578

Hölldobler B, Wilson EO (1990) The ants. Harvard University Press, Cambridge (Mass)

Hranitz JM, Abramson CI, Carter RP (2010) Ethanol increases HSP70 concentrations in honeybee (Apis mellifera L.) brain tissue. Alcohol 44:275–282

Jaccoud DB, Hughes WHO, Jackson CW (1999) The epizootiology of a Metarhizium infection in mini-nests of the leaf-cutting ant Atta sexdens rubropilosa. Entomol Exp Appl 93:51–61

Klingenberg CP (2011) MorphoJ: an integrated software package for geometric morphometrics. Mol Ecol Res 11:353–357

Kohlmeier P, Holländer K, Meunier J (2016) Survival after pathogen exposure in group-living insects: don't forget the stress of social isolation! J Evol Biol 29:1867–1872

Linksvayer TA, Janssen MA (2009) Traits underlying the capacity of ant colonies to adapt to disturbance and stress regimes. Syst Res Behav Sci 26:315–329

McEwen BS, Wingfield JC (2003) The concept of allostasis in biology and biomedicine. Horm Behav 43:2–15

McEwen BS, Wingfield JC (2010) What's in a name? Integrating homeostasis, allostasis and stress. Horm Behav 57:105–111

Moneti G, Dani FR, Pieraccini G, Turillazzi S (1997) Solid-phase microextraction of insect epicuticular hydrocarbons for gas chromatographic/mass spectrometric analysis. Rapid Commun Mass Spectrom 11:857–862

Monnin T, Malosse C, Peeters C (1998) Solid-phase microextraction and cuticular hydrocarbon differences related to reproductive activity in queenless ant Dinoponera quadriceps. J Chem Ecol 24:473–490

Moret Y, Schmid-Hempel P (2000) Survival for immunity: the price of immune system activation for bumblebee workers. Science 290:1166–1168

Mowlds P, Barron A, Kavanagh K (2008) Physical stress primes the immune response of Galleria mellonella larvae to infection by Candida albicans. Microb Infect 10:628–634

Milutinović B, Kurtz J. (2016) Immune memory in invertebrates. In: Seminars in Immunology: 28: 328–342. Academic Press

Okuno M, Tsuji K, Sato H, Fujisaki K (2012) Plasticity of grooming behavior against entomopathogenic fungus Metarhizium anisopliae in the ant Lasius japonicus. J Ethol 30:23–27

Reber A, Chapuisat M (2012) No evidence for immune priming in ants exposed to a fungal pathogen. PLoS ONE 7(4):e35372

Romero LM, Dickens MJ, Cyr NE (2009) The reactive scope model—a new model integrating homeostasis, allostasis, and stress. Horm Behav 55:375–389

Rosengaus RB, Traniello JF, Chen T, Brown JJ, Karp RD (1999) Immunity in a social insect. Naturwissenschaften 86:588–591

Santini G, Tucci L, Ottonetti L, Frizzi F (2007) Competition trade-offs in the organisation of a Mediterranean ant assemblage. Ecol Entomol 32:319–326

Schneider SA, Scharffetter C, Wagner AE, Boesch C, Bruchhaus I, Rimbach G, Roeder T (2016) Social stress increases the susceptibility to infection in the ant Harpegnathos saltator. Sci Rep 6:25800

Sledge MF, Boscaro F, Turillazzi S (2001) Cuticular hydrocarbons and reproductive status in the social wasp Polistes dominulus. Behav Ecol Sociobiol 49:401–409

Ugelvig LV, Cremer S (2007) Social prophylaxis: group interaction promotes collective immunity in ant colonies. Curr Biol 17:1967–1971

Yanagawa A, Shimizu S (2007) Resistance of the termite, Coptotermes formosanus Shiraki to Metarhizium anisopliae due to grooming. BioControl 52:75–85
Acknowledgements
The study has received funding from the Florence University. We thank Serena Resurrección Barrufet, Daria Scala Del, and Alessandro Cini for their help in data collection. We also thank Clare Tame for the language editing.
About this article
Cite this article
Bordoni, A., Miroddi, M.A., Dapporto, L. et al. Long-term assessment reveals the hidden and hiding effects of experimental stress on ant colonies. Behav Ecol Sociobiol 71, 144 (2017). https://doi.org/10.1007/s00265-017-2373-6
Received:

Accepted:

Published:
Keywords
Allostasis

Ants

CHC sampling

Colony development

Metarhizium anisopliae

Stress