Abstract
Habitat selection has consequences for an animal's fitness, especially for sit-and-wait predators with limited mobility, and which cannot always correct earlier suboptimal choices. Environmental change may nevertheless lead individuals to relocate to another site, although such relocations can be energetically costly or risky. Temperature and illumination are two important factors that undergo change in seasonal and daily cycles that may impact habitat quality. Animals must therefore either acclimate to the new conditions or relocate. Wormlions are sit-and-wait, trap-building predators whose success in foraging is highly dependent on their surroundings. Here, we manipulated temperature (high, low, and moderate) and let the wormlions choose between lit and shaded conditions. We found that the typical wormlion preference for shaded microhabitats decreased with increasing temperature. We then followed wormlion behavior under a full-factorial design of two constant illumination conditions (light vs. shade) and three temperatures. Although both constant light and high temperature reduced foraging performance, expressed in pit construction tendency and pit area, the two conditions had a non-additive effect. Acclimation to extreme thermal conditions moderated the negative effects of such temperatures, expressed in a higher tendency to construct a pit, and equalized performance across temperatures. Finally, the high temperature reduced behavioral consistency while acclimation increased it, suggesting that consistency is impaired by unfavorable environmental change. To conclude, while an environmental change usually affects several environmental factors simultaneously, the induced behavioral change is neither synergic nor additive and can even differ from the response to each unfavorable environmental factor in isolation.
Significance statement
Choosing a suitable habitat is essential for survival and reproduction, especially for sedentary organisms, and requires the consideration of various environmental conditions. Acclimating to suboptimal conditions, however, might conduce to improving performance in a less suitable habitat. Testing the effect of several environmental conditions on habitat choice and foraging behavior, before and after acclimation, has rarely been carried out. Here, we tested the combined effects of temperature, illumination, and their interaction, on habitat choice and foraging performance of a sit-and-wait predator, the wormlion. Wormlions usually prefer shade, but their preference for light increases with decreasing temperature. Both temperature and illumination affect behavior but their joint effect is not additive. Acclimation, which took place for temperature but not for illumination, improved certain foraging behaviors. Our findings highlight the importance of evaluating several environmental conditions and behaviors when studying habitat choice and foraging behavior.
Access options
Buy single article
Instant access to the full article PDF.
USD 39.95
Price excludes VAT (USA)
Tax calculation will be finalised during checkout.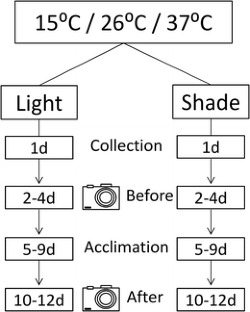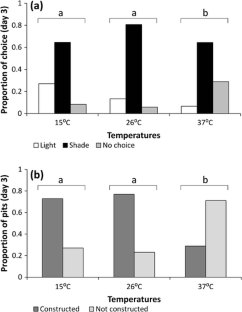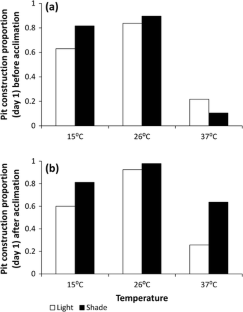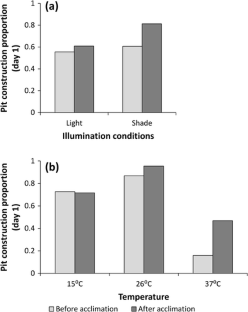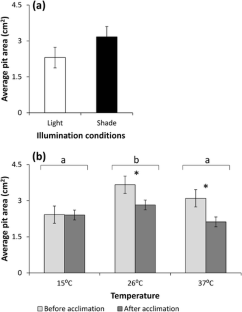 References
Abràmoff MD, Magalhães PJ, Ram SJ (2004) Image processing with ImageJ. J Biophotonics Int 11:36–42

Adams MR (2000) Choosing hunting sites: web site preferences of the orb weaver spider, Neoscona crucifera, relative to light cues. J Insect Behav 13:299–305

Adar S, Dor R, Scharf I (2016) Habitat choice and complex decision making in a trap-building predator. Behav Ecol 27:1491–1498

Angilletta MJ (2009) Thermal adaptation: a theoretical and empirical synthesis. Oxford University Press

Arnett AE, Gotelli NJ (2001) Pit-building decisions of larval ant lions: effects of larval age, temperature, food, and population source. J Insect Behav 14:89–97

Bell AM, Hankison SJ, Laskowski KL (2009) The repeatability of behavior: a meta-analysis. Anim Behav 77:771–783

Biro PA, Beckmann C, Stamps JA (2010) Small within-day increases in temperature affects boldness and alters personality in coral reef fish. Proc R Soc B 277:71–77

Bolnick DI, Svanbäck R, Fordyce JA, Yang LH, Davis JM, Hulsey CD, Forister ML (2003) The ecology of individuals: incidence and implications of individual specialization. Am Nat 161:1–28

Bowler DE, Benton TG (2005) Causes and consequences of animal dispersal strategies: relating individual behaviour to spatial dynamics. Biol Rev 80:205–225

Bowler K (2005) Acclimation, heat shock and hardening. J Therm Biol 30:125–130

Bradshaw WE, Holzapfel CM (2007) Evolution of animal photoperiodism. Annu Rev Ecol Evol Syst 38:1–25

Brodie ED, Russell NH (1999) The consistency of individual differences in behaviour: temperature effects on antipredator behaviour in garter snakes. Anim Behav 57:445–451

Brown LR, Moyle PB (1991) Changes in habitat and microhabitat partitioning within an assemblage of stream fishes in response to predation by Sacramento squawfish (Ptychocheilus grandis). Can J Fish Aquat Sci 48:849–856

Cerri RD (1983) The effect of light intensity on predator and prey behaviour in cyprinid fish: factors that influence prey risk. Anim Behav 31:736–742

Clark RG, Shutler D (1999) Avian habitat selection: pattern from process in nest-site use by ducks? Ecology 80:272–287

Coppack T, Pulido F (2004) Photoperiodic response and the adaptability of avian life cycles to environmental change. Adv Ecol Res 35:131–150

Devetak D (2008) Substrate particle size-preference of wormlion Vermileo vermileo (Diptera: Vermileonidae) larvae and their interaction with antlions. Eur J Entomol 105:631–635

Devetak D, Arentt AE (2015) Preference of antlion and wormlion larvae (Neuroptera: Myrmeleontidae; Diptera: Vermileonidae) for substrates according to substrate particle sizes. Eur J Entomol 112:500–509

Dingemanse NJ, Wolf M (2013) Between-individual differences in behavioural plasticity within populations: causes and consequences. Anim Behav 85:1031–1039

Dor R, Rosenstein S, Scharf I (2014) Foraging behaviour of a neglected pit-building predator: the wormlion. Anim Behav 93:69–76

Dubois Y, Blouin-Demers G, Shipley B, Thomas D (2009) Thermoregulation and habitat selection in wood turtles Glyptemys insculpta: chasing the sun slowly. J Anim Ecol 78:1023–1032

Easterling DR, Meehl GA, Parmesan C, Changnon SA, Karl TR, Mearns LO (2000) Climate extremes: observations, modeling, and impacts. Science 289:2068–2074

Gaston KJ, Bennie J, Davies TW, Hopkins J (2013) The ecological impacts of nighttime light pollution: a mechanistic appraisal. Biol Rev 88:912–927

Geister TL, Fischer K (2007) Testing the beneficial acclimation hypothesis: temperature effects on mating success in a butterfly. Behav Ecol 18:658–664

Gilliam JF, Fraser DF (1987) Habitat selection under predation hazard: test of a model with foraging minnows. Ecology 68:1856–1862

Graham TE, Hutchison VH (1979) Effect of temperature and photoperiod acclimatization on thermal preferences of selected freshwater turtles. Copeia 1979:165–169

Gvoždik L, Puky M, Šugerkova M (2007) Acclimation is beneficial at extreme test temperatures in the Danube crested newt, Triturus dobrogicus (Caudata, Salamandridae). Biol J Linn Soc 90:627–636

Halliday WD, Blouin-Demers G (2014) Red flour beetles balance thermoregulation and food acquisition via density-dependent habitat selection. J Zool 294:198–205

Heinrich B, Heinrich MJ (1984) The pit-trapping foraging strategy of the ant lion, Myrmeleon immaculatus DeGeer (Neuroptera: Myrmeleontidae). Behav Ecol Sociobiol 14:151–160

Herberstein ME, Fleisch AF (2003) Effect of abiotic factors on the foraging strategy of the orb-web spider Argiope keyserlingi (Araneae: Araneidae). Austral Ecol 28:622–628

Holmstrup M, Bindesbøl AM, Oostingh GJ et al (2010) Interactions between effects of environmental chemicals and natural stressors: a review. Sci Total Environ 408:3748–3762

Huey RB (1991) Physiological consequences of habitat selection. Am Nat 137:91–115

Katz N, Subach A, Pruitt JN, Scharf I (2016) Habitat preference of wormlions and their behavioural repeatability under illumination/shade conditions. Ecol Entomol 41:716–726

Kaufmann JS, Bennett AF (1989) The effect of temperature and thermal acclimation on locomotor performance in Xantusia vigilis, the desert night lizard. Physiol Zool 62:1047–1058

Kavanau JL (1969) Influences of light on activity of small mammals. Ecology 50:548–557

Klokočovnik V, Hauptman G, Devetak D (2016) Effect of substrate temperature on behavioural plasticity in antlion larvae. Behaviour 153:31–48

Köhler HR, Lazzara R, Dittbrenner N, Capowiez Y, Mazzia C, Triebskorn R (2009) Snail phenotypic variation and stress proteins: do different heat response strategies contribute to Waddington's widget in field populations? J Exp Zool Part B 312:136–147

Kotler BP, Brown JS, Hasson O (1991) Factors affecting gerbil foraging behavior and rates of owl predation. Ecology 72:2249–2260

Kotler BP, Brown JS, Subach A (1993) Mechanisms of species coexistence of optimal foragers: temporal partitioning by two species of sand dune gerbils. Oikos:548–556

Kronfeld-Schor N, Dominoni D, de la Iglesia H, Levy O, Herzog ED, Dayan T, Helfrich-Forster C (2013) Chronobiology by moonlight. Proc R Soc Lond 280:20123088

Lichtenstein JL, DiRienzo N, Knutson K et al (2016) Prolonged food restriction decreases body condition and reduces repeatability in personality traits in web-building spiders. Behav Ecol Sociobiol 70:1793–1803

Longcore T, Rich C (2004) Ecological light pollution. Front Ecol Environ 2:191–198

Martin TE (1998) Are microhabitat preferences of coexisting species under selection and adaptive? Ecology 79:656–670

Martin TE (2001) Abiotic vs. biotic influences on habitat selection of coexisting species: climate change impacts? Ecology 82:175–188

Mettke-Hofmann C, Ebert C, Schmidt T, Steiger S, Stieb S (2005) Personality traits in resident and migratory warbler species. Behaviour 142:1357–1375

Mohammadi S (2010) Microhabitat selection by small mammals. Adv Biol Res 4:283–287

Morris DW (2003) Toward an ecological synthesis: a case for habitat selection. Oecologia 136:1–13

Overgaard J, Sørensen JG (2008) Rapid thermal adaptation during field temperature variations in Drosophila melanogaster. Cryobiology 56:159–162

Pearson RG, Dawson TP (2003) Predicting the impacts of climate change on the distribution of species: are bioclimate envelope models useful? Glob Ecol Biogeogr 12:361–371

Pittendrigh CS (1993) Temporal organization: reflections of a Darwinian clock-watcher. Annu Rev Physiol 55:17–54

Pruitt JN, Demes KW, Dittrich-Reed DR (2011b) Temperature mediates shifts in individual aggressiveness, activity level, and social behavior in a spider. Ethology 117:318–325

Pruitt JN, DiRienzo N, Kralj-Fišer S, Johnson JC, Sih A (2011a) Individual-and condition-dependent effects on habitat choice and choosiness. Behav Ecol Sociobiol 65:1987–1995

Salmon M (2003) Artificial night lighting and sea turtles. Biologist 50:163–168

Scharf I, Hollender Y, Subach A, Ovadia O (2008) Effect of spatial pattern and microhabitat on pit construction and relocation in Myrmeleon hyalinus (Neuroptera: Myrmeleontidae) larvae. Ecol Entomol 33:337–345

Scharf I, Dor R (2015) The effects of starvation and repeated disturbance on mass loss, pit construction, and spatial pattern in a trap-building predator. Ecol Entomol 40:381–389

Sih A, Bell A, Johnson JC (2004) Behavioral syndromes: an ecological and evolutionary overview. Trends Ecol Evol 19:372–378

Spencer RJ, Thompson MB (2003) The significance of predation in nest site selection of turtles: an experimental consideration of macro-and microhabitat preferences. Oikos 102:592–600

Stahlschmidt Z, O'Leary ME, Adamo S (2014) Food limitation leads to risky decision making and to tradeoffs with oviposition. Behav Ecol 25:223–227

Steinberg CEW (2012) Stress ecology: environmental stress as ecological driving force and key player in evolution. Springer, Heidelberg

Sundararaj BI, Vasal S (1976) Photoperiod and temperature control in the regulation of reproduction in the female catfish Heteropneustes fossilis. J Fish Board Can 33:959–973

Walther GR, Post E, Convey P, Menzel A, Parmesan C, Beebee TJ, Bairlein F (2002) Ecological responses to recent climate change. Nature 416:389–395

Wheeler WM (1930) Demons of the dust. Norton & Company Inc Publishers, New York

Wilson RS, James RS, Johnston IA (2000) Thermal acclimation of locomotor performance in tadpoles and adults of the aquatic frog Xenopus laevis. J Comp Physiol B 170:117–124

Wolf M, Weissing FJ (2012) Animal personalities: consequences for ecology and evolution. Trends Ecol Evol 27:452–461

Yu S, Bell D, Sternberg M, Kutiel P (2008) The effect of microhabitats on vegetation and its relationships with seedlings and soil seed bank in a Mediterranean coastal sand dune community. J Arid Environ 72:2040–2053

Ziv Y, Abramsky Z, Kotler BP, Subach A (1993) Interference competition and temporal and habitat partitioning in two gerbil species. Oikos 66:237–246
Acknowledgements
This research was supported by the US-Israel Binational Science Foundation to IS and JNP (grant no. 2013086) and the Israel Science Foundation (grant no. 442/16) to IS.
Additional information
Communicated by J. C. Choe
Electronic supplementary material
About this article
Cite this article
Katz, N., Pruitt, J.N. & Scharf, I. The complex effect of illumination, temperature, and thermal acclimation on habitat choice and foraging behavior of a pit-building wormlion. Behav Ecol Sociobiol 71, 137 (2017). https://doi.org/10.1007/s00265-017-2362-9
Received:

Revised:

Accepted:

Published:

DOI: https://doi.org/10.1007/s00265-017-2362-9
Keywords