Abstract
Climate-induced changes in the phenology of hibernation for bear species could result in altered energy budgets, reduced cub survival and fitness and increased human-bear conflicts. Using 11 years of data, we determined the amount of variation in den entry and den exit dates that could be attributed to sex and reproductive status, weather and berry availability for 15 male and 58 female grizzly bears (Ursus arctos). We estimated berry availability during autumn using a probability surface of berry productivity within the home range of 13 individuals over 3 years. Sex and reproductive status explained 22 and 14 % of the variation in den entry and den exit dates, respectively. Weather did not influence the timing of den entry but berry availability in autumn explained 39 % of the variation observed in den entry, and high berry availability was associated with late den entry. Elevation and spring temperatures, and elevation and winter precipitation, respectively, explained 26 and 21 % of the variation observed in den exit dates. Increasing spring average monthly maximum temperature by 4 °C resulted in bears emerging from dens 10 days earlier and an increase of 1.25 m in snow precipitation delayed den exit by 1 week. We demonstrate that although the phenology of hibernation for grizzly bears depends on sex and reproductive status, den entry appears to be driven by food availability, while den exit is more linked to weather. Extended growing seasons and mild meteorological conditions should result in shorter denning periods for grizzly bears.
Significance statement
Climate change is altering the phenology of spring green-up and the onset of winter, disrupting the seasonal behaviours of species. Climate change can act as an additional strain on threatened populations, especially during energetically demanding periods such as hibernation. We quantified the importance of intrinsic and extrinsic factors including food availability and weather in the hibernation behaviour of grizzly bears. High berry availability was associated with late den entry, while low winter precipitation and high spring temperature resulted in early den exit. We conclude that den entry is more driven by food availability while den exit is more linked to weather. This dichotomy in factors affecting den entry and den exit has implications for the long-term conservation of grizzly bear populations because extended growing seasons and mild meteorological conditions expected under future climate conditions should result in shorter denning periods.
Access options
Buy single article
Instant access to the full article PDF.
US$ 39.95
Tax calculation will be finalised during checkout.
Subscribe to journal
Immediate online access to all issues from 2019. Subscription will auto renew annually.
US$ 79
Tax calculation will be finalised during checkout.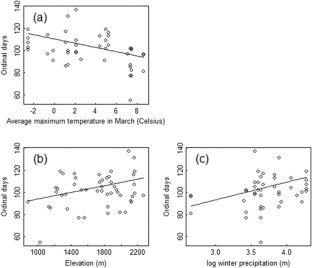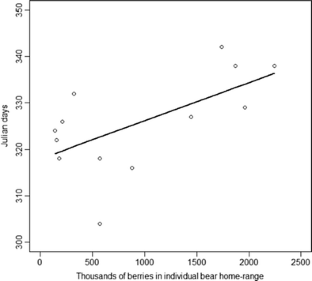 References
Adamik P, Kral M (2008) Climate- and resource-driven long-term changes in dormice populations negatively affect hole-nesting songbirds. J Zool 275:209–215

Alberta Sustainable Resource Development and Alberta Conservation Association (2010) Status of the grizzly bear (Ursus arctos) in Alberta: update 2010. Wildlife Status Report No. 37 (Update 2010). Alberta Sustainable Resource Development, Edmonton, Alberta, Canada

Bellemain E, Swenson JE, Taberlet P (2006) Mating strategies in relation to sexually selected infanticide in a non-social carnivore: the brown bear. Ethology 112:238–246

Beyer HL (2004) Hawth's analysis tools for ArcGIS, http://www.spatialecology.com/htools

Bonsal BR, Zhang X, Vincent LA, Hogg WD (2001) Characteristics of daily and extreme temperatures over Canada. J Climatol 14:1959–1976

Boutin S, Lane JE (2014) Climate change and mammals: evolutionary versus plastic responses. Evol Appl 7:29–41

Brigham RM (1987) The significance of winter activity by the big brown bat (Eptesicus fuscus): the influence of energy reserves. Can J Zool 65:1240–1242

Burnham KP, Anderson DR (2002) Model selection and multimodel inference: a practical information-theoretic approach. Springer, New York

Can ÖE, D'Cruze N, Garshelis DL, Beecham J, Macdonald D (2014) Resolving human-bear conflict: a global survey of countries, experts and key factors. Conserv Lett 7:501–513

Cattet M, Boulanger J, Stenhouse G, Powell RA, Reynolds-Hogland ML (2008) An evaluation of long-term capture effects in ursids: implications for wildlife welfare and research. J Mammal 89:973–990

Craighead FC Jr, Craighead JJ (1972) Data on grizzly bear denning activities and behaviour obtained by using wildlife telemetry. Int C Bear 23:84–106

ESRI (2008) ArcGIS desktop: release 9.3. Environmental System Research Institute, Redlands, CA

Evans AL, Singh NJ, Friebe A, Arnemo JM, Laske TG, Fröbert O, Swenson JW, Blanc S (2016) Drivers of hibernation in the brown bear. Front Zool 13:7

Friebe A, Evans AL, Arnemo JM et al (2014) Factors affecting date of implantation, parturition, and den entry estimated from activity and body temperature in free-ranging brown bears. PLoS ONE 9, e101410

Friebe A, Swenson JE, Sandegren F (2001) Denning chronology of female brown bears in central Sweden. Ursus 12:37–45

Garshelis DL, Gibeau ML, Herrero S (2005) Grizzly bear demographics in and around Banff National Park and Kananaskis Country, Alberta. J Wildlife Manage 69:277–297

Geiser F (2004) Metabolic rate and body temperature reduction during hibernation and daily torpor. Annu Rev Physiol 66:239–274

Graham JW, Olchowski AE, Gilreath TD (2007) How many imputations are really needed? Some practical clarifications of multiple imputation theory. Prev Sci 8:206–213

Graham K, Stenhouse GB (2014) Home range, movements, and denning chronology of the grizzly bear (Ursus arctos) in west-central Alberta. Can Field Nat 128:223–233

Haroldson MA, Ternent MA, Gunther KA, Schwartz CC (2002) Grizzly bear denning chronology and movements in the Greater Yellowstone Ecosystem. Ursus 13:29–37

Hosmer DW, Lemeshow S (2000) Applied logistic regression, 2nd edn. Wiley, New York

Humphries MM, Kramer DL, Thomas DW (2003a) The role of energy availability in mammalian hibernation: an experimental test in free-ranging eastern chipmunks. Physiol Biochem Zool 76:180–186

Humphries MM, Thomas DW, Kramer DL (2003b) The role of energy availability in mammalian hibernation: a cost-benefit approach. Physiol Biochem Zool 76:165–179

Inouye DW, Barr B, Armitage KB, Inouye BD (2000) Climate change is affecting altitudinal migrants and hibernating species. P Natl Acad Sci USA 97:1630–1633

IPCC (2013) Climate change 2013: the physical science basis. Contribution of Working Group I to the Fifth Assessment Report of the Intergovernmental Panel on Climate Change [Stocker TF, Qin D, Plattner G-K, Tignor M, Allen SK, Boschung J, Nauels A, Xia Y, Bex V, Midgley PM (eds)]. Cambridge University Press, Cambridge

Johnson KG, Pelton MR (1980) Environmental relationships and the denning period of black bears in Tennessee. J Mammal 4:653–660

Lane JE, Kruuk LEB, Charmantier A, Murie JO, Dobson FS (2012) Delayed phenology and reduced fitness associated with climate change in a wild hibernator. Nature 489:554–558

Laver P (2005) ABODE kernal home range estimation for ArcGIS, using VBA and ArcObjects. User manual (Beta v.2.-7). Department of Fisheries and Wildlife Sciences, Virginia Tech, 149 Cheatham Hall, Blacksburg, Virginia

Linnell JDC, Swenson JE, Andersen R, Barnes B (2000) How vulnerable are denning bears to disturbance? Wildlife Soc B 28:400–413

Manchi S, Swenson JE (2005) Denning behavior of Scandinavian brown bears Ursus arctos. Wildlife Biol 11:123–132

Mantyka-Pringle C, Martin TG, Rhodes JR (2012) Interactions between climate change and habitat loss effects on biodiversity: a systematic review and meta-analysis. Glob Change Biol 18:1239–1252

McCarty JP (2001) Ecological consequences of recent climate change. Conserv Biol 15:320–331

McLellan BN, Servheen C, Huber D (IUCN SSC Bear Specialist Group) (2008) Ursus arctos. The IUCN Red list of threatened species, version 2013.1, www.iucnredlist.org

Mekis E, Vincent LA (2011) An overview of the second generation adjusted daily precipitation dataset for trend analysis in Canada. Atmos Ocean 49:163–177

Michener GR (1978) Effect of age and parity on weight-gain and entry into hibernation in Richardson ground squirrels. Can J Zool 56:2573–2577

Molnár PK, Derocher AE, Thiemann GW, Lewis MA (2010) Predicting survival, reproduction and abundance of polar bears under climate change. Biol Conserv 143:1612–1622

Munro RHM, Nielsen SE, Price MH, Stenhouse GB, Boyce MS (2006) Seasonal and diel patterns of grizzly bear diet and activity in west-central Alberta. J Mammal 87:1112–1121

Nakagawa S, Freckleton RP (2011) Model averaging, missing data and multiple imputation: a case study for behavioural ecology. Behav Ecol Sociobiol 65:103–116

Nakagawa S, Schielzeth H (2013) A general and simple method for obtaining R2 from generalized linear mixed-effects models. Method Ecol Evol 4:133–142

Nielsen SE, Cranston J, Stenhouse GB (2009) Identification of priority areas for grizzly bear conservation and recovery in Alberta, Canada. J Conserv Plan 5:38–60

Nielsen SE, Munro RHM, Bainbridge EL, Stenhouse GB, Boyce MS (2004) Grizzly bears and forestry II. Distribution of grizzly bear foods in clearcuts of west-central Alberta, Canada. Forest Ecol Manag 199:67–82

Nielsen SE, Stenhouse GB, Boyce MS (2006) A habitat-based framework for grizzly bear conservation in Alberta. Biol Conserv 130:217–229

Noyce KV, Coy PL (1990) Abundance and productivity of bear food species in different forest types of northcentral Minnesota. Int C Bear 8:169–181

Parmesan C (2006) Ecological and evolutionary responses to recent climate change. Annu Rev Ecol Evol S 37:637–669

Pasitschniak-Arts M (1993) Ursus arctos. Mamm Species 439:1–10

Pigeon KE, Nielsen SE, Stenhouse GB, Côté SD (2014) Den selection by grizzly bears on a managed landscape. J Mammal 95:559–573

Post E, Forchhammer MC (2008) Climate change reduces reproductive success of an Arctic herbivore through trophic mismatch. Philos T Roy Soc B 363:2369–2375

Price DT, Alfaro RI, Brown MD et al (2013) Anticipating the consequences of climate change for Canada's boreal forest ecosystems. Environ Rev 21:322–365

Robbins CT, Lopez-Alfaro C, Rode KD, Toien O, Nelson OL (2012) Hibernation and seasonal fasting in bears: the energetic costs and consequences for polar bears. J Mammal 93:1493–1503

Root TL, Price JT, Hall KR, Schneider SH, Rosenzweig C, Pounds JA (2003) Fingerprints of global warming on wild animals and plants. Nature 421:57–60

SAS Institute Inc (2011) SAS/STAT® 9.3 user's guide. SAS Institute Inc., Cary, NC

Schaalje GB, McBride JB, Fellingham GW (2002) Adequacy of approximations to distributions of test statistics in complex mixed linear models. J Agric Biol Envir S 7:512–524

Schooley RL, McLaughlin CR, Matula GJ, Krohn WB (1994) Denning chronology of female black bears—effects of food, weather, and reproduction. J Mammal 75:466–477

Servheen C, Klaver R (1983) Grizzly bear dens and denning activity in the Mission and Rattlesnake Mountains, Montana. Int C Bear 5:201–207

Sikes RS, Gannon WL, the Animal Care and Use Committee of the American Society of Mammalogist (2011) Guidelines of the American Society of Mammalogists for the use of wild mammals in research. J Mammal 92:235–253

Visser ME, Both C (2005) Shifts in phenology due to global climate change: the need for a yardstick. Proc R Soc Lond B 272:2561–2569

Vuarin P, Dammhahn M, Henry P-Y (2013) Individual flexibility in energy saving: body size and condition constrain torpor use. Funct Ecol 27:793–799

Walther GR, Post E, Convey P et al (2002) Ecological responses to recent climate change. Nature 416:389–395

Welch CA, Keay J, Kendall KC, Robbins CT (1997) Constraints on frugivory by bears. Ecology 78:1105–1119

Williams CT, Barnes BM, Kenagy GJ, Buck CL (2014) Phenology of hibernation and reproduction in ground squirrels: integration of environmental cues with endogenous programming. J Zool 292:112–124

Williams SE, Shoo LP, Isaac JL, Hoffmann AA, Langham G (2008) Towards an integrated framework for assessing the vulnerability of species to climate change. PLoS Biol 6:2621–2626

Zhang XB, Vincent LA, Hogg WD, Niitsoo A (2000) Temperature and precipitation trends in Canada during the 20th century. Atmos Ocean 38:395–429

Zuur AF, Ieno EN, Elphick CS (2010) A protocol for data exploration to avoid common statistical problems. Method Ecol Evol 1:3–14

Zuur AF, Ieno EN, Walker NJ, Saveliev AA, Smith GM (2009) Mixed effects models and extensions in ecology with R. Springer, New York
Acknowledgments
We thank the Alberta Ecotrust, Y2Y Sarah Baker Memorial Fund, Alberta Conservation Association, Natural Sciences and Engineering Research Council of Canada (NSERC) and fRI Research partners for providing research funds. Université Laval, Centre d'Études Nordiques and NSERC provided funding for conferences to KEP. We thank J. Duval and D. Weins for GIS support; D. Talbot and A.-S. Julien for their help with statistical analyses; R. Théorêt-Gosselin, R. Strong, A. Auger, E. Rogers, C. Curle, T. Larsen, E. Cardinal, P. Stenhouse and A. Stenhouse for collecting field data; and J. Saunders and S. Wotton at Peregrine Helicopters. E. Cardinal, T. Larsen, Ö. E. Can and two anonymous reviewers provided helpful comments and suggestions that improved the manuscript.
Ethics declarations
Capture and handling of grizzly bears were approved by the University of Saskatchewan Animal Care Committee and were in accordance with the American Society of Mammalogists guidelines (Sikes et al. 2011), and all applicable national and institutional guidelines for the care of animals were followed.
Conflict of interest
KEP received a research grant from Alberta Conservation Association Grant in Biodiversity (2009). All authors declare that they have no conflict of interest.
Informed consent
Not applicable.
Funding
This study was funded by Alberta Ecotrust (2011) and fRI Research Partners.
Additional information
Communicated by K. E. Ruckstuhl
Electronic supplementary material
Below is the link to the electronic supplementary material.
About this article
Cite this article
Pigeon, K.E., Stenhouse, G. & Côté, S.D. Drivers of hibernation: linking food and weather to denning behaviour of grizzly bears. Behav Ecol Sociobiol 70, 1745–1754 (2016). https://doi.org/10.1007/s00265-016-2180-5
Received:

Revised:

Accepted:

Published:

Issue Date:
Keywords
Behavioural plasticity

Phenology

Food availability

Den

Brown bear

Ursus arctos