Abstract
Individual animals strive to maximize fitness by gaining access to food while minimizing predation risk, and spatial knowledge of both forage resources and predation risks has long been presumed to be advantageous. Actual fitness benefits of site familiarity, however, have rarely been demonstrated. We placed GPS collars on 57 female black-tailed deer in coastal California over 4 years to track seasonal movements, determine home ranges, and monitor survival and cause of mortality. We used seasonal home ranges and core areas as measures of site familiarity and modeled how mortality risk varied with use of familiar areas, forage availability, age class, and elevational overlap with simultaneously collared pumas using Cox proportional hazards models. The use of familiar areas was the best predictor of mortality risk, and deer that had a 40 % probability of leaving their home range in a given week were four times more likely to die. Puma predation was the largest cause of mortality, and deer whose average weekly elevation was farther from the average elevation of pumas were less likely to die. While forage availability was not related to mortality risk, deer with lower forage availability were more likely to leave their home range during both summer and winter. Our results provide a rare example of fitness benefits associated with site familiarity and the use of familiar areas as a refuge from predation. The benefits of site familiarity are likely widespread in ungulates, especially when there are stable home ranges, complex habitats, and few cues of predation risk.
Access options
Buy single article
Instant access to the full article PDF.
US$ 39.95
Tax calculation will be finalised during checkout.
Subscribe to journal
Immediate online access to all issues from 2019. Subscription will auto renew annually.
US$ 79
Tax calculation will be finalised during checkout.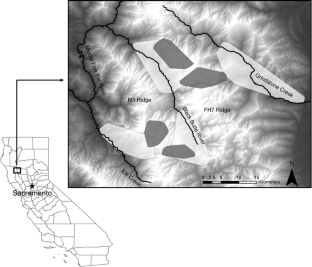 References
Allen ML (2014) The ecology and behaviour of pumas (Puma concolor) in northern California, U.S.A. PhD Dissertation. Victoria University of Wellington

Allen ML, Elbroch LM, Casady DS, Wittmer HU (2014) Seasonal variation in the feeding ecology of pumas (Puma concolor) in northern California. Can J Zool 92:397–403

Arnold TW (2010) Uninformative parameters and model selection using Akaike's information criterion. J Wildlife Manage 74:1175–1178

Atkinson KT, Janz DW (1994) Effects of wolf control on black-tailed deer on Vancouver Island. Wildlife Bulletin No. B-73, Wildlife Branch, Ministry of Environment, Lands and Parks, Victoria, BC

Baker RR (1978) The evolutionary ecology of animal migration. Holmes & Meier Pub, New York

Boyd DK, Ream RR, Pletscher DH, Fairchild MW (1994) Prey taken by colonizing wolves and hunters in the Glacier National Park area. J Wildlife Manage 58:289–295

Brohman RJ, Bryant LD (eds) (2005) Existing vegetation classification and mapping technical guide: version 1.0. US Department of Agriculture, Forest Service, Ecosystem Management Coordination Staff, Washington D.C.

Burnham KP, Anderson DR (2002) Model selection and multi-model inference: a practical information-theoretic approach. Springer, New York

Burt WH (1943) Territoriality and home range concepts as applied to mammals. J Mammal 24:346–352

Casady DS, Allen ML (2013) Handling adjustments to reduce chemical capture related mortality in black tailed deer. Calif Fish Game 99:104–109

Clarke MF, da Silva KB, Lair H, Pocklington R, Kramer DL, McLaughlin RL (1993) Site familiarity affects escape behaviour of the eastern chipmunk, Tamias striatus. Oikos 66:533–537

Cleves MA, Gould W, Gutierrez R, Marchenko Y (2010) An introduction to survival analysis using Stata. Stata Press, College Station

Coviello V, Boggess M (2004) Cumulative incidence estimation in the presence of competing risks. Stata J 4:103–112

Cox D (1972) Regression models and life tables. J R Stat Soc 34:187–220

Creel S, Winnie JA Jr (2005) Responses of elk herd size to fine-scale spatial and temporal variation in the risk of predation by wolves. Anim Behav 69:1181–1189

Dall SRX, Giraldeau L-A, Olsson O, McNamara JM, Stephens DW (2005) Information and its use by animals in evolutionary ecology. Trends Ecol Evol 20:187–193

Dasmann RF, Taber RD (1956) Behavior of Columbian black-tailed deer with reference to population ecology. J Mammal 37:143–164

Edge WD, Marcum CL, Olson SL (1985) Effects of logging activities on home-range fidelity of elk. J Wildlife Manage 49:741–744

Faille G, Dussault C, Ouellet J-P, Fortin D, Courtois R, St-Laurent M-H, Dussault C (2010) Range fidelity: the missing link between caribou decline and habitat alteration? Biol Conserv 143:2840–2850

Fieberg J, DelGiudice GD (2009) What time is it? Choice of time origin and scale in extended proportional hazards models. Ecology 90:1687–1697

Forrester TD (2014) Effects of predation and forage availability on the survival of black-tailed deer (Odocoileus hemionus columbianus) in the Mendocino National Forest, California. PhD Dissertation, University of California, Davis

Forrester TD, Wittmer HU (2013) A review of the population dynamics of mule and black-tailed deer Odocoileus hemionus in North America. Mammal Rev 43:292–308

Fryxell JM, Sinclair ARE (1988) Causes and consequences of migration by large herbivores. Trends Ecol Evol 3:237–241

Fryxell JM, Greever J, Sinclair ARE (1988) Why are migratory ungulates so abundant? Am Nat 131:781–798

Garrott RA, White GC, Bartmann RM, Carpenter LH, Alldredge AW (1987) Movements of female mule deer in northwest Colorado. J Wildlife Manage 51:634–643

Geist V (1981) Behavior: adaptive strategies in mule deer. In: Wallmo OC (ed) Mule black-tailed deer. N. Am. University of Nebraska Press, Lincoln, pp 157–223

Getz WM, Wilmers CC (2004) A local nearest-neighbor convex-hull construction of home ranges and utilization distributions. Ecography 27:489–505

Getz WM, Fortmann-Roe S, Cross PC, Lyons AJ, Ryan SJ, Wilmers CC (2007) LoCoh: nonparametric kernel methods for constructing home ranges and utilization distributions. PLoS One 2:e207

Grambsch PM, Therneau TM (1994) Proportional hazards tests and diagnostics based on weighted residuals. Biometrika 81:515–526

Greenwood PJ, Harvey PH (1982) The natal and breeding dispersal of birds. Annu Rev Ecol Syst 13:1–21

Harwood AJ, Griffiths SW, Metcalfe NB, Armstrong JD (2003) The relative influence of prior residency and dominance on the early feeding behaviour of juvenile Atlantic salmon. Anim Behav 65:1141–1149

Holmes BR, Laundré JW (2006) Use of open, edge and forest areas by pumas Puma concolor in winter: are pumas foraging optimally? Wildlife Biol 12:201–209

Hopcraft JGC, Olff H, Sinclair ARE (2010) Herbivores, resources and risks: alternating regulation along primary environmental gradients in savannas. Trends Ecol Evol 25:119–128

Hornocker MG (1970) An analysis of mountain lion predation upon mule deer and elk in the Idaho primitive area. Wildlife Monogr 21:3–39

Hosmer DW, Lemeshow S, May S (2011) Applied survival analysis: regression modeling of time to event data. Wiley, Hoboken

Jarman PJ (1974) The social organisation of antelope in relation to their ecology. Behaviour 48:215–267

Johnson DH (1980) The comparison of usage and availability measurements for evaluating resource preference. Ecology 61:65–71

Kie JG (1999) Optimal foraging and risk of predation: effects on behavior and social structure in ungulates. J Mammal 80:1114–1129

Kie JG, Matthiopoulos J, Fieberg J et al (2010) The home-range concept: are traditional estimators still relevant with modern telemetry technology? Philos T Roy Soc B 365:2221–2231

Laundre J (2010) Behavioral response races, predator–prey shell games, ecology of fear, and patch use of pumas and their ungulate prey. Ecology 91:2995–3007

Lima SL (2002) Putting predators back into behavioral predator–prey interactions. Trends Ecol Evol 17:70–75

Logan KA, Sweanor LL (2010) Behavior and social organization of a solitary carnivore. In: Hornocker M, Negri S (eds) Cougar ecology and conservation. University of Chicago Press, Chicago, pp 105–117

Loison A, Festa-Bianchet M, Gaillard J-M, Jorgenson JT, Jullien J-M (1999) Age-specific survival in five populations of ungulates: evidence of senescence. Ecology 80:2539–2554

Marescot L, Forrester TD, Casady DS, Wittmer HU (2014) Using multistate capture-mark-recapture models to quantify effects of predation on age-specific survival and population growth in black-tailed deer. Popul Ecol. doi:10.1007/s10144-014-0456-z

McCorquodale SM (1999) Movements, survival, and mortality of black-tailed deer in the Klickitat basin of Washington. J Wildlife Manage 63:861–871

Mitchell WA, Lima SL (2002) Predator–prey shell games: large-scale movement and its implications for decision-making by prey. Oikos 99:249–259

Nussey DH, Coulson T, Delorme D, Clutton-Brock TH, Pemberton JM, Festa-Bianchet M, Gaillard JM (2011) Patterns of body mass senescence and selective disappearance differ among three species of free-living ungulates. Ecology 92:1936–1947

Parker KL, Barboza PS, Gillingham MP (2009) Nutrition integrates environmental responses of ungulates. Funct Ecol 23:57–69

Pettorelli N, Pelletier F, von Hardenberg A, Festa-Bianchet M, Côté SD (2007) Early onset of vegetation growth vs. rapid green-up: impacts on juvenile mountain ungulates. Ecology 88:381–390

Piper WH (2011) Making habitat selection more "familiar": a review. Behav Ecol Sociobiol 65:1329–1351

Piper WH, Walcott C, Mager JN, Spilker FJ (2008) Nestsite selection by male loons leads to sex-biased site familiarity. J Anim Ecol 77:205–210

Pollock KH, Winterstein SR, Bunck CM, Curtis PD (1989) Survival analysis in telemetry studies: the staggered entry design. J Wildlife Manage 53:7–15

Purdue JR, Smith MH, Patton JC (2000) Female philopatry and extreme spatial genetic heterogeneity in white-tailed deer. J Mammal 81:179–185

Réale D, Festa-Bianchet M (2003) Predator-induced natural selection on temperament in bighorn ewes. Anim Behav 65:463–470

Sih A (1980) Optimal behavior: can foragers balance two conflicting demands? Science 210:1041–1043

Sih A (1992) Prey uncertainty and the balancing of antipredator and feeding needs. Am Nat 139:1052–1069

Sinclair ARE, Arcese P (1995) Population consequences of predation-sensitive foraging: the Serengeti wildebeest. Ecology 76:882–891

Spencer WD (2012) Home ranges and the value of spatial information. J Mammal 93:929–947

Stamps J (1995) Motor learning and the value of familiar space. Am Nat 146:41–58

Switzer PV (1993) Site fidelity in predictable and unpredictable habitats. Evol Ecol 7:533–555

Therneau TM, Grambsch PM (2000) Modeling survival data: extending the Cox model. Springer, New York

Van Beest FM, Wal EV, Stronen AV, Paquet PC, Brook RK (2013) Temporal variation in site fidelity: scale-dependent effects of forage abundance and predation risk in a non-migratory large herbivore. Oecologia 173:409–420

Wallmo OC (ed) (1981) Mule and black-tailed deer of North America. University of Nebraska Press, Lincoln

Wittmer HU, McLellan BN, Hovey FW (2006) Factors influencing variation in site fidelity of woodland caribou (Rangifer tarandus caribou) in southeastern British Columbia. Can J Zool 84:537–545

Wolf M, Frair J, Merrill E, Turchin P (2009) The attraction of the known: the importance of spatial familiarity in habitat selection in wapiti Cervus elaphus. Ecography 32:401–410
Acknowledgments
This study was funded by the California Department of Fish and Wildlife (Contract #P0880013 to HUW) and the California Deer Association. TDF thanks the Robert and Patricia Switzer Foundation Environmental Fellowship Program, the UC Davis Graduate Group in Ecology, and the Stockton Sportsmen's Club. We thank our dedicated field crew for their efforts during 4 years of fieldwork. Finally, we thank D. Kelt, A. Latimer, and A. Sih and two anonymous reviewers for their comments that greatly improved this manuscript.
Ethical standards
All field work and animal handling complied with the laws of the USA and the state of California, and all procedures were approved by an Institutional Animal Care and Use Committee at the University of California, Davis (Protocols 15341 and 16886).
Additional information
Communicated by: M. Festa-Bianchet
Electronic supplementary material
Below is the link to the electronic supplementary material.
About this article
Cite this article
Forrester, T.D., Casady, D.S. & Wittmer, H.U. Home sweet home: fitness consequences of site familiarity in female black-tailed deer. Behav Ecol Sociobiol 69, 603–612 (2015). https://doi.org/10.1007/s00265-014-1871-z
Received:

Revised:

Accepted:

Published:

Issue Date:
Keywords
Forage availability

Home range

Odocoileus hemionus columbianus

Predation

Puma concolor

Private information