Abstract
Individual host behavior may be influenced by infectious disease in ways that can alter population-level disease dynamics. A novel pathogen in the Mycobacterium tuberculosis complex, Mycobacterium mungi, has emerged among banded mongooses (Mungos mungo) in Northeastern Botswana. This host–pathogen system provides an opportunity to study how individual behavior and social interactions in a group-living species might respond to infectious disease. We used repeated focal observations of known individuals with an extensive ethogram to identify behavioral differences and social interactions between healthy individuals and those with clinical signs of tuberculosis (TB). Clinically diseased banded mongooses exhibited a significantly smaller proportion of time active and alert, a larger proportion of time resting, and a slower behavioral transition rate compared to healthy individuals. They also showed lower reciprocation of allogrooming by approximately 50 %. Despite these strong behavioral differences that may serve as visible cues for healthy mongooses to avoid diseased conspecifics, we found no evidence for avoidance of clinically diseased mongooses by healthy individuals or vice versa: Clinically diseased individuals did not have lower levels of social behaviors than healthy individuals, and clinically diseased mongooses were allogroomed at the expected level despite their decreased reciprocation. Our results show that in contrast to prior studies of other species, avoidance of diseased conspecifics did not occur in this highly social species. We discuss hypotheses for this lack of avoidance and potential implications for pathogen transmission.
Access options
Buy single article
Instant access to the full article PDF.
USD 39.95
Price excludes VAT (USA)
Tax calculation will be finalised during checkout.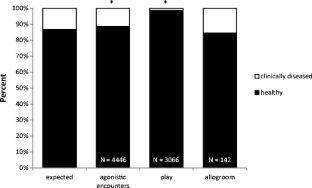 References
Adelman JS, Martin LB (2009) Vertebrate sickness behaviors: adaptive and integrated neuroendocrine immune responses. Integr Comp Biol 49:202–214

Alexander KA, Laver PN, Michel A, Williams M, van Helden PD, Warren RM, van Pittius NCG (2010) Novel Mycobacterium tuberculosis complex pathogen, M. mungi. Emerg Infect Dis 16:1296–1299

Altmann J (1974) Observational study of behavior: sampling methods. Behaviour 49:227–267

Arakawa H, Arakawa K, Deak T (2010) Sickness-related odor communication signals as determinants of social behavior in rat: a role for inflammatory processes. Horm Behav 57:330–341

Behringer DC, Butler MMJ, Shields JJD (2006) Avoidance of disease by social lobsters. Nature 441:421

Behringer DC, Butler MJ, Shields JD (2008) Ecological and physiological effects of PaV1 infection on the Caribbean spiny lobster (Panulirus argus Latreille). J Exp Mar Biol Ecol 359:26–33

Bell MB, Nichols HJ, Gilchrist JS, Cant MA, Hodge SJ (2012) The cost of dominance: suppressing subordinate reproduction affects the reproductive success of dominant female banded mongooses. Proc R Soc Lond B 279:619–624

Bouwman KM, Hawley DM (2010) Sickness behaviour acting as an evolutionary trap? Male house finches preferentially feed near diseased conspecifics. Biol Lett 6:462–465

Cant MA (2013) Demography and social evolution of banded mongooses. Adv Stud Behav 45:407–445

Cant MA, Otali E, Mwanguhya F (2002) Fighting and mating between groups in a cooperatively breeding mammal, the banded mongoose. Ethology 108:541–555

De Luca D, Ginsberg J (2001) Dominance, reproduction and survival in banded mongooses: towards an egalitarian social system? Anim Behav 61:17–30

Dolinsky ZS, Hardy CA, Burright RG, Donovick PJ (1985) The progression of behavioral and pathological effects of the parasite Toxocara canis in the mouse. Physiol Behav 35:33–42

Drewe JA, Eames KTD, Madden JR, Pearce GP (2011) Integrating contact network structure into tuberculosis epidemiology in meerkats in South Africa: implications for control. Prev Vet Med 101:113–120

Edwards J (1988) The effects of Trichinella spiralis infection on social interactions in mixed groups of infected and uninfected male mice. Anim Behav 36:529–540

Fagen R (1981) Animal play behavior. Oxford University Press, New York

Fischbacher M (1993) Resolution of social conflicts in banded mongooses (Mungos mongo) with a game theoretical model for the evolution of egalitarian relationships. Dissertation, University of Zurich

Gilchrist JS (2006) Reproductive success in a low skew, communal breeding mammal: the banded mongoose, Mungos mungo. Behav Ecol Sociobiol 60:854–863

Gilchrist JS, Otali E, Mwanguhya F (2004) Why breed communally? Factors affecting fecundity in a communal breeding mammal: the banded mongoose (Mungos mungo). Behav Ecol Sociobiol 57:119–131

Graham KL, Burghardt GM (2010) Current perspectives on the biological study of play: signs of progress. Q Rev Biol 85:393–418

Hart BL (1988) Biological basis of the behavior of sick animals. Neurosci Biobehav Rev 12:123–137

Hart BL (1990) Behavioral adaptations to pathogens and parasites: five strategies. Neurosci Biobehav Rev 14:273–294

Hawley DM, Etienne RS, Ezenwa VO, Jolles AE (2011) Does animal behavior underlie covariation between hosts' exposure to infectious agents and susceptibility to infection? Implications for disease dynamics. Integr Comp Biol 51:528–539

Johnson R (2002) The concept of sickness behavior: a brief chronological account of four key discoveries. Vet Immunol Immunopathol 87:443–450

Kavaliers M, Colwell DD (1995) Odours of parasitized males induce aversive responses in female mice. Anim Behav 50:1161–1169

Kavaliers M, Choleris E, Agmo A, Pfaff DW (2004) Olfactory-mediated parasite recognition and avoidance: linking genes to behavior. Horm Behav 46:272–283

Kiernan K, Tao J, Gibbs P (2012) Tips and strategies for mixed modeling with SAS/STAT® procedures. SAS Global Forum 2012:332–2012

Kiesecker JM, Skelly DK, Beard KH, Preisser E (1999) Behavioral reduction of infection risk. P Natl Acad Sci USA 96:9165–9168

Kimball BA, Yamazaki K, Kohler D, Bowen RA, Muth JP, Opiekun M, Beauchamp GK (2013) Avian influenza infection alters fecal odor in mallards. PLoS One 8:e75411

Laver PN (2013) The foraging ecology of banded mongooses (Mungos mungo): epidemiological and human-wildlife conflict implications. Dissertation, Virginia Tech

Lima SL, Dill LM (1990) Behavioral decisions made under the risk of predation: a review and prospectus. Can J Zool 68:619–640

Lloyd-Smith JO, Getz WM, Westerhoff HV (2004) Frequency-dependent incidence in models of sexually transmitted diseases: portrayal of pair-based transmission and effects of illness on contact behaviour. Proc R Soc Lond B 271:625–634

Loehle C (1995) Social barriers to pathogen transmission in wild animal populations. Ecology 76:326–335

Martin LB II, Weil ZM, Nelson RJ (2007) Fever and sickness behaviour vary among congeneric rodents. Funct Ecol 22:68–77

Moore J (2002) Parasites and the behavior of animals. Oxford University Press, Oxford

Muller CA, Manser MB, Mu CA (2008) Scent-marking and intrasexual competition in a cooperative carnivore with low reproductive skew. Ethology 114:174–185

Neal E (1970) The banded mongoose, Mungos mungo Gmelin. East African Wildl J 8:63–71

Nichols HJ, Jordan NR, Jamie GA et al (2012) Fine-scale spatiotemporal patterns of genetic variation reflect budding dispersal coupled with strong natal philopatry in a cooperatively breeding mammal. Mol Ecol 21:5348–5362

Owen-Ashley NT, Turner M, Hahn TP, Wingfield JC (2006) Hormonal, behavioral, and thermoregulatory responses to bacterial lipopolysaccharide in captive and free-living white-crowned sparrows (Zonotrichia leucophrys gambelii). Horm Behav 49:15–29

Parsons SDC, Drewe JA, Van Pittius NCG, Warren RM, van Helden PD (2013) Novel cause of tuberculosis. Emerg Infect Dis 19:2004–2007

Penn D, Potts WK (1998) Chemical signals and parasite-mediated sexual selection. Trends Ecol Evol 13:391–396

Rood JP (1975) Population dynamics and food habits of the banded mongoose. East African Wildl J 13:89–111

Tobler M, Schlupp I (2008) Influence of black spot disease on shoaling behaviour in female western mosquitofish, Gambusia affinis (Poeciliidae, Teleostei). Environ Biol Fish 81:29–34

Weary DM, Huzzey JM, von Keyserlingk MAG (2009) Board-invited review: using behavior to predict and identify ill health in animals. J Anim Sci 87:770–777

Weber N, Bearhop S, Dall SRX, Delahay RJ, Ra MD, Carter SP (2013a) Denning behaviour of the European badger (Meles meles) correlates with bovine tuberculosis infection status. Behav Ecol Sociobiol 67:471–479

Weber N, Carter SP, Dall SRX, Delahay RJ, McDonald JL, Bearhop S, McDonald RA (2013b) Badger social networks correlate with tuberculosis infection. Curr Biol 23:R915–R916

Zylberberg M, Klasing KC, Hahn TP (2012) House finches (Carpodacus mexicanus) balance investment in behavioural and immunological defences against pathogens. Biol Lett 9:20120856
Acknowledgments
We thank Peter Laver and Mark Vandewalle for field assistance, Jeff Walters for statistical assistance and comments on the manuscript, and Bill Hopkins and Ignacio Moore for comments on the manuscript.
Ethical standards
This study was conducted under a permit from the Botswana Ministry of Environment, Wildlife, and Tourism and approval of the Virginia Tech's Institutional Animal Care and Use Committee (Protocol number 07-146-FIW).
Additional information
Communicated by A. I. Schulte-Hostedde
About this article
Cite this article
Fairbanks, B.M., Hawley, D.M. & Alexander, K.A. No evidence for avoidance of visibly diseased conspecifics in the highly social banded mongoose (Mungos mungo). Behav Ecol Sociobiol 69, 371–381 (2015). https://doi.org/10.1007/s00265-014-1849-x
Received:

Revised:

Accepted:

Published:

Issue Date:

DOI: https://doi.org/10.1007/s00265-014-1849-x
Keywords