Abstract
Polymorphism is the coexistence of two or more phenotypically distinct and genetically determinate forms in a population and implies a selective balance between the alternative morphs to permanently exist. Common guillemots Uria aalge occur in two genetically distinct morphs—a non-bridled and a bridled—the latter with white eye rings and a well-defined stripe behind the eyes. In this study, we investigated differences between the morphs with regard to reproductive parameters. We used a detailed family-based sample providing data on mother, father, and chick over three breeding seasons. The mating between morphs was random but pure non-bridled and pure bridled pairs produced smaller chicks at age 15 days than the two mixed pair compositions. Body mass of the adults showed much the same pattern; pure pairs having lower body mass than mixed pairs. There were no differences between the two morphs in reproductive parameters without considering the morph of the partner. This suggests that reproductive decisions in some way not only depend on the morph but also on the tactic of the partner. Different reproductive strategies between morph family groups as found in this study may contribute to the understanding of the existence of a balanced polymorphism in common guillemots. The overall breeding conditions during the years of this study were good. However, over time in a variable environment, we suggest that tactics of different family groups may have different success stabilizing the frequency of non-bridled and bridled birds over time.
Access options
Buy single article
Instant access to the full article PDF.
USD 39.95
Price excludes VAT (USA)
Tax calculation will be finalised during checkout.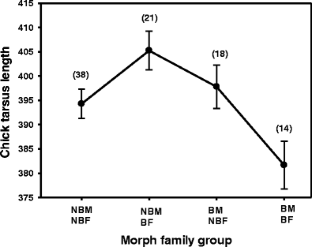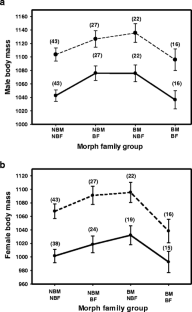 References
Barrett RT (2013) No difference in chick-provisioning by bridled and non-bridled common guillemots Uria aalge. Seabird 26:1–7

Benowitz-Fredericks ZM, Kitaysky AS, Thompson CW (2006) Growth and allocation in captive common murre (Uria aalge) chicks. Auk 123:722–734

Birkhead TR (1984) Distribution of the bridled form of the common guillemot Uria aalge in the North Atlantic. J Zool 202:165–176

Birkhead TR, Lock AR (1980) Changes in the proportion of bridled murres in Northern Labrador. Condor 82:473–474

Birkhead TR, Biggins JD, Nettleship DN (1980) Nonrandom, intra-colony distribution of bridled guillemots Uria aalge. J Zool 192:9–16

Brazill-Boast J, Griffith SC, Pryke SR (2013) Morph-dependent resource acquisition and fitness in a polymorphic bird. Evol Ecol 27:1189–1198

Bugge J, Barrett RT, Pedersen T (2011) Optimal foraging in chick-raising common guillemots Uria aalge. J Ornithol 152:253–259

Burnham KP, Anderson DR (2002) Model selection and multimodel inference: a practical information-theoretic approach, 2nd edn. Springer, New York

Camphuysen CJ (2002) Post-fledging dispersal of Common Guillemots Uria aalge guarding chicks in the North Sea: the effect of predator presence and prey availability at sea. Ardea 90:103–119

Elliott KH, Gaston AJ, Crump D (2010) Sex-specific behavior by a monomorphic seabird represents risk partitioning. Behav Ecol 21:1024–1032

Erikstad KE, Asheim M, Fauchald P, Dahlhaug L, Tveraa T (1997) Adjustment of parental effort in the puffin; the roles of adult body condition and chick size. Behav Ecol Sociobiol 40:95–100

Erikstad KE, Sandvik H, Fauchald P, Tveraa T (2009) Short- and long-term consequences of reproductive decisions: an experimental study in the puffin. Ecology 90:3197–3208

Erikstad KE, Reiertsen TK, Barrett R, Vikebø F, Sandvik H (2013) Seabird-fish interactions: the fall and rise of a common guillemot Uria aalge population. Mar Ecol Prog Ser 475:267–276

Fisher R (1930) The genetic theory of natural selection. Clarendon, Oxford

Galeotti P, Rubolini D (2004) The niche variation hypothesis and the evolution of colour polymorphism in birds: a comparative study of owls, nightjars and raptors. Biol J Linn Soc 82:237–248

Galeotti P, Rubolini D, Dunn PO, Fasola M (2003) Colour polymorphism in birds: causes and functions. J Evol Biol 16:635–646

Galeotti P, Rubolini D, Sacchi R, Fasola M (2009) Global changes and animal phenotypic responses: melanin-based plumage redness of scops owls increased with temperature and rainfall during the last century. Biol Lett 5:532–534

Galeotti P, Sacchi R, Pellitteri-Rosa D, Bellati A, Cocca W, Gentilli A, Scali S, Fasola M (2013) Colour polymorphism and alternative breeding strategies: effects of parent's colour morph on fitness traits in the common wall lizard. Evol Biol 40:385–394

Grandjean P (1972) Some morphological observations on the guillemot (Uria aalge aalge Pont.) on Ellidaey, Westmann Islands. Dansk Orn For Tidsskr 66:51–56

Gray SM, McKinnon JS (2007) Linking color polymorphism maintenance and speciation. Trends Ecol Evol 22:71–79

Griffiths R, Double MC, Orr K, Dawson RJG (1998) A DNA test to sex most birds. Mol Ecol 7:1071–1075

Harding AMA, Kitaysky AS, Hall ME, Welcker J, Karnovsky NJ, Talbot SL, Hamer KC, Grémillet D (2009) Flexibility in the parental effort of an Arctic-breeding seabird. Funct Ecol 23:348–358

Harding AMA, Welcker J, Steen H, Hamer KC, Kitaysky AS, Fort J, Talbot SL, Cornick LA, Karnovsky NJ, Gabrielsen GW, Grémillet D (2011) Adverse conditions may impact body mass and survival of a High Arctic seabird. Oecologia 167:49–59

Harris MP, Wanless S (1986) A comparison of the biology of the normal and bridled forms of the common guillemot Uria aalge at a single colony. J Zool 210:121–130

Harris MP, Halley DJ, Wanless S (1992) The post-fledging survival of young guillemots Uria aalge in relation to hatching date and growth. Ibis 134:335–339

Harris MP, Rothery P, Wanless S (2003) Increase in frequency of the bridled morph of the common guillemot Uria aalge on the Isle of May, 1946–2000: a return to former levels? Ibis 145:22–29

Hedgren S (1981) Effects of fledging weight and time of fledging on survival of guillemot Uria aalge chicks. Omis Scand 12:51–54

Hirschenhauser K (2012) Testosterone and partner compatibility: evidence and emerging questions. Ethology 118:799–811

Hugall AF, Stuart-Fox D (2012) Accelerated speciation in colour-polymorphic birds. Nature 485:631–634

Huxley J (1955) Morphism in birds. Acta Int Congr Ornithol XI:309–328

Jacobs SR, Elliott KH, Gaston AHJ (2013) Parents are a drag: long-lived birds share the cost of increased foraging effort with their offspring, but males pass on more of the costs than females. PLoS ONE 8:e54594

Jefferies DJ, Parslow JLF (1976) The genetics of bridling in guillemots from a study of hand-reared birds. J Zool 179:411–420

Kristensen DL, Erikstad KE, Reiertsen TK, Moum T, Barrett RT, Jenni-Eiermann S (2013) Are female offspring from a single-egg seabird more costly to raise? Behav Ecol 24:136–143

Morrison KW, Hipfner JM, Gjerdrum C, Green DJ (2009) Wing length and mass at fledging predict local juvenile survival and age at first return in tufted puffins. Condor 111:433–441

Myksvoll M, Erikstad KE, Barrett RT et al (2013) Climate-driven ichthyoplankton drift model predicts growth of top predator young. PLoS ONE 8:e79225

Navarro J, González-Solís J (2007) Experimental increase of flying costs in a pelagic seabird: effects on foraging strategies, nutritional state and chick condition. Oecologia 151:150–160

Nettleship DN, Birkhead TR (eds) (1985) The Atlantic Alcidae. Academic, London

Pryke SR, Griffith SC (2009) Postzygotic genetic incompatibility between sympatric color morphs. Evolution 63:793–798

Pryke SR, Griffith SC (2010) Maternal adjustment of parental effort in relation to mate compatibility affects offspring development. Behav Ecol 21:226–232

Reiertsen TK, Erikstad KE, Barrett RT, Sandvik H, Yoccoz NG (2012) Climate fluctuations and differential survival of bridled and non-bridled Common Guillemots Uria aalge. Ecosphere 3:52

Roulin A (2004) The evolution, maintenance and adaptive function of genetic colour polymorphism in birds. Biol Rev 79:815–848

Roulin A, Bize P, Ravussin P-A, Broch L (2004) Genetic and environmental effects on the covariation between colour polymorphism and a life-history trait. Evol Ecol Res 6:1253–1260

Seutin G, White BN, Boag PT (1991) Preservation of avian blood and tissue samples for DNA analyses. Can J Zool 69:82–90

Southern HN (1951) Change in status of the bridled guillemot after ten years. Proc Zool Soc London 121:657–671

Southern HN (1962) Survey of the bridled guillemots, 1959–60. Proc Zool Soc London 138:455–472
Acknowledgments
This study is funded by the Norwegian Research Council (Project No 216547/E40 to KEE) and the SEAPOP program (www.seapop.no). The Norwegian Coastal Administration is thanked for the use of the lighthouse at Hornøya as a base for the fieldwork. We also acknowledge Robert T. Barrett and Hanno Sandvik for comments and discussion.
Ethical standards
Access to Hornøya was approved by the government of Finnmark, Norway. Capturing, handling, ringing, and blood sampling birds were licensed by the Norwegian Directorate for Nature Management (to KEE). Collection of samples was conducted according to Norwegian ethics regulations and European Council guidelines for Laboratory Animal Science.
Additional information
Communicated by C. R. Brown
Electronic supplementary material
Below is the link to the electronic supplementary material.
About this article
Cite this article
Kristensen, D.L., Erikstad, K.E., Reiertsen, T.K. et al. Differential breeding investment in bridled and non-bridled common guillemots (Uria aalge): morph of the partner matters. Behav Ecol Sociobiol 68, 1851–1858 (2014). https://doi.org/10.1007/s00265-014-1794-8
Received:

Revised:

Accepted:

Published:

Issue Date:

DOI: https://doi.org/10.1007/s00265-014-1794-8
Keywords