Abstract
For the majority of animals, the ability to orient in familiar locations is a fundamental part of life, and spatial memory allows individuals to remember key locations such as food patches, shelter, mating sites or areas regularly occupied by predators. This study determined if gobies collected from rocky platforms and sandy beaches differ in their ability to learn and memorise the locations of tide pools in a simulated rocky intertidal zone. Intertidal rock pool gobies show acute homing abilities and, therefore, should be expected to display superior learning and memory capabilities. In contrast, it is unlikely that natural selection would favour similar learning skills in sandy shore fishes because they simply shift back and forth with the tides. The learning abilities of gobies were tested using small replica rock platforms, containing four tide pools that retained varying depths of water at simulated low tide. Gobies were categorised as having learnt the task if they were able to consistently locate the tide pool that retained the most water at simulated low tide as the pool with the most favourable conditions. Rock pool species were able to locate the deepest pool to wait out low tide for ~95 % of the trials, while species from sandy shores were found in the deepest pool ~10 % of trials. Despite repeated stranding, sandy shore fish continued to follow the tide out. We propose that rock pool species memorised the location of rock pools during simulated high tide enabling them to relocate the best refuge for low tide.
Access options
Buy single article
Instant access to the full article PDF.
USD 39.95
Price excludes VAT (USA)
Tax calculation will be finalised during checkout.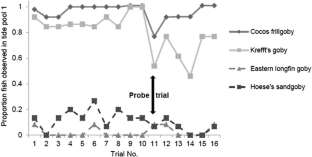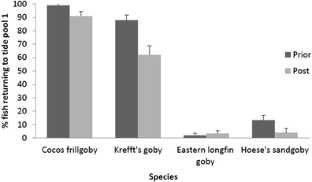 References
Aronson LR (1951) Orientation and jumping behaviour in the Gobiid fish Bathygobis soporator. Am Mus Novit 1486:1–22

Aronson LR (1971) Further studies on the orientation and jumping behaviour in the gobiid fish, Bathygobius soporator. Ann N Y Acad Sci 188:378–392

Balda RP, Kamil AC (1992) Long-term spatial memory in Clark's nutcracker, Nucifraga columbiana. Anim Behav 44:761–769

Braithwaite VA, Girvan JR (2003) Use of water flow direction to provide spatial information in a small-scale orientation task. J Fish Biol 63:74–83

Braithwaite VA, Armstrong JD, McAdam HM, Huntingford FA (1996) Can juvenile Atlantic salmon use multiple cue systems in spatial learning? Anim Behav 51:1409–1415

Brodbeck DR (1994) Memory for spatial and local cues: a comparison of a storing and nonstoring species. Anim Learn Behav 22:119–133

Brown C, Braithwaite VA (2005) Effects of predation pressure on the cognitive ability of the poeciliid Brachyraphis episcopi. Behav Ecol 16(2):482–487

Burt de Perera T (2004a) Spatial parameters encoded in the spatial map of the blind Mexican cave fish, Astyanax fasciatus. Anim Behav 68:291–295

Burt de Perera T (2004b) Fish can encode order in their spatial map. Proc R Soc Lond B 271:2131–2134

Burt de Perera T, Guilford TC (2008) Rapid learning in an intertidal fish, the shanny Lipophrys pholis L. J Fish Biol 72:1386–1392

Clayton NS (2001) Hippocampal growth and maintenance depend on food-caching experience in juvenile mountain chickadees (Poecile gambeli). Behav Neurosci 115:614–625

Dall SRX, Giraldeau LA, Olsson O, McNamara JM, Stephens DW (2005) Information and its use by animals in evolutionary ecology. Trends Ecol Evol 20:187–192

Gibson RN (1967) Studies on the movement of littoral fish. J Anim Ecol 36:215–234

Gibson RN (1968) The agonistic behavior of juvenile Blennius pholis L. (Teleostei). Behaviour 30:192–217

Gibson RN (1999) Movement and homing in intertidal fishes. In: Horn MH, Martina KLM, Chotkowski MA (eds) Intertidal fishes: life in two worlds. Academic Press, San Diego, pp 97–125

Giraldeau LA (1997) Ecology of information use. In: Krebs JR, Davies NB (eds) Behavioural ecology. Blackwell Scientific, Oxford, pp 42–68

Girvan JR, Braithwaite VA (1998) Population differences in spatial learning in three-spined sticklebacks. Proc R Soc Lond B 265:913–918

Green JM (1971) High tide movements and homing behavior of the tidepool sculpin Oligocottus maculosus. J Fish Res Board Can 28:383–389

Griffiths SP (2003) Rockpool ichthyofaunas of temperate Australia: species composition, residency and biogeographic patterns. Estuar Coast Shelf Sci 58(1):173–186

Healy SD (1998) Spatial representation in animals. Oxford University Press, Oxford

Healy SA, Braithwaite VA (2000) Cognitive ecology: a field of substance? Trends Ecol Evol 15:22–26

Healy SD, De Kort SR, Clayton NS (2005) The hippocampus, spatial memory and food hoarding: a puzzle revisited. Trends Ecol Evol 20:17–22

Hughes RN, Blight CM (2000) Two intertidal fish species use visual association learning to track the status of food patches in a radial maze. Anim Behav 59:613–621

Jorge PE, Almada F, Goncalves AR, Duarte-Coelho P, Almada VC (2012) Homing in rocky intertidal fish. Are Lipophrys pholis L. able to perform true navigation? Anim Cogn 15:1173–1181

Krebs JR, Healy SD, Shettleworth SJ (1990) Spatial memory of Paridae: comparison of a storing and a non-storing species the coal tit, Parus ater, and the great tit, P. major. Anim Behav 39:1127–1137

Laland KN, Brown C, Krause J (2003) Learning in fishes: from three-second memory to culture. Fish Fish 4:199–202

Lopez JC, Broglio C, Rodriguez F, Thinus-Blanc C, Salas C (1999) Multiple spatial learning strategies in goldfish (Carassius auratus). Anim Cogn 2:109–120

Lopez JC, Bingham VP, Rodríguez F, Gómez Y, Salas C (2000) Dissociation of place and cue learning by telencephalic ablation in goldfish. Behav Neurosci 114:687–699

Mackney PA, Hughes RN (1995) Foraging behaviour and memory window in sticklebacks. Behaviour 132:1241–1253

Markel RW (1994) An adaptive value of spatial learning and memory in the blackeye goby, Coryphoterus nicholsi. Anim Behav 47:1462–1464

Mitamura H, Arai N, Sakamoto W, Mitsunnaga Y, Tanaka H, Mukai Y, Nakamura K, Sasaki M, Yoneda Y (2005) Role of olfaction and vision in homing behaviour of black rockfish Sebastes inermis. J Exp Mar Biol Ecol 322:123–134

Odling-Smee L, Braithwaite VA (2003a) The influence of habitat stability on landmark use during spatial learning in the three-spined stickleback. Anim Behav 65:701–707

Odling-Smee L, Braithwaite V (2003b) The role of learning in fish orientation. Fish Fish 4:235–246

Odling-Smee LC, Boughmann JW, Braithwaite VA (2008) Sympatric species of threespine stickleback differ in their performance in a spatial learning task. Behav Ecol Sociobiol 62:1935–1945

Reese ES (1989) Orientation behaviour of butterflyfishes (family Chaetontidae) on coral reefs: spatial learning of route specific landmarks and cognitive maps. Environ Biol Fish 25:79–86

Rodriguez F, Duran E, Vargas JP, Torres B, Salas C (1994) Performance of goldfish trained in allocentric and geocentric maze procedures suggests presence of a cognitive mapping system in fishes. Anim Learn Behav 10:108–114

Salas C, Broglio C, Rodriguez F, Lopez JC, Portavella M, Torres B (1996) Telencephalic ablation in goldfish impairs performance in a 'spatial constancy' problem but not a cued one. Behav Brain Res 79:193–200

Santos RS, Almada VC, Santos AJ (1989) Field experiments and observations on homing and territoriality in intertidal blennies. In: Blanchard RJ, Brain PF, Blanchard DC, Parmigiani S (eds) Ethoexperimental approaches to the study of behavior vol 48. Kluwer Academic Publishers, New York, pp 623–632

Seymoure P, Dou H, Juraska JM (1996) Sex differences in radial maze performance: influence of rearing environment and room cues. Psychobiology 24:33–37

Sherry DF, Jacobs LF, Gaulin SJC (1992) Spatial memory and adaptive specialization of the hippocampus. Trends Neurosci 15:298–303

Shettleworth SJ (2010) Cognition, evolution and behavior, 2nd edn. Oxford University Press, New York

Sovrano VA, Bisazza A, Vallortigara G (2003) Modularity as a fish (Xenotoca eiseni) views it: Conjoining geometric and nongeometric information for spatial reorientation. J Exp Psychol Anim B 29:199–210

Teyke T (1989) Learning and remembering the environment in blind cave fish Anoptichthys jordani. J Comp Physiol A 164:655–662

Thacker CE, Roje DM (2011) Phylogeny of Gobiidae and identification of gobiid lineages. Syst Biodivers 9:329–347

Warburton K (2003) Learning of foraging skills by fish. Fish Fish 4:203–215

White GE, Brown C (2013) Site fidelity and homing behaviour in intertidal fishes. Mar Biol 160:1365–1372

Wickler W (1957) Vergleichende Verhaltensstudien an Grundfischen. I. Beiträge zur Biologie, besonders zur Ethologie von Blennius fluviatilis Asso im Vergleich zu einigen anderen Bodenfischen. ZTierpsychol 14:393–428

Williams GC (1957) Homing behavior of California rocky shore fishes. Univ Calif Publ Zool 59:249–284
Acknowledgments
Many thanks are due to Penelope Carbia for assistance with experimental testing, anonymous reviewers for comments on manuscript and Macquarie University for providing the funds necessary to perform this study. We would also like to thank Macquarie Engineering and Technical Services (METS; http://mets.mq.edu.au/) for constructing the spatial learning test tanks and tide regulator and Sydney Institute of Marine Science (SIMS) for the use of their seawater research facilities to house the fish.
Additional information
Communicated by J. Frommen
Electronic supplementary material
Below is the link to the electronic supplementary material.
Photograph of test tank apparatus at artificial low tide with rock landmarks in position for learning trials (JPEG 44 kb)
About this article
Cite this article
White, G.E., Brown, C. A comparison of spatial learning and memory capabilities in intertidal gobies. Behav Ecol Sociobiol 68, 1393–1401 (2014). https://doi.org/10.1007/s00265-014-1747-2
Received:

Revised:

Accepted:

Published:

Issue Date:

DOI: https://doi.org/10.1007/s00265-014-1747-2
Keywords
Gobies

Habitat complexity

Homing

Spatial learning and memory