Abstract
Carotenoid-based sexual ornaments are widespread, but the role of carotenoids as honest signalers in the trade-off between coloration and antioxidant protection remains controversial. It has been suggested that the function of carotenoids might not be an antioxidant per se, but that colorful carotenoids may indirectly reflect the levels of nonpigmentary antioxidants, such as melatonin or vitamin E. We experimentally fed male Iberian green lizards (Lacerta schreiberi) additional carotenoids or vitamin E alone, or a combination of carotenoids and vitamin E dissolved in soybean oil, whereas a control group only received soybean oil. We examined the effects of the dietary supplementations on characteristics of lizard sexual coloration and of the chemical profile of femoral gland secretions. Results indicated that both carotenoids and vitamin E in the diet increased the expression of some visual signals (head and chest, but not dorsum) in comparison to controls. However, different traits were differentially affected, and in many cases, the addition of vitamin E, alone or in combination with carotenoids, had a greater effect on the expression of coloration than the addition of carotenoids alone, even for carotenoid-dependent ornaments. Our results support the idea that other nonpigmentary antioxidants, such as vitamin E, are needed in addition to carotenoids to increase the expression of coloration of L. schreiberi lizards. Therefore, coloration may only indirectly reflect the levels of nonpigmentary antioxidants. In contrast, an increase in dietary nonpigmentary antioxidant vitamin E was directly reflected in the chemical signals. Because of an observed concordance between visual and chemical signals, we suggest that both may be used in different contexts albeit conveying similar messages in different sensory channels.
Access options
Buy single article
Instant access to the full article PDF.
USD 39.95
Price includes VAT (USA)
Tax calculation will be finalised during checkout.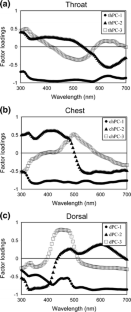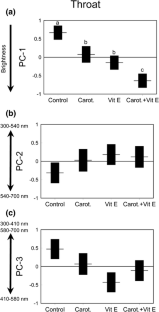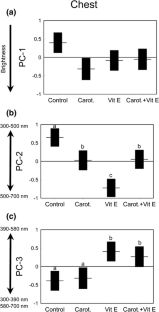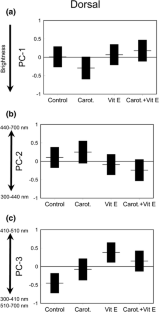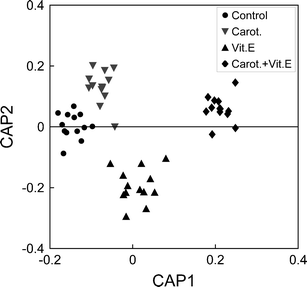 References
Aitchison J (1986) The statistical analysis of compositional data. Chapman and Hall, London

Allen DG, Dowling PM, Smith DA, Pasloske K, Woods JP (2004) Handbook of veterinary drugs, 3rd edn. Lippincott Williams and Wilkins, Hoboken

Alonso-Alvarez C, Bertrand S, Devevey G, Gaillard M, Prost J, Faivre B, Sorci G (2004) An experimental test of the dose dependent effect of carotenoids and immune activation on sexual signals and antioxidant activity. Am Nat 164:651–659

Anderholm S, Olsson M, Wapstra E, Ryberg K (2004) Fit and fat from enlarged badges: a field experiment on male sand lizards. Proc R Soc Lond B (Suppl) 271:142–144

Anderson MJ (2001) A new method for non-parametric multivariate analysis of variance. Austr Ecol 26:32–46

Anderson MJ, Willis TJ (2003) Canonical analysis of principal coordinates: a useful method of constrained ordination for ecology. Ecology 84:511–525

Anderson MJ, Gorley RN, Clarke KR (2008) PERMANOVA+ for PRIMER: guide to software and statistical methods. PRIMER-E Ltd, Plymouth

Andersson M (1994) Sexual selection. Princeton University Press, Princeton

Bajer K, Molnár OR, Török J, Herczeg G (2010) Female European green lizards (Lacerta viridis) prefer males with high ultraviolet throat reflectance. Behav Ecol Sociobiol 64:2007–2014

Bajer K, Molnár OR, Török J, Herczeg G (2011) Ultraviolet nuptial colour determines fight success in male European green lizards (Lacerta viridis). Biol Lett 7:866–868

Bajer K, Molnár OR, Török J, Herczeg G (2012) Temperature, but not available energy, affects the expression of a sexually selected ultraviolet (UV) colour trait in male European green lizards. PLoS One 7:e34359

Bender DA (2009) Nutritional biochemistry of the vitamins, 2nd edn. Cambridge University Press, Cambridge

Bertrand S, Faivre B, Sorci G (2006) Do carotenoid-based sexual traits signal the availability of non-pigmentary antioxidants? J Exp Biol 209:4414–4419

Blount JD, Metcalfe NB, Birkhead TR, Surai PF (2003) Carotenoid modulation of immune function and sexual attractiveness in zebra finches. Science 300:125–127

Brigelius-Flohe R, Traber MG (1999) Vitamin E: function and metabolism. FASEB J 13:1145–1155

Burton GW, Traber MG (1990) Vitamin E: antioxidant activity, biokinetics, and bioavailability. Ann Rev Nutr 10:357–382

Carazo P, Font E, Desfilis E (2007) Chemosensory assessment of rival competitive ability and scent mark function in a lizard (Podarcis hispanica). Anim Behav 74:895–902

Clarke KR, Gorley RN (2006) PRIMER v6: user manual/tutorial. PRIMER-E Ltd, Plymouth

Costantini D, Fanfani A, Dell'Omo G (2007) Carotenoid availability does not limit the capability of nestling kestrels (Falco tinnunculus) to cope with oxidative stress. J Exp Biol 210:1238–1244

Cooper WE, Greenberg N (1992) Reptilian coloration and behavior. In: Gans C, Crews D (eds) Biology of the Reptilia, vol 18. University of Chicago Press, Chicago, pp 298–422

Cuthill IC, Bennett ATD, Partridge JC, Maier EJ (1999) Plumage reflectance and the objective assessment of avian sexual dichromatism. Am Nat 153:183–200

Endler JA (1990) On the measurement and classification of color in studies of animal color patterns. Biol J Linn Soc 41:315–352

Faivre B, Grégoire A, Préault M, Cézilly F, Sorci G (2003) Immune activation rapidly mirrored in a secondary sexual trait. Science 300:103

Fitze PS, Cote J, San-Jose LM, Meylan S, Isaksson C, Andersson S, Rossi J-M, Clobert J (2009) Carotenoid-based colours reflect the stress response in the common lizard. PLoS One 4:e5111

Fleishman LJ, Loew ER, Leal M (1993) Ultraviolet vision in lizards. Nature 365:397

Grill CP, Rush VN (2000) Analysing spectral data: comparison and application of two techniques. Biol J Linn Soc 69:121–138

Hamilton PS, Sullivan BK (2005) Female mate attraction in ornate tree lizards, Urosaurus omatus: a multivariate analysis. Anim Behav 69:219–224

Hartley RC, Kennedy MW (2004) Are carotenoids a red herring in sexual display? Trends Ecol Evol 19:353–354

Hill GE, Johnson JD (2012) The vitamin A-redox hypothesis: a biochemical basis for honest signaling via carotenoid pigmentation. Am Nat 180:E127–E150

Isaksson C, Mclaughlin P, Monaghan P, Andersson S (2007) Carotenoid pigmentation does not reflect total non-enzymatic antioxidant activity in plasma of adult and nestling great tits, Parus major. Funct Ecol 21:1123–1129

Johnsen A, Delhey K, Andersson SA, Kempenaers B (2003) Plumage color in nestling blue tits: sexual dichromatism, condition dependence and genetic effects. Proc R Soc Lond B 270:1263–1270

Karu U, Saks L, Hörak P (2008) Carotenoid-based plumage coloration is not affected by vitamin E supplementation in male greenfinches. Ecol Res 23:931–935

Kemp DJ, Rutowski RL (2007) Condition dependence, quantitative genetics, and the potential signal content of iridescent ultraviolet butterfly coloration. Evolution 61:168–183

Kopena R, López P, Martín J (2009) Lipophilic compounds from the femoral gland secretions of male Hungarian green lizards, Lacerta viridis. Z Naturforsch C 64:434–440

Kopena R, Martín J, López P, Herczeg G (2011) Vitamin E supplementation increases the attractiveness of males' scent for female European green lizards. PLoS One 6:e19410

Kwiatkowski MA, Sullivan BK (2002) Geographic variation in sexual selection among populations of an Iguanid lizard, Sauromalus obesus (=ater). Evolution 56:2039–3051

Leibovitz B, Hu ML, Tappel L (1990) Dietary supplements of vitamin E, β-carotene, coenzyme Q10 and selenium protect tissues against lipidperoxidation in rat tissue slices. J Nutr 120:97–104

Loew ER, Fleishman LJ, Foster RG, Provencio I (2002) Visual pigments and oil droplets in diurnal lizards: a comparative study of Caribbean anoles. J Exp Biol 205:927–938

López P, Martín J (2002) Chemical rival recognition decreases aggression levels in male Iberian wall lizards, Podarcis hispanica. Behav Ecol Sociobiol 51:461–465

López P, Martín J (2006) Lipids in the femoral gland secretions of male Schreiber's green lizards, Lacerta schreiberi. Z Naturforsch C 61:763–768

López P, Martín J (2011) Male Iberian rock lizards may reduce the costs of fighting by scent-matching of the resource holders. Behav Ecol Sociobiol 65:1891–1898

López P, Amo L, Martín J (2006) Reliable signaling by chemical cues of male traits and health state in male lizards, Lacerta monticola. J Chem Ecol 32:473–488

López P, Gabirot M, Martín J (2009) Immune challenge affects sexual coloration of male Iberian wall lizards. J Exp Zool A 311:96–104

Mader DR (1996) Reptile medicine and surgery. WB Saunders, Philadelphia

Martín J, Forsman A (1999) Social costs and development of nuptial coloration in male Psammodromus algirus lizards: an experiment. Behav Ecol 10:396–400

Martín J, López P (2000) Chemoreception, symmetry and mate choice in lizards. Proc R Soc Lond B 267:1265–1269

Martín J, López P (2001) Predation risk may explain the absence of nuptial coloration in the wall lizard, Podarcis muralis. Evol Ecol Res 3:889–898

Martín J, López P (2006a) Links between male quality, male chemical signals, and female mate choice in Iberian Rock Lizards. Funct Ecol 20:1087–1096

Martín J, López P (2006b) Vitamin D supplementation increases the attractiveness of males' scent for female Iberian rock lizards. Proc R Soc Lond B 273:2619–2624

Martín J, López P (2007) Scent may signal fighting ability in male Iberian rock lizards. Biol Lett 3:125–127

Martín J, López P (2009) Multiple color signals may reveal multiple messages in male Schreiber's green lizards, Lacerta schreiberi. Behav Ecol Sociobiol 63:1743–1755

Martín J, López P (2010) Multimodal sexual signals in male ocellated lizards Lacerta lepida: vitamin E in scent and green coloration may signal male quality in different sensory channels. Naturwissenschaften 97:545–553

Martín J, López P (2011) Pheromones and reproduction in Reptiles. In: Norris DO, Lopez KH (eds) Hormones and reproduction of vertebrates. Reptiles, vol 3. Academic Press, San Diego, pp 141–167

Martín J, Civantos E, Amo L, López P (2007) Chemical ornaments of male lizards Psammodromus algirus may reveal their parasite load and health state to females. Behav Ecol Sociobiol 62:173–179

Martín J, Amo L, López P (2008) Parasites and health affect multiple sexual signals in male common wall lizards, Podarcis muralis. Naturwissenschaften 95:293–300

Martínez A, Rodríguez-Girones MA, Barbosa A, Costas M (2008) Donator acceptor map for carotenoids, melatonin and vitamins. J Phys Chem A 112:9037–9042

Mason RT (1992) Reptilian pheromones. In: Gans C, Crews D (eds) Biology of the Reptilia, vol 18. University of Chicago Press, Chicago, pp 114–228

Mason RT, Parker MR (2010) Social behavior and pheromonal communication in reptiles. J Comp Phys A 196:729–749

Mäthger LM, Hanlon RT (2007) Malleable skin coloration in cephalopods: selective reflectance, transmission and absorbance of light by chromatophores and iridophores. Cell Tissue Res 329:179–186

McArdle BH, Anderson MJ (2001) Fitting multivariate models to community data: a comment on distance-based redundancy analysis. Ecology 82:290–297

McGraw KJ, Ardia DR (2003) Carotenoids, immunocompetence, and the information content of sexual colors: an experimental test. Am Nat 162:704–712

Møller AP, Biard C, Blount JD, Houston DC, Ninni P, Saino N, Surai PF (2000) Carotenoid-dependent signals: indicators of foraging efficiency, immunocompetence or detoxification ability? Avian Poult Biol Rev 11:137–159

Molnár O, Bajer K, Török J, Herczeg G (2012) Individual quality and nuptial throat colour in male European green lizards. J Zool 287:233–239

Montgomerie R (2006) Analyzing colors. In: Hill GE, McGraw KJ (eds) Bird coloration vol 1. Mechanisms and measurements. Harvard University Press, Cambridge, pp 90–147

Olson VA, Owens IPF (1998) Costly sexual signals: are carotenoids rare, risky or required? Trends Ecol Evol 13:510–514

Olsson M (1994) Why are sand lizard males (Lacerta agilis) not equally green? Behav Ecol Sociobiol 35:169–173

Olsson M, Madsen T, Nordby J, Wapstra E, Ujvari B, Wittsell H (2003) Major histocompatibility complex and mate choice in sand lizards. Proc R Soc Lond B (Suppl) 270:S254–S256

Olsson M, Wilson M, Isaksson C, Uller T, Mott B (2008) Carotenoid intake does not mediate a relationship between reactive oxygen species and bright colouration: experimental test in a lizard. J Exp Biol 211:1257–1261

Palozza P, Krinsky NI (1992) β-Carotene and α-tocopherol are synergistic antioxidants. Arch Biochem Biophys 297:184–187

Pérez C, Lores M, Velando A (2008) Availability of nonpigmentary antioxidant affects red coloration in gulls. Behav Ecol 19:967–973

Pérez-Rodríguez L (2009) Carotenoids in evolutionary ecology: re-evaluating the antioxidant role. Bioessays 31:1116–1126

Peters A, Denk AG, Delhey K, Kempenaers B (2004) Carotenoid-based bill colour as an indicator of immunocompetence and sperm performance in male mallards. J Evol Biol 17:1111–1120

Pike TW, Blount JD, Lindström J, Metcalfe NB (2007) Availability of non-carotenoid antioxidants affects the expression of a carotenoid-based sexual ornament. Biol Lett 3:353–356

Prum RO (2006) Anatomy, physics, and evolution of structural colors. In: Hill GE, McGraw KJ (eds) Bird coloration vol 1. Mechanisms and measurements. Harvard University Press, Cambridge, pp 295–353

Reboul E, Thap S, Perrot E, Amiot MJ, Lairon D, Borel P (2007) Effect of the main dietary antioxidants (carotenoids, γ-tocopherol, polyphenols, and vitamin C) on α-tocopherol absorption. Eur J Clinic Nutr 61:1167–1173

Salvador A, Díaz JA, Veiga JP, Bloor P, Brown RP (2008) Correlates of reproductive success in male lizards of the alpine species Iberolacerta cyreni. Behav Ecol 19:169–176

San-Jose LM, Granado-Lorencio F, Fitze PS (2012) Dietary lipids reduce the expression of carotenoid-based coloration in Lacerta vivipara. Funct Ecol 26:646–656

San-Jose LM, Granado-Lorencio F, Sinervo B, Fitze PS (2013) Iridophores and not carotenoids account for chromatic variation of carotenoid-based coloration in common lizards (Lacerta vivipara). Am Nat 181:396–409

Simons MJP, Cohen AA, Verhulst S (2012) What does carotenoid-dependent coloration tell? Plasma carotenoid level signals immunocompetence and oxidative stress state in birds—a meta-analysis. PLoS One 7:e43088

Sokal RR, Rohlf FJ (1995) Biometry, 3rd edn. WH Freeman, New York

Steffen JE, Hill GE, Guyer C (2010) Carotenoid access, nutritional stress, and the dewlap color of male brown anoles. Copeia 2010:239–246

Svensson PA, Wong BBM (2011) Carotenoid-based signals in behavioural ecology: a review. Behaviour 148:131–189

Thompson CW, Moore MC (1991) Throat colour reliably signals status in male tree lizards Urosaurus ornatus. Anim Behav 42:298–442

Václav R, Prokop P, Fekiac V (2007) Expression of breeding coloration in European green lizards (Lacerta viridis): variation with morphology and tick infestation. Can J Zool 85:1199–1206

von Schantz T, Bensch S, Grahn M, Hasselquist D, Wittzell H (1999) Good genes, oxidative stress and condition-dependent sexual signals. Proc R Soc Lond B 266:1–12

Woodall AA, Lee SW, Weesie RJ, Jackson MJ, Britton G (1997) Oxidation of carotenoids by free radicals: relationship between structure and reactivity. Bioch Biophys Acta 1336:33–42

Whiting MJ, Stuart-Fox D, O'Connor D, Firth D, Bennett NC, Blomberg SP (2006) Ultraviolet signals ultra-aggression in a lizard. Anim Behav 72:353–363
Acknowledgments
We thank T. Madsen and one anonymous reviewer for helpful comments, Elena Fernández and Luis Cuadra for technical assistance with chemical analyses, and 'El Ventorrillo' MNCN Field Station for use of their facilities. Financial support was provided by the project MICIIN-CGL2011-24150/BOS and a JAE-pre-grant to RK.
Ethical standards
Captures of lizards and experiments complied with all current laws of Spain and were performed under license (permit number: 10/142790.9/11) from the Environmental Agency of Madrid Government ("Consejería del Medio Ambiente de la Comunidad de Madrid", Spain).
Additional information
Communicated by T. Madsen
About this article
Cite this article
Kopena, R., López, P. & Martín, J. Relative contribution of dietary carotenoids and vitamin E to visual and chemical sexual signals of male Iberian green lizards: an experimental test. Behav Ecol Sociobiol 68, 571–581 (2014). https://doi.org/10.1007/s00265-013-1672-9
Received:

Accepted:

Published:

Issue Date:
Keywords
Sexual coloration

Femoral secretions

Antioxidants

Lizards

Sexual ornaments