Abstract
Whether or not a migratory songbird embarks on a long-distance flight across an ecological barrier is likely a response to a number of endogenous and exogenous factors. During autumn 2008 and 2009, we used automated radio tracking to investigate how energetic condition, age, and weather influenced the departure timing and direction of Swainson's thrushes (Catharus ustulatus) during migratory stopover along the northern coast of the Gulf of Mexico. Most birds left within 1 h after sunset on the evening following capture. Those birds that departed later on the first night or remained longer than 1 day were lean. Birds that carried fat loads sufficient to cross the Gulf of Mexico generally departed in a seasonally appropriate southerly direction, whereas lean birds nearly always flew inland in a northerly direction. We did not detect an effect of age or weather on departures. The decision by lean birds to reorient movement inland may reflect the suitability of the coastal stopover site for deposition of fuel stores and the motivation to seek food among more extensive forested habitat away from the barrier.
We're sorry, something doesn't seem to be working properly.
Please try refreshing the page. If that doesn't work, please contact support so we can address the problem.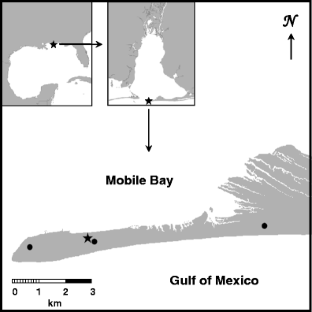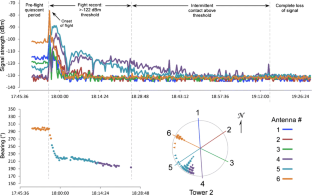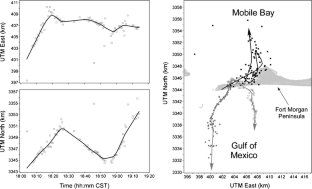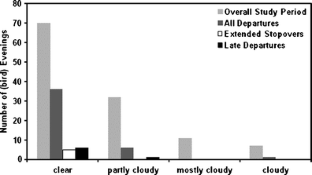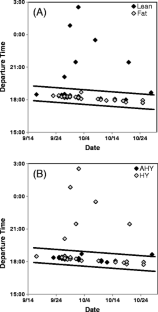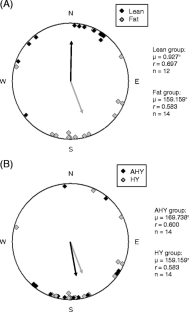 References
Able K (1972) Fall migration in coastal Louisiana and the evolution of migration patterns in the Gulf region. Wilson Bull 84:231–242

Able K (1982) The effects of overcast skies on the orientation of free-flying nocturnal migrants. In: Papi F, Wallraff HG (eds) Avian navigation. Springer-Verlag, Berlin, pp 38–49

Åkesson S (1993) Coastal migration and wind drift compensation in nocturnal passerine migrants. Ornis Scand 24:87–94

Åkesson S (1999) Do passerine migrants captured at an inland site perform temporary reverse migration in autumn? Ardea 87:129–137

Åkesson S, Karlsson L, Walinder G, Alerstam T (1996) Bimodal orientation and the occurrence of temporary reverse bird migration during autumn in south Scandinavia. Behav Ecol Sociobiol 38:293–302

Åkesson S, Hedenström A (2000) Wind selectivity of migratory flight departures in birds. Behav Ecol Sociobiol 47:140–144

Åkesson S, Walinder G, Karlsson L, Ehnbom S (2002) Nocturnal migratory flight initiation in reed warblers Acrocephalus scirpaceus: effect of wind on orientation and timing of migration. J Avian Biol 33:349–357

Alerstam T (1978) Reoriented bird migration in coastal areas: dispersal to suitable resting grounds? Oikos 30:405–408

Alerstam T (1988) Findings of dead birds drifted ashore reveal catastrophic mortality among early spring migrants, especially Rooks Corvus frugilegus, over the southern Baltic Sea. Anser 27:181–218

Alerstam T (1990) Bird migration. Cambridge University Press, New York

Alerstam T (2001) Detours in bird migration. J Theor Biol 209:319–331

Alerstam T, Lindström A (1990) Optimal bird migration: the relative importance of time, energy and safety. In: Gwinner E (ed) Bird migration: physiology and ecophysiology. Springer-Verlag, Berlin, pp 331–351

Bairlein F (1985) Efficiency of food utilization during fat deposition in the long-distance migratory garden warbler, Sylvia borin. Oecologia 68:118–125

Batschelet E (1981) Circular statistics in biology. Academic Press, New York

Berthold P (1996) Control of bird migration. Chapman and Hall, London

Biebach H, Friedrich W, Heine G (1986) Interaction of body mass, fat, foraging, and stopover period in trans-Sahara migrating passerine birds. Oecologia 69:370–379

Bolshakov C, Chernetsov N, Mukhin A, Bulyuk V, Kosarev V, Ktitorov P, Leoke D, Tsvey A (2007) Time of nocturnal departures in European robins, Erithacus rubecula, in relation to celestial cues, season, stopover duration and fat stores. Anim Behav 74:855–865

Buler JJ, Moore FR (2011) Migrant–habitat relationships during stopover along an ecological barrier: extrinsic constraints and conservation implications. J Ornithol 152:101–112

Buskirk W (1980) Influence of meteorological patterns and trans-Gulf migration on the calendars of latitudinal migrants. In: Keast A, Morton ES (eds) Migrant birds in the neotropics. Ecology, behavior, and conservation. Symposia of the National Zoological Park. Smithsonian Institution Press, Washington, DC, pp 485–491

Cimprich DA, Woodrey MS, Moore FR (2005) Passerine migrants respond to variation in predation risk during stopover. Anim Behav 69:1173–1179

Cimprich DA, Moore FR (1999) Energetic constraints and predation pressure during stopover. In: Adams J, Slotow RH (eds) Proceedings 22nd International Ornithological Congress. Bird Life South Africa, Durban, pp 834–846

Cochran WW, Kjos C (1985) Wind drift and migration of thrushes: a telemetry study. Bull Ill Nat Hist Surv 33:297–330

Cochran WW, Wikelski M (2005) Individual migratory tactics of New World Catharus thrushes: current knowledge and future tracking options from space. In: Marra P, Greenberg R (eds) Birds of two worlds. Princeton University Press, Princeton, pp 274–289

Dingle H (1996) Migration: the biology of life on the move. Oxford University Press, New York

Ellegren H (1991) Stopover ecology of autumn migrating Bluethroats Luscinia s. svecica in relation to age and sex. Ornis Scand 22:340–348

Emlen S (1980) Decision making by nocturnal bird migrants: the integration of multiple cues. Acta XVII International Ornithological Congress, Berlin, In, pp 553–560

Erni B, Liechti F, Underhill LG, Bruderer B (2002) Wind and rain govern the intensity of nocturnal bird migration in central Europe—a log-linear regression analysis. Ardea 90:155–166

Gauthreaux SA Jr (1971) A radar and direct visual study of passerine spring migration in southern Louisiana. Auk 88:343–365

Goymann W, Spina F, Ferri A, Fusani L (2010) Body fat influences departure from stopover sites in migratory birds: evidence from whole-island telemetry. Biol Lett 6:478–481

Heise C, Moore FR (2003) Age-related differences in foraging efficiency, molt, and fat deposition of Gray Catbirds prior to autumn migration. Condor 105:496–504

Helms C, Drury W Jr (1960) Winter and migratory weight and fat field studies on some North American buntings. Bird-Banding 31:1–40

Jenni L, Schaub M (2003) Behavioural and physiological reactions to environmental variation in bird migration: a review. In: Berthold P, Gwinner E, Sonnenschein E (eds) Avian migration. Springer-Verlag, New York, pp 155–174

Kays R, Tikak S, Crofoot J, Fountain T, Obando D, Ortega A, Kuemmeth F, Mandel J, Swenson G, Lambert T, Hirsch B, Wikelski M (2011) Tracking animal location and activity with an automated radio telemetry system in a tropical rainforest. Comput J 54:1931–1948

Kerlinger P, Moore FR (1989) Atmospheric structure and avian migration. Current Ornithol 6:109–142

Klaassen RHG, Alerstam T, Carlsson P, Fox JW, Lindström Å (2011) Great flights by great snipes: long and fast non-stop migration over benign habitats. Biol Lett 7:833–835

Kovach W (2011) Oriana user's manual. Kovach Computing Services, Pentraeth, Wales, UK

Larkin RP, Raim A, Diehl RH (1996) Performance of a non-rotating direction-finder for automatic radio tracking of wildlife. J Field Ornithol 67:59–71

Liechti F, Bruderer B (1998) The relevance of wind for optimal migration theory. J Avian Biol 29:561–568

Liechti F (2006) Birds: blowin' by the wind. J Ornithol 147:202–211

Lindström Å, Alerstam T (1986) The adaptive significance of reoriented migration of chaffinches Fringilla coelebs and bramblings F. montifringilla during autumn in southern Sweden. Behav Ecol Sociobiol 19:417–424

Mills AM, Thurber BG, Mackenzie SA, Taylor PD (2011) Passerines use nocturnal flights for landscape-scale movements during migration stopover. Condor 113:597–607

Moore FR (1984) Age-dependent variability in the migratory orientation of the Savannah sparrow (Passerculus sandwichensis). Auk 101:875–880

Moore FR (1987) Sunset and the orientation behaviour of migrating birds. Biol Rev 62:65–86

Moore FR, Kerlinger P (1987) Stopover and fat deposition by North American wood-warblers (Parulinae) following spring migration over the Gulf of Mexico. Oecologia 74:47–54

Moore FR, Kerlinger P (1992) Nocturnality, long-distance migration, and ecological barriers: In: Acta XX Congressus Internationalis Ornitholigici. Christchurch, New Zealand, pp 1122–1129

Moore FR, Mabey S, Woodrey M (2003) Priority access to food in migratory birds: age, sex and motivational asymmetries. In: Berthold P, Gwinner E, Sonnenschein E (eds) Avian migration. Springer-Verlag, New York, pp 281–292

Moore FR, Yong W (1991) Evidence of food-based competition among passerine migrants during stopover. Behav Ecol Sociobiol 28:85–90

Newton I (2007) The ecology of bird migration. Academic Press, London

Paynter R Jr (1953) Autumnal migrants on the Campeche Bank. Auk 70:338–349

Pennycuick CJ (1989) Bird flight performance: a practical calculation manual. Oxford University Press, Oxford

Perdeck A (1967) Orientation of starlings after displacement to Spain. Ardea 55:194–202

Pyle P, Howell S, DeSante D, Yunick R (1997) Identification guide to North American birds. Braun-Brumfield Inc, Bolinas

Raim A (1978) A radio transmitter attachment for small passerine birds. Bird-Banding 49:326–332

Ralph C (1978) Disorientation and possible fate of young passerine coastal migrants. Bird-Banding 49:237–247

Rguibi-Idrissi H, Julliard R, Bairlein F (2003) Variation in the stopover duration of reed warblers Acrocephalus scirpaceus in Morocco: effects of season, age and site. Ibis 145:650–656

Richardson W (1978) Timing and amount of bird migration in relation to weather: a review. Oikos 30:224–272

Richardson W (1982) Northeastward reverse migration of birds over Nova Scotia, Canada, in autumn. Behav Ecol Sociobiol 10:193–206

Salewski V, Schaub M (2007) Stopover duration of Palearctic passerine migrants in the western Sahara—independent of fat stores? Ibis 149:223–236

Sandberg R (2003) Stored fat and the migratory orientation of birds. In: Berthold P, Gwinner E, Sonnenschein E (eds) Avian migration. Springer-Verlag, New York, pp 515–525

Sandberg R, Moore FR (1996) Migratory orientation of red-eyed vireos, Vireo olivaceus, in relation to energetic condition and ecological context. Behav Ecol Sociobiol 39:1–10

Sandberg R, Moore FR, Bäckman J, Lõhmus M (2002) Orientation of nocturnally migrating Swainson's thrush at dawn and dusk: importance of energetic condition and geomagnetic cues. Auk 119:201–209

Schmaljohann H, Naef-Daenzer B (2011) Body condition and wind support initiate the shift of migratory direction and timing of nocturnal departure in a songbird. J Anim Ecol 80:1115–1122

Smith RJ, Moore FR, May C, Lank DB (2007) Stopover habitat along the shoreline of northern Lake Huron, Michigan: emergent aquatic insects as a food resource for spring migrating landbirds. Auk 124:107–121

Stutchbury B, Tarof S, Done T, Gow E, Kramer P, Tautin J, Fox J, Afanasyev V (2009) Tracking long-distance songbird migration by using geolocators. Science 323:896

Taylor PD, Mackenzie SA, Thurber BG, Calvert AM, Mills AA, McGuire LP, Guglielmo CG (2011) Landscape movements of migratory birds and bats reveal an expanded scale of stopover. PLoS ONE 6:e27054

Woodrey M, Moore FR (1997) Age-related differences in the stopover of fall landbird migrants on the coast of Alabama. Auk 114:695–707
Acknowledgments
We regret the loss of our friend and colleague, Arlo Raim, who relentlessly radio tracked birds and died shortly after the conclusion of this study. Bill Cochran, Jim Cochran, and Tony Borries offered valuable technical support. Mason Cline, Kristin Comolli, Elizabeth Donadio, Erin Gnass, Joanna Hatt, Jennifer Mizen, Nikita Chernetsov, and members of the Migratory Bird Research Group provided important assistance in the field. Blanton Blankenship of Fort Morgan Historic Park and Jereme Phillips and Jackie Isaacs of Bon Secour National Wildlife Refuge provided access to habitats along the Fort Morgan peninsula used for netting and radio tracking. The USACERL provided the automated radio telemetry systems for use on this project. This work was supported by the U.S. Army Construction Engineering Research Laboratory (USACERL), The University of Southern Mississippi, Birmingham Audubon Society, and The American Ornithologists' Union. Any use of trade, product, or firm names is for descriptive purposes only and does not imply endorsement by the U.S. Government.
Ethical standards
All research described herein complies with the laws of the USA.
Conflicts of interest
The authors declare that they have no conflict of interest.
Additional information
Communicated by J. A. Graves
About this article
Cite this article
Smolinsky, J.A., Diehl, R.H., Radzio, T.A. et al. Factors influencing the movement biology of migrant songbirds confronted with an ecological barrier. Behav Ecol Sociobiol 67, 2041–2051 (2013). https://doi.org/10.1007/s00265-013-1614-6
Received:

Revised:

Accepted:

Published:

Issue Date:

DOI: https://doi.org/10.1007/s00265-013-1614-6
Keywords
Catharus ustulatus

Ecological barrier

Energetic condition

Migration

Stopover duration

Swainson's thrush