Abstract
Associations among organisms are thought to form because the benefits, such as increased foraging efficiency or decreased risk of predation, outweigh any costs, such as resource competition. Though many interspecific associations have been described for closely related mammals, few studies have examined the associations between mammals in different orders. The yellow mongoose (Cynictus pencillata), a carnivore, and the Cape ground squirrel (Xerus inauris), a rodent, co-occur in arid and semi-arid South Africa where they share sleeping burrows, predators, a similar body size, and the capability to emit alarm calls in response to predators. To investigate enhanced predator avoidance as a potential benefit explaining the persistence of this association, we assessed individual mongoose vigilance alone and with squirrels or other mongooses, and with varying interspecific group size, using field observations. We also tested for responses to conspecific and heterospecific alarm calls in both study species using playback experiments. The proportion of time mongoose individuals spent vigilant decreased in the presence of squirrels or other mongooses and was negatively correlated with interspecific group size; a similar pattern was previously shown for conspecific groups of Cape ground squirrels. These results are predicted by both the dilution and collective detection hypotheses. In addition, hetero- and conspecific alarm calls elicited vigilance responses in both species. These results suggest that both species can benefit from the collective detection and dilution arising from their interspecific association and that this interspecific association could be mutualistic.
Access options
Buy single article
Instant access to the full article PDF.
USD 39.95
Price excludes VAT (USA)
Tax calculation will be finalised during checkout.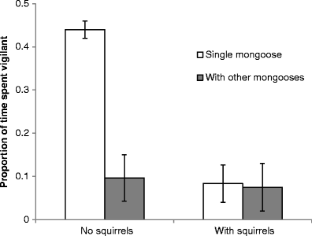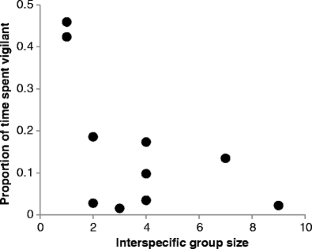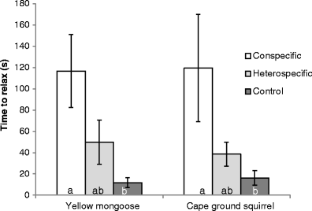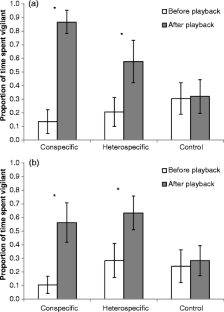 References
Altmann J (1974) Observational study of behavior: sampling methods. Behaviour 49:227–267

Aschemeier LM, Maher CR (2011) Eavesdropping of woodchucks (Marmota monax) and eastern chipmunks (Tamias striatus) on heterospecific alarm calls. J Mammal 92:493–499

Au DWK, Pitman RL (1986) Seabird interactions with dolphins and tuna in the Eastern Tropical Pacific. Condor 88:304–317

Buzzard PJ (2010) Polyspecific associations of Cercopithecus campbelli and C. petaurista with C. diana: what are the costs and benefits? Primates 51:307–314

Desbiez ALJ, Rocha FL, Keuroghlian A (2010) Interspecific association between an ungulate and a carnivore or a primate. Acta Ethol 13:137–139

Edwards S, Waterman JM (2011) Vigilance and grouping in the southern African ground squirrel (Xerus inauris). Afr J Ecol 49:286–291

Fitzgibbon CD (1990) Mixed-species grouping in Thomson's and Grant's gazelles: the antipredator benefits. Anim Behav 39:1116–1126

Furrer RD, Manser MB (2009) The evolution of urgency-based and functionally referential alarm calls in ground-dwelling species. Am Nat 173:400–410

Hamilton WD (1971) Geometry for the selfish herd. J Theor Biol 31:295–311

Herzig-Straschil B (1977) Notes on the feeding habits of the yellow mongoose Cynictis penicillata. Zool Afr 12:225–229

Hillegass M, Waterman JM, Roth JD (2008) The influence of sex and sociality on parasite loads in an African ground squirrels. Behav Ecol 19:1006–1011

Hunter L, Skinner J (1998) Vigilance behavior in African ungulates: the role of predation pressure. Behaviour 135:195–211

Koprowski JL (2002) Handling tree squirrels with a safe and efficient restraint. Wildl Soc B 30:101–103

Le Roux A, Cherry MI, Manser MB (2008) The audience effect in a facultatively social mammal, the yellow mongoose, Cynictis penicillata. Anim Behav 75:943–949

Le Roux A, Cherry MI, Gygax L, Manser MB (2009a) Vigilance behaviour and fitness consequences: comparing a solitary foraging and an obligate group-foraging mammal. Behav Ecol Sociobiol 63:1097–1107

Le Roux A, Cherry MI, Manser MB (2009b) The vocal repertoire in a solitary foraging carnivore, Cynictis penicillata, may reflect facultative sociality. Naturwissenschaften 96:575–584

Lima S (1995) Back to the basics of antipredatory vigilance: the group-size effect. Anim Behav 49:11–20

Manser MB, Bell MB, Fletcher LB (2001) The information that receivers extract from alarm calls in suricates. Proc R Soc Lond B 268:2485–2491

Minta SC, Minta KA, Lott DF (1992) Hunting associations between badgers (Taxidea taxus) and coyotes (Canis latrans). J Mammal 73:814–820

Pulliam HR (1973) On the advantages of flocking. J Theor Biol 38:419–422

Quenette P, Gerard J (1992) From individual to collective vigilance in wild boar (Sus scrofa). Can J Zool 70:1632–1635

Rice WR, Gaines SD (1994) Heads I win, tails you lose—testing directional alternative hypotheses in ecological and evolutionary research. Trends Ecol Evol 9:235–237

Sharpe LL, Joustra AS, Cheery MI (2010) The presence of an avian co-forager reduces vigilance in a cooperative mamma. Biol Lett 6:475–477

Shriner W (1998) Yellow-bellied marmot and golden-mantled ground squirrel responses to heterospecific alarm calls. Anim Behav 55:529–536

Skurski DA, Waterman JM (2005) Xerus inauris. Mamm Species 781:1–4

Sloan JL, Hare JF (2004) Monotony and the information content of Richardson's ground squirrel (Spermophilus richardsonii) repeated calls: tonic communication or signal certainty? Ethology 110:147–156

Smith AC, Kelez S, Buchanan-Smith HM (2004) Factors affecting vigilance within wild mixed-species troops of saddleback (Saguinus fuscicollis) and moustached tamarins (S. mystax). Behav Ecol Sociobiol 56:18–25

Stensland E, Angerbjorn A, Berggren P (2003) Mixed species groups in mammals. Mamm Rev 33:205–223

Taylor PJ, Meester J (1993) Cynictis penicillata. Mamm Species 432:1–7

Treisman M (1975) Predation and evolution of gregariousness. 1. Models for concealment and evasion. Anim Behav 23:779–800

Unck CE, Waterman JM, Verburgt L, Bateman PW (2009) Quantity versus quality: how does level of predation threat affect Cape ground squirrel vigilance? Anim Behav 78:625–632

Van Zyl JHM (1965) The vegetation of the S.A. Lombard Nature Reserve and its utilization by certain antelope. Zool Afr 1:54–71

Waterman JM (1995) The social organization of the Cape ground squirrel (Xerus inauris; Rodentia, Sciuridae). Ethology 101:130–147

Waterman JM (1996) Reproductive biology of a tropical, non-hibernating ground squirrel. J Mammal 77:134–146

Waterman JM, Roth JD (2007) Interspecific associations of Cape ground squirrels with two mongoose species: benefit or cost? Behav Ecol Sociobiol 61:1675–1683

Windfelder TL (2001) Interspecific communication in mixed-species groups of tamarins: evidence from playback experiments. Anim Behav 61:1193–1201

Zumpt IF (1968) The feeding habits of the yellow mongoose, Cynictus penicillata, the suricate, Suricata suricatta, and the Cape ground squirrel, Xerus inauris. J S Afr Vet Med Assoc 39:89–91
Acknowledgments
We thank M. Phillips, M. Ewacha, and C. Baker for assistance with field work, the staff at S.A. Lombard Nature Reserve and North-West Parks and Tourism Board for logistical support, and J. Hare for the use of his equipment. Many thanks to O. Friesen, M. Phillips, R. McDonald, M. Trana, C. Szumski, A. Coulson, J. Markham, D. Weihrauch, and two anonymous reviewers for helpful comments on earlier drafts of the manuscript. Funding for this research was provided by a National Science and Engineering Research Council of Canada Discovery grant to JMW and an NSERC Undergraduate Student Research Award to SAM.
Ethical standards
All the guidelines for the use of animals in research have been adhered to, as well as any requirements and guidelines necessary for studies in South Africa.
Additional information
Communicated by A. I. Schulte-Hostedde
About this article
Cite this article
Makenbach, S.A., Waterman, J.M. & Roth, J.D. Predator detection and dilution as benefits of associations between yellow mongooses and Cape ground squirrels. Behav Ecol Sociobiol 67, 1187–1194 (2013). https://doi.org/10.1007/s00265-013-1544-3
Received:

Revised:

Accepted:

Published:

Issue Date:

DOI: https://doi.org/10.1007/s00265-013-1544-3
Keywords