Abstract
Intense male–male competition driven by high male density during mating can result in the evolution of alternative mating tactics that increase male fertilization success. The effects of alternative male mating tactics on females can range from increased fertilization and genetic benefits to decreased fertilization and loss of paternal care. However, the influence of male competitive behavior and alternative mating tactics on female behavior and reproductive success has seldom been addressed. In this work, I investigated the occurrence of alternative male mating tactics and their potential influence on female behavior and fertilization success in Japanese medaka (Oryzias latipes). Groups of one, two, or four males competed for access to a female in a repeated-measures experiment. Male density had a significant influence on female reproductive output as a result of a change in competitive mode from contest to scramble competition that coincided with more disruption during mating when more than one male attempted to mate. By contrast, sneaking during mating was beneficial to males, as more than one male sired offspring in most spawnings involving sneaker males. These results suggest that there may be conflict between males and females over mating, such that females are detrimentally affected by the occurrence of alternative mating tactics, whereas males may benefit from sneak mating. The occurrence of conflict between the sexes can be related to ecological factors, such as male density, which cause behavioral change in both males and females.
Access options
Buy single article
Instant access to the full article PDF.
USD 39.95
Price excludes VAT (USA)
Tax calculation will be finalised during checkout.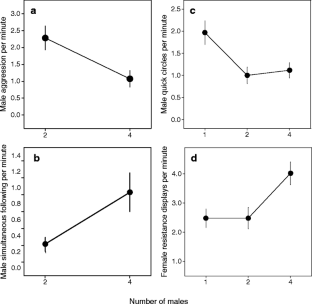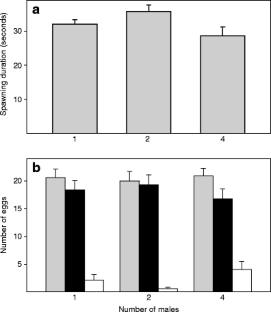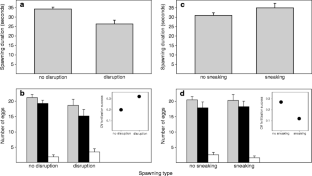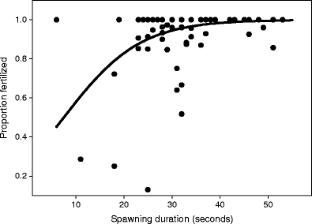 References
Alonzo SH, Warner RR (2000) Allocation to mate guarding or increased sperm production in a Mediterranean wrasse. Am Nat 156:266–275

Andersson M (1994) Sexual selection. Monographs in behavior and ecology. Princeton University Press, Princeton

Arnqvist G (1992) Pre-copulatory fighting in a water strider: inter-sexual conflict or mate assessment? Anim Behav 43:559–567

Arnqvist G, Rowe L (2005) Sexual conflict. Monographs in behavior and ecology. Princeton University Press, Princeton

Brown JL (1964) The evolution of diversity in avian territorial systems. Wilson Bull 76:160–169

Brown W, Crespi BJ, Choe J (1997) Sexual conflict and the evolution of mating systems. In: Choe J, Crespi BJ (eds) The evolution of mating systems in insects and Arachnids. Cambridge University Press, Cambridge, pp 352–377

Byrne PG, Roberts JD (1999) Simultaneous mating with multiple males reduces fertilization success in the myobatrachid frog Crinia georgiana. Proc Roy Soc London B 266:717–721

Clutton-Brock T (2007) Sexual selection in males and females. Science 318:1882–1885

Clutton-Brock TH, Rose KE, Guinness FE (1997) Density-related changes in sexual selection in red deer. Proc Roy Soc London B 264:1509–1516

Davies NB, Halliday TR (1979) Competitive mate searching in male common toads, Bufo bufo. Anim Behav 27:1253–1267

den Hollander M, Gwynne DT (2009) Female fitness consequences of male harassment and copulation in seed beetles, Callosobruchus maculatus. Anim Behav 78:1061–1070

Duchesne P, Godbout M-H, Bernatchez L (2002) PAPA (Package for the Analysis of Parental Allocation): a computer program for simulated and real parental allocation. Mol Ecol Notes 2:191–193

Emlen ST, Oring LW (1977) Ecology, sexual selection, and the evolution of mating systems. Science 197:215–223

Grant JWA, Foam PE (2002) Effect of operational sex ratio on female–female versus male–male competitive aggression. Can J Zool 80:2242–2246

Grant JWA, Casey PC, Bryant MJ, Shahsavarani A (1995) Operational sex ratio, mediated by synchrony of female arrival, alters the variance of male mating success in Japanese medaka. Anim Behav 49:367–375

Grant JWA, Gaboury CL, Levitt H (2000) Competitor-to-resource ratio, a general formulation of operational sex ratio, as a predictor of competitive aggression in Japanese medaka (Pisces: Oryziidae). Behav Ecol 11:670–675

Gross MR (1996) Alternative reproductive strategies and tactics: diversity within sexes. Trends Ecol Evol 11:92–98

Hamilton JB, Walter RO, Daniel RM, Mestler GE (1969) Competition for mating between ordinary and supermale Japanese medaka fish. Anim Behav 17:168–176

Howard RD, Martens RS, Innis SA, Drnevich JM, Hale J (1998) Mate choice and mate competition influence male body size in Japanese medaka. Anim Behav 55:1151–1163

Howard RD, DeWoody JA, Muir WM (2004) Transgenic male mating advantage provides opportunity for Trojan gene effect in a fish. Proc Natl Acad Sci USA 101:2934–2938

Jirotkul M (1999a) Operational sex ratio influences female preference and male–male competition in guppies. Anim Behav 58:287–294

Jirotkul M (1999b) Population density influences male–male competition in guppies. Anim Behav 58:1169–1175

Jirotkul M (2000) Male trait distribution determined alternative mating tactics in guppies. J Fish Biol 56:1427–1434

Johnson SL, Brockmann HJ (2010) Costs of multiple mates: an experimental study in horseshoe crabs. Anim Behav 80:773–782

Kamito A (1928) Early development of the Japanese killifish (Oryzias latipes), with notes on its habits. J Coll Agric Tohoku Imp Univ 10:21–38

Kanoh Y (2000) Reproductive success associated with territoriality, sneaking, and grouping in male rose bitterlings, Rhodeus ocellatus (Pisces: Cyprinidae). Environ Biol Fish 57:143–154

McKinney S, Derrickson SR, Mineau P (1983) Forced copulation in waterfowl. Behaviour 86:250–294

Mills S, Reynolds J (2003) Operational sex ratio and alternative reproductive behaviours in the European bitterling, Rhodeus sericeus. Behav Ecol Sociobiol 54:98–104

Ojanguren A, Magurran A (2007) Male harassment reduces short-term female fitness in guppies. Behaviour 144:503–514

Ono Y, Uematsu T (1957) Mating ethogram in Oryzias latipes. J Fac Sci Hokkaido Univ Ser VI Zool 13:197–202

Parker GA, Ball MA, Stockley P, Gage MJG (1996) Sperm competition games: individual assessment of sperm competition intensity by group spawners. Proc Roy Soc London B 263:1291–1297

Reichard M, Jurajda P, Smith C (2004) Male–male interference competition decreases spawning rate in the European bitterling (Rhodeus sericeus). Behav Ecol Sociobiol 56:34–41

Reichard M, Lecomber S, Smith CC (2007) Sneaking from a female perspective. Anim Behav 74:679–688

Rossi BH, Nonacs P, Pitts-Singer TL (2010) Sexual harassment by males reduces female fecundity in the alfalfa leafcutting bee, Megachile rotundata. Anim Behav 79:165–171

Rowe L (1992) Convenience polyandry in a water strider: foraging conflicts and female control of copulation frequency and guarding duration. Anim Behav 44:189–202

Rowe L (1994) The cost of mating and mate choice in water striders. Anim Behav 48:1049–1056

Shine R, O'Connor D, Mason RT (2000) Sexual conflict in the snake den. Behav Ecol Sociobiol 48:392–401

Shine R, LeMaster MP, Moore IT, Olsson MM, Mason RT (2001) Bumpus in the snake den: effects of sex, size, and body condition on mortality of red-sided garter snakes. Evolution 55:598–604

Shine R, Phillips B, Langkilde T, Lutterschmidt DI, Waye H, Mason RT (2004) Mechanisms and consequences of sexual conflict in garter snakes (Thamnophis sirtalis, Colubridae). Behav Ecol 15:654–660

Thornhill R, Alcock J (1983) The evolution of insect mating systems. Harvard University Press, Cambridge

Tsyusko O, Yi Y, Coughlin D, Main D, Podolsky R, Hinton TG, Glenn TC (2007) Radiation-induced untargeted germline mutations in Japanese medaka. Comp Biochem Physiol C145:103–110

Verrell PA, Krenz JD (1998) Competition for mates in the mole salamander, Ambystoma talpoideum: tactics that may maximize male mating success. Behaviour 135:121–138

Walter RO, Hamilton JB (1970) Head-up movements as an indicator of sexual unreceptivity in female medaka, Oryzias latipes. Anim Behav 18:125–127

Warner RR, Hoffman SG (1980) Population density and the economics of territorial defense in a coral reef fish. Ecology 61:772–780

Weir LK, Grant JWA (2010) Courtship rate signals fertility in an externally fertilizing fish. Biol Lett 6:727–731

Weir LK, Grant JWA, Hutchings JA (2011) The influence of operational sex ratio on the intensity of competition for mates. Am Nat 177:167–176

Westneat DF, Stewart IRK (2003) Extra-pair paternity in birds: causes, correlates, and conflict. Annu Rev Ecol Evol Syst 34:365–396

Yamamoto T (1975) The medaka, Oryzias latipes, and the guppy, Lebistes reticulatus. In: King RC (ed) Handbook of genetics. Plenum, New York, pp 133–149
Acknowledgments
I thank Felix Breden, Kristen Gorman, Jeffrey Joy, and Melissa Taddei for assistance with experiments. Lisa Raeburn and Kevin Simonetto carried out microsatellite analyses, and Andy Cooper provided statistical advice. James Grant, Bernard Crespi, and the FAB* lab research group at Simon Fraser University provided advice throughout this project. I thank the anonymous reviewers whose input greatly improved this manuscript. This work was funded by a Natural Science and Engineering Research Council operating grant to Bernard Crespi and a Natural Science and Engineering Research Council postdoctoral fellowship to L.K.W.
Ethical standards
All experimental procedures were approved by the Canadian Council for Animal Care and adhere to the ASAB/ABS Guidelines for the Use of Animals in Research.
Conflict of interest
None.
Additional information
Communicated by C. R. Gabor
Electronic supplementary material
Below is the link to the electronic supplementary material.
About this article
Cite this article
Weir, L.K. Male–male competition and alternative male mating tactics influence female behavior and fertility in Japanese medaka (Oryzias latipes). Behav Ecol Sociobiol 67, 193–203 (2013). https://doi.org/10.1007/s00265-012-1438-9
Received:

Revised:

Accepted:

Published:

Issue Date:

DOI: https://doi.org/10.1007/s00265-012-1438-9
Keywords