Abstract
A prominent interaction in the lives of social mammals is allogrooming. Individuals allogroom strategically and preferentially, grooming high-quality individuals that control access to resources. This results in distinct patterns of allogrooming within social groups, such that some individuals are groomed more than the others, some dyads express symmetry in allogrooming, and others exchange allogrooming for other benefits. Allopreening, the avian equivalent of allogrooming, occurs commonly in group-living birds, providing the opportunity to test whether social birds also use allopreening strategically in their social relationships. I examined this hypothesis in family-living buff-breasted wrens (Cantorchilus leucotis) by examining allopreening initiation, reciprocation and rate during interactions involving breeding adults and offspring. Buff-breasted wrens exhibit a nuclear family structure in which pairs display long-term partnerships, and juveniles delay dispersing from natal territories for about 10 months. Allopreening was symmetrical between breeding partners: males and females who initiated and reciprocated allopreening of partners with similar frequency, and within reciprocated bouts, allopreening was time-matched. Pairs in which allopreening was not observed were more likely to divorce, but allopreening patterns did not change in successive years of partnerships. Parent–offspring allopreening, by contrast, was asymmetrical in pattern; parents initiated allopreening more than their offspring, and reciprocation never occurred. The different patterns of allopreening observed within buff-breasted wren families suggest the strategic use of allopreening, possibly for the maintenance of long-term partnerships and in exchange for social benefits from offspring.
Access options
Buy single article
Instant access to the full article PDF.
US$ 39.95
Tax calculation will be finalised during checkout.
Subscribe to journal
Immediate online access to all issues from 2019. Subscription will auto renew annually.
US$ 79
Tax calculation will be finalised during checkout.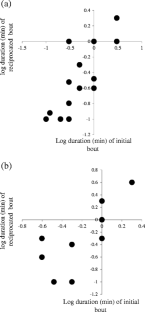 References
Aureli F, Preston SD, de Waal FBM (1999) Heart rate responses to social interactions in free-moving rhesus macaques (Macaca mulatta): a pilot study. J Comp Psychol 113:59–65

Barbour DB, DeGange AR (1982) Reciprocal allopreening in the brown-headed nuthatch. Auk 99:171

Barrett L, Henzi SP, Weingrill T, Lycett JE, Hill RA (1999) Market forces predict grooming reciprocity in female baboons. Proc R Soc Lond B 266:665–670

de Brooke ML (1985) The effect of allopreening on tick burdens of molting eudyptid penguins. Auk 102:893–895

Brown JL (1987) Helping and communal breeding in birds. Princeton University Press, Princeton

Cords M, Aureli F (2000) Reconciliation and relationship qualities. In: Aureli F, de Waal FBM (eds) Natural conflict resolution. University of California Press, Berkeley, pp 177–198

Dunbar RIM (1991) Functional significance of social grooming in primates. Folia Primatol 57:121–131

Emery NJ, Seed AM, von Bayern AMP, Clayton NS (2007) Cognitive adaptations of social bonding in birds. Phil Trans R Soc Lond B 362:489–505

Emlen ST (1982) The evolution of helping. I. An ecological constraints model. Am Nat 119:29–39

Feh C, de Mazières (1993) Grooming at a preferred site reduces heart rate in horses. Anim Behav 46:1191–1994

Forsman ED, Wight HM (1979) Allopreening in owls: what are its functions? Auk 96:525–531

Frank RE, Silk JB (2009) Impatient traders or contingent reciprocators? Evidence for the extended time-course of grooming exchange in baboons. Behaviour 146:1123–1135

Fraser ON, Bugnyar T (2010) The quality of social relationships in ravens. Anim Behav 79:927–933

Gaston AJ (1977) Social behaviour within groups of jungle babblers (Turdoides striatus). Anim Behav 25:828–848

Gayou DC (1986) The social system of the Texas green jay. Auk 103:540–547

Gill SA (2004) First record of cooperative breeding in a Thryothorus wren. Wilson Bull 116:337–341

Gill SA, Stutchbury BJM (2006) Long-term mate and territory fidelity in Neotropical buff-breasted wrens (Thryothorus leucotis). Behav Ecol Sociobiol 61:245–261

Gill SA, Stutchbury BJM (2010) Delayed dispersal and territory acquisition in Neotropical buff-breasted wrens (Thryothorus leucotis). Auk 117:372–378

Gill SA, Vonhof MJ (2006) Sexing monochromatic birds in the field: cryptic sexual size dimorphism in buff-breasted wrens (Thryothorus leucotis). Ornitol Neotrop 17:409–419

Gill SA, Vonhof MJ, Stutchbury BJM, Morton ES, Quinn JS (2005) No evidence for acoustic mate guarding in duetting buff-breasted wrens (Thryothorus leucotis). Behav Ecol Sociobiol 57:557–565

Ginther AJ, Snowdon CT (2009) Expectant parents groom adult sons according to previous alloparenting in a biparental cooperatively breeding primate. Anim Behav 78:287–297

Gomes CM, Mundry R, Boesch C (2009) Long-term reciprocation of grooming in wild West African chimpanzees. Proc R Soc Lond B 276:699–706

Goodwin D (1956) The significance of some behaviour patterns in pigeons. Bird Study 3:25–36

Harrison CJO (1965) Allopreening as agonistic behaviour. Behaviour 24:161–209

Hart BL, Hart LA, Mooring MS, Olubayo R (1992) Biological basis of grooming behaviour in antelope: the body size, vigilance and habitat principles. Anim Behav 44:615–631

Henzi SP, Barrett L (1999) The value of grooming to female primates. Primates 40:47–59

Hinde RA (1976) Interactions, relationships and social structure. Man 11:1–17

Killiam L (1956) Breeding and other habits of casqued hornbills (Bycanistes subcylindricus). Smithson Misc Coll 131:1–43

Kober K, Gaston AJ (2003) Social interactions among breeding Brünnich's guillemots Uria lomvia suggest constraints in relation to offspring vulnerability. Ibis 145:413–418

Koenig W, Dickinson JL (2004) Evolution and ecology of cooperative breeding in birds. Cambridge University Press, Cambridge

Kummer H (1978) On the value of social relationships to nonhuman primates: a heuristic scheme. Soc Sci Info 17:687–705

Kunkel N (1974) Mating systems of tropical birds. Z Tierpsychol 34:265–307

Kutsukake N (2009) Complexity, dynamics and diversity of sociality in group-living mammals. Ecol Res 24:521–531

Kutsukake N, Clutton-Brock TH (2006) Social functions of allogrooming in cooperatively breeding meerkats. Anim Behav 72:1059–1068

Kutsukake N, Clutton-Brock TH (2010) Grooming and the value of social relationships in cooperatively breeding meerkats. Anim Behav 79:271–279

Lazaro-Perea C, Arruda MF, Snowdon CT (2004) Grooming as a reward? Social function of grooming between females in cooperatively breeding marmosets. Anim Behav 67:627–636

Lewis S, Roberts G, Harris MP, Prigmore C, Wanless S (2007) Fitness increases with partner and neighbour allopreening. Biol Lett 3:386–389

Löttker P, Huck M, Zinner DP, Heymann EW (2007) Grooming relationships between breeding females and adult group members in cooperatively breeding moustached tamarins (Saguinus mystax). Amer J Primatol 69:1159–1172

Manson JH, Navarrette CD, Silk JB, Perry S (2004) Time-matched grooming in female primates? New analyses from two species. Anim Behav 67:493–500

Radford AN (2008a) Duration and outcome of intergroup conflict influences intergroup affiliation. Proc R Soc Lond B 275:2787–2791

Radford AN (2008b) Type of threat influences postconfllict allopreening in a social bird. Curr Biol 18:R114–R115

Radford AN (2010) Preparing for battle? Potential intergroup conflict promotes current intragroup affiliation. Biol Lett 7:26–29

Radford AN, Du Plessis MA (2006) Dual functions of allopreening in the cooperatively breeding green woodhoopoe, Phoeniculus purpureus. Behav Ecol Sociobiol 61:221–230

Schino G (2007) Grooming and agonistic support: a meta-analysis of primate reciprocal altruism. Behav Ecol 18:115–120

Schino G, Aureli F (2007) Grooming reciprocation among female primates: a meta-analysis. Biol Lett 4:9–11

Schino G, Di Giuseppe F, Visalberghi E (2009) The time frame of partner choice in the grooming reciprocation of Cebus apella. Ethology 115:70–76

Seyfarth RM, Cheney DL (1984) Grooming, alliances and reciprocal altruism in vervet monkeys. Nature 308:541–542

Shutt K, MacLarnon A, Heistermann M, Semple S (2007) Grooming in Barbary macaques: better to give than to receive? Biol Lett 3:231–233

Sparks JH (1963) Significance of allopreening in the red adavat and its development in other birds. Nature 200:281

Sparks JH (1964) Flock structure of the red adavat with particular reference to clumping and allopreening. Anim Behav 12:125–136

Spoon TR, Millam JR, Owings DH (2004) Variation in the stability of cockatiel (Nymphicus hollandicus) pair relationships: the roles of males, females, and mate compatibility. Behaviour 141:1211–1234

Spoon TR, Millam JR, Owings DH (2007) Behavioural compatibility, extrapair copulation and mate switching in a socially monogamous parrot. Anim Behav 73:815–824

St-Pierre A, Larose K, Dubois F (2009) Long-term social bonds promote cooperation in the iterated prisoner's dilemma. Proc R Soc Lond B 276:4223–4228
Acknowledgements
I thank Autoridad Nacional del Ambiente for the permission to conduct research in Panama; the Smithsonian Tropical Research Institute for logistical support; and C. Edwards, M. Mico and M. Vonhof for their assistance in the field. I thank M. Vonhof and D. Karowe for their encouragement and helpful discussion, and D. Rubenstein and two anonymous reviewers for their excellent comments that have improved the manuscript. This work was supported by the American Museum of Natural History, the American Ornithologist's Union, the Animal Behavior Society, the Sigma Xi and the NSERC.
Conflict of interest
The author declares that she has no conflict of interest.
Additional information
Ethical standards
This study complied with the current laws of Panamá, the country in which the work was performed.
Communicated by D. Rubenstein
About this article
Cite this article
Gill, S.A. Strategic use of allopreening in family-living wrens. Behav Ecol Sociobiol 66, 757–763 (2012). https://doi.org/10.1007/s00265-012-1323-6
Received:

Revised:

Accepted:

Published:

Issue Date:
Keywords
Allopreening

Family living

Long-term partnership

Neotropical

Social relationship