Abstract
Sexual cannibalism particularly before mating is costly for the male victim but also for the female aggressor if she risks remaining unmated. The aggressive spillover hypothesis explains the persistence of this behavior as a maladaptive side effect of positive selection on aggressiveness in a foraging context. The hypothesis predicts that the occurrence of sexual cannibalism is explained by female aggressiveness but is not related to male phenotype or behavioral type. An alternative hypothesis invokes sexual selection and makes the opposite prediction namely that sexual cannibalism is an expression of female choice and should hence mainly target males of low quality. We tested the above hypotheses on a sexually dimorphic nephilid spider Nephilengys livida, known for male monopolization of females via genital damage, female genital plugging, and mate guarding, by staging mating trials during which we recorded mating behaviors and occurrences of pre- and postcopulatory cannibalism. We did not restrict assessment of aggressiveness to the mating and foraging context but also included aggression against same sex conspecifics. To assess female personalities, i.e., consistent individual differences in behavior including aggressiveness, we repeatedly tested them for intra-sex aggression, voracity towards prey, locomotory activity, and boldness. Females exhibited consistent differences in intra-sex aggressiveness, latency to attack prey, and boldness. Aggressive females had shorter latencies to attack prey and were more active than non-aggressive ones. In contrast to the predictions of the aggressive spillover hypothesis, females that were aggressive towards prey and towards other females were not more likely to attack a male than non-aggressive females. In support of the mate choice hypothesis, less aggressive males were more likely attacked and cannibalized than more aggressive ones. This hints at sexual selection for aggressiveness in males and raises the question of mechanisms that maintain variation in male aggressiveness.
Access options
Buy single article
Instant access to the full article PDF.
USD 39.95
Price excludes VAT (USA)
Tax calculation will be finalised during checkout.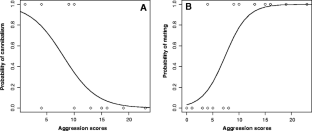 References
Andrade MCB (1996) Sexual selection for male sacrifice in the Australian redback spider. Science 271:70–72

Andrade MCB (1998) Female hunger can explain variation in cannibalistic behavior despite male sacrifice in redback spiders. Behav Ecol 9:33–42

Arnqvist G, Henriksson S (1997) Sexual cannibalism in the fishing spider and a model for the evolution of sexual cannibalism based on genetic constraints. Evol Ecol 11:255–273

Barry KL, Holwell GI, Herberstein ME (2008) Female praying mantids use sexual cannibalism as a foraging strategy to increase fecundity. Behav Ecol 19:710–715

Bell AM, Hankison SJ, Laskowski KL (2009) The repeatability of behaviour: a meta-analysis. Anim Behav 77:771–783

Birkhead TR, Lee KE, Young P (1988) Sexual cannibalism in the praying mantis Hierodula membranacea. Behaviour 106:112–118

R Development Core Team (2010) R: A language and environment for statistical computing. R Foundation for Statistical Computing, Vienna, Austria. Available at http://www.R-project.org Accessed 15 May 2011

Elgar MA (1998) Sperm competition and sexual selection in spiders and other arachnids. In: Birkhead TR, Møller AP (eds) Sperm competition and sexual selection. Academic, San Diego, pp 307–339

Elgar MA (1992) Sexual cannibalism in spiders and other invertebrates. In: Elgar MA, Crespi BJ (eds) Cannibalism: ecology and evolution amongst diverse taxa, 1st edn. Oxford University Press, Oxford, pp 128–155

Elgar MA, Nash DR (1988) Sexual cannibalism in the garden spider Araneus diadematus. Anim Behav 36:1511–1517

Elgar MA, Schneider JM (2004) Evolutionary significance of sexual cannibalism. Adv Stud Behav 34:135–163

Elgar MA, Schneider JM, Herberstein ME (2000) Female control of paternity in the sexually cannibalistic spider Argiope keyserlingi. P Roy Soc Lond B Biol Sci 267:2439–2443

Falconer DS (1996) Introduction to quantitative genetics, 3rd edn. Longman, New York

Fromhage L, Schneider JM (2005) Virgin doves and mated hawks: contest behaviour in a spider. Anim Behav 70:1099–1104

Fromhage L, Schneider JM (2006) Emasculation to plug up females: the significance of pedipalp damage in Nephila fenestrata. Behav Ecol 17:353–357

Gould SJ (1984) Only his wings remained. Natural History 93(9):10–18

Hardin JW, Hilbe JM (2003) Generalized estimating equations. Chapman & Hall/CRC, Boca

Hedrick AV, Riechert SE (1989) Genetically-based variation between 2 spider populations in foraging behavior. Oecologia 80:533–539

Herberstein ME, Schneider JM, Harmer AMT, Gaskett AC, Robinson K, Shaddick K, Soetkamp D, Wilson PD, Pekar S, Elgar MA (2011) Sperm storage and copulation duration in a sexually cannibalistic spider. J Ethol 29:9–15

Johnson JC (2001) Sexual cannibalism in fishing spiders (Dolomedes triton): an evaluation of two explanations for female aggression towards potential mates. Anim Behav 61:905–914

Johnson JC, Sih A (2005) Precopulatory sexual cannibalism in fishing spiders (Dolomedes triton): a role for behavioral syndromes. Behav Ecol Sociobiol 58:390–396

Johnson JC, Sih A (2007) Fear, food, sex and parental care: a syndrome of boldness in the fishing spider, Dolomedes triton. Anim Behav 74:1131–1138

Kralj-Fišer S, Gregorič M, Zhang SC, Li DQ, Kuntner M (2011) Eunuchs are better fighters. Anim Behav 81:933–939

Kuntner M (2007) A monograph of Nephilengys, the pantropical 'hermit spiders' (Araneae, Nephilidae, Nephilinae). Syst Entomol 32:95–135

Kuntner M, Coddington JA (2009) Discovery of the largest orbweaving spider species: the evolution of gigantism in Nephila. PLoS One 4(10):e7516

Kuntner M, Agnarsson I, Gregorič M (2009a) Nephilid spider eunuch phenomenon induced by female or rival male aggressiveness. J Arachnol 37:266–271

Kuntner M, Kralj-Fišer S, Schneider JM, Li D (2009b) Mate plugging via genital mutilation in nephilid spiders: an evolutionary hypothesis. J Zool 277:257–266

Moya-Larano J, Orta-Ocana JM, Barrientos JA, Bach C, Wise DH (2003) Intriguing compensation by adult female spiders for food limitation experienced as juveniles. Oikos 101:539–548

Nessler SH, Uhl G, Schneider JM (2007) Genital damage in the orb-web spider Argiope bruennichi (Araneae: Araneidae) increases paternity success. Behav Ecol 18:174–181

Newman JA, Elgar MA (1991) Sexual cannibalism in orb-weaving spiders-an economic-model. Am Nat 138:1372–1395

Persons MH, Uetz GW (2005) Sexual cannibalism and mate choice decisions in wolf spiders: influence of male size and secondary sexual characters. Anim Behav 69:83–94

Prenter J, MacNeil C, Elwood RW (2006) Sexual cannibalism and mate choice. Anim Behav 71:481–490

Prokop P, Vaclav R (2005) Males respond to the risk of sperm competition in the sexually cannibalistic praying mantis, Mantis religiosa. Ethology 111:836–848

Pruitt JN, Riechert SE, Jones TC (2008) Behavioural syndromes and their fitness consequences in a socially polymorphic spider, Anelosimus studiosus. Anim Behav 76:871–879

Riechert SE, Hedrick AV (1993) A test for correlations among fitness-linked behavioral traits in the spider Agelenopsis aperta (Araneae, Agelenidae). Anim Behav 46:669–675

Riechert SE, Johns PM (2003) Do female spiders select heavier males for the genes for behavioral aggressiveness they offer their offspring? Evolution 57:1367–1373

Riechert SE, Tracy CR (1975) Thermal balance and prey availability–bases for a model relating web-site characteristics to spider reproductive success. Ecology 56:265–284

Roggenbuck H, Pekar S, Schneider JM (2011) Sexual cannibalism in the European garden spider Araneus diadematus: the role of female hunger and mate size dimorphism. Anim Behav 81:749–755

Schneider JM, Gilberg S, Fromhage L, Uhl G (2006) Sexual conflict over copulation duration in a cannibalistic spider. Anim Behav 71:781–788

Sih A, Bell A, Johnson JC (2004) Behavioral syndromes: an ecological and evolutionary overview. Trends Ecol Evol 19:372–378

Snyder WE, Joseph SB, Preziosi RF, Moore AJ (2000) Nutritional benefits of cannibalism for the lady beetle Harmonia axyridis (Coleoptera: Coccinellidae) when prey quality is poor. Environ Entomol 29:1173–1179

Uhl G, Vollrath F (1998) Little evidence for size-selective sexual cannibalism in two species of Nephila (Araneae). Zool-Anal Complex Sy 101:101–106

Uhl G, Nessler S, Schneider J (2009) Securing paternity in spiders? A review on occurrence and effects of mating plugs and male genital mutilation. Genetica 138:75–104

Wilder SM, Rypstra AL (2008) Sexual size dimorphism mediates the occurrence of state-dependent sexual cannibalism in a wolf spider. Anim Behav 76:447–454

Wilder SM, Rypstra AL (2010) Males make poor meals: a comparison of nutrient extraction during sexual cannibalism and predation. Oecologia 162:617–625

Wilder SM, Rypstra AL, Elgar MA (2009) The importance of ecological and phylogenetic conditions for the occurrence and frequency of sexual cannibalism. Annu Rev Ecol Evol Syst 40:21–39

Yan J, Fine JP (2004) Estimating equations for association structures. Stat Med 23:859–880
Acknowledgments
We thank two anonymous reviewers for their helpful comments. We thank Ingi Agnarsson, Sahondra Lalao Rahanitriniaina, and Honore Rabarison for their help in the field. This work was funded by the Slovenian Research Agency (grant J1-2063 to MK) and the National Geographic Society (grant 8655-09 to I. Agnarsson, M. Kuntner, and T. Blackledge). SKF was supported by a Humboldt fellowship for postdoctoral researchers and a Humboldtian Return Fellowship. SP was supported by grant no. 0021622416 from the Ministry of Education, Youth and Sports of the Czech Republic.
Additional information
Communicated by M. Hauber
About this article
Cite this article
Kralj-Fišer, S., Schneider, J.M., Justinek, Ž. et al. Mate quality, not aggressive spillover, explains sexual cannibalism in a size-dimorphic spider. Behav Ecol Sociobiol 66, 145–151 (2012). https://doi.org/10.1007/s00265-011-1262-7
Received:

Revised:

Accepted:

Published:

Issue Date:

DOI: https://doi.org/10.1007/s00265-011-1262-7
Keywords
Personality

Mate choice

Sexual conflict

Aggressiveness

Behavioral syndromes

Boldness