Abstract
In altricial birds, resource allocation during early developmental stages is the result of an interaction between parental feeding decisions and scramble competition between nestmates. Hatching asynchrony in birds leads to a pronounced age hierarchy among their offspring. Therefore, whenever parents exert control over resource allocation parents feeding asynchronous broods should simultaneously assess individual offspring internal condition and age. In this study, we first studied whether the highly ultraviolet (UV) reflective body skin of nestlings in the asynchronous European Roller (Coracias garrulus; roller hereafter) relates to nestling quality. In a second stage, we experimentally studied parental biases in food allocation towards senior and junior sibling rollers in relation to a manipulation of UV reflectance of the skin of their offspring. Heavier roller nestlings had less brilliant and less UV saturated skins than weaker nestlings. In our experiment, we found that parents with large broods preferentially fed nestlings presenting skin coloration revealing small body size (i.e. control nestlings) over nestlings presenting skin coloration revealing large body size (i.e. UV-blocked nestlings). Within the brood, we found that parental food allocation strategy depended on nestling age: parents preferentially fed senior nestlings signalling small body size, but did not show preference between control and UV-blocked junior nestlings. These results emphasise that parent rollers use UV cues of offspring quality while balancing the age of their offspring to adjust their feeding strategies, and suggest that parents may adopt finely tuned strategies of control over resource allocation in asynchronous broods.
Access options
Buy single article
Instant access to the full article PDF.
USD 39.95
Price excludes VAT (USA)
Tax calculation will be finalised during checkout.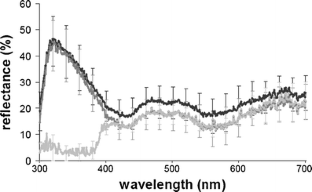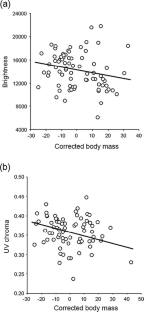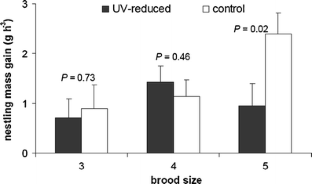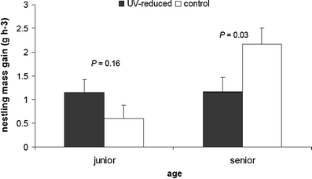 References
Avilés JM (2006) La carraca. Enciclopedia virtual de los vertebrados españoles In: Carrascal LM, Salvador A (ed) Museo Nacional de Ciencias Naturales. http://www.vertebradosibericos.org

Avilés JM, Soler JJ (2009) Nestling colouration is adjusted to parent visual performance in altricial birds. J Evol Biol 22:376–386

Avilés JM, Perez-Contreras T, Navarro C, Soler JJ (2008) Dark nests and conspicuousness in color patterns of nestlings of altricial birds. Am Nat 171:327–338

Bennett ATD, Cuthill IC, Partridge JC, Maier EJ (1996) Ultraviolet vision and mate choice in zebra finches. Nature 380:433–435

Bize P, Piault R, Moureau B, Heeb P (2006) A UV signal of offspring condition mediates context-dependent parental favouritism. Proc R Soc Lond B 273:2063–2068

Clutton-Brock T (1991) The evolution of parental care. Princeton University Press, Princeton, New Jersey

Cotton PA, Wright J, Kacelnik A (1999) Chick begging strategies in relation to brood hierarchies and hatching asynchrony. Am Nat 153:412–420

Cramp S (1998) Cramp's the complete birds of the Western Palearctic. Oxford University Press, Oxford, Optimedia

de Ayala RM, Saino N, Møller AP, Anselmi C (2007) Mouth coloration of nestlings covaries with offspring quality and influences parental feeding behavior. Behav Ecol 18:526–534

Dugas MB (2009) House sparrow, Passer domesticus, parents preferentially feed nestlings with mouth colours that appear carotenoid-rich. Anim Behav 78:767–772

Galvan I, Amo L, Sanz JJ (2008) Ultraviolet-blue reflectance of some nestling plumage patches mediates parental favouritism in great tits Parus major. J Avian Biol 39:277–282

Godfray HCJ (1991) Signaling of need by offspring to their parents. Nature 352:328–330

Godfray HCJ (1995) Evolutionary-theory of parent-offspring conflict. Nature 376:133–138

Gomez D (2006) AVICOL. A program to analyse spectrometric data., Vol. 1

Griggio M, Morosinotto C, Pilastro A (2009) Nestlings' carotenoid feather ornament affects parental allocation strategy and reduces maternal survival. J Evol Biol 22:2077–2085

Hart NS (2002) Vision in the peafowl (Aves: Pavo cristatus). J Exp Biol 205:3925–3935

Hastad O, Victorsson J, Odeen A (2005) Differences in color vision make passerines less conspicuous in the eyes of their predators. Proc Nat Acad Sci 102:6391–6394

Heeb P, Schwander T, Faoro S (2003) Nestling detectability affects parental feeding preferences in a cavity-nesting bird. Anim Behav 66:637–642

Hunt S, Kilner RM, Langmore NE, Bennett ATD (2003) Conspicuous, ultraviolet-rich mouth colours in begging chicks. Proc R Soc Lond B 270:S25–S28

Jeon J (2008) Evolution of parental favoritism among different-aged offspring. Behav Ecol 19:344–352

Jourdie V, Moureau B, Bennett ATD, Heeb P (2004) Ultraviolet reflectance by the skin of nestlings. Nature 431:262

Kilner R (1995) When do canary parents respond to nestling signals of need? Proc R Soc Lond B 260:343–348

Kilner R, Davies NB (1998) Nestling mouth colour: ecological correlates of a begging signal. Anim Behav 56:705–712

Kilner R, Noble DG, Davies NB (1999) Signals of need in parent-offspring communication and their exploitation by the common cuckoo. Nature 397:667–672

Lotem A (1998) Higher levels of begging behavior by small nestlings: a case of a negatively correlated handicap. Isr J Zool 44:29–45

Macnair MR, Parker GA (1978) Models of parent-offspring conflict. 2. Promiscuity. Anim Behav 26:111–122

Macnair MR, Parker GA (1979) Models of parent-offspring conflict. 3. Intra-brood conflict. Anim Behav 27:1202–1209

Magrath RD (1990) Hatching asynchrony in altricial birds. Biol Rev 65:587–622

Marchetti K, Price T (1989) Differences in the foraging of juvenile and adult birds—the importance of developmental constraints. Biol Rev 64:51–70

Mock DW, Parker GA (1997) The evolution of sibling rivalry. Oxford University Press, Oxford

Montgomerie R (2006) Analyzing colors. Bird coloration, vol. 1: mechanism and measurements. Harvard University Press, Harvard, pp 90–147

Odeen A, Hastad O (2003) Complex distribution of avian color vision systems revealed by sequencing the SWS1 opsin from total DNA. Mol Biol Evol 20:855–861

Parejo D, Silva N, Avilés JM (2007) Within-brood size differences affect innate and acquired immunity in roller Coracias garrulus nestlings. J Avian Biol 38:717–725

Parejo D, Avilés JM, Rodriguez J (2010a) Visual cues and parental favouritism in a nocturnal bird. Biol Lett 6:171–173

Parejo D, Silva N, Avilés JM, Danchin E (2010b) Developmental plasticity varied with sex and position in hatching hierarchy in nestlings of the asynchronous European roller, Coracias garrulus. Biol J Linn Soc 99:500–511

Parker GA, Macnair MR (1978) Models of parent-offspring conflict. 1. Monogamy. Anim Behav 26:97–110

Parker GA, Macnair MR (1979) Models of parent-offspring conflict. 4. Suppression—evolutionary retaliation by the parent. Anim Behav 27:1210–1235

Parker GA, Royle NJ, Hartley IR (2002) Begging scrambles with unequal chicks: interactions between need and competitive ability. Ecol Lett 5:206–215

Penteriani V, Delgado MD, Alonso-Alvarez C, Pina NV, Sergio F, Bartolommei P, Thompson LJ (2007) The importance of visual cues for nocturnal species: eagle owl fledglings signal with white mouth feathers. Ethology 113:934–943

Price K, Ydenberg R (1995) Begging and provisioning in broods of asynchronously-hatched yellow-headed blackbird nestlings. Behav Ecol Sociobiol 37:201–208

Prum RO, Torres R (2003) Structural colouration of avian skin: convergent evolution of coherently scattering dermal collagen arrays. J Exp Biol 206:2409–2429

Saino N, Ninni P, Calza S, Martinelli R, De Bernardi F, Møller AP (2000) Better red than dead: carotenoid-based mouth coloration reveals infection in barn swallow nestlings. Proc R Soc Lond B 267:57–61

Saino N, Ambrosini R, Martinelli R, Ninni P, Møller AP (2003) Gape coloration reliably reflects immunocompetence of barn swallow (Hirundo rustica) nestlings. Behav Ecol 14:16–22

Sheldon BC, Andersson S, Griffith S, Örnborg J (1999) Ultraviolet colour variation influences blue tit sex ratios. Nature 402:874–877

Silva N, Avilés JM, Danchin E, Parejo D (2008) Informative content of multiple plumage-coloured traits in female and male European Rollers. Behav Ecol Sociobiol 62:1969–1979

Smiseth PT, Amundsen T (2002) Senior and junior nestlings in asynchronous bluethroat broods differ in their effectiveness of begging. Evol Ecol Res 4:1177–1189

Smiseth PT, Bu RJ, Eikenaes AK, Amundsen T (2003) Food limitation in asynchronous bluethroat broods: effects on food distribution, nestling begging, and parental provisioning rules. Behav Ecol 14:793–801

Soler JJ, Avilés JM, Cuervo JJ, Pérez-Contreras T (2007) Is the relation between colour and immune response mediated by nutritional condition in spotless starling nestlings? Anim Behav 74:1139–1145

Tanner M, Richner H (2008) Ultraviolet reflectance of plumage for parent-offspring communication in the great tit (Parus major). Behav Ecol 19:369–373

Tanner M, Kolliker M, Richner H (2008) Differential food allocation by male and female great tit, Parus major, parents: are parents or offspring in control? Anim Behav 75:1563–1569

Trivers RL (1974) Parent-offspring conflict. Am Zool 14:249–264

Tschirren B, Fitze PS, Richner H (2005) Carotenoid-based nestling colouration and parental favouritism in the great tit. Oecologia 143:477–482

Vorobyev M, Osorio D, Bennett ATD, Marshall NJ, Cuthill IC (1998) Tetrachromacy, oil droplets and bird plumage colours. J Comp Physiol A 183:621–633

Wiebe KL, Slagsvold T (2009) Mouth coloration in nestling birds: increasing detection or signalling quality? Anim Behav 78:413–1420
Acknowledgements
This research was funded by the Spanish Ministry of Education and Science/FEDER (CGL2008-00718) to JMA and DP and PIE 200930I029 to JMA.
Additional information
Communicated by S. Pruett-Jones
About this article
Cite this article
Avilés, J.M., Parejo, D. & Rodríguez, J. Parental favouritism strategies in the asynchronously hatching European Roller (Coracias garrulus). Behav Ecol Sociobiol 65, 1549–1557 (2011). https://doi.org/10.1007/s00265-011-1164-8
Received:

Revised:

Accepted:

Published:

Issue Date:

DOI: https://doi.org/10.1007/s00265-011-1164-8
Keywords
Asynchronous hatching

Intra-family conflict

Nestling coloration

Parental preference

Parent–offspring communication

Rollers