Abstract
A recent hypothesis suggests that birds' blue-green egg colors may be a sexually selected signal of female (and potentially nestling) quality that males use to make parental investment decisions. While there is some empirical support for this idea, both theory and observations question its validity. To test this hypothesis experimentally, we examined the influence of egg color on male American robin Turdus migratorius behavior by replacing natural clutches with four artificial eggs that were all either pale or vividly colored, close to the extremes in natural egg coloration. At the end of the incubation period, three unrelated nestlings were fostered into each experimental nest, and parental provisioning behavior was monitored when nestlings were 3, 6, and 9 days old. Male provisioning rate for 3-day-old nestlings was significantly higher in the vivid egg treatment compared to both the pale egg treatment and untreated controls, but there was no effect of egg color on paternal behavior at the older nestling stages. Male feeding rate at unmanipulated nests was only weakly positively related to natural egg color (chroma) when nestlings were 3 days old. These results suggest that blue-green egg color may act as a post-mating signal of female quality or investment in this species, but our findings do not exclude the possibility that egg color pigmentation also serves other adaptive functions.
Access options
Buy single article
Instant access to the full article PDF.
USD 39.95
Price excludes VAT (USA)
Tax calculation will be finalised during checkout.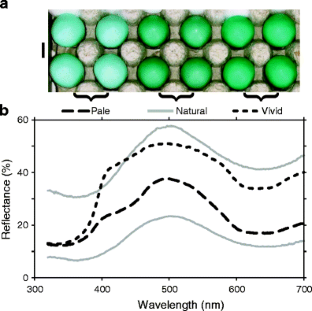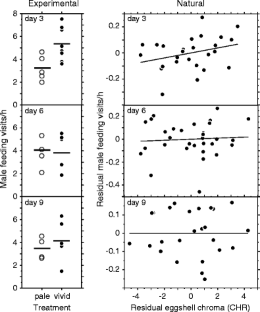 References
Anderson DR (2008) Model based inference in the life sciences: a primer on evidence. Springer, New York

Burkhardt D, Finger E (1991) Black, white and UV: how birds see birds. Naturwissenschaften 78:279–280

Cassey P, Ewen JG, Blackburn TM, Hauber ME, Vorobyev M, Marshall NJ (2008) Eggshell colour does not predict measures of maternal investment in eggs of Turdus thrushes. Naturwissenschaften 95:713–721

Cassey P, Ewen JG, Marshall NJ, Vorobyev M, Blackburn TM, Hauber ME (2009) Are avian eggshell colours effective intraspecific communication signals in the Muscicapoidea? A perceptual modelling approach. Ibis 151:689–698

Endler JA (1990) On the measurement and classification of colour in studies of animal colour patterns. Biol J Linn Soc 41:315–352

Falchuk KH, Contin JM, Dziedzic TS, Feng Z, French TC, Heffron GJ, Montorzi M (2002) A role for biliverdin IX in dorsal axis development of Xenopus laevis embryos. Proc Natl Acad Sci USA 99:252–256

Hanley D, Heiber G, Dearborn DC (2008) Testing an assumption of the sexual-signaling hypothesis: does blue-green egg color reflect maternal antioxidant capacity? Condor 110:767–771

Hanley D, Doucet SM, Dearborn DC (2010) A blackmail hypothesis for the evolution of conspicuous egg coloration in birds. Auk 127:453–459

Kaur H, Hughes MN, Green CJ, Naughton P, Foresti R, Motterlini R (2003) Interaction of bilirubin and biliverdin with reactive nitrogen species. FEBS Lett 543:113–119

Kilner RM (2006) The evolution of egg colour and patterning in birds. Biol Rev 81:383–406

Krist M, Grim T (2007) Are blue eggs a sexually selected signal of female collared flycatchers? A cross-fostering experiment. Behav Ecol Sociobiol 61:863–876

Langmore NE, Stevens M, Maurer G, Kilner RM (2009) Are dark cuckoo egss cryptic in host nests? Anim Behav 78:461–468

Lahti DC (2008) Population differentiation and rapid evolution of egg color in accordance with solar radiation. Auk 125:796–802

López-Rull I, Miksik I, Gil D (2008) Egg pigmentation reflects female and egg quality in the spotless starling Sturnus unicolor. Behav Ecol Sociobiol 62:1877–1884

Montgomerie R (2006) Analyzing colors. In: Hill GE, McGraw KJ (eds) Bird coloration I: mechanisms and measurements. Harvard University Press, Cambridge, pp 40–147

Morales J, Sanz JJ, Moreno J (2006) Egg colour reflects the amount of yolk maternal antibodies and fledging success in a songbird. Biol Lett 2:334–336

Morales J, Velando A, Moreno J (2008) Pigment allocation to eggs decreases plasma antioxidants in a songbird. Behav Ecol Sociobiol 63:227–233

Moreno J, Osorno JL (2003) Avian egg colour and sexual selection: does eggshell pigmentation reflect female condition and genetic. Ecol Lett 6:803–806

Moreno J, Osorno JL, Morales J, Merino S, Tomas G (2004) Egg colouration and male parental effort in the pied flycatcher Ficedula hypoleuca. J Avian Biol 35:300–304

Moreno J, Morales J, Lobato E, Merino S, Tomas G, Martinez-de la Puente J (2005) Evidence for the signaling function of egg color in the pied flycatcher Ficedula hypoleuca. Behav Ecol 16:931–937

Moreno J, Morales J, Lobato E, Merino S, Tomas G, Martinez-de la Puente J (2006) More colourful eggs induce a higher relative paternal investment in the pied flycatcher Ficedula hypoleuca: a cross-fostering experiment. J Avian Biol 37:555–560

Polačiková L, Grim T (2010) Blunt egg pole holds cues for alien egg discrimination: experimental evidence. J Avian Biol 41:111–116

Poulton EB (1890) The colours of animals: their meaning and use. The international scientific series, vol. LXVIII. Kegan Paul, Trench, Trubner and Co., London

Quinn GP, Keough MJ (2002) Experimental design and data analysis for biologists. Cambridge University Press, Cambridge

R Development Core Team (2009) R: a language and environment for statistical computing. R Foundation for Statistical Computing, Vienna, Austria. http://www.R-project.org/

Reynolds SJ, Martin GR, Cassey P (2009) Is sexual selection blurring the functional significance of eggshell coloration hypotheses? Anim Behav 78:209–215

Sallabanks R, James FC (1999) American robin (Turdus migratorius). In: Poole A (ed) The birds of North America Online. Cornell Lab of Ornithology, Ithaca. Retrieved from the Birds of North America Online: http://bna.birds.cornell.edu/bna/species/462. doi:10.2173/bna.462

Siefferman L, Navara KJ, Hill GE (2006) Egg colouration is correlated with female condition in eastern bluebirds (Sialia sialis). Behav Ecol Sociobiol 59:651–656

Smith HG, Montgomerie R (1991) Nestling American robins compete with siblings by begging. Behav Ecol Sociobiol 29:307–312

Soler JJ, Navarro C, Contreras TP, Aviles JM, Cuervo JJ (2008) Sexually selected egg coloration in spotless starlings. Am Nat 171:183–194

Solomon SE (1997) Egg and eggshell quality. Iowa State University Press, Ames

Sorby HC (1875) On the colouring-matters of the shells of birds' eggs. Proc Zool Soc Lond 23:351–365

Underwood TJ, Sealy SG (2002) Adaptive significance of egg colouration. In: Deeming DC (ed) Avian incubation, behaviour, environment and evolution. Oxford University Press, Oxford, pp 280–289

Wallace AR (1889) Darwinism: an exposition of the theory of natural selection, with some of its applications, 2nd edn. MacMillan, New York
Acknowledgments
We thank Lori Parker, Fraser Cameron, Sara Calhim, Susan Crowe, and Mark Conboy for their time and support throughout the field season; Fraser Cameron for watching the many hours of recorded feeding behavior; and dozens of private landowners who gave permission to work on their properties, including the Queen's University Biological Station. We are also grateful for P. R. Martin and V. L. Friesen's comments and suggestions throughout this project and for the suggestions made by M. Hauber and anonymous reviewers. Funding was provided by the Natural Sciences and Engineering Research Council of Canada in the form of Graduate Scholarships, Discovery Grants and equipment (RTI) grants.
Additional information
Communicated by M. Hauber
Electronic supplementary materials
Below is the link to the electronic supplementary material.
About this article
Cite this article
English, P.A., Montgomerie, R. Robin's egg blue: does egg color influence male parental care?. Behav Ecol Sociobiol 65, 1029–1036 (2011). https://doi.org/10.1007/s00265-010-1107-9
Received:

Revised:

Accepted:

Published:

Issue Date:

DOI: https://doi.org/10.1007/s00265-010-1107-9
Keywords
American robin

Egg color

Parental care

Mate assessment

Sexual selection

Reproduction