Abstract
Virtually all animal conflicts occur over access to mates or resources that affect survival, the two key components of fitness. In this paper, we report that predation risk and mate defense jointly affect the outcomes of contests between male sand crabs (Scopimera globosa) for burrows in which crabs mate and take shelter from predators. We observed the contests under three different conditions: (1) the natural condition of low predation risk and without the presence of a female; (2) the first experiment in which we imposed upon only intruding males the perception of predation risk—by digging them from their burrows, capturing and handling them, and placing them into other males' burrows—to increase the value of the burrows for the intruders as shelter, and (3) the second experiment in which we repeated this treatment but increased the resource value of the burrow to the resident by placing a female in his burrow. The difference in body size between contestants was the main determinant of victory in all analyses. However, perceived predation risk also partly affected the outcomes of the fights: The motivated intruders were likely to win even when they were a little smaller than the residents. In addition, defense of a female had a significant effect on the outcomes of fights: The motivated residents won more fights than the motivated intruders, indicating that these two treatments caused asymmetric increases of the resource value. This is the first report of two external factors simultaneously raising resource value, affecting motivation of contestants, and altering the outcome of fights.
Access options
Buy single article
Instant access to the full article PDF.
US$ 39.95
Tax calculation will be finalised during checkout.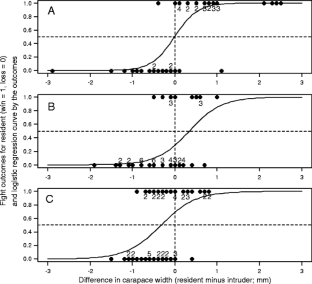 References
Andersson M (1994) Sexual selection. Princeton University Press, Princeton

Backwell PRY, Passmore NI (1996) Time constraints and multiple choice criteria in the sampling behavior and mate choice of the fiddler crab, Uca annulipes. Behav Ecol Sociobiol 38:407–416

Backwell PRY, O'Hara PD, Christy JH (1998) Prey availability and selective foraging in shorebirds. Anim Behav 55:1659–1667

Bradbury JW, Vehrencamp SL (1998) Principles of animal communication. Sinauer, Sunderland

Briffa M, Sneddon LU (2007) Physiological constraints on contest behaviour. Funct Ecol 21:627–637

Briffa M, Elwood RW, Dick JTA (1998) Analysis of repeated signals during shell fights in the hermit crab Pagurus bernhardus. Proc Roy Soc B 265:1467–1474

Brown WD, Chimenti AJ, Siebert JR (2007) The payoff of fighting in house crickets: motivational asymmetry increases male aggression and mating success. Ethology 113:457–465

Buena LJ, Walker SE (2008) Information asymmetry and aggressive behaviour in male house crickets, Acheta domesticus. Anim Behav 75:199–204

Christy JH (1982) Burrow structure and use in the sand fiddler crab, Uca pugilator (Bosc). Anim Behav 30:687–694

Christy JH, Salmon M (1984) Ecology and evolution of mating systems of fiddler crabs (genus Uca). Biol Rev 59:483–509

Davies NB (1978) Territorial defence in the speckled wood butterfly (Pararge aegeria): the resident always wins. Anim Behav 26:138–147

de Rivera CE (2005) Long searches for male-defended breeding burrows allow female fiddler crabs, Uca crenulata, to release larvae on time. Anim Behav 70:289–297

Elwood RW, Neil SJ (1992) Assessment and decisions: a study of information gathering by hermit crabs. Chapman and Hall, London

Endler JA (1986) Natural selection in the wild. Princeton University Press, Princeton

Enquist M, Leimar O (1987) Evolution of fighting behaviour: the effect of variation in resource value. J Theor Biol 127:187–205

Fayed SA, Jennions MD, Backwell PRY (2008) What factors contribute to an ownership advantage? Biol Lett 4:143–145

Gherardi F (2006) Fighting behavior in hermit crabs: the combined effect of resource-holding potential and resource value in Pagurus longicarpus. Behav Ecol Sociobiol 59:500–510

Hazlett BA (1970) The effect of shell size and weight on the agonistic behavior of a hermit crab. Z Tierphychol 27:369–374

Hazlett BA (1981) The behavioral ecology of hermit crabs. Ann Rev Ecol Syst 12:1–22

Hazlett BA, Rubenstein DI, Rittschof D (1975) Starvation, energy reserves, and aggression in the crayfish Orconectes virilis. Crustaceana 28:11–16

Helfman GS (1989) Threat-sensitive predator avoidance in damselfish–trumpetfish interactions. Behav Ecol Sociobiol 24:47–58

Huber R, Smith K, Delago A, Isakson K, Kravitz E (1997) Serotonin and aggressive motivation in crustaceans: altering the decision to retreat. Proc Natl Acad Sci USA 94:5939–5942

Humphries EL, Hebblethwaite AJ, Batchelor TP, Hardy ICW (2006) The importance of valuing resources: host weight and contender age as determinants of parasitoid wasp contest outcomes. Anim Behav 72:891–898

Hyatt GW, Salmon M (1978) Combat in the fiddler crabs Uca pugilator and U. pugnax: a quantitative analysis. Behaviour 65:182–211

Jennings DJ, Gammell MP, Carlin CM, Hayden TJ (2004) Effect of body weight, antler length, resource value and experience on fight duration and intensity in fallow deer. Anim Behav 68:213–221

Jennions MD, Backwell PRY (1996) Fighting behaviour in the fiddler crab Uca annulipes: body size, residency and weapon size. Biol J Linn Soc 57:293–306

Jonart LM, Hill GE, Badyaev AV (2007) Fighting ability and motivation: determinants of dominance and contest strategies in females of a passerine bird. Anim Behav 74:1675–1681

Kemp DJ, Wiklund C (2004) Residency effects in animal contests. Proc Roy Soc B 271:1707–1711

Kemp DJ, Wiklund C, Dyck HV (2006) Contest behaviour in the speckled wood butterfly (Pararge aegeria): seasonal phenotypic plasticity and the functional significance of flight performance. Behav Ecol Sociobiol 59:403–411

Koga T (1998) Reproductive success and two modes of mating in the sand bubbler crab Scopimera globosa. J Exp Mar Biol Ecol 229:197–207

Koga T, Hayashi K (1993) Territorial behavior of both sexes in the water strider Metrocoris histrio (Hemiptera: Gerridae) during the mating season. J Insect Behav 6:65–77

Koga T, Murai M (1997) Size-dependent mating behaviours of male sand-bubbler crab Scopimera globosa: alternative tactics in the life history. Ethology 103:578–587

Koga T, Henmi Y, Murai M (1993) Sperm competition and the assurance of underground copulation in the sand bubbler crab Scopimera globosa (Brachyura: Ocypodidae). J Crust Biol 13:134–137

Koga T, Backwell PRY, Jennions MD, Christy JH (1998) Elevated predation risk changes mating behaviour and courtship in a fiddler crab. Proc Roy Soc B 265:1385–1390

Koga T, Murai M, Yong H-S (1999) Male–male competition and intersexual interactions in underground mating of the fiddler crab Uca paradussumieri. Behaviour 136:651–667

Koga T, Backwell PRY, Christy JH, Murai M, Kasuya E (2001) Male-biased predation of a fiddler crab. Anim Behav 62:201–207

Krebs JR (1982) Territorial defense in the great tit (Parus major): do residents always win? Behav Ecol Sociobiol 11:185–194

Lappin AK, Husak JF (2005) Weapon performance, not size, determines mating success and potential reproductive output in the collared lizard (Crotaphytus collaris). Am Nat 166:426–436

Lima SL, Dill LM (1990) Behavioral decisions made under the risk of predation: a review and prospectus. Can J Zool 68:619–640

Lindströn K, Pampoulie C (2005) Effects of resource holding potential and resource value on tenure at nest sites in sand gobies. Behav Ecol 16:70–74

Magnhagen C (1991) Predation risk as a cost of reproduction. Trends Evol Ecol 6:183–186

Oliveira RF, Lopes M, Carneiro LA, Canário AVM (2001) Watching fights raises fish hormone levels. Nature 409:475

Olsson M, Shine R (2000) Ownership influences the outcome of male–male contests in the scincid lizard, Niveoscincus microlepidotus. Behav Ecol 11:587–590

Ono Y (1965) On the ecological distribution of ocypodid crabs in the estuary. Mem Fac Sci Kyushu Univ 4:1–60

Pratt AE, McLain DK, Lathrop GR (2003) The assessment game in sand fiddler crab contests for breeding burrows. Anim Behav 65:945–955

Pratt AE, McLain DK, Berry AS (2005) Variation in the boldness of courting sand fiddler crabs (Uca pugilator). Ethology 111:63–76

Reaney LT (2007) Foraging and mating opportunities influence refuge use in the fiddler crab, Uca mjoebergi. Anim Behav 73:711–716

Rohwer S, Rohwer FC (1978) Status signaling in Harris sparrows: experimental deceptions achieved. Anim Behav 26:1012–1022

Sneddon LU, Huntingford FA, Taylor AC (1997) Weapon size versus body size as a predictor of winning in fights between shore crabs, Carcinus maenas (L.). Behav Ecol Sociobiol 41:237–242

Takahashi M, Suzuki N, Koga T (2001) Burrow defense behaviors in a sand-bubbler crab, Scopimera globosa, in relation to body size and prior residence. J Ethol 19:93–96

Wada K (1986) Burrow usurpation and duration of surface activity in Scopimera globosa (Crustacea: Brachyura: Ocypodidae). Publ Seto Mar Biol Lab 31:327–332

Wada K (1993) Territorial behavior, and sizes of home range and territory, in relation to sex and body size in Ilyoplax pusilla (Crustacea: Brachyura: Ocypodidae). Mar Biol 115:47–52

Whitehouse MEA (1997) Experience influences male–male contests in the spider Argyrodes antipodiana (Theridiidae: Araneae). Anim Behav 53:913–923

Wilson EO (1975) Sociobiology: the new synthesis. Harvard University Press, Cambridge

Yoshino K, Goshima S (2002) Sexual dominance in hermit crab shell fights: asymmetries in owner–intruder status, crab size, and resource value between sexes. J Ethol 20:63–69
Acknowledgments
We thank Patricia Backwell, Michael Jennions, and John Christy for assistance with editing and correction of the English. Kenji Yoshino and Yoiti Yusa helped with some of the statistics. Kenji Yoshino also gave suggestions for literature references and composed the figure. Many valuable comments by the associate editor and two reviewers greatly improved the final version of this paper.
Additional information
Communicated by M. Jennions
About this article
Cite this article
Koga, T., Ikeda, S. Perceived predation risk and mate defense jointly alter the outcome of territorial fights. Behav Ecol Sociobiol 64, 827–833 (2010). https://doi.org/10.1007/s00265-009-0899-y
Received:

Revised:

Accepted:

Published:

Issue Date:
Keywords
Contests

Fights

Resource value

Motivation

Perceived predation risk

Mate acquisition