Abstract
Many prey assess predation risk through predator chemical cues. Numerous studies have shown that (1) prey sometimes respond to chemical cues produced by heterospecifics and (2) that many species are capable of associative learning. This study extends this research by focusing on predation risk assessment and antipredator behavior in environments containing chemical cues produced by multiple prey species. The results show that green frog (Rana clamitans) tadpoles (1) assess risk from the chemical cue produced during predation by a heterospecific (gray tree frog, Hyla versicolor, tadpoles) and (2) can exhibit similarly strong behavioral responses to a mix of conspecific and heterospecific cues compared to conspecific cue alone, depending on their conditioning environment. I then discuss how the prey choice of the predators and the relative abundances of the prey species should influence the informational value of heterospecific cues.
Access options
Buy single article
Instant access to the full article PDF.
USD 39.95
Price includes VAT (USA)
Tax calculation will be finalised during checkout.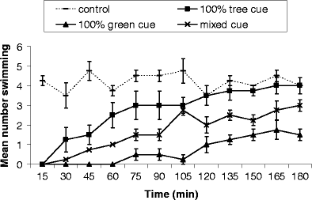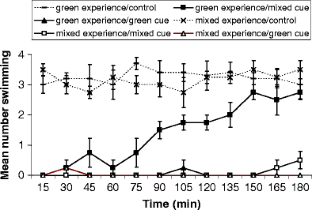 References
Aquistapace P, Calamai L, Hazlett BA, Gherardi F (2005) Source of alarm substances in crayfish and their preliminary chemical characterization. Can J Zool 83:1624–1630

Chivers DP, Smith RJF (1998) Chemical alarm signaling in aquatic predator–prey systems: a review and prospectus. Ecoscience 5:338–352

Collins JP, Wilbur HM (1979) Breeding habits and habitats of the amphibians of the Edwin S. George Reserve, Michigan with notes on the local distribution of fishes. Occas Pap Mus Zool Univ Mich 686:1–34

Dalesman S, Rundle SD, Bilton DT, Cotton PA (2007) Phylogenetic relatedness and ecological interactions determine antipredator behavior. Ecology 88:2462–2467

Dupuch A, Magnan P, Dill LM (2004) Sensitivity of northern redbelly dace, Phoxinus eos, to chemical alarm cues. Can J Zool 82:407–415

Ferrari MCO, Gonzalo A, Messier F, Chivers DP (2007) Generalization of learned predator recognition: an empirical test and framework for future studies. Proc Roy Soc Lond B 274:1853–1859

Fraker ME (2008) The dynamics of predation risk assessment: responses of anuran larvae to chemical cues of predators. J Anim Ecol 77:638–645

Kats LB, Dill LM (1998) The scent of death: chemosensory assessment of predation risk by prey animals. Ecoscience 5:361–394

Mirza RS, Chivers DP (2001) Learned recognition of heterospecifc alarm signals: the importance of a mixed predator diet. Ethology 107:1007–1018

Mirza RS, Ferrari MCO, Kiesecker JM, Chivers DP (2006) Responses of American toad tadpoles to predation cues: behavioural response thresholds, threat-sensitivity, and acquired predator recognition. Behaviour 143:877–889

Peacor SD, Werner EE (1997) Trait-mediated indirect interactions in a simple aquatic food web. Ecology 78:1146–1156

Petranka J, Hayes L (1998) Chemically mediated avoidance of a predatory odonate (Anax junius) by American toad (Bufo bufo) and wood frog (Rana sylvatica) tadpoles. Behav Ecol Sociobiol 42:263–271

Phelps SM, Rand AS, Ryan MJ (2007) The mixed-species chorus as public information: tungara frogs eavesdrop on a heterospecific. Behav Ecol 18:108–114

Pollock MS, Chivers DP (2004) The effects of density on the learned recognition of heterospecific alarm cues. Ethology 110:341–349

Relyea RA (2001) Morphological and behavioral plasticity of larval anurans in response to different predators. Ecology 82:523–540

Schoeppner NM, Relyea RA (2005) Damage, digestion, and defence: the roles of alarm cues and kairomones for inducing prey defenses. Ecol Lett 8:505–512

Suboski MD (1992) Releaser-induced recognition learning by amphibians and reptiles. Anim Learn Behav 20:63–82

Thompson RM, Hemberg M, Starzomski BM, Shurin JB (2007) Trophic levels and trophic tangles: the prevalence of omnivory in real food webs. Ecology 88:612–617

Tollrian R (1993) Neckteeth formation in Daphnia pulex as an example of continuous phenotypic plasticity—morphological effects of Chaoborus kairomone concentration and their quantification. J Plankton Res 15:1309–1318

Van Buskirk J, Arioli M (2002) Dosage response of an induced defense: how sensitive are tadpoles to predation risk? Ecology 83:1580–1585

Wisenden BD, Cline A, Sparkes TC (1999) Survival benefit to anti-predator behavior in the amphipod Gammarus minus (Custacea:Amphipoda) in response to injury-released chemical cues from conspecifics and heterospecifics. Ethology 105:407–414
Acknowledgments
I thank Sarah Seiter for providing gray tree frog tadpoles. The Werner lab provided comments and discussion that improved this manuscript. Three anonymous reviewers also made comments that improved this manuscript. All work was approved by the University of Michigan's University Committee on the Use and Care of Animals (permit 7765). Funding was provided by National Science Foundation grant DEB-0089809 to Earl E. Werner and Scott D. Peacor. All work complies with the current laws of the United States of America.
Additional information
Communicated by J. Christensen-Dalsgaard
About this article
Cite this article
Fraker, M.E. Predation risk assessment by green frog (Rana clamitans) tadpoles through chemical cues produced by multiple prey. Behav Ecol Sociobiol 63, 1397–1402 (2009). https://doi.org/10.1007/s00265-009-0822-6
Received:

Revised:

Accepted:

Published:

Issue Date:
Keywords
Activity level

Antipredator behavior

Anuran

Associative learning

Chemical cue