Abstract
The activity level of prey reflects a trade-off between predation risk and foraging gain. A number of theoretical and empirical studies have shown that a prey's energetic state or the level of its resource should influence this trade-off (i.e., what the optimal activity level at a level of predation risk is). Here, I show that the energetic state of prey may also influence the duration of their antipredator behavioral response. Green frog tadpoles (Rana clamitans) reduced their activity level for a shorter time during exposure to the chemical cue of predatory larval dragonflies (Anax spp.) as their time since last feeding increased (i.e., as their energetic state decreased). Interestingly, the tadpoles strongly reduced their activity level upon cue exposure in all treatments. Thus, the relative activity level of tadpoles at different energetic states varied over time.
Access options
Buy single article
Instant access to the full article PDF.
US$ 39.95
Tax calculation will be finalised during checkout.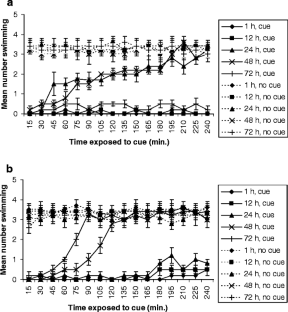 References
Abrams PA (1984) Foraging time optimization and interactions in food webs. Am Nat 124:80–96

Altwegg R, Reyer H-U (2003) Patterns of natural selection on size at metamorphosis in water frogs. Evolution 57:872–882

Anholt BR, Werner EE (1998) Predictable changes in predation mortality as a consequence of changes in food availability and predation risk. Evol Ecol 12:729–738

Dill LM, Fraser AHG (1984) Risk of predation and the feeding behavior of juvenile coho salmon (Oncorhynchus kisutch). Behav Ecol Sociobiol 16:65–71

Eklov P, Werner EE (2000) Multiple predator effects on size-dependent behavior and mortality of two species of anuran larvae. Oikos 88:250–258

Hazlett BR (2003) The effects of starvation on crayfish responses to alarm odor. Ethology 109:587–592

Holker F, Stief P (2005) Adaptive behaviour of chironomid larvae (Chironomus riparius) in response to chemical stimuli from predators and resource density. Behav Ecol Sociobiol 58:256–263

Horat P, Semlitsch RD (1994) Effects of predation risk and hunger on the behaviour of two species of tadpoles. Behav Ecol Sociobiol 34:393–401

Houston AI, McNamara JM, Hutchinson JMC (1993) General results concerning the trade-off between gaining energy and avoiding predation. Phil Trans Roy Soc Lond B 341:375–397

Kats LB, Dill LM (1998) The scent of death: chemosensory assessment of predation risk by prey animals. Ecoscience 5:361–394

Koops MA (2004) Reliability and the value of information. Anim Behav 67:103–111

Lima SL (1998) Stress and decision-making under the risk of predation: recent developments from behavioral, reproductive, and ecological perspectives. Adv Study Behav 27:215–290

Lima SL, Dill LM (1990) Behavioral decisions made under the risk of predation: a review and prospectus. Can J Zool 68:619–640

Lima SL, Steury TD (2005) Perception of predation risk: the foundation of nonlethal predator–prey interactions. In: Barbosa P, Castellanos I (eds) Ecology of predator–prey interactions. Oxford UP, Oxford, pp 166–188

McNamara JM, Houston AI (1987) Starvation and predation as factors limiting population size. Ecology 68:1515–1519

McNamara JM, Houston AI (1994) The effect of a change in foraging options on intake rate and predation rate. Am Nat 144:978–1000

Post JR, Parkinson EA (2001) Energy allocation strategy in young fish: allometry and survival. Ecology 82:1040–1051

Rohr JR, Madison DM, Sullivan AM (2003) On temporal variation and conflicting selection pressures: a test of theory using newts. Ecology 84:1816–1826

Sih A (1992) Prey uncertainty and the balancing of antipredator and feeding needs. Am Nat 139:1052–1069

Sih A, Ziemba R, Harding KC (2000) New insights on how temporal variation in predation risk shapes prey behavior. TREE 15:3–4

Turner AM, Montgomery SL (2003) Spatial and temporal scales of predator avoidance: experiments with fish and snails. Ecology 84:616–622

Watkins TB, McPeek MA (2006) Growth and predation risk in green frog (Rana clamitans) tadpoles: a quantitative genetic analysis. Copeia 2006:478–488

Werner EE, Anholt B (1993) Ecological consequences of the trade-off between growth and predation mortality rates mediated by foraging activity. Am Nat 142:242–272
Acknowledgements
I thank Jon Falk for helping to maintain the tadpole cultures and set up the experiments, Scott Peacor for lending his screened containers, and Earl Werner and two anonymous reviewers for providing numerous suggestions that improved this manuscript. This research was funded through a University of Michigan Block Grant, an ESGR Scholarship, and National Science Foundation grant DEB-0089809 to Earl Werner and Scott Peacor. All works were approved by the University of Michigan's University Committee on Animal Care and Use. All works comply with the current laws of the United States of America.
Additional information
Communicated by J. Christensen-Dalsgaard
About this article
Cite this article
Fraker, M.E. The effect of hunger on the strength and duration of the antipredator behavioral response of green frog (Rana clamitans) tadpoles. Behav Ecol Sociobiol 62, 1201–1205 (2008). https://doi.org/10.1007/s00265-008-0549-9
Received:

Revised:

Accepted:

Published:

Issue Date:
Keywords
Activity level

Chemical cue

Energetic state

Predation risk assessment