Abstract
Although human behaviour abounds with reciprocal altruism, few examples exist documenting reciprocal altruism in animals. Recent non-experimental evidence suggests that reciprocal altruism may be more common in nature than previously documented. Here we present experimental evidence of mobbing behaviour, the joint assault on a predator in an attempt to drive it away, as reciprocal altruism in the breeding pied flycatcher (Ficedula hypoleuca). Given a choice, pied flycatchers assisted in mobbing initiated by co-operating neighbours and did not join in mobbing when initiated by conspecific neighbours which had defected from necessary assistance 1 h before. The results suggest the birds followed a 'tit-for-tat'-like strategy and that mobbing behaviour of breeding birds may be explained in terms of reciprocal altruism.
Access options
Buy single article
Instant access to the full article PDF.
US$ 39.95
Tax calculation will be finalised during checkout.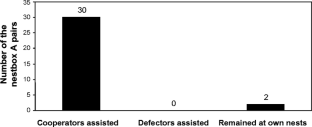 References
Alatalo RV, Gustafsson L, Lundberg (1984) Why do young passerine birds have shorter wings than older birds? Ibis 126:410–415

Altmann SA (1956) Avian mobbing behavior and predator recognition. Condor 58:241–253

Arnold KE (2000) Group mobbing behaviour and nest defence in a cooperatively breeding Australian bird. Ethology 106:385–393

Axelrod R (1980) Effective choices in the prisoner's dilemma. J Confl Resolut 24:3–25

Axelrod R, Hamilton WD (1981) The evolution of cooperation. Science 211:1390–1396

Bautista LM, Lane SJ (2000) Coal tits increase evening body mass in response to tawny owl calls. Acta Ethol 2:105–110

Becker P (1984) Tageszeitliche Steigerung der Feindabwehr der Fluseeschwalbe (Sterna hirundo). Z Tierpsychol 66:265–280

Bergmann HH, Helb HW (1982) Stimmen der Vögel Europas. BLV Verlagsgesellschaft, Munich

Clements KC, Stephens DW (1995) Testing models of non-kin cooperation: Mutualism and the prisoner's dilemma. Anim Behav 50:527–535

Clutton-Brock TH, Parker GA (1995) Punishment in animal societies. Nature 73:209–216

Creutz G (1955) Der Trauerschnäpper (Muscicapa hypoleuca) (Pallas). Eine Populationsstudie. J Ornithol 96:241–326

Curio E (1959) Verhaltenstudien am Trauerschnäpper Suppl Z Tierpsychol 3:1–118

Curio E (1961a) Zur geographischen Variation von Verhaltensweisen. Vogelwelt 82:33–47

Curio E (1961b) Rassenspezifisches Verhalten gegen einen Raubfeind. Experientia 17:188

Curio E (1975) The functional organization of anti-predator behaviour in the pied flycatcher: a study of avian visual perception. Anim Bhav 23:1–115

Curio E (1978) The adaptive significance of avian mobbing. I. Teleonomic hypotheses and predictions. Z Tierpsychol 48:175–183

Curio E, Regelmann K (1985) The behavioural dynamics of great tits (Parus major) approaching a predator. Z Tierpsychol 69:3–18

Curio E, Regelmann K (1986) Predator harassment implies a real deadly risk: a reply to Hennessy. Ethology 72:75–78

Denson RD (1979) Owl predation on a mobbing crow. Wilson Bull 91:133

Desrochers A, Bélisle M, Bourque J (2002) Do mobbing calls affect the perception of predation risk by forest birds? Anim Behav 64:709–714

de Waal FBM (2000) Attitudinal reciprocity in food sharing among brown capuchin monkeys. Anim Behav 60:253–261

Dominey WJ (1983) Mobbing behaviour in colonially nesting fishes, especially the bluegill, Lepomis macrochirus. Copeia 4:1086–1088

Dugatkin LA (1988) Do guppies play tit for tat during predator inspection visits? Behav Ecol Sociobiol 25:395–399

Dugatkin LA, Mesterton-Gibbons M, Houston AI (1992) Beyond the prisoner's dilemma: towards models to discriminate among mechanisms of cooperation in nature. Trends Ecol Evol 7:202–205

Fischer EA (1988) Simultaneous hermaphroditism, tit for tat, and the evolutionary stability of social systems. Ethol Sociobiol 9:119–136

Flasskamp A (1994) The adaptive significance of avian mobbing. V. An experimental test of the 'move on' hypothesis. Ethology 96:322–333

Forsman JT, Mönkkönen M, Helle P, Inkeröinen J (1998) Heterospecific attraction and food resources in migrants' breeding patch selection in northern boreal forest. Oecologia 115:278–286

Godard R (1993) Tit for tat among neighboring hooded warblers. Behav Ecol Sociobiol 33:45–50

Hauser MD, Chen MK, Chen F, Chuang E (2003) Give unto others: Genetically unrelated cotton-top tamarin monkeys preferentially give food to those who altruistically give food back. Proc R Soc Lond B 270:2363–2370

Hoogland JL, Sherman PW (1976) Advantages and disadvantages of bank swallow (Riparia riparia) coloniality. Ecol Monogr 46:33–58

Karlsson L, Persson K, Wallinder G (1986) Ageing and sexing in pied flycatchers, Ficedula hypoleuca. Vår Fågelvärld 45:131–146

Krama T, Krams I (2005) Cost of mobbing call to breeding pied flycatcher, Ficedula hypoleuca. Behav Ecol 16: 37–40

Krams I, Krama T (2002) Interspecific reciprocity explains mobbing behaviour of the breeding chaffinches, Fringilla coelebs. Proc R Soc Lond B 269:2345–2350

Krams I, Krama T, Igaune K (2006a) Alarm calls of wintering great tits Parus major: warning of mate, reciprocal altruism or a message to the predator? J Avian Biol 37:131–136

Krams I, Krama T, Igaune K (2006b) Mobbing behaviour: reciprocity-based co-operation in breeding pied flycatcher Ficedula hypoleuca. Ibis 148:50–54

Kruuk H (1964) Predators and anti-predator behaviour of the black-headed gull (Larus ridibundus L.). Behaviour 11(Suppl):1–129

Luce RD, Raiffa H (1957) Games and decisions. Dover, New York

Mendres KA, de Waal FBM (2000) Capuchins do cooperate: the advantage of an intuitive task. Anim Behav 60:523–529

Milinski M (1987) Tit for tat and the evolution of cooperation in sticklebacks. Nature 325:433–437

Mönkkönen M, Helle P, Niemi G, Montgomery K (1997) Heterospecific attraction affects community structure and migrant abundances in northern breeding bird communities. Can J Zool 75:2077–2083

Naguib M, Mundry R, Ostreiher R, Hultsch H, Schrader L, Todt D (1999) Cooperatively breeding Arabian babblers call differently when mobbing in different predator-induced situations. Behav Ecol 10:636–640

Ojanen M (1987) A method for age determination of pied flycatcher Ficedula hypoleuca in spring. Acta Regiae Societatis Scientiarum et Litterarum Gothoburgensis. Zoologica 14:95–101

Olendorf R, Getty R, Scribner K (2004) Cooperative nest defence in red-winged blackbirds: reciprocal altruism, kinship or by-product mutualism? Proc R Soc Lond B 271:177–182

Packer C (1977) Reciprocal altruism in Papio anubis. Nature 265:441–443

Packer C, Ruttan LM (1988) The evolution of cooperative hunting. Am Nat 132:159–198

Pavey RC, Smyth AK (1998) Effects of avian mobbing on roost use and diet of powerful owls, Ninox strenua. Anim Behav 55:313–318

Pettifor RA (1990) The effects of avian mobbing on a potential predator, the European kestrel, Falco tinnunculus. Anim Behav 39:821–827

Pitcher TJ, Green DA, Magurran AE (1986) Dicing with death: predator inspection behaviour in minnow shoals. J Fish Biol 28:439–448

Roberts G (1998) Competitive altruism: from reciprocity to the handicap principle. Proc R Soc Lond B 265:427–431

Robinson SK (1985) Coloniality in the yellow-rumped cacique (Cacicus cela) as a defense against nest predators. Auk 102:506–519

Shalter MD (1978) Effect of spatial context on the mobbing behaviour of pied flycatchers to a predator model. Anim Behav 26:1219–1221

Shedd DH (1983) Seasonal variation in mobbing intensity in the black-capped chickadee. Wilson Bull 95:343–348

Slagsvold T (1980) Habitat selection in birds: on the presence of other bird species with special regard to Turdus pilaris. J Anim Ecol 49:523–536

Snow D, Perrins C (1997) The birds of the Western Palearctic. Oxford University Press, Oxford

Sordahl TA (1990) The risks of avian mobbing and distraction behavior: an anecdotal review. Wilson Bull 102:349–352

Stephens DW, McLinn CM, Stevens JR (2002) Discounting and reciprocity in an iterated prisoner's dilemma. Science 298:2216–2218

Taborsky M (1987) Cooperative behaviour in fish: coalitions, kin groups and reciprocity. In: Ito Y, Brown JL, Kikkawa J (eds) Animal societies: theories and facts. Japan Scientific Societies Press, Tokyo, pp 229–239

Trivers RL (1971) The evolution of reciprocal altruism. Q Rev Biol 46:35–57

Verbeek NA (1985) Behavioural interactions between avian predators and their avian prey: play behaviour or mobbing? Z Tierpsychol 67:204–214

Wilkinson GS (1984) Reciprocal food sharing in the vampire bats. Nature 308:181–184
Acknowledgements
We thank Gary D. Ramey, Olof Leimar, André Dhondt and Peter Marler for comments on the manuscript. Staffan Ulfstrand, John Quinn, Derek Parsons and Ilva Everte provided valuable suggestions and advice in preparing the experiment. Suggestions by Ben Sheldon helped us to prepare the secondary control experiment. Eberhard Curio and Walther Thiede encouraged us to test mobbing as a type of tit-for-tat experimentally. This work was supported by the Latvian Science Council (IK) and EU VPD1/ESF/PIAA/04/NP/3.2.3.1/0003/0065/ (KI). The experiments comply with the current laws of the Republic of Latvia.
Additional information
Communicated by M. Leonard
About this article
Cite this article
Krams, I., Krama, T., Igaune, K. et al. Experimental evidence of reciprocal altruism in the pied flycatcher. Behav Ecol Sociobiol 62, 599–605 (2008). https://doi.org/10.1007/s00265-007-0484-1
Received:

Revised:

Accepted:

Published:

Issue Date:
Keywords
Reciprocal altruism

Co-operation

Anti-predator behaviour

Mobbing

Pied flycatcher