Abstract
Monogamy is rare in mammals (<5% spp.) but occurs in greater frequency among primates (15%) and their close relatives, the treeshrews (100%; Order: Scandentia). Two genetic studies of parentage in monogamous primates revealed high rates of extra-pair paternity (EPP), but to date parentage has not been studied in a treeshrew species. I analyzed the genetic parentage of 22 offspring from two populations of large treeshrews in Sabah, Malaysia (NE Borneo), using seven autosomal microsatellite loci and one mitochondrial DNA marker. Half of these offspring were sired by males that were not the presumed partner of the mother (50% EPP), and three litters exhibited evidence of multiple paternity. However, comparative analysis indicated that the high rate of EPP in Tupaia tana is not associated with intense sperm competition. Relative testis size of treeshrews was similar to testis size in 22 primate species with uni-male mating systems but smaller than 44 primates with multi-male mating systems. After factoring out the effects of body size and phylogeny, I also found that the evolution of multi-male mating systems was significantly associated with the evolution of larger testis size. Male–female pairs of T. tana occupy joint territories but forage and sleep alone ("dispersed pair-living"), and I argue that this form of behavioral monogamy renders mate guarding ineffective. The adaptive advantages of behavioral monogamy likely differ from the advantages driving EPP in large treeshrews. However, small testis size suggests that behavioral monogamy is not masking a dispersed multi-male mating system in this species.
Access options
Buy single article
Instant access to the full article PDF.
US$ 39.95
Tax calculation will be finalised during checkout.
Subscribe to journal
Immediate online access to all issues from 2019. Subscription will auto renew annually.
US$ 79
Tax calculation will be finalised during checkout.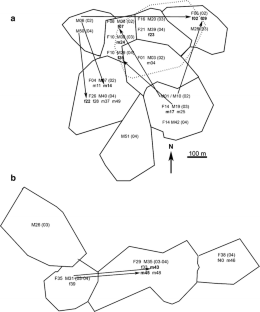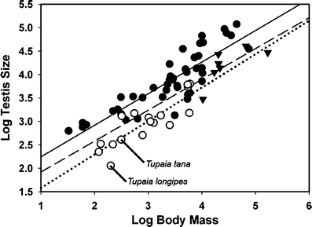 References
Albrecht T, Kreisinger J, Pialek J (2006) The strength of direct selection against female promiscuity is associated with rates of extrapair fertilizations in socially monogamous songbirds. Am Nat 167:739–744

Arnason U, Adegoke J, Bodin K, Born E, Esa Y, Gullberg A, Nilsson M, Short R, Xu X, Janke A (2002) Mammalian mitogenomic relationships and the root of the eutherian tree. Proc Natl Acad Sci USA 99:8151–8156

Arnqvist G, Kirkpatrick M (2005) The evolution of infidelity in socially monogamous passerines: the strength of direct and indirect selection on extrapair copulation behavior in females. Am Nat 165:S26–S37

Brotherton P, Komers P (2003) Mate guarding and the evolution of social monogamy in mammals. In: Reichard U, Boesch C (eds) Monogamy: mating strategies and partnerships in birds, humans and other mammals. Cambridge University Press, Cambridge, UK, pp 42–58

Brotherton P, Manser M (1997) Female dispersion and the evolution of monogamy in the dik-dik. Anim Behav 54:1413–1424

Brotherton P, Rhodes A (1996) Monogamy without biparental care in a dwarf antelope. Proc R Soc Lond B 263:23–29

Carter C, DeVries A, Getz L (1995) Physiological substrates of mammalian monogamy: the prairie vole model. Neurosci Biobehav Rev 19:303–314

Cohas A, Yoccoz N, Da Silva A, Goossens B, Allaine D (2006) Extra-pair paternity in the monogamous alpine marmot (Marmota marmota): the role of social setting and female mate choice. Behav Ecol Sociobiol 59:597–605

Dakin E, Avise J (2004) Microsatellite null alleles in parentage analysis. Heredity 93:504–509

Dietz J (1984) Ecology and social organization of the maned wolf (Chrysocyon brachyurus). Smithson Contrib Zool 392:1–51

Eberle M, Kappeler P (2004a) Selected polyandry: female choice and inter-sexual conflict in a small nocturnal solitary primate (Microcebus murinus). Behav Ecol Sociobiol 57:91–100

Eberle M, Kappeler P (2004b) Sex in the dark: determinants and consequences of mixed male mating tactics in Microcebus murinus, a small nocturnal primate. Behav Ecol Sociobiol 57:77–90

Emmons L (2000) Tupai: a field study of Bornean Treeshrews. University of California Press, Los Angeles

Felsenstein J (1985) Phylogenies and the comparative method. Am Nat 125:1–15

Fietz J, Zischler H, Schwiegk C, Tomiuk J, Dausmann K, Ganzhorn J (2000) High rates of extra-pair young in the pair-living fat-tailed dwarf lemur, Cheirogaleus medius. Behav Ecol Sociobiol 49:8–17

Fleischer R, Tarr C, Morton E, Sangmeister A, Derrickson K (1997) Mating system of the dusky antbird, a tropical passerine, as assessed by DNA fingerprinting. The Condor 99:512–514

Foerster K, Delhey K, Johnsen A, Lifjeld J, Kempenaers (2003) Females increase offspring heterozygosity and fitness through extra-pair matings. Nature 425:714–717

Gage M, Freckleton R (2003) Relative testis size and sperm morphometry across mammals: no evidence for an association between sperm competition and sperm length. Proc R Soc Lond B 270:625–632

Girman D, Mills M, Geffen E, Wayne R (1997) A molecular genetic analysis of social structure, dispersal, and interpack relationships of the African wild dog (Lycaon pictus). Behav Ecol Sociobiol 40:187–198

Goossens B, Graziani L, Waits LP, Farand E, Magnolon S, Coulon J, Bel M-C, Taberlet P, Allaine D (1998) Extra-pair paternity in the monogamous Alpine marmot revealed by nuclear DNA microsatellite analysis. Behav Ecol Sociobiol 43:281–288

Griffith S (2000) High fidelity on islands: a comparative study of extrapair paternity in passerine birds. Behav Ecol 11:265–273

Griffith S, Owens I, Thuman K (2002) Extra pair paternity in birds: a review of interspecific variation and adaptive function. Mol Ecol 11:2195–2212

Hall T (1999) BioEdit: a user-friendly biological sequence alignment editor and analysis program for Windows 95/98/NT. Nucleic Acids Symp Ser 41:95–98

Harcourt A, Purvis A, Liles L (1995) Sperm competition: mating system, not breeding season, affects testes size of primates. Funct Ecol 9:468–476

Hosken D (1998) Testes mass in megachiropteran bats varies in accordance with sperm competition theory. Behav Ecol Sociobiol 44:169–177

Isvaran K, Clutton-Brock T (2007) Ecological correlates of extra-group paternity in mammals. Proc R Soc Lond B 274:219–224

Johnsen A, Andersen V, Sunding C, Lifjeld J (2000) Female bluethroats enhance offspring immunocompetence through extra-pair copulations. Nature 406:296–299

Kalinowski S, Taper M (2006) Maximum likelihood estimation of the frequency of null alleles at microsatellite loci. Conservation Genetics 7:991–995

Kalinowski S, Wagner A, Taper M (2006) ML-Relate: a computer program for maximum likelihood estimation of relatedness and relationship. Mol Ecol Notes 6:576–579

Kappeler P (1997) Intrasexual selection and testis size in stepsirrhine primates. Behav Ecol 8:10–19

Kitchen A, Gese E, Waits L, Karki S, Schauster E (2006) Multiple breeding strategies in the swift fox, Vulpes velox. Anim Behav 71:1029–1038

Kleiman DG (1977) Monogamy in mammals. Q Rev Biol 52:39–69

Kleiman D, Malcolm J (1981) The evolution of male parental investment in mammals. In: Gubernick D, Klopfer P (eds) Parental Care in Mammals. Plenum, New York, pp 347–387

Komers P, Brotherton P (1997) Female space use is the best predictor of monogamy in mammals. Proc R Soc London B 264:1261–1270

Lack D (1968) Ecological adaptations for breeding in birds. Methuen, London

Marshall T, Slate J, Kruuk L, Pemberton J (1998) Statistical confidence for likelihood-based paternity inference in natural populations. Mol Ecol 7:639–655

Martin R (1966) Tree shrews: unique reproductive mechanism of systematic importance. Science 152:1402–1404

Martin R (1968) Reproduction and ontogeny in tree-shrews (Tupaia belangeri), with reference to their general behaviour and taxonomic relationships. Zeitschrift für Tierpyschologie 25:409–496, 505–532

McCracken G, Wilkinson G (2000) Bat mating systems. In: Crichton E, Krutzsch P (eds) Reproductive biology of bats. Academic, New York, pp 321–362

Milligan B (2003) Maximum-likelihood estimation of relatedness. Genetics 163:1153–1167

Müller A, Thalmann U (2000) Origin and evolution of primate social organisation: a reconstruction. Biol Rev 75:405–435

Munshi-South J (2006) Asocial monogamy, extra-pair paternity, and dispersal in the large treeshrew (Tupaia tana). Ph.D. Dissertation, University of Maryland, College Park, MD. freely available at http://hdl.handle.net/1903/3467

Munshi-South J, Wilkinson G (2006) Isolation and characterization of polymorphic microsatellite loci in Bornean treeshrews (Tupaia spp.). Mol Ecol Notes 6:698–699

Munshi-South J, Emmons L, Bernard H (2007) Behavioral monogamy and fruit availability in the large treeshrew (Tupaia tana) in Sabah, Malaysia. Journal of Mammalogy (in press)

Murphy W, Eizirik E, Johnson W, Zhang Y, Ryder O, O'Brien S (2001) Molecular phylogenetics and the origins of placental mammals. Nature 409:614–618

Parker G, Ball M, Stockley P, Gage M (1997) Sperm competition games: a prospective analysis of risk assessment. Proc R Soc Lond B 264:1793–1802

Petrie M, Doums C, Moller A (1998) The degree of extra-pair paternity increases with genetic variability. Proc Natl Acad Sci USA 95:9390–9395

Purvis A (1995) A composite estimate of primate phylogeny. Philos Trans R Soc Lond B 348:405–421

Purvis A, Rambaut A (1995) Comparative analysis by independent contrasts (CAIC): an apple Macintosh application for analysing comparative data. Comput Appl Biosci 11:247–251

Purvis A, Webster A (1999) Phylogenetically independent comparisons and primate phylogeny. In: Lee P (ed) Comparative primate socioecology. Cambridge University Press, Cambridge, UK, pp 44–70

Rathbun G (1979) The social structure and ecology of elephant-shrews. Adv Ethol 20:1–79

Rathbun G, Rathbun C (2006) Social structure of the bushveld sengi (Elephantulus intufi) in Namibia and the evolution of monogamy in the Macroscelidea. J Zool 269:391–399

Reichard U (1995) Extra-pair copulations in a monogamous gibbon (Hylobates lar). Ethology 100:99–112

Reichard U (2003) Monogamy: past and present. In: Reichard U, Boesch C (eds) Monogamy: mating strategies and partnerships in birds, humans and other mammals. Cambridge University Press, Cambridge, pp 3–26

Ribble D (2003) The evolution of social and reproductive monogamy in Peromyscus: evidence from Peromyscus californicus (the California mouse). In: Reichard U, Boesch C (eds) Monogamy: mating strategies and partnerships in birds, humans and other mammals. Cambridge University Press, Cambridge, pp 81–92

Roemer G, Smith D, Garcelon D, Wayne R (2001) The behavioural ecology of the island fox (Urocyon littoralis). J Zool 255:1–14

Rozen S, Skaletsky H (2000) Primer3 on the WWW for general users and for biologist programmers. In: Krawetz S, Misener S (eds) Bioinformatics methods and protocols: methods in molecular biology. Humana, Totowa, NJ, pp 365–386

SAS Institute (2003) JMP 5.0.1.2. SAS Institute, Cary, NC

Schmitz J, Ohme M, Zischler H (2000) The complete mitochondrial genome of Tupaia belangeri and the phylogenetic affiliation of scandentia to other eutherian orders. Mol Biol Evol 17:1334–1343

Schmoll T, Dietrich V, Winkel W, Epplen J, Lubjuhn T (2003) Long-term fitness consequences of female extra-pair matings in a socially monogamous passerine. Proc R Soc Lond B 270:259–264

Schülke O (2005) Evolution of pair-living in Phaner furcifer. Int J Primatol 26:903–919

Schülke O, Ostner J (2005) Big times for dwarfs: social organization, sexual selection, and cooperation in the Cheirogaleidae. Evol Anthropol 14:170–185

Schülke O, Kappeler P, Zischler H (2004) Small testes size despite high extra-pair paternity in the pair-living nocturnal primate Phaner furcifer. Behav Ecol Sociobiol 55:293–301

Sheldon B, Merila J, Qvarnstrom A, Gustafsson L, Ellegren H (1997) Paternal genetic contribution to offspring condition predicted by size of male secondary sexual character. Proc R Soc Lond B 264:297–302

Slate J, Marshall T, Pemberton J (2000) A retrospective assessment of the accuracy of the paternity inference program CERVUS. Mol Ecol 9:801–808

Solomon N, Keane B, Knoch L, Hogan P (2004) Multiple paternity in socially monogamous prairie voles (Microtus ochrogaster). Can J Zool 82:1667–1671

Sommer S, Tichy H (1999) Major histocompatibility complex (MHC) class II polymorphism and paternity in the monogamous Hypogeomys antimena, the endangered, largest endemic Malagasy rodent. Mol Ecol 8:1259–1272

Spencer P, Horsup A, Marsh H (1998) Enhancement of reproductive success through mate choice in a social rock-wallaby, Petrogale assimilis (Macropodidae) as revealed by microsatellite markers. Behav Ecol Sociobiol 43:1–9

Stutchbury B, Morton E (1995) The effect of breeding synchrony on extra-pair mating systems in songbirds. Behaviour 132:675–690

Stutchbury B, Morton E (2001) Behavioral ecology of tropical birds. Academic, New York

Trivers R (1972) Parental investment and sexual selection. In: Campbell B (ed) Sexual selection and the descent of man. Aldine, Chicago

van Schaik C, Kappeler P (2003) The evolution of social monogamy in primates. In: Reichard U, Boesch C (eds) Monogamy: mating strategies and partnerships in birds, humans and other mammals. Cambridge University Press, Cambridge, UK

Vos R, Moores A (2007) A dated MRP supertree for the order Primates. Systematic Biology (in press)

Wolff J, Macdonald D (2004) Promiscuous females protect their offspring. Trends Ecol Evol 19:127–134
Acknowledgments
I am very grateful to the Economic Planning Unit of Malaysia and the Danum Valley Management Committee for permission to work in protected areas in Sabah; the Royal Society Southeast Asian Rainforest Research Programme, and especially Glen Reynolds, for substantial logistical support; the Animal Behavior Society, the University of Maryland Center for Biodiversity and Biology of Small Populations Research Training Grant, the Cleveland Zoological Society, Sigma Xi, the American Society of Mammalogists, and the Explorers Club for research funds; Jo Annah Jensen, Kenny Johnius, Adriene Leong, Tracy Misiewicz, Ronie E. Sham, Philip Ulok, and the staff of the Sabah Biodiversity Experiment for excellent field assistance; and to Devra Kleiman, Jerry Wilkinson, Charlie Nunn, and three anonymous reviewers for constructive comments on the manuscript. This work complies with all current laws governing research in both Malaysia and the USA.
About this article
Cite this article
Munshi-South, J. Extra-pair paternity and the evolution of testis size in a behaviorally monogamous tropical mammal, the large treeshrew (Tupaia tana). Behav Ecol Sociobiol 62, 201–212 (2007). https://doi.org/10.1007/s00265-007-0454-7
Received:

Revised:

Accepted:

Published:

Issue Date:
Keywords
Extra-pair paternity

Monogamy

Testis size

Treeshrews

Borneo