Abstract
Among sedentary species, mate and site fidelity may be imposed by year-round territoriality and high annual survivorship, both of which theoretically lead to few opportunities to move between mates and breeding territories. We examined mate and territory fidelity in sedentary neotropical buff-breasted wrens (Thryothorus leucotis) in relation to the opportunities to divorce (vacancies on neighbouring territories), breeding experience and site of origin (within vs outside local breeding population). Overall, buff-breasted wrens showed high rates of mate and territory fidelity between years, with individuals significantly more faithful to their territories than to their partners. Mate and territory fidelity was not forced upon buff-breasted wrens, as most individuals had opportunities to switch mates and territories. However, this was not uniform among all individuals. Individuals that had bred together displayed 100% mate and territory fidelity despite the fact that males and females in almost all experienced pairs had opportunities to switch mates and territories. Local recruits (philopatric offspring that acquired territories in the local breeding population) also displayed mate and territory fidelity, but fidelity occurred because recruits rarely had the opportunity to divorce prior to initiating their first breeding attempt. By contrast, almost half of all territorial individuals that originated outside the local breeding population (immigrants) had opportunity to divorce, with approximately two thirds of them switching mates and territories. Divorces occurred within the first 5 months of pairing, suggesting that immigrants may have sampled mates and territories before forming permanent partnerships.
Access options
Buy single article
Instant access to the full article PDF.
US$ 39.95
Tax calculation will be finalised during checkout.
Subscribe to journal
Immediate online access to all issues from 2019. Subscription will auto renew annually.
US$ 79
Tax calculation will be finalised during checkout.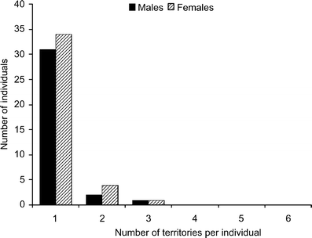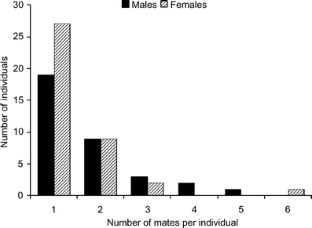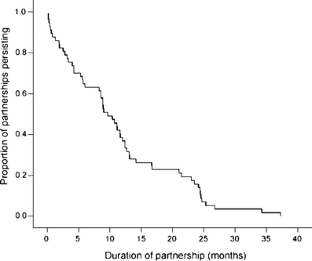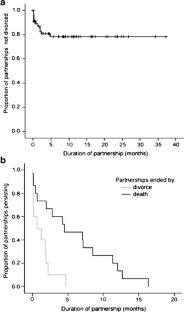 References
Beletsky L, Orians GH (1989) Familiar neighbors enhance breeding success in birds. Proc Natl Acad Sci USA 86:7933–7936

Beletsky L, Orians GH (1991) Effects of breeding experience and familiarity on site fidelity in female red-winged blackbirds. Ecology 72:787–796

Cézilly F, DuBois F, Pagel M (2000) Is mate fidelity related to site fidelity? A comparative analysis in Ciconiiforms. Anim Behav 59:1143–1152

Clarke AL, Sæther B-E, Røskaft E (1997) Sex biases in avian dispersal: a reappraisal. Oikos 79:429–438

Cockburn A, Osmond HL, Mulder RA, Green DJ, Double MC (2003) Divorce, dispersal and incest avoidance in the cooperatively breeding superb fairy-wren Malurus cyaneus. J Anim Ecol 72:189–202

Danchin E, Heg D, Doligez B (2001) Public information and breeding habitat selection. In: Clobert J, Danchin E, Dhondt AA, Nichols JJ (eds) Dispersal. Oxford University Press, Oxford, pp 243–258

Dhondt AA, Adriaensen F (1994) Causes and effects of divorce in the blue tit Parus caeruleus. J Anim Ecol 63:979–987

Eason P, Hannon SJ (1994) New birds on the block: new neighbors increase defensive costs for territorial male willow ptarmigans. Behav Ecol Sociobiol 34:419–426

Ens BJ, Safriel UN, Harris MP (1993) Divorce in the long-lived and monogamous oystercatcher, Haematopus ostralegus: incompatibility or choosing the better option? Anim Behav 45:1199–1217

Ens BJ, Choudhury S, Black JM (1996) Mate fidelity and divorce in monogamous birds. In: Black JM (ed) Partnerships in birds, the study of monogamy. Oxford University Press, Oxford, pp 344–401

Farabaugh SM (1983) A comparative study of duet song in tropical Thryothorus wrens. Ph.D. thesis, University of Maryland, College Park

Fedy BC, Stutchbury BJM (2004) Territory switching and floating in the white-bellied antbird (Myrmeciza longipes), a resident tropical passerine in Panama. Auk 121:486–496

Fox GA (2001) Failure time analysis: studying times to events and rates at which events occur. In: Sceiner SM, Gurevitch J (eds) Design and analysis of ecological experiments, 2nd edn. Oxford University Press, New York, 235–266

Freed LA (1987) The long-term pair bond of tropical house wrens: advantage or constraint? Am Nat 130:507–525

Gill SA (2003a) Territory acquisition, divorce, pair formation, and parental care in a neotropical wren, Thryothorus leucotis. Ph.D. thesis, York University, Toronto

Gill SA (2003b) Timing and duration of egg laying in duetting buff-breasted wrens. J Field Ornithol 74:31–36

Gill SA (2004) First record of cooperative breeding in Thryothorus wrens. Wilson Bull 116:337–341

Gill SA, Stutchbury BJM (2005) Nest building is an indicator of parental quality in the monogamous neotropical buff-breasted wren (Thryothorus leucotis). Auk 122:1169–1181

Gill SA, Vonhof MJ (2006) Sexing monochromatic birds in the field: Cryptic sexual size dimorphism in buff-breasted wrens (Thryothorus leucotis). Ornitología Neotropical 17 (in press)

Gill SA, Vonhof MJ, Stutchbury BJM, Morton ES, Quinn JS (2005) No evidence for acoustic mate guarding in duetting buff-breasted wrens (Thryothorus leucotis). Behav Ecol Sociobiol 57:557–565

Grant BR, Grant PR (1989) Evolutionary dynamics of a natural population. The large cactus finch of the Galápagos Islands. University of Chicago Press, Chicago, IL

Green DJ, Krebs EA, Cockburn A (2004) Mate choice in the brown thornbill (Acanthiza pusilla): are settlement decisions, divorce and extrapair mating complementary strategies? Behav Ecol Sociobiol 55:278–285

Greenberg R, Gradwohl J (1997) Territoriality, adult survival, and dispersal in the checker-throated antwren in Panama. J Avian Biol 28:103–110

Greenwood PJ (1980) Mating systems, philopatry, and dispersal in birds and mammals. Anim Behav 28:1140–1162

Hall ML (1999) The importance of pair duration and biparental care to reproductive success in the monogamous Australian magpie-larks. Austr J Zool 47:439–454

Heg D, Bruinzeel LW, Ens BJ (2003) Fitness consequences of divorce in the oystercatcher, Haematopus ostralegus. Anim Behav 66:175–184

Janetos AC (1980) Strategies of female mate choice: a theoretical analysis. Behav Ecol Sociobiol 28:187–193

Levin RN (1988) The adaptive significance of antiphonal song in the bay wren, Thryothorus nigricapillus. Ph.D. thesis, Cornell University, Ithaca

Levin RN (1996) Song behaviour and reproductive strategies in a duetting wren, Thryothorus nigricapillus: II. Playback experiments. Anim Behav 52:1107–1117

Marzluff JM, Balda RP (1988) The advantages of, and constraints forcing, mate fidelity in pinyon jays. Auk 105:286–295

McNamara JM, Forslund P, Lang A (1999) An ESS model for divorce strategies in birds. Proc R Soc Lond B 354:223–236

Morton ES, Derrickson KC, Stutchbury BJM (2000) Territory switching behavior in a sedentary tropical passerine, the dusky antbird (Cercomacra tyrannina). Behav Ecol 11:648–653

Muenchow G (1986) Ecological use of failure time analysis. Ecology 67:246–250

Pärt T (1995) The importance of local familiarity and search costs for age- and sex-biased philopatry in the collared flycatcher. Anim Behav 49:1029–1038

Price JJ (1998) Family- and sex-specific vocal traditions in a cooperatively breeding songbird. Proc R Soc Lond B 265:497–502

Orell M, Rytkönen S, Koivula K (1994) Causes of divorce in the monogamous willow tit, Parus montanus, and consequences for reproductive success. Anim Behav 48:1143–1154

Otter K, Ratcliffe L (1996) Female initiated divorce in a monogamous songbird: abandoning mates for males of higher quality. Proc R Soc Lond B 263:351–354

Rabenold KN (1985) Cooperation in breeding by nonreproductive wrens: kinship, reciprocity, and demography. Behav Ecol Sociobiol 17:1–17

Ridgely RS, Tudor G (1989) The birds of South America, vol 2. University of Texas Press, Austin

Rowley I (1983) Re-mating in birds. In: Bateson P (ed) Mate choice. Cambridge University Press, Cambridge, pp 331–360

Russell EM, Rowley I (1996) Partnerships in promiscuous splendid fairy-wrens. In: Black JM (ed) Partnerships in birds: the study of monogamy. Oxford University Press, Oxford, pp 162–173

Sandercock BK, Beissinger SR, Stoleson SH, Melland RR, Hughes CR (2000) Survival rates of a neotropical parrot: implications for latitudinal comparisons of avian demography. Ecology 81:1351–1370

Schjørring S, Gregersen J, Bregnballe T (2000) Sex differences in criteria determining fidelity towards breeding sites in the great cormorant. J Anim Ecol 69:214–223

Smith SM (1978) The "underworld" in a territorial sparrow: adaptive strategy for floaters. Am Nat 112:571–582

Thornhill NW (1993) The natural history of inbreeding and outbreeding: theoretical and empirical perspectives. University of Chicago Press, Chicago, IL

van der Jeugd HP, Blaakmeer KB (2001) Teenage love: the importance of trial liaisons, subadult plumage and early plumage in barnacle geese. Anim Behav 62:1075–1083

Ward MP (2005) Habitat selection by dispersing yellow-headed blackbirds: evidence of prospecting and the use of public information. Oecologia 145:650–657

Watson A, Moss R, Parr R, Mountford MD, Rothery P (1994) Kin landownership, differential aggression between kin and non-kin, and population fluctuations in red grouse. J Anim Ecol 63:39–50

Willis EO (1974) Populations and local extinctions of birds on Barro Colorado Island, Panama. Ecol Monogr 44:153–169

Zack S, Rabenold KN (1989) Assessment, age and proximity in dispersal contests among cooperative wrens: field experiments. Anim Behav 38:235–247

Zack S, Stutchbury BJ (1992) Delayed breeding in avian social systems: the role of territory quality and "floater" tactics. Behaviour 123:194–219
Acknowledgements
We thank the Autoridad Nacional del Ambiente for permitting us to work in Panama, the Smithsonian Tropical Research Institute for excellent logistical support, and E.C. Edwards, M.A. Mico and M.J. Vonhof for assistance in the field. We thank K. Thorup for help with some statistical analysis. D. Heg and an anonymous reviewer made excellent comments on the manuscript. This study was supported by research grants and scholarships from the American Ornithologists' Union, American Museum of Natural History, Animal Behavior Society, Ontario Graduate Scholarships, Sigma Xi and York University to S.A.G.; Natural Science and Engineering Research Council of Canada to B.J.M.S.; and Smithsonian Institution to E.S. Morton and B.J.M.S. We conducted this research under the approval of the Autoridad Nacional del Ambiente, Panama, and the Canadian Council of Animal Care.
Additional information
Communicated by I. Hartley
About this article
Cite this article
Gill, S.A., Stutchbury, B.J.M. Long-term mate and territory fidelity in neotropical buff-breasted wrens (Thryothorus leucotis). Behav Ecol Sociobiol 61, 245–253 (2006). https://doi.org/10.1007/s00265-006-0255-4
Received:

Revised:

Accepted:

Published:

Issue Date:
Keywords
Divorce

Mate choice

Mate-switching opportunities

Year-round territoriality