Abstract
Sperm competition can be a powerful selective force in the evolution of reproductive strategies and mating systems. In studies on sperm competition, patterns of sperm use are typically reported as the mean species value of P 2, determined as the proportion of offspring sired by the second male to copulate with a doubly mated female. However, the within-species variance in P 2 has mostly been ignored, although taking this variance into account may be crucial for understanding the underlying mechanisms of sperm competition. Paternity analysis among the offspring of doubly mated females of Panorpa germanica (Mecoptera, Panorpidae) revealed a relationship between relative copulation durations of both males and the proportion of offspring each male will sire. This correlation between proportional copulation durations and paternity suggests mixing of sperm from different males inside the female's spermatheca. Yet, sperm mixing appears to be incomplete, as paternity was overall slightly shifted towards the second male on average fathering a higher proportion of the offspring than its relative copulation duration would predict in case of complete sperm mixing. For individual males, however, the outcome of sperm competition is rather unpredictable as the intraspecific variance in P 2 was found to be very high, irrespective of copulation durations. Possible causes of the observed variance in P 2 and the partial last male sperm precedence are discussed.
Access options
Buy single article
Instant access to the full article PDF.
USD 39.95
Price includes VAT (USA)
Tax calculation will be finalised during checkout.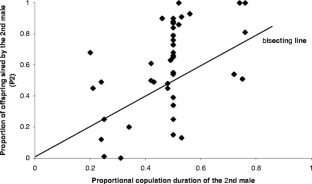 References
Andersson M (1982) Sexual selection, natural selection and quality advertisement. Biol J Linn Soc 17:375–393

Bateman AJ (1948) Intrasexual selection in Drosophila. Heredity 2:349–368

Birkhead TR, Hunter FM (1990) Mechanisms of sperm competition. Trends Ecol Evol 5:48–52

Birkhead TR, Møller AP (1998) Sperm competition and sexual selection. Academic, San Diego, CA

Boorman E, Parker GA (1976) Sperm (ejaculate) competition in Drosophila melanogaster, and the reproductive value of females to males in relation to female age and mating status. Ecol Entomol 1:145–155

Cook PA, Harvey IF, Parker GA (1997) Predicting variation in sperm precedence. Philos Trans R Soc Lond B 352:771–780

Danielsson I (1998) Mechanisms of sperm competition in insects. Ann Zool Fenn 35:241–257

Darwin C (1871) The descent of man, and selection in relation to sex. J. Murray, London, UK

Dickinson JL (1986) Prolonged mating in the milkweed leaf beetle Labidomera clivicollis clivicollis (Coleoptera: Chrysomelidae): a test of the "sperm-loading" hypothesis. Behav Ecol Sociobiol 18:331–338

Eberhard WG (1996) Female control: sexual selection by cryptic female choice. Princeton University Press, Princeton, New Jersey

Epplen CO, Lubjuhn T, Epplen JT, Sauer KP (1998) Genetic distinction of scorpionflies (Panorpa vulgaris) by highly informative microsatellites. Mol Ecol 7:1256–1258

García-González F (2004) Infertile matings and sperm competition: the effect of 'nonsperm representation' on intraspecific variation in sperm precedence patterns. Am Nat 164:457–472

García-González F, Gomendio M (2004) Adjustment of copula duration and ejaculate size according to the risk of sperm competition on the golden egg bug (Phyllomorpha laciniata). Beh Ecol 15:23–30

García-González F, Simmons LW (2005) Sperm viability matters in insect sperm competition. Curr Biol 15:271–275

Gerhards U (1999) Paarungssystem und Spermienkonkurrenzmechanismus der Skorpionsfliege Panorpa germanica (Insecta, Mecoptera). Unpublished Ph.D. thesis, University of Bonn, Germany

Gerken T, Kurtz J, Sauer KP, Lubjuhn T (1998) DNA preparation and efficient microsatellite analysis from insect hemolymph. Electrophoresis 19:3069–3070

Gwynne DT (1984) Male mating effort, confidence of paternity, and insect sperm competition. In: Smith R (ed) Sperm competition and the evolution of animal mating systems. Academic, Orlando, FL, pp 117–149

Harvey IF, Parker GA (2000) 'Sloppy' sperm mixing and intraspecific variation in sperm precedence (P2) patterns. Proc R Soc Lond B Biol Sci 267:2537–2542

Hunter FM, Birkhead TR (2002) Sperm viability and sperm competition in insects. Curr Biol 12:121–123

Kurtz J, Sauer KP (1999) The immunocompetence handicap hypothesis: testing the genetic predictions. Proc R Soc Lond B Biol Sci 266:1522–2515

Lewis SM, Austad SN (1990) Sources of intraspecific variation in sperm precedence in red flour beetles. Am Nat 135:351–359

Lubjuhn T, Sauer KP (1999) DNA fingerprinting and profiling in behavioural ecology. In: Epplen JT, Lubjuhn T (eds) DNA profiling and DNA fingerprinting. Birkhäuser, Basel, pp 39–52

Parker GA (1970) Sperm competition and its evolutionary consequences in the insects. Biol Rev 45:525–567

Parker GA (1993) Sperm competition games: sperm size and sperm number under adult control. Proc R Soc Lond B Biol Sci 253:245–254

Parker GA, Simmons LW, Kirk H (1990) Analysing sperm competition data: simple models for predicting mechanisms. Behav Ecol Sociobiol 27:55–65

Sauer KP (1970) Zur Monotopbindung einheimischer Arten der Gattung Panorpa (Mecoptera) nach Untersuchungen im Freiland und im Labor. Zool Jb Syst Ökol 97:169–207

Sauer KP (1977) The adaptive significance of genetic variability of photoperiodic response in Panorpa vulgaris. Zool Jahrb Syst 104:489–538

Sauer KP (1996) Sexual selection and ecological differentiation. J Zoolog Syst Evol Res 34:235–249

Sauer KP (2002) Natürliche und sexuelle Selektion und die Evolution des Paarungssystems der Skorpionsfliegen. Jahrb d Dtsch Akad d Naturf Leopoldina 47(R3):521–547

Sauer KP, Sindern J, Kall N (1997) Nutritional status of males and sperm transfer in the scorpionfly Panorpa vulgaris. Entomol Gen 21:189–204

Sauer KP, Lubjuhn T, Sindern J, Kullmann H, Kurtz J, Epplen C, Epplen JT (1998) Mating system and sexual selection in the scorpionfly Panorpa vulgaris (Mecoptera: Panorpidae). Naturwissenschaften 85:219–228

Sauer KP, Epplen C, Over I, Lubjuhn T, Schmidt A, Gerken T, Epplen JT (1999) Molecular genetic analysis of remating frequencies and sperm competition in the scorpionfly Panorpa vulgaris (Imhoff and Labram). Behaviour 136:1107–1121

Simmons LW, Parker GA (1992) Individual variation in sperm competition success of yellow dung flies, Scatophaga stercoraria. Evolution 46:366–375

Simmons LW, Siva-Jothy MJ (1998) Sperm competition in insects: mechanisms and the potential for selection. In: Birkhead TR, Møller AP (eds) Sperm competition and sexual selection. Academic, London, pp 341–434

Simmons LW, Achmann R (2000) Microsatellite analysis of sperm-use patterns in the bushcricket Requena verticalis. Evolution 54:942–952

Sindern J (1996) Einfluss der Nahrungsdichte auf die Lebensgeschichte und Fitness von Individuen der Skorpionsfliege Panorpa vulgaris (Mecoptera; Insecta). Unpublished Ph.D. thesis, University of Bonn, Germany

Stockley P (1997) Sexual conflict resulting from adaptations to sperm competition. Trends Ecol Evol 12:154–159

Thornhill R (1983) Cryptic female choice in the scorpionfly Hylobittacus apicalis (Mecoptera) and its implications. Am Zool 24:367–383

Trivers RL (1972) Parental investment and sexual selection. In: Campbell B (ed) Sexual selection and the descent of man. Aldine, Chicago, pp 136–179

Tsubaki Y, Yamagishi M (1991) 'Longevity' of sperm within the female of the melon fly, Dacus cucurbitae (Diptera: Tephritidae), and its relevance to sperm competition. J Insect Behav 4:243–250

Zahavi A (1975) Mate selection—a selection for a handicap. J Theor Biol 53:205–214
Acknowledgements
We thank the 'Studienstiftung des deutschen Volkes' for the provision of a full Ph.D. scholarship. Furthermore, we thank L. Engqvist for statistical advice and two anonymous referees for helpful comments on the manuscript. This project was supported by the 'Deutsche Forschungsgemeinschaft' [SA 259/7-1 to 4]. All experiments carried out complied with the current law of Germany.
Additional information
Communicated by N. Wedell
About this article
Cite this article
Kock, D., Hardt, C., Epplen, J.T. et al. Patterns of sperm use in the scorpionfly Panorpa germanica L. (Mecoptera: Panorpidae). Behav Ecol Sociobiol 60, 528–535 (2006). https://doi.org/10.1007/s00265-006-0196-y
Received:

Revised:

Accepted:

Published:

Issue Date:
Keywords
Sperm competition

Sperm precedence

Intraspecific variation