Abstract
Animals can learn to recognize and respond to dangerous, threatening factors through either individual or social learning, whereby an individual learns and acquires the defensive behaviors and avoidance responses of another. Here we show that kinship, familiarity, and relative dominance of the interacting individuals affect social learning of defensive responses to "micropredators" in deer mice, Peromyscus maniculatus. Brief exposure of individual male deer mice to biting flies (stable fly, Stomoxys calcitrans) induced a decrease in pain sensitivity, or analgesia, and active self-burying avoidance responses. The defensive analgesic responses and their fear/anxiety/stress associated correlates facilitate the display of behavioral avoidance responses. Preparatory analgesia and avoidance responses were evident 1–3 days later when the mice were exposed to biting flies that were altered to be incapable of biting but were not displayed to similar-sized non-biting house flies. These anticipatory avoidance and analgesic responses to biting flies were also acquired through social learning—without direct individual aversive experience with biting flies. Fly-naive mice (observers) that witnessed other mice (demonstrators) being attacked by biting flies but themselves were not bitten did not display any avoidance responses. However, when exposed 1–3 days later to altered flies with biting mouth parts removed, the observers displayed socially acquired analgesic and self-burying avoidance responses. Observers whose demonstrators were either kin (siblings) and, or members of a familiar pair (kin or non-kin) displayed enhanced social learning of defensive responses. Also, within the familiar pairs, social status affected learning with subordinate observers displaying better social learning than dominant observers. These findings indicate that kinship, familiarity and social status modulate social learning of defensive responses to, and the recognition of, dangerous and threatening stimuli, likely including that of predators.
This is a preview of subscription content, log in to check access.
Access options
Buy single article
Instant access to the full article PDF.
US$ 39.95
Price includes VAT for USA
Subscribe to journal
Immediate online access to all issues from 2019. Subscription will auto renew annually.
US$ 99
This is the net price. Taxes to be calculated in checkout.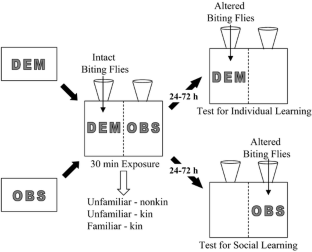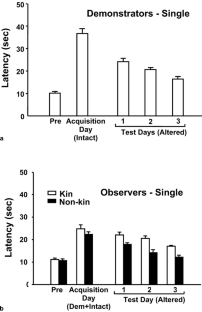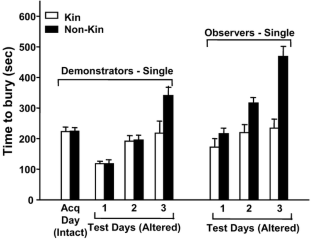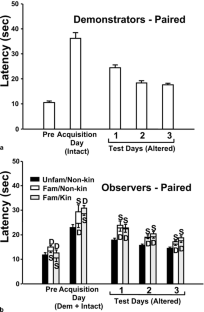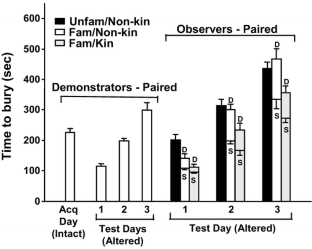 References
Barnard CJ, Hurst JL, Aldhous P (1991) Of mice and kin: the functional significance of kin bias in social behaviour. Biol Rev 66:379–430

Bartolomucci A, Palanza P, Gaspani L, Limiroli E, Panerai AE, Ceresini G, Poli MD, Parmigani S (2001) Social status in mice: behavioral, endocrine and immune changes are context dependent. Physiol Behav 73:401–410

Beynon RJ, Hurst JL (2003) Multiple roles of major urinary proteins in the house mouse, Mus domesticus. Biochem Soc Trans 31:142–146

Blanchard RJ, Blanchard DC, Rodgers J, Weiss SM (1990) The characterization and modeling of antipredator defensive behavior. Neurosci Biobehav Rev 14:463–472

Brown C, Laland K (2001) Social learning and life skills training for hatchery reared fish. J Fish Biol 59:471–493

Byford RL, Craig ME, Crosby BL (1992) A review of ectoparasites and their effects on cattle production. J Anim Sci 70: 597–602

Chivers DP, Smith RJP (1998) Chemical alarm signaling in aquatic predator-prey systems: a review and prospectus. Ecoscience 5:338–352

Choleris E, Kavaliers M (1999) Social learning in animals: sex differences and neurobiological analysis. Pharmacol Biochem Behav 64:767–776

Choleris E, Guo C, Mainardi M, Valsecchi P (1997) The effect of demonstrator age and number on the duration of socially-induced food preferences in house mouse (Mus domesticus). Behav Process 41:69–77

Choleris E, Valsecchi P, Wang Y, Ferrari P, Kavaliers M, Mainardi M (1998) Social learning of food preferences in male and female Mongolian gerbils is facilitated by the anxiolytic chlordiazepoxide. Pharmacol Biochem Behav 60:575–584

Choleris E, Kavaliers M, Pfaff DW (2004) Functional genomics of social recognition. J Neuroendocrinol 16:383–389

Chou L-S, Richardson PJ (1992) Multiple models in social transmission of food selection by Norway rats, Rattus norvegicus. Anim Behav 44:337–343

Colwell DD, Kavaliers M (1990) Exposure to mosquitoes Aedes togoi (Theo.) induces and augments opioid-mediated analgesia in mice. Physiol Behav 48:397–410

Colwell DD, Kavaliers M, Lysyk TJ (1997) Stable mouthpart removal influences stress and anticipatory responses in mice. Med Vet Entomol 11:310–314

Cook M, Mineka S (1980) Selective associations in the observational conditioning of fear in rhesus monkeys. J Exp Psychol Anim Behav Process 16:372–389

Cook M, Mineka S, Wolkstein B, Latisch K (1985) Observational conditioning of snake fear in unrelated rhesus monkeys. J Abnorm Psychol 94:591–610

Coussi-Korbel S, Fragaszy DM (1995) On the relation between social dynamics and social learning. Anim Behav 50:1441–1453

Cully JF, Grieco JP, Kissel D (1991) Defensive behavior of eastern chipmunks against Aedes triseriatus (Diptera: Culicidae). J Med Entomol 28:410–416

Curio E (1988) Cultural transmission of enemy recognition. In: Zentall RE, Galef BG Jr (eds) Social learning: psychological and biological perspectives. Erlbaum, Hillsdale, N.J., pp 75–97

Dewsbury DA (1988) Kinship, familarity, aggression, and dominance in deer mice (Peromyscus maniculatus) in seminatural enclosures. J Comp Psychol 102:124–128

Dewsbury DA (1990a) Tests of preferences of young deer mice (Peromyscus maniculatus bairdi) for siblings versus nonsiblings. J Comp Psychol 104:174–176

Dewsbury DA (1990b) Tests of preferences of adult deer mice (Peromyscus maniculatus bairdi) for siblings versus nonsiblings. J Comp Psychol 104:177–182

Edman JD, Kale HW (1971) Host behavior: its influence on the feeding success of mosquitoes. Ann Entomol Soc Am 64:513–516

Edman JD, Weber LA, Schmid AA (1974) Effect of host defenses on the feeding patterns of Culex nigripalpus when offered a choice of blood sources. J Parasitol 60:874–88

Fanselow MS (1985) Odors released by stressed rats produce opioid analgesia in unstressed rats. Behav Neurosci 99:585–592

Fields H (2004) State-dependent opioid control of pain. Nat Rev Neurosci 5:565–575

Galef BG Jr, Kennett DJ, Wigmore SW (1984) Transfer of information concerning distant food in rats: a robust phenomenon. Anim Learn Behav 12:292–296

Gheusi G, Blunthe R-M, Goodall G, Dantzer R (1994) Social and individual recognition in rodents: methodological aspects and neurobiological bases. Behav Process 33:59–88

Grau HJ (1982) Kin recognition in white-footed deermice (Peromyscus leucopus). Anim Behav 30:497–505

Greenberg B (1973) Flies and disease. Princeton University Press, Princeton, N.J.

Griffin AS (2004) Social learning about predators: a review and prospectus. Learn Behav 32:131–140

Griffin AS, Blumstein DT, Evans CS (2000) Training captive-bred and translocated animals to avoid predators. Conserv Biol 14:1317–1326

Halpin ZT, Hoffman MD (1987) Sibling recognition in the white-footed mouse (Peromyscus leucopus): Association or phenotype matching? Anim Behav 35:563–570

Harris R, Miller JA, Frazar ED (1974) Horn flies and stable flies: Feeding activity. Ann Entomol Soc Am 67:891–894

Hart BL (1994) Behavioural defense against parasites: interaction with parasite invasiveness. Parasitology 109:S139-S151

Haufe WO (1988) Host-parasite interaction of blood-feeding dipterans in health and productivity of mammals. Int J Parasitol 17:607–617

Hepper PG (1991) Kin recognition. Cambridge University Press, Cambridge, UK

Heth G, Todrank J, Johnston RE (1988) Kin recognition in golden hamsters: evidence for phenotype matching. Anim Behav 56:409–417

Heyes CM (1994) Social learning in animals: categories and mechanisms. Biol Rev 69:207–231

Holmes WG (1986) Kin recognition by phenotype matching in female Belding's ground squirrels. Anim Behav 34:38–47

Hubbard DT, Blanchard DC, Yang M, Markham CM, Gervacio A, Chun-I L, Blanchard RJ (2004) Development of defensive behavior and conditioning to cat odor in the rat. Physiol Behav 80:525–530

Hunskaar S, Berge OG, Hole K (1986) A modified hot-plate test sensitive to mild analgesics. Behav Brain Res 21:101–108

Hurst JL, Payne CE, Nevison CM, Maries AD, Humphries RE, Robertson DHL, Cavaggioni A, Beynon RJ (2001) Individual recognition in mice mediated by major urinary proteins. Nature 414:631–634

Itani J (1958) On the acquisition and propagation of a new habit in the troop of Japanese monkeys at Takasakiyama. Primates 1:84–98

Kareem AM, Barnard AR (1982) The importance of kinship and familiarity in social interactions between mice. Anim Behav 30:594–601

Kats LB, Dill LM (1996) The scent of death: chemosensory assessment of predation risk by prey animals. Ecoscience 5:361–394

Kavaliers M, Choleris E (2001) Antipredator responses and defensive behavior: ecological and ethological approaches for the neurosciences. Neurosci Biobehav Rev 25:577–586

Kavaliers M, Colwell DD (1991) Sex differences in opioid and non-opioid mediated predator-induced analgesia in mice. Brain Res 568:173-177

Kavaliers M, Colwell DD, Choleris E, Ossenkopp K-P (1999) Learning to cope with biting flies: rapid NMDA-mediated acquisition of conditioned analgesia. Behav Neurosci 113:126–135

Kavaliers M. Colwell DD, Choleris E (2000a) Parasites and behaviour: an ethopharmacological perspective. Parasitol Today 16:464–468

Kavaliers M, Colwell DD, Choleris E (2000b) NMDA mediated social learning fear-induced conditioned analgesia to biting flies. Neuroreport 12:663–667

Kavaliers M, Choleris E, Colwell DD (2001) Learning from others to cope with biting flies: social learning of fear-induced conditioned analgesia and active avoidance. Behav Neurosci 115:661–674

Kavaliers M, Colwell DD, Choleris E (2003a) Learning to cope with a natural stressor: individually and socially acquired corticosterone and avoidance responses to biting flies. Horm Behav 43:99–107

Kavaliers M, Colwell DD, Choleris E, Ågmo A, Muglia LJ, Ogawa S, Pfaff DW (2003b) Impaired discrimination of and aversion to parasitized male odors by female oxytocin knockout mice. Genes Brain Behav 2:220–230

Kawamura S (1959) The process of sub-culture propagation among Japanese macaques. Primates 2:43–54

Lehman T (1993) Ectoparasites: direct impact on host fitness. Parasitol Today 9:8–13

Lima SL (1998) Stress and decision making under the risk of predation: a review and prospectus. Adv Study Behav 27:215–290

Lysyk TJ, Axtell RC (1987) A simulation model of house fly (Diptera: Muscidae) development in poultry manure. Can Entomol 119:427–437

Mateo JM (2001) Kin-recognition abilities and nepotism as a function of sociality. Proc R Soc Lond B 269:721–727

Mathis A, Chivers DP, Smith JF (1996) Cultural transmission of predator recognition in fishes: intraspecific and interspecific learning. Anim Behav 51:185–201

Mclean IG, Schmitt NT, Jarman PJ, Duncan C, Wynne CDL (2000) Learning for life: training marsupials to recognize introduced predators. Behaviour 137:1361–1376

Paz Y, Mino G,Tang-Martinez Z (1999) Effects of isolation on sibling recognition in prairie voles, Microtus ochrogaster. Anim Behav 27:1091–1098

Pugh CRD, Fleshner M, Rudy JW (1987) A selective role for corticosterone in fear conditioning. Behav Neurosci 111:503–511

Russon AE (1997) Exploiting the expertise of others. In: Whiten A, Byrne RE (eds) Machiavellian intelligence II, extensions and evaluation, vol.2. Cambridge University Press, New York, pp 174–231

Shors TJ, Beylin AV, Wood GE, Gould E (2000) The modulation of Pavlovian memory. Behav Brain Res 110:39–52

Singh PB (2001) Chemosensation and genetic individuality. Reproduction 121:529–539

Sirvastava A (2000) Cultural transmission of snake-mobbing in free-ranging Hanuman langurs. Folia Primatol 56:117–120

Skidmore P (1985) The biology of the muscidae of the world. D.W. Junk, Boston

Swaney W, Kendal JR, Capon H, Brown C, Laland KN (2001) Familiarity facilitates social learning of foraging behaviour in the guppy. Anim Behav 62:591–596

Tang-Martinez Z (2001) The mechanisms of kin discrimination and the evolution of kin recognition in vertebrates: a critical re-evaluation. Behav Process 53:21–40

Valsecchi P, Choleris E, Moles A, Guo C, Mainardi M (1996) Kinship and familiarity as factors affecting social transfer of food preferences in adult Mongolian gerbils (Meriones unguiculatus). J Comp Psychol 110:243–252

Valsecchi P, Razzoli M,Choleris E (2002) Influence of kinship and familiarity on the social and reproductive behaviour of female Mongolian gerbils. Ethol Ecol Evol 14:239–253

Vieth W, Curio E, Ernst U (1980) The adaptive significance of avian mobbing. III. Cultural transmission of enemy recognition in blackbirds: cross-species tutoring and properties of learning. Anim Behav 28:1217–1229

White DJ, Galef BG Jr (1998) Social influences on avoidance of dangerous stimuli by rats. Anim Learn Behav 26:433–438

Yamazaki K, Boyse EA, Mike V, Thaler HT, Mathieson BJ, Abbott J, Zoyas ZA, Thomas L (1976) Control of mating preferences in mice by genes in the major histocompatibility complex. J Exp Med 144:1324–1335
Acknowledgements
We thank Terry Seely, Joan Ingoldsby and Dawn Gray for their assistance. This study was supported by Agriculture and Agri-Food Canada (D.D.C.) and the Natural Sciences and Engineering Research Council of Canada (E.C. and M.K.).
Additional information
Communicated by G. Wilkinson
About this article
Cite this article
Kavaliers, M., Colwell, D.D. & Choleris, E. Kinship, familiarity and social status modulate social learning about "micropredators" (biting flies) in deer mice. Behav Ecol Sociobiol 58, 60–71 (2005). https://doi.org/10.1007/s00265-004-0896-0
Received:

Revised:

Accepted:

Published:

Issue Date:
Keywords
Fear

Kin discrimination

Predators

Individual learning

Stress