Abstract
There are few empirical tests of the acoustic mate-guarding hypothesis for the function of duetting in birds. This hypothesis states that when females are fertile, males initiate many songs or answer most of their mates' solo songs to form duets and repel rival males seeking extra-pair copulations. We tested the hypothesis by comparing song initiation and answer rates of males and females in socially monogamous buff-breasted wrens (Throthorus leucotis) during pre-fertile and fertile periods. During pre-fertile periods, males often sang for short periods before being answered by their mates, yet first duets were formed earlier relative to dawn and more duets were given during the dawn chorus on pre-fertile than fertile mornings. Males initiated more songs during pre-fertile than fertile periods, whereas there was no difference between stages in female song initiation rates. The proportion of songs answered by individuals of both sexes did not differ between breeding stages. Other mate-guarding behaviours, such as frequent copulation and maintaining close proximity to mates when fertile, did not appear to be important in this species, as no copulations were observed and there was no difference in the time pairs spent in close proximity when females were fertile or not. Parentage analysis revealed that only 3% of 31 broods had young that were likely the result of extra-pair paternity. These findings do not support the acoustic mate-guarding hypothesis, and suggest that the low rate of extra-pair paternity in buff-breasted wrens was maintained without the use of acoustic or traditional paternity guards.
Access options
Buy single article
Instant access to the full article PDF.
US$ 39.95
Tax calculation will be finalised during checkout.
Subscribe to journal
Immediate online access to all issues from 2019. Subscription will auto renew annually.
US$ 79
Tax calculation will be finalised during checkout.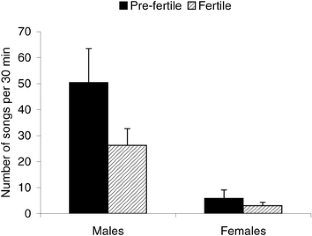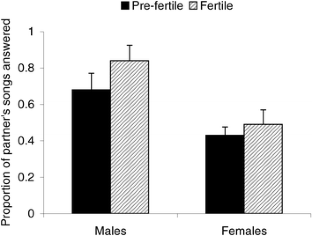 References
Ahumada JA (2001) Comparison of the reproductive biology of two neotropical wrens in an unpredictable environment in northeastern Colombia. Auk 118:191–210

Armstrong EA (1947) Bird display and behaviour. Lindsay & Drummond, London

Beasley BA (1996) Males on guard: paternity defences in violet-green swallows and tree swallows. Anim Behav 1211–1224

Birkhead TR (1998) Sperm competition in birds: mechanisms and functions. In: Birkhead TR, Moller AP (eds) Sperm competition and sexual selection. Academic Press, New York, pp 579–622

Birkhead TR, Moller AP (1992) Sperm competition in birds: evolutionary causes and consequences. Academic Press, New York

Brewer D, MacKay BK (2001) Wrens, dippers, and thrashers. Yale University Press, New Haven

Brown RN, Lemon RE (1979) Structure and evolution of song form in the wrens Thryothorus sinaloa and T. felix. Behav Ecol Sociobiol 5:111–131

Cabe PR, Marshall KE (2001) Microsatellite loci from the house wren (Troglodytes aedon). Mol Ecol Notes 1:155–156

Chu M, Koenig WD, Godinez A, McIntosh CE, Fleischer RC (2002) Social and genetic monogamy in territorial and loosely colonial populations of phainopepla (Phainopepla nitens). Auk 119:770–777.

Double MC, Dawson D, Burke T, Cockburn A (1997) Finding the fathers in the least faithful bird: a microsatellite-based genotyping system for the superb fairy-wren Malurus cyaneus. Mol Ecol 6:691–693

Farabaugh SM (1982) The ecological and social significance of duetting. In: Kroodsma DE, Miller EH (eds) Acoustic communication in birds, vol 2. Academic Press, New York, pp 85–124

Farabaugh SM (1983) A comparative study of duet song in tropical Thryothorus wrens. PhD thesis, University of Maryland, College Park

Fleischer RC, Tarr CL, Morton ES, Sangmeister A, Derrickson KC (1997) Mating system of the dusky antbird, a tropical passerine, as assessed by DNA fingerprinting. Condor 99:512–514

Gil D, Graves JA, Slater PJB (1999) Seasonal patterns of singing in the willow warbler: evidence against the fertility announcement hypothesis. Anim Behav 58:995–1000.

Gill SA (2003a) Timing and duration of egg laying in duetting buff-breasted wrens. J Field Ornithol 74:31–36

Gill SA (2003b) Territory acquisition, mate fidelity, pair formation, and parental care in a neotropical wren, Thryothorus leucotis. PhD dissertation, York University, Toronto, ON

Gill SA, Stutchbury BJM (2005) Nest building is an indicator of parental quality in a monogamous, neotropical wren Thryothorus leucotis. Auk (in press)

Goudet J (1995) Fstat version 1.2: a computer program to calculate Fstatistics. J Hered 86:485–486.

Grafe TU, Bitz JH (2004) Function of duetting in the tropical boubou, Laniarius aethopicus: territorial defence and mutual mate guarding. Anim Behav 68:193–201

Griffiths SC, Owens IPF, Thuman KA (2002) Extra pair paternity in birds: a review of interspecific variation and adaptive function. Mol Ecol 11:2195–2212

Hall ML (2000) The function of duetting in magpie-larks: conflict, cooperation, or commitment? Anim Behav 60:667–677

Hall ML (2004) A review of hypotheses for the functions of avian duetting. Behav Ecol Sociobiol 55:415–430

Hall ML, Magrath RD (2000) Duetting and mate-guarding in Australian magpie-larks (Grallina cyancoleuca). Behav Ecol Sociobiol 47:180–187

Hanski IK, Laurila A (1993) Variation in song rate during the breeding cycle of the chaffinch, Fringilla coelebs. Ethology 93:161–169

Hughes CR, Robinson TR (2001) Characterization of microsatellite loci developed for song wrens Cyphorhinus phaeocephalus. Mol Ecol Notes 1:165–167

Kempenaers B (1993) The use of a breeding synchrony index. Ornis Scand 24:84

Komduer J, Kraaijeveld-Smith F, Kraaijeveld K, Edelaar P (1999) Explicit experimental evidence for the role of mate guarding in minimizing loss of paternity in the Seychelles warbler. Proc R Soc Lond B 266:2075–2081

Kroodsma DE (1976) Reproductive development in a female songbird: differential stimulation by quality of male song. Science 192:574–575

Levin RN (1988) The adaptive significance of antiphonal song in the bay wren, Thryothorus nigricapillus. PhD thesis, Cornell University, Ithaca, N.Y.

Levin RN (1996a) Song behaviour and reproductive strategies in a duetting wren, Thryothorus nigricapillus: I. Removal experiments. Anim Behav 52:1093–1106

Levin RN (1996b) Song behaviour and reproductive strategies in a duetting wren, Thryothorus nigricapillus:II. Playback experiments. Anim Behav 52:1107–1117

Logue DM, Gammon DE (2004) Duet song and sex roles during territory defence in a tropical bird: the black-bellied wren, Thryothorus fasciatoventris. Anim Behav 68:721–731

Mace R (1987) The dawn chorus in the great tit Parus major is directly related to female fertility. Nature 330:745–746

Mann NI, Marshall-Ball L, Slater PJB (2003) The complex song duet of the plain wren. Condor 105:672–682

Marshall, TC, Slate J, Kruuk LEB, Pemberton, JM (1998) Statistical confidence for likelihood-based paternity inference in natural populations. Mol Ecol 7:639–655

Masello JF, Sramkova A, Quillfeldt P, Epplen JT, Lubjuhn T (2002) Genetic monogamy in burrowing parrots Cyanoliseus patagonus? J Avian Biol 33:99–103

Moore OR, Stutchbury BJM, Quinn JS (1999) Extrapair mating system of an asynchronously breeding tropical songbird: the mangrove swallow. Auk 116:1039–1046

Morton ES, Stutchbury BJM, Howlett JS, Piper WH (1998) Genetic monogamy in blue-headed vireos and a comparison with a sympatric vireo with extrapair paternity. Behav Ecol 9:515–524

Mulder RA, Bishop H, Cooper M, Dennis S, Koetsveld M, Marshall J, Saunders BL, Langmore NE (2003) Alternate functions for duet and solo songs in magpie-larks, Grallina cyanoleuca. Aust J Zool 51:25–30

Neudorf DLH (2004) Extrapair paternity in birds: understanding variation among species. Auk 121:302–307.

Pierce EP, Lifjeld JT (1998) High paternity without paternity-assurance behavior in the purple sandpiper, a species with high paternal investment. Auk 115:602–612

Primmer CR, Moller AP, Ellegren H (1996) A wide-range survey of cross-species microsatellite amplification in birds. Mol Ecol 5:365–378

Quinn JS, Woolfendden GE, Fitzpatrick JW, White BN (1999) Multi-locus fingerprinting supports genetic monogamy in Florida scrub-jays. Behav Ecol Sociobiol 45:1–10

Robertson BC, Degnan SM, Kikkawa J, Moritz CC (2001) Genetic monogamy in the absence of paternity guards: the Capicorm silvereye, Zosterops lateralis chlorocephalus, on Heron Island. Behav Ecol 12:666–673

Seddon N, Butchart SHM, Odling-Smee L (2002) Duetting in the subdesert mesite Monias benschi: evidence for acoustic mate defence? Behav Ecol Sociobiol 52:7–16

Sheldon B (1994) Song rate and fertility in the chaffinch. Anim Behav 47:986–987

Sonnenschein E, Reyer H-U (1983) Mate-guarding and other functions of antiphonal duets in the slate-coloured boubou (Laniarius funebris). Z Tierpsychol 63:112–140

SPSS (1999) SPSS base 10.0 applications guide. SPSS, Chicago, Ill.

Staicer CA, Spector DA, Horn AG (1996) The dawn chorus and other diel patterns in acoustic signalling. In: Kroodsma DE, Miller EH (eds) Ecology and evolution of acoustic communication in birds. Cornell University Press, Ithaca, N.Y., pp 426–453

Stanback M, Richardson DS, Boix-Hinzen C, Mendelsohn J (2002) Genetic monogamy in Monteiro's hornbill, Tockus monteiri. Anim Behav 63:787–793

Stutchbury BJM (1998) Extra-pair mating effort of male hooded warblers, Wilsonia citrina. Anim Behav 55:553–561

Stutchbury BJM, Morton ES (1995) The effect of breeding synchrony on extra-pair mating systems in songbirds. Behaviour 132:675–690

Stutchbury BJM, Morton ES (2001) Behavioral ecology of tropical birds. Academic Press, New York

Stutchbury BJM, Piper WH, Neudorf DL, Tarof SA, Rhymer JM, Fuller G, Fleischer RC (1997) Correlates of fertilization success in hooded warblers. Behav Ecol Sociobiol 40:119–126

Summers K, Amos W (1997) Behavioral, ecological and molecular genetic analyses of reproductive strategies in the Amazonian dart-poison frog, Dendrobates ventrimaculatus. Behav Ecol 8:260–267

Titus RC, Chandler CR, Ketterson ED, Nolan Jr V (1997) Song rates of dark-eyed juncos do not increase when females are fertile. Behav Ecol Sociobiol 41:165–169

Verboven N, Mateman AC (1997) Low frequency of extra-pair fertilizations in the great tit Parus major revealed by DNA fingerprinting. J Avian Biol 28:231–239

Ward S, Speakman JR, Slater PJB (2003) The energy cost of song in the canary, Serinus canaria. Anim Behav 66:893–902

Webster MS, Chuang-Dobbs, Holmes RT (2001) Microsatellite identification of extrapair sires in a socially monogamous warbler. Behav Ecol 12:439–446

Welling P, Koivula K, Lahti K (1995) The dawn chorus is linked with female fertility in the willow tit Parus montanus. J Avian Biol 26:241–246

Whittingham LA, Kirkconnell A, Ratcliffe LM (1997) The context and function of duet and solo songs in the red-shouldered blackbird. Wilson Bull 109:279–289

Wikelski M, Hau M, Robinson WD, Wingfield JC (2003) Reproductive seasonality of seven neotropical passerine species. Condor 105:683–695
Acknowledgements
This study was supported by research grants and scholarships from the American Ornithologists' Union, American Museum of Natural History, Animal Behavior Society, Ontario Graduate Scholarships, Sigma Xi, and York University to SAG, Natural Science and Engineering Research Council of Canada to M.J.V., B.J.M.S. and J.S.Q., and Smithsonian Institution to E.S.M. and B.J.M.S. We are most grateful to the Autoridad Nacional del Ambiente for permitting us to work in Panama. We thank the Smithsonian Tropical Research Institute for excellent logistical support, E.C. Edwards and M.A. Mico for assistance in the field, L. De Sousa for performing the laboratory work, and B. Woolfenden for help with the paternity analysis. For helpful discussion of ideas, we thank the Hau and Wikelski laboratories at Princeton University. We also thank R. Gibson, D. Logue, and two anonymous reviewers for comments that improved the manuscript.
Additional information
Communicated by R. Gibson
About this article
Cite this article
Gill, S.A., Vonhof, M.J., Stutchbury, B.J.M. et al. No evidence for acoustic mate-guarding in duetting buff-breasted wrens (Thryothorus leucotis). Behav Ecol Sociobiol 57, 557–565 (2005). https://doi.org/10.1007/s00265-004-0893-3
Received:

Revised:

Accepted:

Published:

Issue Date:
Keywords
Acoustic mate-guarding

Breeding synchrony

Duet

Monogamy

Parentage