Abstract
In many species, females prefer large males as mating partners. Male size can easily be determined visually. We examined how such mate choice evolves when individuals are deprived of sensory information previously used to determine male quality. Using a cave-dwelling population of Atlantic mollies, Poecilia mexicana, as a model, we asked whether the female mating preference for large male body size still occurs in this cave fish, or whether it is lacking due to the absence of visual communication in the cave environment. In simultaneous choice tests we compared the time females spent with a large or a small male. In the river-dwelling and cave-dwelling fish, as well as the population originating from the cave entrance, we found a significant preference for large males in light. Hence, the ancestral mating preference of surface-dwelling mollies has been maintained during the evolution of the cave form. However, only the cave population exhibited a mating preference in darkness. Determination of male body size appears to have been taken over by a non-visual sensory system, probably the lateral line.
Access options
Buy single article
Instant access to the full article PDF.
US$ 39.95
Tax calculation will be finalised during checkout.
Subscribe to journal
Immediate online access to all issues from 2019. Subscription will auto renew annually.
US$ 79
Tax calculation will be finalised during checkout.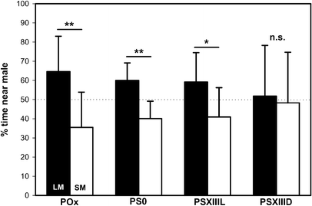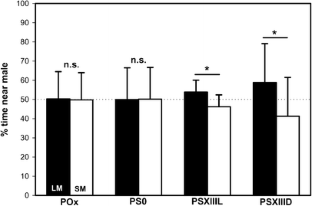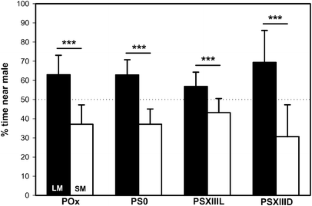 References
Andersson M (1994) Sexual selection. Princeton University Press, Princeton

Arak A (1988) Callers and satellites in the natterjack toad: evolutionary stable decision rules. Anim Behav 36:416–432

Aspbury AS, Basolo AL (2002) Repeatable female preferences, mating order and mating success in the poeciliid fish, Heterandria formosa. Behav Ecol Sociobiol 51:238–244

Crapon de Caprona MD, Ryan MJ (1990) Conspecific mate recognition in swordtails, Xiphophorus nigrensis and X. pygmaeus (Poeciliidae): olfactory and visual cues. Anim Behav 39:290–296

Dominy NJ, Lucas PW (2001) Ecological importance of trichromatic vision to primates. Nature 410:363–366

Emde G von der, Schwarz S, Gomez L, Budelli R, Grant K (1998) Electric fish measure distance in the dark. Nature 395:890–893

Gabor C (1999) Association patterns of sailfin mollies (Poecilia latipinna): alternative hypotheses. Behav Ecol Sociobiol 46:333–340

Gordon MS, Rosen DE (1962) A cavernicolous form of the poeciliid fish Poecilia sphenops from Tabasco, Mexico. Copeia 2:360–368

Halliday TR (1977) The courtship of European newts: an evolutionary perspective. In: Taylor DH, Guttman SI (eds) Reproductive biology of amphibians. Plenum Press, New York, pp 185–232

Hassan ES (1989) Hydrodynamic imaging of the surroundings by the lateral line of the blind cave fish Anoptichthys jordani. In: Coombs S, Gorner P, Munz H (eds) The mechanosensory lateral line neurobiology and evolution. Springer, Berlin Heidelberg New York, pp 217–228

Johnstone RA (1996) Multiple displays in animal communication: "backup signals" and "multiple messages". Philos Trans R Soc Lond B Biol Sci 351:329–338

Körner KE (1999) Zur sexuellen Selektion höhlenlebender Atlantikkärpflinge (Poecilia mexicana Steindachner 1863). PhD thesis, University of Hamburg, Germany

Langecker TG, Wilkens H, Parzefall J (1996) Studies on the trophic structure of an energy-rich Mexican cave (Cueva de las Sardinas) containing sulfurous water. Mem Biospeol 23:121–125

Magurran AE, Seghers BH (1994) A cost of sexual harassment in the guppy, Poecilia reticulata. Proc R Soc Lond B Biol Sci 258:89–92

Marco A, Chivers DP, Kiesecker JM, Blaustein AR (1998) Mate choice by chemical cues in the western redback (Plethodon vehiculum) and Dunn's (P. dunni) salamanders. Ethology 104:781–788

Marler CA, Ryan MJ (1997) Origin and maintenance of a female mating preference. Evolution 51:1244–1248

McLennan DA, Ryan MJ (1997) Responses to conspecific and heterospecific olfactory cues in the swordtail Xiphophorus cortezi. Anim Behav 54:1077–1088

Menzel BM, Darnell RM (1973) Systematics of Poecilia mexicana (Pisces: Poeciliidae) in Northern Mexico. Copeia 1973:225–237

Miller RR (1966) Geographical distribution of Central American freshwater fishes. Copeia 4:773–801

Montgomery JC, Coombs S, Baker CF (2001) The mechanosensory lateral line system of the hypogean form of Astyanax fasciatus. Environ Biol Fish 62:87–96

Parzefall J (1970) Morphologische Untersuchungen an einer Höhlenform von Mollienesia sphenops (Pisces, Poeciliidae). Z Morphol Tiere 68:323–342

Parzefall J (1993a) Behavioural ecology of cave-dwelling fishes. In: Pitcher TJ (ed) Behaviour of teleost fishes, 2nd edn. Chapman and Hall, London, pp 573–608

Parzefall J (1993b) Schooling behaviour in population-hybrids of Astyanax fasciatus and Poecilia mexicana (Pisces, Characidae and Poeciliidae). In: Schröder H, Bauer J, Schartl M (eds) Trends in ichthyology: an international perspective. Blackwell, Oxford, pp 297–303

Parzefall J (2001) A review on morphological and behavioural changes in the cave molly, Poecilia mexicana, from Tabasco, Mexico. Environ Biol Fish 62:263–275

Peters N, Peters G, Parzefall J, Wilkens H (1973) Über degenerative und konstruktive Merkmale bei einer phylogenetisch jungen Höhlenform von Poecilia sphenops (Pisces, Poeciliidae). Int Rev Ges Hydrobiol 58:417–436

Plath M, Körner KE, Schlupp I, Parzefall J (2001) Sex recognition and female preferences of cave mollies Poecilia mexicana (Poeciliidae, Teleostei) in light and darkness. Mem Biospeol 28:163–167

Plath M, Parzefall J, Schlupp I (2003a) The role of sexual harassment in cave and surface dwelling populations of the Atlantic molly, Poecilia mexicana (Poeciliidae, Teleostei). Behav Ecol Sociobiol 54:303–309

Plath M, Wiedemann K, Parzefall J, Schlupp I (2003b) Sex recognition in surface and cave dwelling male Atlantic mollies Poecilia mexicana (Poeciliidae, Teleostei). Behaviour 140:765–781

Ptacek MB, Travis J (1997) Mate choice in the sailfin molly, Poecilia latipinna. Evolution 51:1217–1231

Rosen DE, Bailey RM (1963) The poeciliid fishes (Cyprinodontiformes), their structure, zoogeography and systematics. Bull Am Mus Nat Hist 126:1–176

Rosen DE, Mendelson JR (1960) The sensory canals of the head in poeciliid fishes (Cyprinodontiformes), with reference to dentitional types. Copeia 3:203–210

Rosenthal GG, Evans CS (1998) Female preference for swords in Xiphophorus helleri reflects a bias for large apparent size. Proc Natl Acad Sci USA 95:4431–4436

Ryan MJ, Keddy-Hector A (1992) Directional patterns of female mate choice and the role of sensory biases. Am Nat 139:S4–S35

Ryan MJ, Wagner WE (1987) Asymmetries in mating preferences between species: female swordtails prefer heterospecific mates. Science 236:595–597

Rydell J, Roininen H, Philip KW (2000) Persistence of bat defence reactions in high Arctic moths (Lepidoptera). Proc R Soc Lond B Biol Sci 267:553–557

Satou M, Takeuchi HA, Nishii J, Tanabe M, Kitamura S, Okumoto N, Iwata M (1994) Behavioural and electrophysiological evidence that the lateral line is involved in the inter-sexual vibrational communication of the hime salmon (landlocked red salmon, Oncorhynchos nerka). J Comp Physiol A 174:539–549

Schlupp I, Parzefall J, Schartl M (1991) Male mate choice in mixed bisexual/unisexual breeding complexes of Poecilia (Teleostei: Poeciliidae). Ethology 88:215–222

Schlupp I, Marler C, Ryan MJ (1994) Benefit to male sailfin mollies of mating with heterospecific females. Science 236:373–374

Schlupp I, McKnab R, Ryan MJ (2001) Sexual harassment as a cost for molly females: bigger males cost less. Behaviour 138:277–286

Schlüter A, Parzefall J, Schlupp I (1998) Female preference for symmetrical bars in male Sailfin mollies (Poecilia latipinna). Anim Behav 56:147–153

Wilkens H (1988) Evolution and genetics of epigean and cave Astyanax fasciatus (Characidae, Pisces). Evol Biol 23:271–367

Witte K, Ryan MJ (1998) Male body length influences mate-choice copying in the sailfin molly Poecilia latipinna. Behav Ecol 9:534–539
Acknowledgements
We thank the DFG for financial support (Pa 148/10-4) and the Mexican Government for the collecting and research permits (242-219, 276/36, 210696-213-03). I.S. was supported by a Heisenberg Fellowship of the DFG. A. Taebel-Hellwig, T.H. Dirks, I.D. Schmidt and the aquarium team of the Biozentrum Grindel (Hamburg) provided technical support and help with fish care. M.J. Ryan and K.U. Heubel kindly read an earlier version of this manuscript.
Additional information
Communicated by K. Lindström
About this article
Cite this article
Plath, M., Parzefall, J., Körner, K.E. et al. Sexual selection in darkness? Female mating preferences in surface- and cave-dwelling Atlantic mollies, Poecilia mexicana (Poeciliidae, Teleostei). Behav Ecol Sociobiol 55, 596–601 (2004). https://doi.org/10.1007/s00265-003-0750-9
Received:

Revised:

Accepted:

Published:

Issue Date:
Keywords
Cave fish

Female choice

Poecilia

Sensory shift

Sexual selection