Abstract
California ground squirrels (Spermophilus beecheyi) and northern Pacific rattlesnakes (Crotalus viridus oreganus) have an adversarial relationship. Adults are partially protected by venom resistance and harass rattlesnakes in part to defend their more vulnerable offspring. Larger, warmer snakes are more dangerous than smaller colder snakes, and in escalated conflict squirrels could benefit from risk assessment strategies. Rattlesnakes often rattle at harassing squirrels and rattling sounds produce cues related to body size and temperature. In study 1 we played back rattling sounds from snakes that varied in dangerousness and evaluated the roles of sex and parity in squirrel risk assessment strategies. In general, squirrels tail flagged and stood bipedally more, and were slower to reapproach the playback speaker following playbacks of rattling sounds from more dangerous snakes. In comparison with males and nonmothers, mothers were most responsive to rattling sounds and more sensitive to variation in snake dangerousness. Mothers tail flagged more than males and nonmothers, and this behavior tracked variation in snake dangerousness most closely, perhaps reflecting the effects of snake size and temperature on pup vulnerability. These findings suggest that many aspects of squirrel antisnake behavior are governed by their effects on descendant kin. In study 2 we tested the effects of offspring age on mothers' responses to live rattlesnakes and rattling sounds. According to the offspring value hypothesis, mothers should take more risks in defense of older offspring because they are more likely to survive to reproductive age. By contrast, under the offspring vulnerability hypothesis, older offspring are less vulnerable to predators and thus mothers should take fewer risks. Risk-taking, as measured by behaviors that bring the squirrel close to the snake's strike range, was either unaffected by or negatively correlated with offspring age. Thus, our findings suggest that whereas offspring value is unimportant in squirrel antisnake behavior, offspring vulnerability may affect maternal defense. We suggest that offspring vulnerability in mammals, in comparison with birds, may play a larger role in parental defense against predators.
Access options
Buy single article
Instant access to the full article PDF.
USD 39.95
Price excludes VAT (USA)
Tax calculation will be finalised during checkout.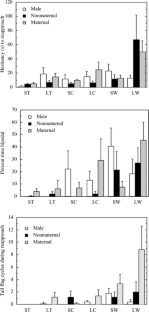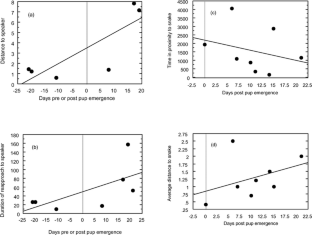 References
Andersson M, Wiklund CG, Rundgren H (1980) Parental defence of offspring: a model and an example. Anim Behav 28:536–542

Archer J (1988) The behavioural biology of aggression. Cambridge University Press, Cambridge

Blumstein DT, Steinmetz J, Armitage KB, Daniel JC (1997) Alarm calling in yellow-bellied marmots: II. The importance of direct fitness. Anim Behav 53:173–184

Boellstorff DE, Owings DH, Penedo MCT, Hersek MJ (1994) Reproductive behaviour and multiple paternity of California ground squirrels. Anim Behav 47:1057–1064

Buitron D (1983) Variability in the response of black-billed magpies to natural predators. Behaviour 87:209–236

Bures S, Pavel V (1997) The effects of nestling condition on risk-taking in meadow pipits. Anim Behav 54:1531–1534

Clutton-Brock (1991) The evolution of parental care. Princeton University Press, Princeton

Coleman RM, Gross MR, Sargent RC (1985) Parental investment decision rules: a test in bluegill sunfish. Behav Ecol Sociobiol 18:59–66

Coss RG, Owings DH (1985) Restraints on ground squirrel antipredator behavior: adjustments over multiple time scales. In: Johnston TD, Pietrewicz AT (eds) Issues in the ecological study of learning. Erlbaum, Hillsdale, N.J., pp 167–200

Curio E (1978) The adaptive significance of avian mobbing: I. Teleonomic hypotheses and predictions. Z Tierpsychol 48:175–183

Curio E, Regelmann D (1985) The behavioural dynamics of great tits ( Parus major) approaching a predator. Z Tierpsychol 69:3–18

Davies NB, Halliday TR (1978) Deep croaks and fighting assessment in toads Bufo bufo. Nature 274:683–685

Enquist M, Leimar O, Ljungberg T, Mallner Y, Segerdahl N (1990) A test of the sequential assessment game: fighting in the cichlid fish Nannacara anomala. Anim Behav 40:1–14

Fitch HS (1949) Study of snake populations in central California. Am Midl Nat 41:513–579

Greenwald OE (1974) Thermal dependence of striking and prey capture by gopher snakes. Copeia 1974:141–148

Greig-Smith PW (1980) Parental investment in nest defence by stonechats ( Saxicola torquata). Anim Behav 28:604–619

Hasson O (1991) Pursuit-deterrent signals: communication between prey and predator. Trends Ecol Evol 6:325–329

Hauser MD (1988) Variation in maternal responsiveness in free-ranging vervet monkeys: a response to infant mortality risk. Am Nat 131:573–587

Hennessy DF, Owings DH (1988) Rattlesnakes create a context for localizing their search for potential prey. Ethology 77:317–329

Hersek MJ (1990) Behavior of predator and prey in a highly coevolved system: northern Pacific rattlesnakes and California ground squirrels. PhD thesis, University of California, Davis

Hersek MJ, Owings DH (1993) Tail flagging by adult California ground squirrels: a tonic signal that serves different functions for males and females. Anim Behav 46:129–138

Keppel G (1991) Design and analysis: a researcher's handbook, 3rd edn. Prentice-Hall, Englewood Cliffs, N.J.

Linsdale JM (1946) The California ground squirrel. University of California Press, Berkeley

Loughry WJ (1987) The dynamics of snake harassment by black-tailed prairie dogs. Behaviour 103:27–48

Loughry WJ (1993) Determinants of time allocation by adult and yearling black-tailed prairie dogs. Behaviour 124:23–43

Loughry WJ, McDonough CM (1988) Calling and vigilance in California ground squirrels: a test of the tonic communication hypothesis. Anim Behav 36:1533–1540

Michl G, Török J, Garamszegi LZ, Tóth L (2000) Sex-dependent risk-taking in the collared flycatcher, Ficedula albicollis , when exposed to a predator at the nestling stage. Anim Behav 59:623–628

Montgomerie RD, Weatherhead PJ (1988) Risks and rewards of nest defence by parent birds. Q Rev Biol 63:167–187

Ostermeyer MC (1983) Maternal aggression. In: Elwood RW (ed) Parental behaviour of rodents. Wiley, Chichester, pp 151–179

Owings DH, Coss RG (1977) Snake mobbing by California ground squirrels: adaptive variation and ontogeny. Behaviour 62:50–69

Owings DH, Morton ES (1998) Animal vocal communication: a new approach. Cambridge University Press, Cambridge

Owings DH, Hennessy DF, Leger DW, Gladney AB (1986) Different functions of "alarm" calling for different time scales: a preliminary report on ground squirrels. Behaviour 99:101–116

Patterson TL, Petrinovich L, James DK (1980) Reproductive value and appropriateness of response to predators by white-crowned sparrows. Behav Ecol Sociobiol 7:227–234

Pavel V, Bures S (2001) Offspring age and nest defence: test of the feedback hypothesis in the meadow pipit. Anim Behav 61:297–303

Poran NS, Coss RG (1990) Development of antisnake defenses in California ground squirrels ( Spermophilus beecheyi): I. Behavioral and immunological relationships. Behaviour 112:222–245

Poran NS, Coss RG, Benjamini E (1987) Resistance of California ground squirrels ( Spermophilus beecheyi) to the venom of the northern Pacific rattlesnake ( Crotalus viridis oreganus): a study of adaptive variation. Toxicon 25:767–777

Pressley PH (1981) Parental effort and the evolution of nest-guarding tactics in the threespine stickleback, Gasterosteus aculeatus L. Evolution 35:282–295

Randall JA, Matocq MD (1997) Why do kangaroo rats ( Dipodomys spectabilis) footdrum at snakes? Behav Ecol 8:404–413

Rowe MP, Owings DH (1978) The meaning of the sound of rattling by rattlesnakes to California ground squirrels. Behaviour 66:252–267

Rowe MP, Owings DH (1990) Probing, assessment, and management during interactions between ground squirrels and rattlesnakes. Part 1: risks related to rattlesnake size and body temperature. Ethology 86:237–249

Rowe MP, Owings DH (1996) Probing, assessment and management during interactions between ground squirrels (Rodentia: Sciuridae) and rattlesnakes (Squamata: Viperidae). Part 2: cues afforded by rattlesnake rattling. Ethology 102:856–874

SAS (1999) SAS JMP version 3, SAS Institute, Cary, N.C.

Svare BB (1981) Maternal aggression in mammals. In: Gubernick DJ, Klopfer PH (eds) Parental care in mammals. Plenum, New York, pp 179–210

Swaisgood RR, Owings DH, Rowe MP (1999a) Confict and assessment in a predator-prey system: ground squirrels versus rattlesnakes. Anim Behav 57:1033–1044

Swaisgood RR, Rowe MP, Owings DH (1999b) Assessment of rattlesnake dangerousness by California ground squirrels: exploitation of cues from rattling sounds. Anim Behav 57:1301–1310

Tallamy DW (1982) Age specific maternal defense in Gargaphia solani ( Hemiptera: Tingidae). Behav Ecol Sociobiol 11:7–11

Tamura N, Yong H-S (1993) Vocalizations in response to predators in three species of Malaysian Callosciureus (Sciuridae). J Mamm. 74:703–714

Towers SR, Coss RG (1990) Confronting snakes in the burrow: snake-species discrimination and antisnake tactics in two California ground squirrel populations. Ethology 84:177–192

Trivers RL (1972) Parental investment and sexual selection. In: Campbell B (ed) Sexual selection and the descent of man. Aldine, Chicago, pp 136–179

Winkler DW (1994) Anti-predator defence by neighbors as a responsive amplifier of parental defence in tree swallows. Anim Behav 47:595–605

Wolff JO (1985) Maternal aggression as a deterrent to infanticide in Peromyscus leucopus and P. maniculatus. Anim Behav 33:117–123

Woodland DJ, Jaafar Z, Knight M-L (1980) The "pursuit deterrent" function of alarm signals. Am Nat 115:748–753
Acknowledgements
We express our gratitude to several students who assisted with the field work, especially Trent Albro and Dana Tamashiro. The East Bay Regional Park District graciously allowed us to conduct this research. This research was supported by grants from the University of California Graduate Research Award and Sigma-Xi Grant-in-Aid of Research to Ron Swaisgood. Support for Don Owings was provided by the Department of Psychology and Faculty Research Grant D-819 from the University of California at Davis. Matt Rowe was supported by grants from the North Carolina Board of Science and Technology, as well as the University Research Council, College of Arts and Sciences, and Department of Biology at Appalachian State University. The research conducted for this manuscript complies with all legal requirements of the United States of America and was approved by the Institutional Animal Care and Use Committee of the University of California, Davis.
About this article
Cite this article
Swaisgood, R.R., Rowe, M.P. & Owings, D.H. Antipredator responses of California ground squirrels to rattlesnakes and rattling sounds: the roles of sex, reproductive parity, and offspring age in assessment and decision-making rules. Behav Ecol Sociobiol 55, 22–31 (2003). https://doi.org/10.1007/s00265-003-0684-2
Received:

Revised:

Accepted:

Published:

Issue Date:

DOI: https://doi.org/10.1007/s00265-003-0684-2
Keywords