Abstract
Purpose
To ascertain the role of autologous bone marrow-derived mesenchymal stem cells (BM-MSCs) in the tendon regeneration.
Methods
The study was conducted on 58 Achilles tendons from 29 laboratory Chinchilla adult rabbits. The central bundles of 48 tendons were partially removed and substituted with a tissue-engineered construct consisting of a collagen sponge either loaded with BM-MSCs (n = 24) or cell free (n = 24), placed inside a Vicryl mesh tube. The ends of the resected tendon were inserted in the construct to reach a direct contact with the sponge and sutured to the tube. The animals were sacrificed three and six months post-surgery. Ten intact tendons from five rabbits were used as an untreated control. The tissue samples (n = 30) were stained with haematoxylin and eosin, Picrosirius red, primary antibodies to collagen types I and III and studied by bright-field, phase-contrast, polarized light, and scanning electron microscopies followed by semi-quantitative morphometry.
Results
Six months results of cell-loaded scaffolds demonstrated parallel collagen fibres, spindle-shaped tenocytes, and neoangiogenesis. In the control cell-free group, the injured areas were filled with a nonspecific fibrotic tissue with minor foci of incomplete regeneration. The biomechanical tests of 28 tendons taken from 14 rabbits showed that the stiffness of the cell-based reconstructed tendons increased to 98% of the value for the intact samples.
Conclusion
The obtained results support the hypothesis that the application of BM-MSCs in a tissue-engineered tendon construct leads to the restitution of the tendon tissue.
Access options
Buy single article
Instant access to the full article PDF.
US$ 39.95
Tax calculation will be finalised during checkout.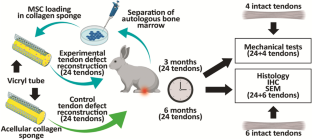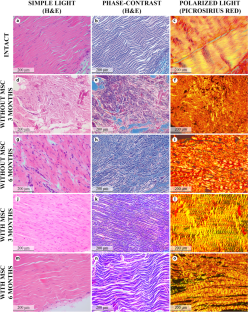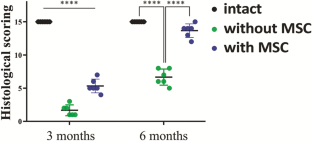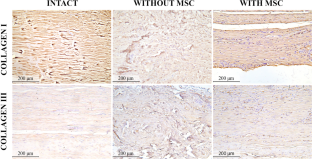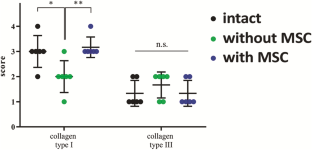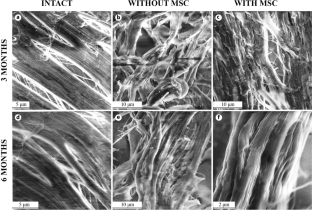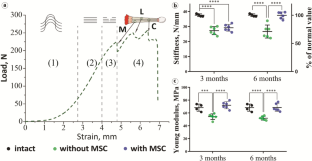 Data availability
The manuscript has data included ES electronic supplementary materials.
References
1.

Nichols AEC, Best KT, Loiselle AE (2019) The cellular basis of fibrotic tendon healing: challenges and opportunities. Transl Res 209:156–168. https://doi.org/10.1016/j.trsl.2019.02.002

2.

Tempfer H, Traweger A (2015) Tendon vasculature in health and disease. Front Physiol 6:330. https://doi.org/10.3389/fphys.2015.00330

3.

Liu L, Hindieh J, Leong DJ, Sun HB (2017) Advances of stem cell based-therapeutic approaches for tendon repair. Journal of orthopaedic translation 9:69–75. https://doi.org/10.1016/j.jot.2017.03.007

4.

Lui PP (2015) Stem cell technology for tendon regeneration: current status, challenges, and future research directions. Stem cells and cloning : advances and applications 8:163–174. https://doi.org/10.2147/SCCAA.S60832

5.

González-Quevedo D, Martínez-Medina I, Campos A, Campos F, Carriel V (2018) Tissue engineering strategies for the treatment of tendon injuries: a systematic review and meta-analysis of animal models. Bone Joint Res 7(4):318–324. https://doi.org/10.1302/2046-3758.74.BJR-2017-0326

6.

Song YJ, Hua YH (2019) Tendon allograft for treatment of chronic Achilles tendon rupture: a systematic review. Foot Ankle Surg 25(3):252–257. https://doi.org/10.1016/j.fas.2018.02.002

7.

Youngstrom DW, Rajpar I, Kaplan DL, Barrett JG (2015) A bioreactor system for in vitro tendon differentiation and tendon tissue engineering. J Orthop Res 33(6):911–918. https://doi.org/10.1002/jor.22848

8.

Chen C, Hunt KJ (2019) Open reconstructive strategies for chronic Achilles tendon ruptures. Foot Ankle Clin 24(3):425–437. https://doi.org/10.1016/j.fcl.2019.04.002

9.

Leong DJ, Sun HB (2016) Mesenchymal stem cells in tendon repair and regeneration: basic understanding and translational challenges. Ann N Y Acad Sci 1383(1):88–96. https://doi.org/10.1111/nyas.13262

10.

Yu J, Vodyanik MA, Smuga-Otto K, Antosiewicz-Bourget J et al (2007) Induced pluripotent stem cell lines derived from human somatic cells. Science 318(5858):1917–1920. https://doi.org/10.1126/science.1151526

11.

Okita K, Ichisaka T, Yamanaka S (2007) Generation of germline-competent induced pluripotent stem cells. Nature 448(7151):313–317. https://doi.org/10.1038/nature05934

12.

Araki R, Uda M, Hoki Y, Sunayama M et al (2013) Negligible immunogenicity of terminally differentiated cells derived from induced pluripotent or embryonic stem cells. Nature 494(7435):100–104. https://doi.org/10.1038/nature11807

13.

Ouyang HW, Goh JC, Thambyah A, Teoh SH et al (2003) Knitted poly-lactide-co-glycolide scaffold loaded with bone marrow stromal cells in repair and regeneration of rabbit Achilles tendon. Tissue Eng 9(3):431–439. https://doi.org/10.1089/107632703322066615

14.

Yin Z, Guo J, Wu TY, Chen X et al (2016) Differentiation of mesenchymal stem cells augments tendon-like tissue formation and defect repair in vivo. Stem Cells Transl Med 5(8):1106–1116. https://doi.org/10.5966/sctm.2015-0215

15.

Frauz K, Teodoro LFR, Carneiro GD, Cristina da Veiga F et al (2019) Transected tendon treated with a new fibrin sealant alone or associated with adipose-derived stem cells. Cells 8(1):56. https://doi.org/10.3390/cells8010056

16.

Bottagisio M, D'Arrigo D, Talò G, Bongio M et al (2019) Achilles tendon repair by decellularized and engineered xenografts in a rabbit model. Stem Cells Int 2019:5267479. https://doi.org/10.1155/2019/5267479

17.

Veronesi F, Borsari V, Contartese D, Xian J et al (2020) The clinical strategies for tendon repair with biomaterials: a review on rotator cuff and Achilles tendons. J Biomed Mater Res B Appl Biomater 108(5):1826–1843. https://doi.org/10.1002/jbm.b.34525

18.

Maharam E, Yaport M, Villanueva NL, Akinyibi T et al (2015) Rho/Rock signal transduction pathway is required for MSC tenogenic differentiation. Bone Res 3:15015. https://doi.org/10.1038/boneres.2015.15

19.

Oryan A, Sharifi P, Moshiri A, Silver IA (2017) The role of three-dimensional pure bovine gelatin scaffolds in tendon healing, modeling, and remodeling: an in vivo investigation with potential clinical value. Connect Tissue Res 58(5):424–437. https://doi.org/10.1080/03008207.2016.1238468

20.

Chen CH, Cao Y, Wu YF, Bais AJ et al (2008) Tendon healing in vivo: gene expression and production of multiple growth factors in early tendon healing period. J Hand Surg Am 33(10):1834–1842. https://doi.org/10.1016/j.jhsa.2008.07.003

21.

Snedeker JG, Foolen J (2017) Tendon injury and repair—a perspective on the basic mechanisms of tendon disease and future clinical therapy. Acta Biomater 63:18–36. https://doi.org/10.1016/j.actbio.2017.08.032

22.

Veronesi F, Pagani S, Torricelli P, Filardo G et al (2018) PRP and MSCs on tenocytes artificial wound healing: an in vitro study comparing fresh and frozen PRP. Histol Histopathol 33(12):1323–1334. https://doi.org/10.14670/HH-18-018

23.

Moreau JE, Chen J, Bramono DS, Volloch V et al (2005) Growth factor induced fibroblast differentiation from human bone marrow stromal cells in vitro. J Orthop Res 23(1):164–174. https://doi.org/10.1016/j.orthres.2004.05.004

24.

Kanaya A, Deie M, Adachi N, Nishimori M et al (2007) Intra-articular injection of mesenchymal stromal cells in partially torn anterior cruciate ligaments in a rat model. Arthroscopy 23(6):610–617. https://doi.org/10.1016/j.arthro.2007.01.013

25.

Bifari F, Pacelli L, Krampera M (2010) Immunological properties of embryonic and adult stem cells. World J Stem Cells 2(3):50–60. https://doi.org/10.4252/wjsc.v2.i3.50

26.

Chamberlain CS, Saether EE, Aktas E, Vanderby R (2017) Mesenchymal stem cell therapy on tendon/ligament healing. J Cytokine Biol 2(1):112

27.

Chailakhyan RK, Shekhter AB, Ivannikov SV, Tel'pukhov VI, et al (2017) Reconstruction of ligament and tendon defects using cell technologies. Bull Exp Biol Med 162(4):563–568. https://doi.org/10.1007/s10517-017-3660-y

28.

Stoll C, John T, Conrad C, Lohan A et al (2011) Healing parameters in a rabbit partial tendon defect following tenocyte/biomaterial implantation. Biomaterials 32(21):4806–4815. https://doi.org/10.1016/j.biomaterials.2011.03.026

29.

Grebenik EA, Istranov LP, Istranova EV, Churbanov SN et al (2019) Chemical cross-linking of xenopericardial biomeshes: a bottom-up study of structural and functional correlations. Xenotransplantation 26(3):e12506. https://doi.org/10.1111/xen.12506

30.

Bottagisio M, Lovati AB (2017) A review on animal models and treatments for the reconstruction of Achilles and flexor tendons. J Mater Sci Mater Med 28(3):45. https://doi.org/10.1007/s10856-017-5858-y

31.

Schon LC, Gill N, Thorpe M, Davis J et al (2014) Efficacy of a mesenchymal stem cell loaded surgical mesh for tendon repair in rats. J Transl Med 12:110. https://doi.org/10.1186/1479-5876-12-110

32.

Young RG, Butler DL, Weber W, Caplan AI et al (1998) Use of mesenchymal stem cells in a collagen matrix for Achilles tendon repair. J Orthop Res 16(4):406–413. https://doi.org/10.1002/jor.1100160403

33.

Awad HA, Boivin GP, Dressler MR, Smith FN et al (2003) Repair of patellar tendon injuries using a cell-collagen composite. J Orthop Res 21(3):420–431. https://doi.org/10.1016/S0736-0266(02)00163-8

34.

Shekhter AB, Fayzullin AL, Vukolova MN, Rudenko TG et al (2019) Medical applications of collagen and collagen-based materials. Curr Med Chem 26(3):506–516. https://doi.org/10.2174/0929867325666171205170339

35.

Bardakova KN, Grebenik EA, Minaev NV, Churbanov SN et al (2020) Tailoring the collagen film structural properties via direct laser crosslinking of star-shaped polylactide for robust scaffold formation. Mater Sci Eng C Mater Biol Appl 107:110300. https://doi.org/10.1016/j.msec.2019.110300

36.

Talò G, D'Arrigo D, Lorenzi S, Moretti M et al (2020) Independent, controllable stretch-perfusion bioreactor chambers to functionalize cell-seeded decellularized tendons. Ann Biomed Eng 48(3):1112–1126. https://doi.org/10.1007/s10439-019-02257-6

37.

Moshiri A, Oryan A, Meimandi-Parizi A (2015) Synthesis, development, characterization and effectiveness of bovine pure platelet gel-collagen-polydioxanone bioactive graft on tendon healing. J Cell Mol Med 19(6):1308–1332. https://doi.org/10.1111/jcmm.12511

38.

Lipar M, Zdilar B, Kreszinger M, Ćorić M et al (2018) Extracellular matrix supports healing of transected rabbit Achilles tendon. Heliyon 4(9):e00781. https://doi.org/10.1016/j.heliyon.2018.e00781

39.

Learn GD, McClellan PE, Knapik DM, Cumsky JL et al (2019) Woven collagen biotextiles enable mechanically functional rotator cuff tendon regeneration during repair of segmental tendon defects in vivo. J Biomed Mater Res B Appl Biomater 107(6):1864–1876. https://doi.org/10.1002/jbm.b.34279

40.

Voleti PB, Buckley MR, Soslowsky LJ (2012) Tendon healing: repair and regeneration. Annu Rev Biomed Eng 14:47–71. https://doi.org/10.1146/annurev-bioeng-071811-150122
Funding
This work was supported by the N.F. Gamaleya National Research Center for Epidemiology & Microbiology of the Ministry of Health of the Russian Federation in the part of preparing MSCs and tissue-engineered constructs, by the Ministry of Science and Higher Education within the State assignment FSRC «Crystallography and Photonics» RAS in the part of the SEM analysis, by the Ministry of Science and Higher Education of the Russian Federation under the grant agreement No. 075–15-2021–596 (Megagrant, 2020–220-08–5262) in the part of the biomechanical studies, by the Russian Foundation for Basic Research (Project 18–29-06059) in the part of animal experiments and histological studies.
Ethics declarations
Ethical approval
This study was approved by the institutional review board. The experiments were performed in accordance with the European Convention (Strasbourg, 1986) and the Helsinki Declaration of the World Medical Association on the Humane Treatment of Animals (2000).
Consent to publish
All authors gave their consent for information about themselves to be published in International Orthopedics.
Conflict of interest
The authors declare no competing interests.
Additional information
Publisher's Note
Springer Nature remains neutral with regard to jurisdictional claims in published maps and institutional affiliations.
Supplementary Information
About this article
Cite this article
Chailakhyan, R.K., Kon, E., Shekhter, A.B. et al. Autologous bone marrow-derived mesenchymal stem cells provide complete regeneration in a rabbit model of the Achilles tendon bundle rupture. International Orthopaedics (SICOT) (2021). https://doi.org/10.1007/s00264-021-05168-1
Received:

Accepted:

Published:
Keywords
Tissue engineering

Tendon tissue

Tendon injury

Cell therapy

Cell-loaded scaffolds