Abstract
Purpose
Early closed reduction and locked intramedullary (IM) nailing has become the standard treatment for diaphyseal long bone fractures in high income countries. The low and middle income countries (LMICs) are still lagging behind in transiting from open surgical reduction and non-operative modalities to closed reduction due to lack of requisite equipment. However, some surgeons in LMICs are beginning to achieve closed reduction even without the equipment.
Methods
A prospective descriptive study was done on a total of 251 fresh diaphyseal fractures of the humerus, femur and tibia fixed with a locked nail over a 5½-year period. The fractures were grouped into those that had open reduction, closed reduction or reduction with a finger.
Results
Closed reduction was done for 135 (53.8%) fractures belonging to 123 patients. The mean and range of the patients' ages were 41.33 and 13–81 years, respectively. Males constituted 69.9% and mostly (48%) sustained fractures in motorcycle accident. There was a significant negative association between closed reduction and fracture-to-surgery interval (p < 0.001). Closed reduction also had positive associations with: (i) humerus and tibia fractures (p < 0.001), (ii) middle, distal and segmental fractures (p = 0.025), (iii) retrograde approach to femur fracture nailing (p < 0.001), and (iv) wedge or multifragmentary type femur fractures (p = 0.005).
Conclusion
With constant practice, it is possible to achieve closed reduction of many fresh diaphyseal long bone fractures in spite of the limitations imposed on surgeons in LMICs by poor health systems and grossly inadequate fracture care facilities.
Access options
Buy single article
Instant access to the full article PDF.
US$ 39.95
Tax calculation will be finalised during checkout.
Subscribe to journal
Immediate online access to all issues from 2019. Subscription will auto renew annually.
US$ 119
Tax calculation will be finalised during checkout.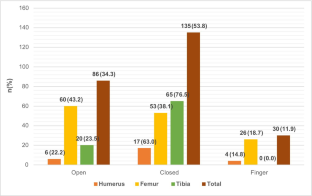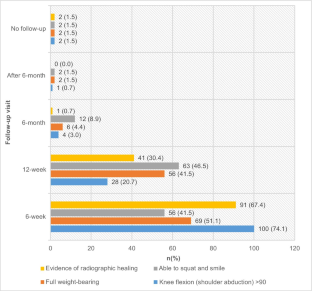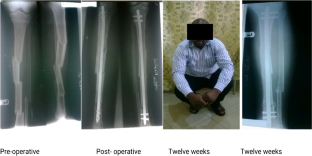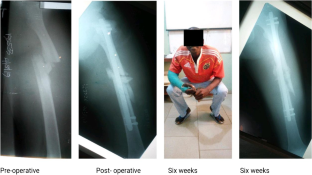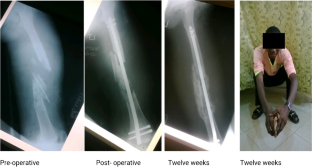 References
1.

Gellman RE (2016) Fracture care challenges in the austere and humanitarian environments. Curr Trauma Rep 2:100–105. https://doi.org/10.1007/s40719-016-0046-y

2.

Phillips J, Zirkle LG, Gosselin RA (2012) Achieving locked intramedullary fixation of long bone fractures: technology for the developing world. Int Orthop 36:2007–2013. https://doi.org/10.1007/s00264-012-1625-3

3.

Winquist RA, Hansen ST, Clawson DK (1984) Closed intramedullary nailing of femoral shaft fractures: a report of 520 cases. J Bone Joint Surg Am 66:529–539

4.

Wolinsky PR, McCarty E, Shyr Y, Johnson K (1999) Reamed intramedullary nailing of the femur: 551 cases. J Trauma 46:392–399

5.

Gosselin RA, Lavaly DJ (2007) Perkins traction for adult femoral shaft fractures: a report on 53 patients in Sierra Leone. Int Orthop 31:697–702. https://doi.org/10.1007/s00264-006-0233-5

6.

Kamau DM, Gakuu LN, Gakuya EM, Sang EK (2014) Comparison of closed femur fracture: skeletal traction and intramedullary nailing cost-effectiveness. EAOJ 8:4–9

7.

Toivanen JAK, Hirvonen M, Auvinen O, Honkonen SE, Jarvinen TLN, Koivisto AM et al (2000) Cast treatment and intramedullary locking nailing for simple and spiral wedge tibial shaft fractures — a cost benefit analysis. Ann Chir Gynaecol 89:138–142

8.

Gosselin RA, Heitto M, Zirkle L (2009) Cost-effectiveness of replacing skeletal traction by interlocked intramedullary nailing for femoral shaft fractures in a provincial trauma hospital in Cambodia. Int Orthop (SICOT) 33:1445–1448. https://doi.org/10.1007/s00264-009-0798-x

9.

Webb LX, Gristina AG, Fowler HL (1988) Unstable femoral shaft fractures: a comparison of interlocking nailing versus traction and casting methods. J Orthop Trauma 2:10–12

10.

Johnson KD, Johnston DW, Parker B (1984) Comminuted femoral shaft fractures: treatment by roller traction, cerclage wires and an intramedullary nail, or an interlocking intramedullary nail. J Bone Joint Surg Am 66:1222–1235

11.

Ahmed E (2011) Outcome of SIGN Nail initiative in treatment of long bone fractures in Addis Ababa, Ethiopia. East and Central Afr J Surg 16:87–96

12.

Nwagbara IC (2019) Locked intramedullary nailing using the SIGN nailing device. Niger J Clin Pract 22:485–91. http://www.njcponline.com/text.asp?2019/22/4/485/255919. Accessed 3 May 2020

13.

Carsen S, Park SS, Simon DA, Feibel RJ (2015) Treatment with the SIGN nail in closed diaphyseal femur fractures results in acceptable radiographic alignment. Clin Orthop Relat Res 473:2394–2401. https://doi.org/10.1007/s11999-015-4290-1

14.

Feibel RJ, Zirkle LG (2009) Use of interlocking intramedullary tibial nails in developing countries. Tech Orthop 24:233–246

15.

Zirkle LG, Shearer D (2009) SIGN technique for retrograde and antegrade approaches to femur. Tech Orthop 24(4):247–252

16.

SIGN Fracture Care International (2016) Technique manual of SIGN IM nail & interlocking screw system insertion & extraction guide. Revision # TM-2016.04.11. SIGN Fracture Care International Richland, WA, USA. www.signfracturecare.org. Accessed 9 April 2020

17.

Wu X, Jiang Y (2015) Old fracture. Zhonghua Wai Ke Za Zhi 53:460–463

18.

Meinberg EG, Agel J, Roberts CS, Karam MD, Kellam JF (2018) Fracture and dislocation classification compendium–2018. J Ortho Trauma 32(Supp 1):S1–S170

19

Thakur A, Muzzafar K, Ghani A, Haseeb M (2018) Closed intramedullary nailing of acute femoral shaft fracture: reduction with help of bone levers through a small incision without opening fracture site. Int J Res Med Sci 6:817–21. https://doi.org/10.18203/2320-6012.ijrms20180491

20.

Gourishankar D (2014) Management of fractures of shaft of femur by closed and open method by IM Kuntsher nailing. MedPulse – Int Med J 1:444–6. http://www.medpulse.in. Accessed 5 May 2020

21.

Rohilla R, Singh R, Rohilla S, Magu NK, Devgan A, Siwach R (2011) Locked intramedullary femoral nailing without fracture table or image intensifier. Strat Traum Limb Recon 6:127–35. https://doi.org/10.1007/s11751-011-0122-3

22.

Giri SK, Adhikari BR, Gurung GB, Rc D, Bajracharya AR, Khatri K (2008) Mini-open reduction and intramedullary interlocking nailing of fracture shaft of tibia without an image intensifier. Nepal Med Coll J 10:123–125

23.

Liao JC, Hsieh PH, Chuang TY, Su JY, Chen CH, Chen YJ (2014) Mini-open intramedullary nailing of acute femoral shaft fracture: reduction through a small incision without a fracture table. Chang Gung Med J 26:660–668

24.

Tahririan MA, Andalib A (2014) Is there a place for open intramedullary nailing in femoral shaft fractures? Adv Biomed Res 3:157. https://doi.org/10.4103/2277-9175.137870

25.

Moore KL, Dalley AF (1999) Clinically oriented anatomy. Lippincott Williams & Wilkins, Baltimore

26.

McMinn RMH (1994) Last's anatomy: Regional and applied. Churchill Livingstone, Edinburgh

27.

Sheen JR, Garla VV (2020) Fracture healing overview. StatPearls Publishing LLC (NCBI). https://www.ncbi.nlm.nih.gov/books/NBK551678/. Accessed 9 April 2020

28

Bone LB, Johnson KD, Weigelt J, Scheinberg R (1989) Early versus delayed stabilization of femoral fractures: A prospective randomized study. J Bone Joint Surg 71-A:336–340

29

Agarwal-Harding KJ, von Keudell A, Zirkle LG, Meara JG, Dyer GSM (2016) Understanding and addressing the global need for orthopaedic trauma care. J Bone Joint Surg Am 98-A:1844–53. https://doi.org/10.2106/JBJS.16.00323

30.

Matityahu A, Elliott I, Marmor M, Caldwell A, Coughlinb R, Gosselin RA (2014) Time intervals in the treatment of fractured femurs as indicators of the quality of trauma systems. Bull World Health Organ 92:40–50. https://doi.org/10.2471/BLT.13.120436

31.

Young S, Lie SA, Hallan G, Zirkle LG, Engesaeter LB, Havelin LI (2011) Low infection rates after 34,361 intramedullary nail operations in 55 low- and middle-income countries: validation of the Surgical Implant Generation Network (SIGN) online surgical database. Acta Orthop 82:737–743. https://doi.org/10.3109/17453674.2011.636680
Acknowledgements
The authors are deeply grateful to SIGN Fracture Care International and its founder and president, Dr L. G. Zirkle for the free donation of SIGN implants and training without which this study would not have been possible.
Ethics declarations
Ethics approval and consent to participate
The study was approved by the Institutional Review Board of Bowen University Teaching
Hospital, Ogbomoso, Oyo State Nigeria. All patients gave informed consent to be included in the study.
Consent for publication
All patients approved of the authors' intention to have the study published.
Conflict of interest
The authors acknowledge the fact that the implants used for the patients in this study were manufactured and freely donated by SIGN Fracture Care International.
Additional information
Publisher's note
Springer Nature remains neutral with regard to jurisdictional claims in published maps and institutional affiliations.
About this article
Cite this article
Adesina, S.A., Eyasan, S.U., Amole, I.O. et al. Closed reduction and locked intramedullary nailing of diaphyseal long bone fractures without intra-operative imaging and fracture table. International Orthopaedics (SICOT) (2021). https://doi.org/10.1007/s00264-021-05091-5
Received:

Accepted:

Published:
Keywords
Closed reduction

Intra-operative imaging

Locked intramedullary nail

Fracture table

Diaphyseal long bone fracture