Abstract
Purpose
This study prospectively reports survivorship and radiographic and clinical outcomes following primary elective total hip arthroplasty (THA) using a novel single hemispherical, porous-coated acetabular cup with five different bearing combinations and a minimum of five year follow-up.
Methods
Continuing post-market release monitoring of this cup, we prospectively enrolled 108 patients (121 THA) between 2009 and 2015. We followed this cohort by examining survivorship, in addition to clinical and radiological outcomes for metal-on-metal (MoM) compared with non-MoM bearing combinations (ceramic-on-ceramic, oxinium-on-polyethylene, ceramic-on-metal, and metal-on-polyethylene).
Results
All 108 (121 hips) patients were followed up. Average age at time of surgery was 45.1 years (range 19 to 71 years) of which 42.1% were males. A total of seven (5.8%) cups were revised, all of which were MoM.
No osteolysis was observed in any of the patients at the latest visit with a mean follow-up of 9.1 ± 1.7 years (range 4.4–10.7 years). With MoM excluded, survivorship of the cup at five  years is 97.8%. Survivorship for MoM implants was 90.0%. Validated hip scores showed significant improvements for all bearing types and no significant difference between groups at latest follow-up (p = 0.614). There was no cup migration with any bearing surface.
Conclusion
This cup showed excellent survivorship at five year follow-up, except for patients receiving a MoM articulation. While there were concerns over the early survivorship of this cup, our cohort and joint registry data confirm excellent outcomes.
Access options
Buy single article
Instant access to the full article PDF.
US$ 39.95
Tax calculation will be finalised during checkout.
Subscribe to journal
Immediate online access to all issues from 2019. Subscription will auto renew annually.
US$ 119
Tax calculation will be finalised during checkout.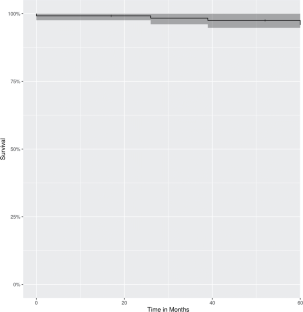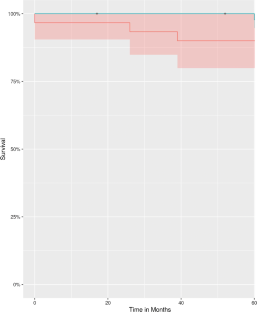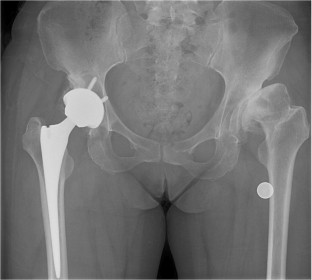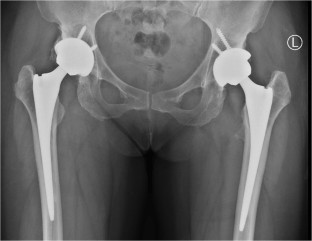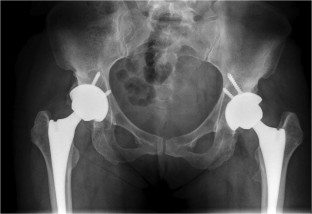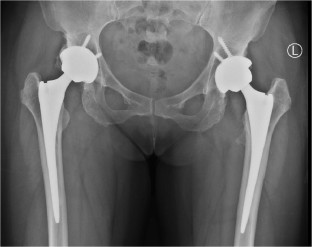 References
1.

Bourne RB, McCalden RW, Naudie D, Charron KD, Yuan X, Holdsworth DW (2008) The next generation of acetabular shell design and bearing surfaces. Orthopaedics 31(12 Suppl 2)

2.

Nilskon K, Theodoulou A, Mercer G (2017) Mid-term migration of a cementless, porous acetabular cup; a 5 year radiostereometric analysis. J Orthop 14(4):454–460

3.

Ilo KC, Dereby EJ, Whittaker RK (2017) Fretting and corrosion between a metal shell and metal liner may explain the high rates of R3 modular metal-on-metal hips. J Arthroplast 32(5):1679–1683

4.

Dramis A, Clatworthy E, Jones SA (2014) High failure rates of the R3 metal-on-metal total hip arthroplasty. Hip Int 24(5):442–447

5.

Dell'Isola A, Castagnini F, Bordini B, Montalti M, Rolli M, Traina F (2020) Metal on metal hip arthroplasty surveillance at a tertiary centre: design, patients' adherence, and cost analysis. Int Orthop. https://doi.org/10.1007/s00264-020-04618-6

6.

Teoh KH, Whithma RD, Golding DM (2018) R3 cup does not have a high failure rate in conventional bearings: a minimum of 5 year follow up. J Arthroplast 33(2):460–463

7.

Wilson IR, Turgeon TR, Gascoyne TC, Della Valle CJ, McCalden RW (2020) Midterm results of a contemporary, porous-coated acetabular system in patients undergoing primary total hip replacement for degenerative hip disease: a prospective, multicenter study. J Arthroplast 35(7):1862–1867. https://doi.org/10.1016/j.arth.2020.02.068

8.

Atrey A, Wolfstadt J, Hussain N (2018) The ideal total hip replacement bearing surface in the young patient: a prospective randomized trial comparing alumina ceramic-on-ceramic with ceramic-on-conventional polyethylene: 15-year follow-up. J Arthroplast 33(6):1752–1756

9.

DeLee JG, Charnley J (1976) Radiological demarcation of cemented sockets in total hip replacement. Clin Orthop Relat Res 121:20–32

10.

Gruen TA, McNeice GM, Amstutz HC (1979) "Modes of failure" of cemented stem-type femoral components: a radiographic analysis of loosening. Clin Orthop Relat Res 141:17–27

11.

Campbell P, Ebramzadeh E, Nelson S (2010) Histological features of pseudotumor-like tissues from metal-on-metal hips. Clin Orthop Relat Res 468(9):2321–2327

12.

Pisanu F, Doria C, Andreozzi M et al (2019) Pleomorphic clinical spectrum of metallosis in total hip arthroplasty. Int Orthop 43(1):85–96

13.

Kasparek MF, Renner L, Faschingbauer M et al (2018) Salvage of a monoblock metal-on-metal cup using a dual mobility liner: a two-year MRI follow-up study. Int Orthop 42(5):1035–1041

14.

Learmoth ID, Young C, Rorabeck C (2007) The operation of the century: total hip replacement. Lancet. 370(9597):1508–1519

15.

16th National Joint Registry of England, Wales and Northern Ireland. https://reports.njrcentre.org.uk/Portals/0/PDFdownloads/NJR%2016th%20Annual%20Report%202019.pdf

16.

Matharu GS, Judge A, Pandit H et al (2018) Follow-up for patients with metal-on-metal hip replacements: are the new MHRA recommendations justified? BMJ. 13:360

17.

National Institute for Health and Care Excellence (2014) Total hip replacement and resurfacing arthroplasty for end-stage arthritis of the hip (review of technology appraisal guidance 2 and 44). https://www.nice.org.uk/guidance/ta304/

18.

Bouveau V, Haen TX, Poupon J, Nich C (2018) Outcomes after revision of metal on metal hip resurfacing to total arthroplasty using the direct anterior approach. Int Orthop 42(11):2543–2548

19.

Tao R, Liu F, Liu YK et al (2018) A prospective comparative study of hip resurfacing arthroplasty and large-diameter head metal-on-metal total hip arthroplasty in younger patients-a minimum of five year follow-up. Int Orthop 42(10):2323–2327

20.

Benelli G, Maritato M, Cerulli Mariani P, Sasso F (2019) Revision of ASR hip arthroplasty: analysis of two hundred and ninety six recalled patients at seven years. Int Orthop 43(1):97–101

21.

Grammatopoulos G, Munemoto M, Inagaki Y (2016) The diagnosis of infection in metal-on-metal hip arthroplasties. J Arthroplast 31(11):2569–2573

22.

Prieto HA, Berbari EF, Sierra RJ (2014) Acute delayed infection: increased risk in failed metal on metal total hip arthroplasty. J Arthroplast 29(9):1808–1812

23.

Drummond J, Tran P, Fary C (2015) Metal-on-metal hip arthroplasty: a review of adverse reactions and patient management. J Funct Biomater 6(3):486–499
Funding
This work was supported by Smith & Nephew [grant number 18-0350-CSA].
Ethics declarations
Conflict of interest
ZT: none. AK: none. SW: fellowship program funding support from Stryker and Smith & Nephew; Arthritis Society Board Member. JPW: Board Member JBJS, BJJ, and IO; secretary general of SICOT. AA: Board Member Canadian Arthroplasty Society; research support from Smith & Nephew and Stryker; paid consultant for Smith & Nephew, Stryker, DePuy, Z-B, and biocomposites.
Ethics approval
Ethics board approval was sought before onset of the study through St. Michael's Hospital, Toronto, REB/IRB (No. 18-139).
Consent to participate
Not applicable.
Consent for publication
Not applicable.
Code availability
Not applicable
Additional information
Publisher's note
Springer Nature remains neutral with regard to jurisdictional claims in published maps and institutional affiliations.
Electronic supplementary material
About this article
Cite this article
Thompson, Z., Khoshbin, A., Ward, S. et al. The early- to medium-term results of a hemispherical, porous coated acetabular shell with multiple different bearing combinations are excellent with the exception of metal-on-metal. International Orthopaedics (SICOT) 44, 2537–2543 (2020). https://doi.org/10.1007/s00264-020-04817-1
Received:

Accepted:

Published:

Issue Date:
Keywords
Hip arthroplasty

Acetabular component

Survivorship

Articulation

Modular