Abstract
Purpose
There is an increasing number of reports on the treatment of knee osteoarthritis (OA) using mesenchymal stem cells (MSCs). However, it is not known what would better drive osteoarthritis stabilization to postpone total knee arthroplasty (TKA): targeting the synovial fluid by injection or targeting on the subchondral bone with MSCs implantation.
Methods
A prospective randomized controlled clinical trial was carried out between 2000 and 2005 in 120 knees of 60 patients with painful bilateral knee osteoarthritis with a similar osteoarthritis grade. During the same anaesthesia, a bone marrow concentrate of 40 mL containing an average 5727 MSCs/mL (range 2740 to 7540) was divided in two equal parts: after randomization, one part (20 mL) was delivered to the subchondral bone of femur and tibia of one knee (subchondral group) and the other part was injected in the joint for the contralateral knee (intra-articular group). MSCs were counted as CFU-F (colony fibroblastic unit forming). Clinical outcomes of the patient (Knee Society score) were obtained along with radiological imaging outcomes (including MRIs) at two year follow-up. Subsequent revision surgeries were identified until the most recent follow-up (average of 15 years, range 13 to 18 years).
Results
At two year follow-up, clinical and imaging (MRI) improvement was higher on the side that received cells in the subchondral bone. At the most recent follow-up (15 years), among the 60 knees treated with subchondral cell therapy, the yearly arthroplasty incidence was 1.3% per knee-year; for the 60 knees with intra-articular cell therapy, the yearly arthroplasty incidence was higher (p = 0.01) with an incidence of 4.6% per knee-year. For the side with subchondral cell therapy, 12 (20%) of 60 knees underwent TKA, while 42 (70%) of 60 knees underwent TKA on the side with intra-articular cell therapy. Among the 18 patients who had no subsequent surgery on both sides, all preferred the knee with subchondral cell therapy.
Conclusions
Implantation of MSCs in the subchondral bone of an osteoarthritic knee is more effective to postpone TKA than injection of the same intra-articular dose in the contralateral knee with the same grade of osteoarthritis.
Access options
Buy single article
Instant access to the full article PDF.
USD 39.95
Price includes VAT (USA)
Tax calculation will be finalised during checkout.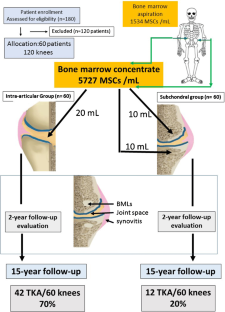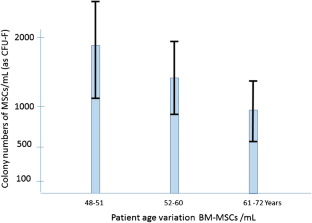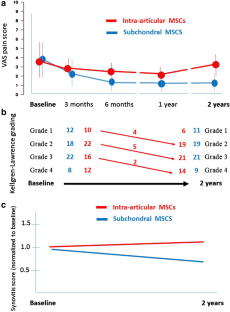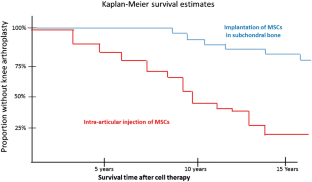 References
1.

Yusup A, Kaneko H, Liu L, Ning L, Sadatsuki R, Hada S, Kamagata K, Kinoshita M, Futami I, Shimura Y, Tsuchiya M, Saita Y, Takazawa Y, Ikeda H, Aoki S, Kaneko K, Ishijima M (2015) Bone marrow lesions, subchondral bone cysts and subchondral bone attrition are associated with histological synovitis in patients with end-stage knee osteoarthritis: a cross-sectional study. Osteoarthr Cartil 23:1858–1864

2.

Bannuru RR, Schmid CH, Kent DM, Vaysbrot EE, Wong JB, McAlindon TE (2015) Comparative effectiveness of pharmacologic interventions for knee osteoarthritis: a systematic review and network metaanalysis. Ann Intern Med 162(1):46–54

3.

Kim SH, Ha CW, Park YB, Nam E, Lee JE, Lee HJ (2019) Intraarticular injection of mesenchymal stem cells for clinical outcomes and cartilage repair in osteoarthritis of the knee: a meta-analysis of randomized controlled trials. Arch Orthop Trauma Surg 139(7):971–980

4.

Chahla J, Piuzzi NS, Mitchell JJ, Dean CS, Pascual-Garrido C, LaPrade RF, Muschler GF (2016) Intra-articular cellular therapy for osteoarthritis and focal cartilage defects of the knee: a systematic review of the literature and study quality analysis. J Bone Joint Surg Am 98:1511–1521

5.

Hernigou P, Dubory A, Homma Y, Guissou I, Flouzat Lachaniette CH, Chevallier N, Rouard H (2018) Cell therapy versus simultaneous contralateral decompression in symptomatic corticosteroid osteonecrosis: a thirty-year follow-up prospective randomized study of one hundred and twenty five adult patients. Int Orthop 42(7):1639–1649

6.

Hernigou P, Auregan JC, Dubory A, Flouzat-Lachaniette CH, Chevallier N, Rouard H (2018) Subchondral stem cell therapy versus contralateral total knee arthroplasty for osteoarthritis following secondary osteonecrosis of the knee. Int Orthop 42(11):2563–2571

7.

Kellgren J, Lawrence J (1957) Radiological assessment of osteo-arthrosis. Ann Rheum Dis 16(4):494

8.

Hernigou P, Homma Y, Flouzat Lachaniette CH, Poignard A, Allain J, Chevallier N, Rouard H (2013) Benefits of small volume and small syringe for bone marrow aspirations of mesenchymal stem cells. Int Orthop 37(11):2279–2287

9.

Hernigou P, Gerber D, Auregan JC (2020) Knee osteonecrosis: cell therapy with computer-assisted navigation. Surg Technol Int 36

10.

Lebouvier A, Poignard A, Coquelin-Salsac L, Léotot J, Homma Y, Jullien N, Bierling P, Galactéros F, Hernigou P, Chevallier N, Rouard H (2015) Autologous bone marrow stromal cells are promising candidates for cell therapy approaches to treat bone degeneration in sickle cell disease. Stem Cell Res 15(3):584–594

11.

Scuderi GR, Sikorskii A, Bourne RB, Lonner JH, Benjamin JB, Noble PC (2016) The knee society short form reduces respondent burden in the assessment of patient-reported outcomes. Clin Orthop Relat Res 474(1):134–142. https://doi.org/10.1007/s11999-015-4370-2

12.

Hernigou P, Delambre J, Quiennec S, Poignard A (2020) Human bone marrow mesenchymal stem cells injection in subchondral lesions of knee osteoarthritis: a prospective randomized study versus contralateral arthroplasty at mean 15 years follow-up. Int Orthop. https://doi.org/10.1007/s00264-020-04571-4

13.

Guermazi A, Roemer FW, Hayashi D, Crema MD, Niu J, Zhang Y, Marra MD, Katur A, Lynch JA, El-Khoury GY, Baker K, Hughes LB, Nevitt MC, Felson DT (2011) Assessment of synovitis with contrast enhanced MRI using a whole-joint semiquantitative scoring system in people with, or at high risk of, knee osteoarthritis: the MOST study. Ann Rheum Dis 70:805–811

14.

Davies BM, Snelling SJB, Quek L, Hakimi O, Ye H, Carr A, Price AJ (2017) Identifying the optimum source of mesenchymal stem cells for use in knee surgery. J Orthop Res 35(9):1868–1875. https://doi.org/10.1002/jor.23501

15.

Jones EA, Crawford A, English A, Henshaw K, Mundy J, Corscadden D, Chapman T, Emery P, Hatton P, McGonagle D (2008) Synovial fluid mesenchymal stem cells in health and early osteoarthritis: detection and functional evaluation at the single-cell level. Arthritis Rheum 58(6):1731–1740

16.

Sekiya I, Ojima M, Suzuki S, Yamaga M, Horie M, Koga H, Tsuji K, Miyaguchi K, Ogishima S, Tanaka H, Muneta T (2012) Human mesenchymal stem cells in synovial fluid increase in the knee with degenerated cartilage and osteoarthritis. J Orthop Res 30(6):943–949

17.

Hügle T, Geurts J (2017) What drives osteoarthritis?-synovial versus subchondral bone pathology. Rheumatology (Oxford) 56(9):1461–1471

18.

Di Matteo B, Vandenbulcke F, Vitale ND, Iacono F, Ashmore K, Marcacci M, Kon E (2019) Minimally manipulated mesenchymal stem cells for the treatment of knee osteoarthritis: a systematic review of clinical evidence. Stem cells Int 2019:1735242

19.

Tat SK, Lajeunesse D, Pelletier J-P, Martel-Pelletier J (2010) Targeting subchondral bone for treating osteoarthritis: what is the evidence? Best Pract Res Clin Rheumatol 24(1):51–70

20.

Laslett LL, Kingsbury SR, Hensor EM, Bowes MA, Conaghan PG (2014) Effect of bisphosphonate use in patients with symptomatic and radiographic knee osteoarthritis: data from the osteoarthritis initiative. Ann Rheum Dis 73:824–830

21.

Lychagin A, Lipina M, Garkavi A, Islaieh O, Timashev P, Ashmore K, Kon E (2020) Intraosseous injections of platelet rich plasma for knee bone marrow lesions treatment: one-year follow-up. Int Orthop. https://doi.org/10.1007/s00264-020-04546-5

22.

Kon E, Ronga M, Filardo G, Farr J, Madry H, Milano G, Andriolo L, Shabshin N (2016) Bone marrow lesions and subchondral bone pathology of the knee. Knee Surg Sports Traumatol Arthrosc 24(6):1797–1814. https://doi.org/10.1007/s00167-016-4113-2

23.

Ponzio DY, Chiu YF, Salvatore A, Lee YY, Lyman S, Windsor RE (2018) An analysis of the influence of physical activity level on total knee arthroplasty expectations, satisfaction, and outcomes: increased revision in active patients at five to ten years. J Bone Joint Surg Am 100(18):1539–1548. https://doi.org/10.2106/JBJS.17.00920

24.

Katz BPFD, Heck DA, Dittus RS, Paul JE, Wright J, Coyte P, Holleman E, Hawker G (1996) Demographic variation in the rate of knee replacement: a multi-year analysis. Health Serv Res 31(2):125–140

25.

Mebarki M, Coquelin L, Layrolle P, Battaglia S, Tossou M, Hernigou P, Rouard H, Chevallier N (2017) Enhanced human bone marrow mesenchymal stromal cell adhesion on scaffolds promotes cell survival and bone formation. Acta Biomater 59:94–107

26.

Ganguly P, El-Jawhari JJ, Giannoudis PV, Burska AN, Ponchel F, Jones EA (2017) Age-related changes in bone marrow mesenchymal stromal cells: a potential impact on osteoporosis and osteoarthritis development. Cell Transplant. 26(9):1520-11529
Ethics declarations
Conflict of interest
The authors declare that they have no conflict of interest.
Ethical approval
All procedures were in accordance with the ethical standards of the institutional and/or national research committee and with the 1964 Helsinki declaration and its later amendments or comparable ethical standards.
Informed consent
Informed consent was obtained from all individual participants included in the study.
Additional information
Publisher's note
Springer Nature remains neutral with regard to jurisdictional claims in published maps and institutional affiliations.
About this article
Cite this article
Hernigou, P., Bouthors, C., Bastard, C. et al. Subchondral bone or intra-articular injection of bone marrow concentrate mesenchymal stem cells in bilateral knee osteoarthritis: what better postpone knee arthroplasty at fifteen years? A randomized study. International Orthopaedics (SICOT) 45, 391–399 (2021). https://doi.org/10.1007/s00264-020-04687-7
Received:

Accepted:

Published:

Issue Date:
Keywords
Mesenchymal stem cells

Synovial fluid

Cartilage degeneration

Knee osteoarthritis

Synovium

Subchondral bone

Bone marrow